Callum Ilott's girlfriend, Caterina Masetti Zannini, is a writer at Sports Observer from the Greater Bologna Metropolitan Area.
Callum Benjamin Ilott was born on November 11, 1998, in Cambridge, Cambridgeshire.
Ilott is a British racing driver who competes in the NTT IndyCar Series, driving the No. 77 car for Juncos Hollinger Racing.
He made his IndyCar Series debut with Juncos Hollinger Racing at the Grand Prix of Portland in 2021 and signed a two-year extension on July 28, 2022.
Previously, he made a Formula 1 appearance with Alfa Romeo as a reserve driver for the 2021 and 2022 Formula One World Championship seasons.
Moreover, Ilott was also Alfa Romeo's official reserve driver for the 2021 Formula One World Championship season and the 2022 Formula One World Championship.
Besides, the Briton also served as a test driver of Scuderia Ferrari for the 2021 season and appeared in FP1 at the Portuguese Grand Prix and the Austrian Grand Prix.
Callum Ilott Girlfriend Caterina Masetti Zannini
Callum Ilott is in a relationship with Caterina Masetti Zannini. The couple started dating on April 13, 2021. However, the pair hasn't revealed much about how their relationship started.
Ilott and Zannini seem to be in a very loving relationship, which is evident from their social media posts.
Caterina, born on April 2, 1999, attended S. Luigi Classical High School in Bologna and graduated in 2017.
After that, she joined the University of Bologna in 2018, from where Caterina graduated with a degree in aerospace engineering in 2020.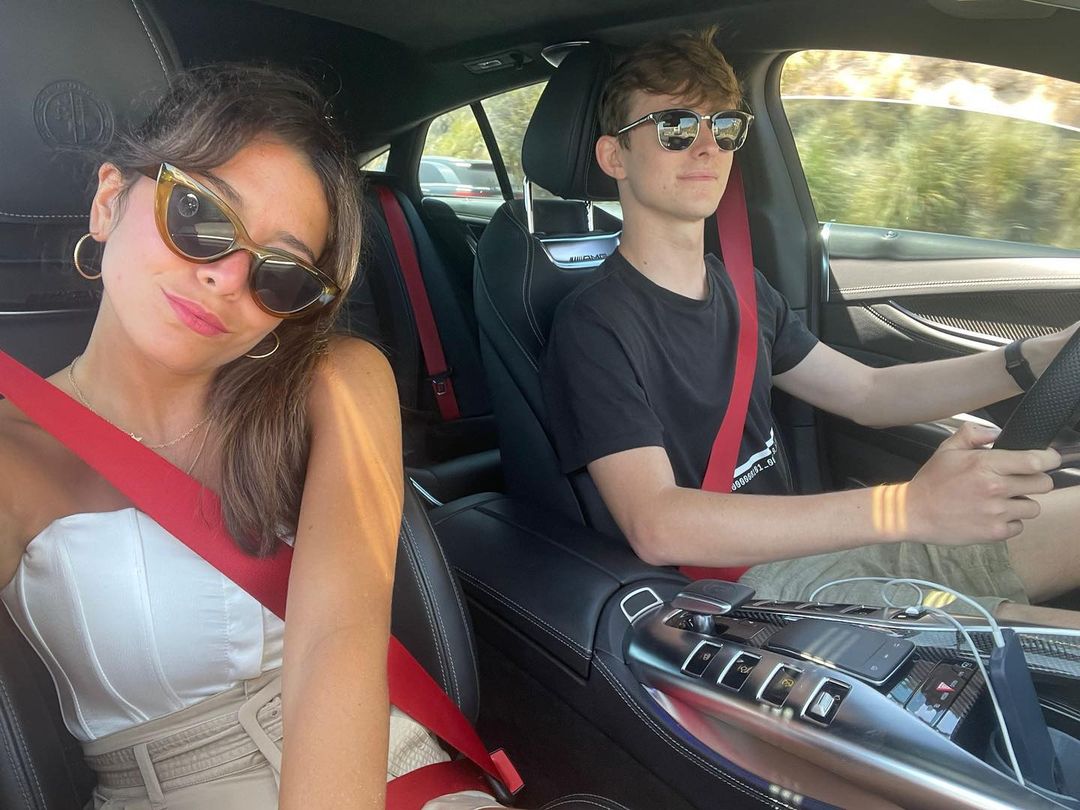 Later, Callum's girlfriend studied mechanical engineering at the University of Modena and Reggio Emilia.
As per her experiences, Caterina started working after high school. She started as a freelancer at Private Karting Team, where she assisted the race engineer with telemetry analysis (AIM software).
In December 2021, Zannini started her own business, "Maza's Official," and simultaneously, she started working as a writer for Sports Observer.
At Sports Observer, she writes articles about motorsport and technical analysis.
Caterina Zannini Relationship Before Callum
Before Caterina's relationship with Callum Ilott, the Bolognese lady was in a relationship with a French racing driver, Pierre Gasly.
Gasly currently competes in Formula One for Alpine alongside his teammate Esteban Ocon.
Pierre Gasly started competitive karting in 2006 and gradually made it to Formula One.
He made his professional Formula One debut with Toro Rosso at the 2017 Malaysian Grand Prix. Later, he went on to race for Red Bull Racing and Alpha Tauri before joining his current team, Alpine.
Zannini's relationship with the Formula One racer began around the year 2018. And after almost 2 years of togetherness, the pair decided to part ways.
Moreover, during their relationship, Zannini was seen cheering on Pierre in his F1 races. They used to go on chill vacations and share lots of pictures.
All those pictures are still featured on their Instagram handle, so we can assume they broke up on mutual terms.
However, both of them have already found love in another person. Pierre is in a relationship with a Portuguese Fashion Model, Kika Cerqueira Gomes.
Similarly, Caterina is with Callum Benjamin Ilott.