The former football player, Calvin Johnson, has one brother, Wali. He has two sisters, Erica and Elan.
Calvin Johnson grew up with his siblings in Newnan, Georgia. Johnson and his family moved to Tyrone when he was three.
Calvin Johnson, widely known as "Megatron," is a former professional American football player regarded as one of the most excellent wide receivers in NFL history.
Johnson attended Georgia Institute of Technology and played college football for the Georgia Tech Yellow Jackets.
In his junior year, he won Biletnikoff as best college wide receiver and was a finalist for the Heisman Trophy.
In the 2007 NFL Draft, the Detroit Lions selected Calvin Johnson as the second overall pick.
Johnson played for Detroit for nine years. From 2007 to 2015, he played football, scored 83 touchdowns, and caught 731 passes, averaging 11,619 yards.
Despite his exceptional career, Calvin Johnson shocked the football world when he announced his retirement from the NFL in 2016 at 30.
Citing concerns over his long-term health and the toll the game had taken on his body, Johnson chose to step away from the sport while still at the peak of his abilities.
However, his playing football in the NFL will always be remembered as necessary, and people who love football will never forget his legacy.
In 2016, Calvin was on a dance reality show called Dancing With The Stars. He came in third place with his dance partner, Lindsay Arnold.
Who Is Calvin Johnson's Brother?
Calvin Johnson has one brother, Wali. He also has two sisters, Erica and Elan.
His brother, Wali Johnson, has attended Morehouse School of Medicine, completed his MD, and is officially a Doctor.
Wali married on June 6, 2020, and Calvin congratulated him with his social media post.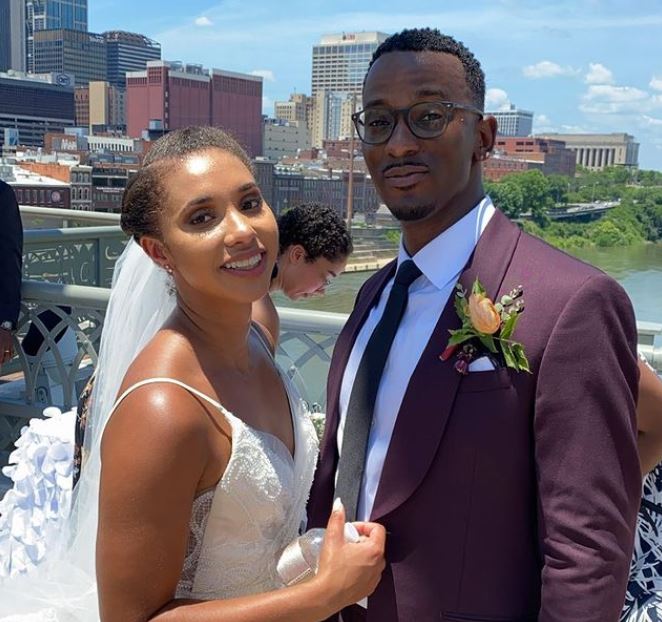 His sister, Erica, has a Ph.D. in biomedical science. Erica studied infectious disease in the Department of Pediatrics at Emory University. She has also written for medical journals.
Johnson's younger sister, Elan, studied at Georgia State University.
The Johnson siblings constitute a significant part of the Calvin Johnson Jr. Foundation. Erica is the co-executive director and also writes grants. Wali advises the scholars about graduate school and careers as a board member.
Johnson's family values education and intelligence a lot. Unlike his siblings, Calvin was interested in sports. His parents were also supportive of his passion.
Calvin Johnson's Mother Is A Cancer Survivor!
The NFL Star was born on September 29, 1985, in Newnan, Georgia, to Calvin Johnson Sr. and Arica Johnson.
Calvin Johnson Sr. was a freight conductor for Norfolk Southern Railway. His mother, Arica, has a Doctorate in Education and is the vice president of the Calvin Johnson Jr. Foundation.
Johnson's mother slipped on a piece of ice when they were going to the airport after a snowy game in Philadelphia in 2013. While checking the injury, the doctors discovered unusual cells caused by the pancreatic tumor.
However, Erica had surgery at the Johns Hopkins Hospital in Baltimore and became Cancer free.
Her battle against Cancer likely brought the Johnson family closer together, fostering a deeper appreciation for life and a shared commitment to supporting one another.