The 2023 WWE draft pick Cameron Grimes tends to keep his personal life low-key, but it is evident that he is married & lives with his wife Charlotte Grimes.
The two live together in a house of their own, which Grimes bought in October 2022.
On the Night-2 of the 17th draft of WWE, Trevor Lee Cadell, popularly known by the ring name of Cameron Grimes, was picked to wrestle in the Smackdown brand of WWE.
He is said to be moved to the main roster of Smackdown starting on 8th May 2023.
Grimes has a reputation for being very cunning and opportunistic in the pro wrestling universe, with a notorious way of using his words which always seem to be getting him in trouble.
Despite this, he has shown that he can back his talks once put inside the ring with his opponents.
The wrestler is a grappler and boasts "country power." He seems to have drawn influence from Matt And Jeff Hardy in his wrestling style.
Not only is he a pro wrestler, but he also is a self-proclaimed financial market investor after he got on the "Game Stop" frenzy in 2021 and even claimed to be rich at the end of it.
Along with this, he also seems to be an advocate for the infamous "Dogecoin," as suggested by his Instagram post.
Cameron Grimes' Wife: Charlotte Grimes
Cameron Grimes has not yet revealed his relationship to the public yet. But the verdict of public opinion points out that he took his vows in a very private wedding ceremony held in an anonymous place with the beautiful Charlotte Grimes.
Charlotte Grimes seems to be a very supportive wife to Cameron, and it seems that she is the pillar of support for him.
In a carousel of Instagram posts in October of 2022, Grimes posted a picture of him standing in front of a house along with a very emotional caption.
There the wrestler wrote the story of his life's struggles & his father. They reportedly had to move around and did not have a house of their own.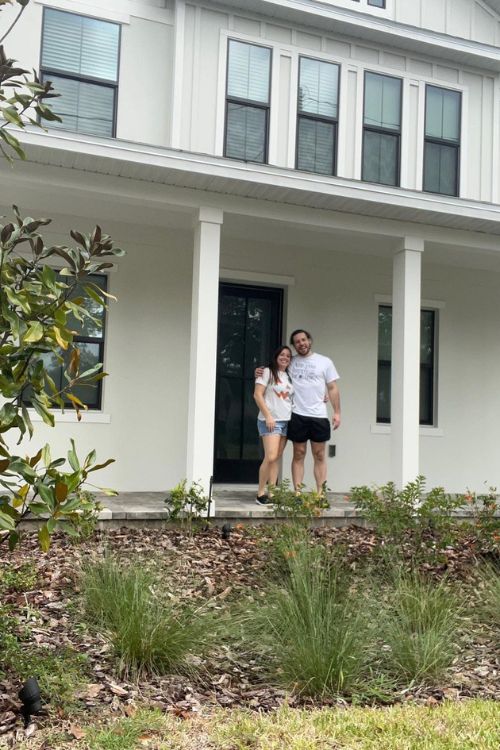 He mentions that it was a dream of his to get a house of his own, and now finally, he has fulfilled that dream. In the second picture of the post, we can see his ever-supporting wife standing proudly by his side.
The couple also seems to love watching football together, as per his Instagram post.
NXT Career To Smackdown
Although just recently drafted in Smackdown, one of the two top-tier brands of WWE, Grime is now new to pro-wrestling showmanship.
He has already proved his talents and worth in WWE: NXT, where he started his affiliation in the year 2019.
His NXT debut match was a dark match that was held at Full Sail University. We must also note that it was after he joined NXT that he earned the ring name Cameron Grimes. His official debut for an NXT episode came only later in the July 3 episode of NXT.
Grime's time in NXT was very fruitful for him and entertaining for the fans.
In the February of 2021, Grimes walked into NXT, claiming himself to be the richest man of NXT after he claimed that he had cashed in a fortune by investing in the "Gamestop" stock which was going crazy at the time.
Following this event and a rivalry between Grimes and LA Knight, NXT reintroduced the title of "Multimillion-Dollar Championship," which was to be contented in a ladder match.
Grimes lost this but later won the title at a rematch in "The Great American Bash" event of NXT.
Grimes also would go on to be the "NXT North American Champion" after winning a Fatal Five-way ladder match at "NXT Stand and Deliver."