As of 2023, a former American football outside linebacker who played in the NFL for seven seasons, Carl Nassib net worth is estimated to be around $10 million.
In total, he earned $23.19 million from the NFL alone over the course of seven seasons.
Nassib began his professional football journey when the Cleveland Browns selected him in the third round of the 2016 NFL Draft with the 65th overall pick.
In his NFL debut, facing off against the Philadelphia Eagles, Nassib made an impressive impact as a rookie professional.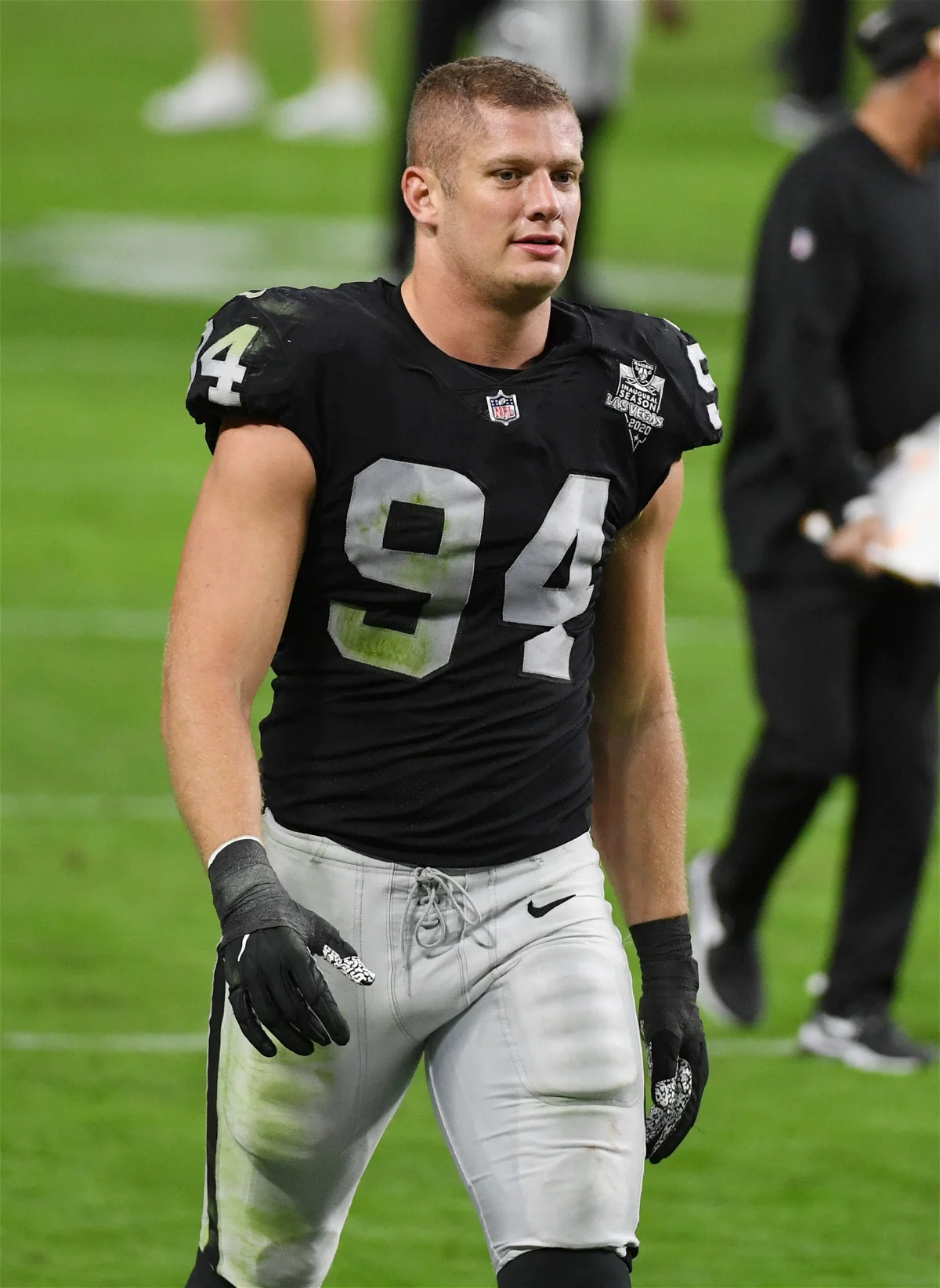 He showcased his defensive prowess by notching one sack, executing three tackles, and skillfully deflecting one pass.
Nassib's outstanding performance earned him a well-deserved nomination for the prestigious Pepsi NFL Rookie of the Week award.
His rookie season saw him contribute to the team's efforts in 14 games, and by the following year, in 2017, he had risen to the coveted status of a starter.
However, despite his promising start, Nassib's journey took a turn when the Cleveland Browns waived him on September 2, 2018.
How Much Is Carl Nassib Net Worth In 2023?
The former American football outside linebacker Carl Nassib net worth is estimated to be around $10 million as of 2023.
Throughout his time in the NFL, he played for three teams, garnering astronomical salaries and brand deals, solidifying his place among the highest-paid players.
On June 29, 2016, Nassib signed a four-year, $3.59 million rookie contract with the Browns, including an $889,752 signing bonus, $889,752 guaranteed, and an average annual salary of $899,716.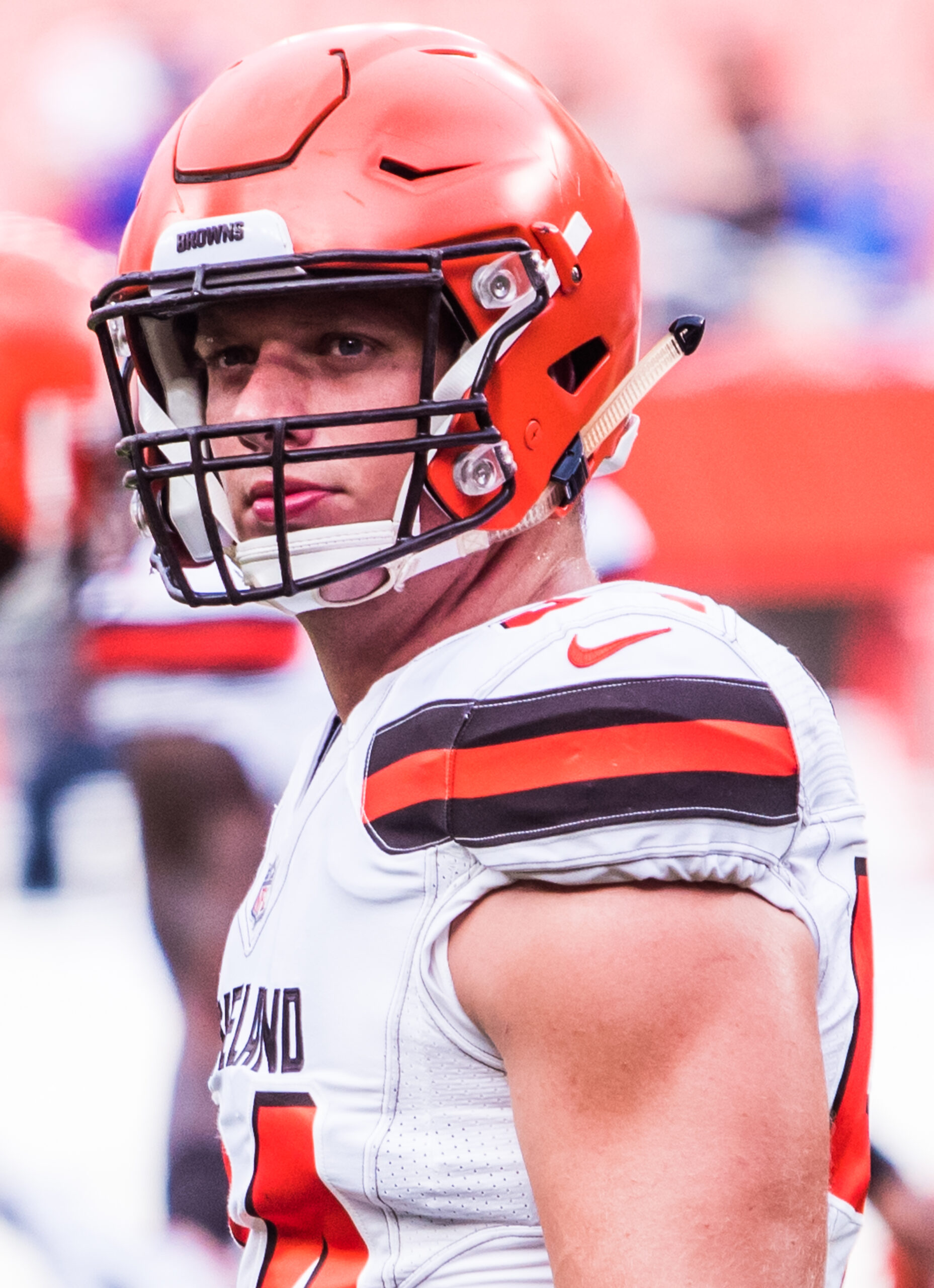 Similarly, on March 17, 2020, he signed a 3-year $25.25 million contract with the Las Vegas Raiders, including a $16.75 million guaranteed and an average annual salary of $8.41 million.
Before his retirement on September 6, 2023, he was in a one-year, $1.18 million contract with Tampa Bay, including a $152,500 signing bonus, $530,000 guaranteed, and an average annual salary of $1.18 million.
Carl Nassib Net Worth | Career Earnings
According to Spotrac, Carl Nassib's career earnings stand at $23.19 million.
He earned $13,391,110 from salaries, $1,042,252 from signing bonuses, $250,000 in workout bonuses, $8.26 million in restructure bonuses, and $291,635 in incentives.
Overall, he made $1.95 million from the Cleveland Browns, $3.98 from Tampa Bay, and $ 17.25 million from the Raiders.
Retirement From Football
Carl Nassib, the outside linebacker who courageously came out as the first openly gay active player in the NFL in 2021, announced his retirement on Wednesday.
Nassib shared his heartfelt decision with his followers on Instagram, reflecting on his journey in the league and acknowledging this moment as a blend of emotions.
Notably, he mentioned that the NFL is exploring opportunities to keep him engaged in a yet-to-be-determined capacity, highlighting the league's commitment to inclusivity and diversity.
In June 2021, while playing for the Raiders, Nassib made headlines by publicly sharing his sexual orientation, and he was met with an overwhelmingly positive response from fans and fellow players alike, describing the reaction as nothing short of incredible.
The 30-year-old Nassib's last appearance on the field was with the Tampa Bay Buccaneers in 2022, where he showcased his skills in 13 games, accumulating 3.5 sacks and a crucial fumble recovery.
His NFL journey spanned seven seasons, starting when he was drafted in the third round by the Cleveland Browns in 2016.
Looking ahead, Nassib expressed his intention to shift his focus towards his company, Rayze.
Rayze is an innovative app that connects individuals with like-minded people and nonprofits, allowing them to support causes aligned with their interests or local communities.
Carl Nassib's legacy extends far beyond the football field as he continues to promote unity and social change, leaving an indelible mark on the NFL and society as a whole.