The 28-year-old, defensive end Carl Nassib of Las Vegas Raiders announces himself as gay through his Instagram video.
"I finally feel comfortable enough to get it off my chest." -Carl Nassib
Herewith, today, he stands as the first active player to come out as gay. Indeed, a proud moment for himself and all the LGBTQ community.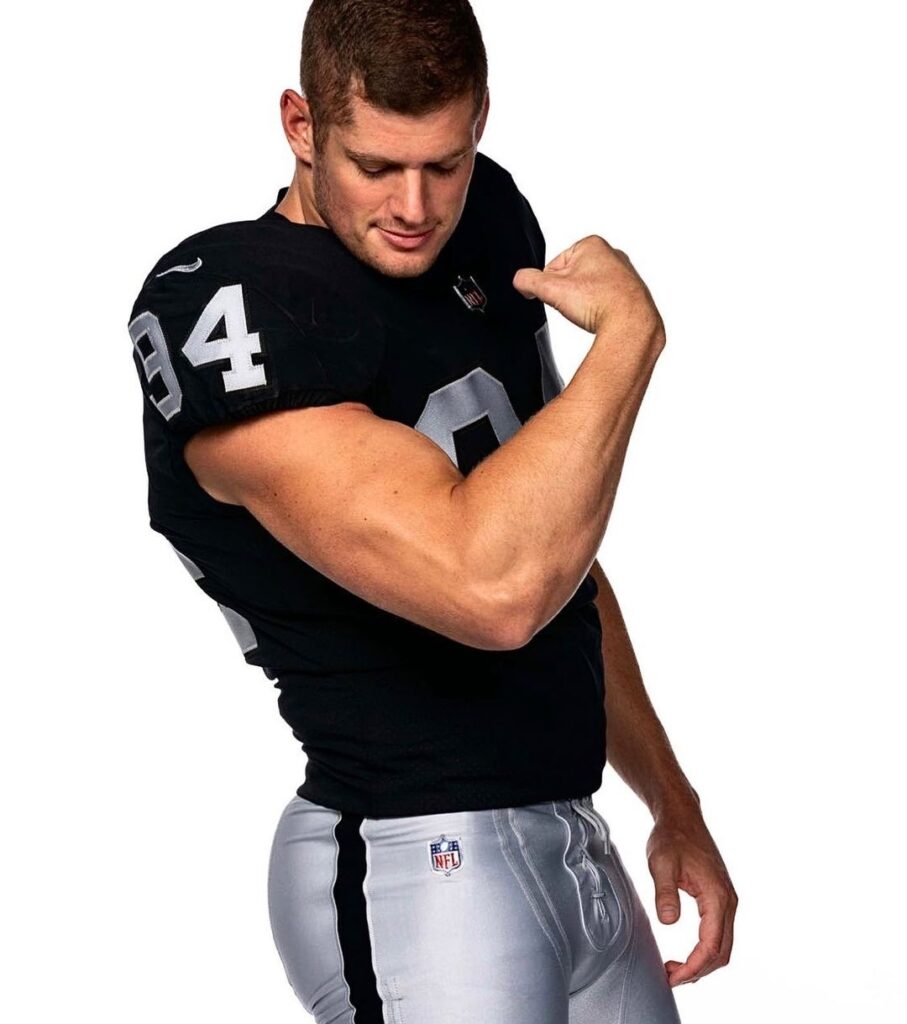 Click and follow about Rich Gannon, career, and life!
Carl's Statement on Instagram
"What's up people? I'm at my house here in West Chester, Pennsylvania. I just want to take a quick moment to say that I'm gay. I've been meaning to do this for a while now, but I finally feel comfortable enough to get it off my chest. I have the best life, I've got the best family, friends, and job a guy could ask for." -Carl Nassib
As a matter of fact, Carl stood to state that he is a private person when it comes to his life. And it's quite clear looking at his social media accounts, as he posts once in a while.
Brief Glance on Carl
Carl Nassib has been on the NFL field ever since his 2016 draft. Last year in 2020, Carl joined the Raiders with a contract worth $25 million.
It was a three-year contract that also depicted a $16.75 million guaranteed amount. In fact, he is not the only NFL player who has openly come out as gay to date.
Before him, a former Missouri linebacker, Michael Sam announced himself as gay during the 2014 draft. However, he was later cut out of the team camp at the end and he never appeared in the regular season.
Likewise, in 2019 former NFL player, Ryan Russell also stood out as a gay. Anyways, coming back to Carl, currently, he depicts the NFL statistics of 143 tackles, 20.5 sacks, 3 forced fumbles, an intervention, and 16 pass deflections.
Read about Howard Long Jr., his career, and more!
Further Step
After letting us into a huge secret, Carl also stated his intentions to assist Trevor Project. For those unknown, this project aims to provide help and services needed to the LGBTQ community.
According to Carl, coming out as a gay, he would love to start his fresh step by donating $100,000 to The Trevor Project.
"They're an incredible organization, they're the No. 1 suicide-prevention service for LGBTQ youth in America. And they're truly doing incredible things. And I'm very excited to be a part of it, help in any way that I can and I'm pumped to see what the future holds." -Carl Nassib
NFL Altogether
Of course, Carl Nassib's announcement will be down to the pages of history. Not only this, but it will also act as a new step towards equality and acceptance of uniqueness.
Following his news, NFL's teams, coaches, and numerous plays stood out on his support, and loads of tweets have been made.
Some of those tweets are highlighted below.
"Representation matters. We share his hope that someday soon statements like his will no longer be newsworthy as we march toward full equality for the LGBTQ+ community. We wish Carl the best of luck this coming season." -NFL commissioner Roger Goodell
"It's 2021. All the more power to Carl. It doesn't change my opinion of him as a person or as a Raider." -Raiders owner Mark Davis
"Carl Nassib's story will not only have a profound impact on the future of LGBTQ visibility and acceptance in sports but sends a strong message to so many LGBTQ people, especially youth, that they too can one day grow up to be and succeed as a professional athlete like him." -GLAAD President and CEO Sarah Kate Ellis
You might be interested in Mike Tomlin and his career, click to follow!