This two-time Olympic gold medalist is counted as the top-paid professional female soccer player in the world of soccer, Carli Lloyd. She announced her potential retirement in 2021 and wants to pursue Teqball as her post-retirement Career.
She is a top-rated soccer player who has crossed all boundaries that society aligned for her.
Casually, when someone urges us about this beautiful game, what do we normally picture? Our very talented Messi and Ronaldo are wonderfully hitting the ball.
But the question is, have we ever imagined Mia Hamm, Kristine Lilly, Abby Wambach, or Carli Lloyd?
For the majority of us, it's a big "no." It is definitely because of certain boundaries that society has created.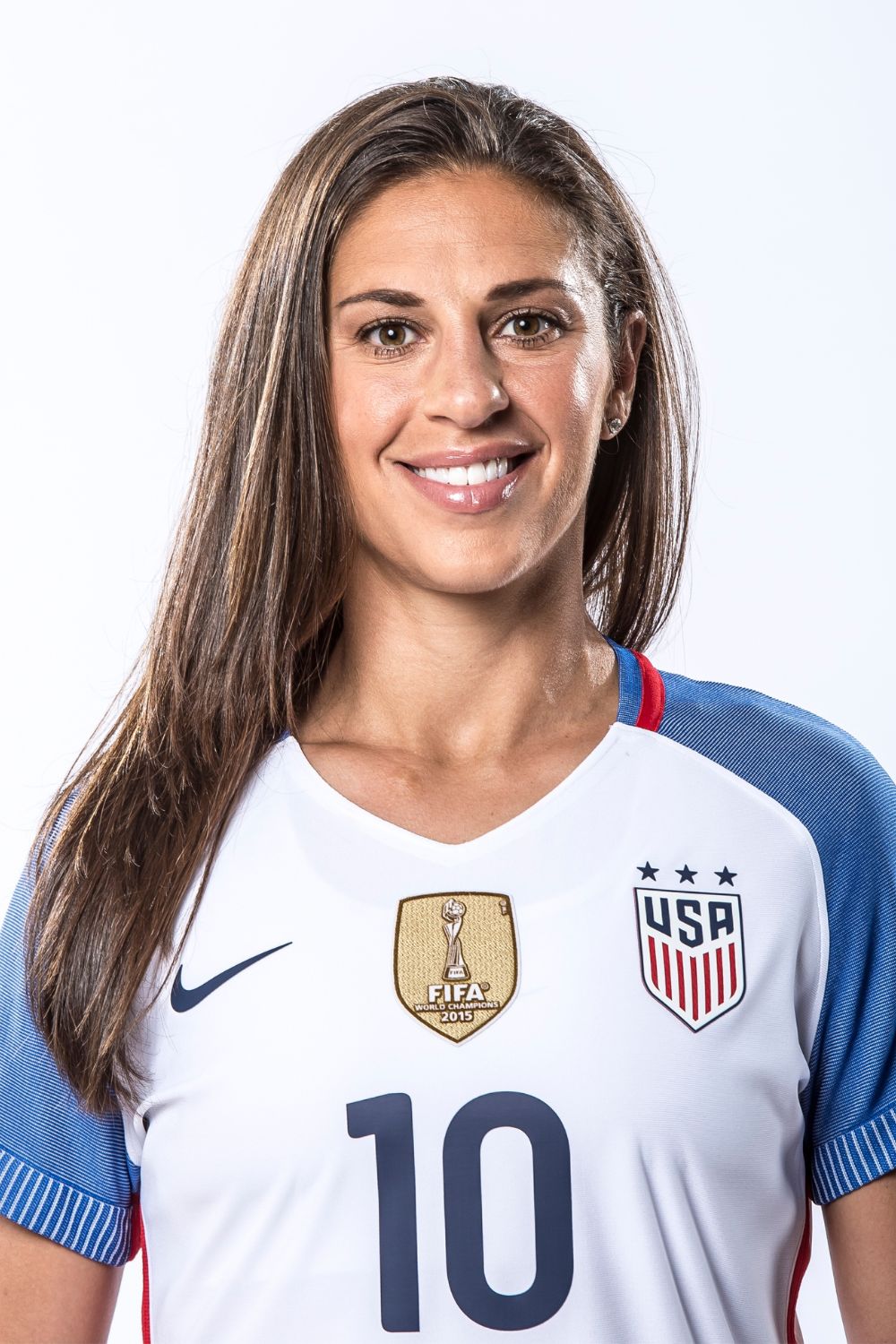 Despite all this fuss, players like Carli Lloyd keep their heads up. They answer these sick mentality questions with their game.
She is a slap to everyone who enjoys saying girls and soccer are two different worlds that can never meet or probably intersect.
Now, let's dive into this lovely Player's journey who has proven the power of women and soccer to all those weak mentalities.
Before we get going, let's have a look at some of the quick facts.
Quick Facts | Carli Lloyd
| | |
| --- | --- |
| Full Name | Carli Anne Lloyd |
| Birth Date | January 16, 1982 |
| Birth Place | Delran, New Jersey, United States Of America |
| Nick Name | Not Available |
| Religion | Christianity |
| Nationality | American |
| Ethnicity | White |
| Education | Rutgers University |
| Horoscope | Capricorn |
| Father's Name | Stephen Lloyd |
| Mother's Name | Pamela Lloyd |
| Siblings | 2; Stephen Lloyd, Ashley Lloyd |
| Age | 41 Years Old |
| Height | 1.7 meter (5 feet 57 inches) |
| Weight | 64 kg (141 lb) |
| Shoe Size | Not Available |
| Hair Color | Dark Brown |
| Eye Color | Brown |
| Body Measurement | Not Available |
| Figure | Not Available |
| Marital Status | Married |
| Husband | Brian Hollins |
| Children | Not Available or none |
| Profession | Soccer Player |
| Net Worth | $2 million |
| Salary | Under review |
| Current Team | Sky blue FC and United States Women's National Soccer Team |
| Affiliations | Not Available |
| Active Since | 2005 |
| Social Media | Instagram, Twitter, Facebook |
| Merch | Paperback, Jersey & Autographed Items |
| Last Update | November, 2023 |
Carli Lloyd | Early Life, Family, And Education
Carli Lloyd, a soccer sensation, was born in Delran, New Jersey, in the United States Of America, on January 16, 1982. She has siblings, namely; Stephen and Ashley.
Carli learned to play soccer at the early age of five. Carli learned playing by her pickup games.
Lloyd said in one of her interviews about spending hours playing in her local field. She was attached to this wonderful game soon.
Carli has been to the Delran High School, where she rocked her play. She won the title of Girl's High School Player Of The Year.
Carli, too, has been a part of the state-level championship of the teenagers. She played for the Medford Strikers Club team as a teenager.
Moreover, this is also the team she was involved in while she thought of being a part of the state-level championship.
Being on the team, she became the team's reason for winning back-to-back state cups.
Later, Lloyd became a part of Rutgers University.
Here, she became the University's all-time leading scorer. She has successfully impressed everyone with her excellent skills.
Carli looked incredible while she played. She never let the other Player snatch her ball. We all can imagine how superbly she held the ball and maintained it within her feet.
So, You May Want To Know About Cam Newton. Click on the link to learn more.
Carli Lloyd | Career
W-League Experience (1999- 2004)
Carli played for W-League teams in the Central Jersey Splash in 1999, South Jersey Banshees in 2001, and New Brunswick Power in 2000. It happened during the summer.
She played before her senior at the University of Rutgers.
Lloyd actively played for her teammates, Kelly Smith, Manya Makoski, Tobin Heath, and Heather O'Reilly.
The U.S.A National Team And The 2008 Olympics
Carli Lloyd was a member of the national team of the United States Of America. That particular team successfully won the Nordic Cup from 2002 to 2005 consecutively.
Gradually, she started to meet her local coach, James Galanis. This guy guided Lloyd, saying she must develop her physical fitness and mental toughness.
The coach asked Lloyd to do so because having such a personality was essential to match the world-class level.
Lloyd started to train herself harder. She began to train both her mental as well as physical fitness.
Later, Lloyd was given to the U.S. senior team, where she first made her first-ever international appearance.
She had successfully established herself as one of the critical members of the team. Everyone inspired Lloyd to be a starring woman in the 2008 Olympics.
Lloyd and her team played against Japan. Here, she was the lone victor. Her goals were valued the most as she was the one who made the team win after such magical purposes.
Over time, she scored the goals alone. The match this time was against Brazil. She miraculously beat the team. Lloyd successfully made her squad earn a prestigious gold medal.
Moreover, she was entitled to the United States Of America Soccer Female Athlete Of The Year.
Beijing Olympics Of 2008
CONCACAF Women's Olympic Qualifying Tournament, when held, Lloyd proved herself as a star. Afterward, in the championship, she received an opportunity of a free-kick.
By then, there was not a single goal scored yet. As soon as the opportunity was created, she grabbed it and rocked the free-kick as she earned the team's first goal.
The U.S. also strongly defeated Canada 6-5 in penalty kicks. Also, she scored a winning goal of 1-0 against Japan.
She made game-winning goals against Brazil too. Later, she got the 2008 athlete of the year award too. Moreover, the award was received along with the other Player, Tim Howard.
Women's World Cup Qualifying (2009- 2010)
2009 was the year when the U.S. national team became a total sum of eight games. Also, Lloyd was a startup line in all five of them.
She was the opening scorer of the team. Lloyd had helped the team to beat the championship in Germany. The score was 3-2 against Germany.
Although Lloyd suffered an ankle injury (broken ankle), she didn't think of giving up. She broke her ankle during her fourth game.
By 2010, she had completed playing fifteen matches in total. Similarly, beginning five matches she had started, she successfully scored two goals and ensured she was the opening scorer.
Lloyd's tournament ended with a total of five assists. Later, she has titled the Player of the Match thrice during the tournament.
Soon, they flew to Italy for another match. During the entire series, Lloyd scored three goals along with five assists.
Also, she earned the 100th career cap during the second leg of the entire series.
You May Be Keen To Know About Another Terrific Women's Soccer Player. She Is Michelle Akers. So, Click On The Link To Learn More>>
FIFA Women's World Cup (2011)
Carli has consistently successfully scored during an intense match. She is responsible for several winning games.
During 2011 Lloyd scored lone goals. The match was against Sweden. Her terrifying dream made the entire team win. Hence, she broke her set record again.
For the Algarve Cup, she scored three goals magnificently. This was for a championship. Lloyd was also entitled to the best goal for the tournament.
Again, this woman has been crowned the Player of the match.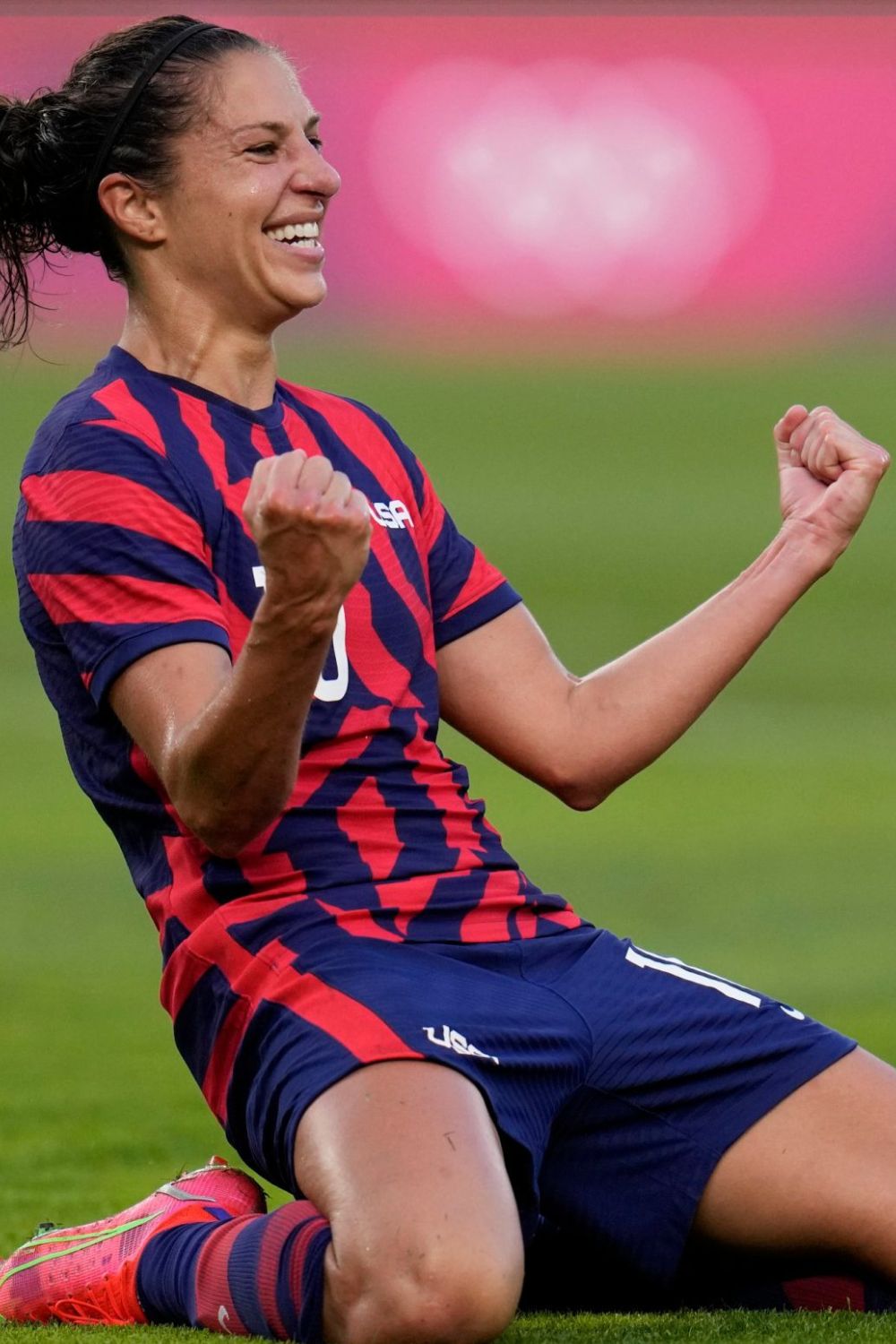 Subsequently, in the next match against Colombia, her team managed a result of 3-0. Afterward, she achieved her first-ever World Cup goal.
Moreover, she also tallied an assist and a goal. She set one lovely penalty kick in the shootout against Brazil that pushed her U.S. team to the semi-finals.
The semi-finals were against none other than a strong team France.
Unfortunately, the team couldn't get to the gold, but they successfully became a prestigious silver part.
2015 And 2019 FIFA World Cup
In 2015, head coach Jill Ellis recognized Lloyd as the 23-player roster for the 2015 FIFA World Cup that was supposed to be held in Canada.
The team's captain lead the entire team for all four matches, including the quarterfinal against China, the semi-final against Germany, and the final against Japan.
Throughout the tournament, the team scored six goals under her captainship. During the finishing, the team managed a hat trick in the opening.
The scores were made during the first sixteen minutes of the match. This miracle was done against Japan.
Eventually, the goals were recognized as the most remarkable of the women's football team's history.
Lloyd's efforts led the team to a variety of great events. This was the time when this woman was handed the golden football. The title mesmerizes the player's character and name even more.
Going through 2019 here, this woman scored in her first two games of the match. So, the first was against Thailand and the other against Chile.
Later, she became the first-ever Player to score in six straight women's world cup games.
Retirement
She broke Abby Wambach's record for the most Olympic goals by the United States women on August 5, 2021,
Scoring twice in a 4-3 victory over Australia in the bronze medal match at the 2020 Summer Olympics, breaking it by ten goals overall.
After the Olympics, Lloyd announced that she would leave the national team in 2021.
Carli Lloyd | Achievements
So, most of her achievements are mentioned above already. Moreover, without any stretch, let's give a peek at the awards she has handed over throughout her Career.
Most of the awards she has won till now are; The Best FIFA Women's Player in 2017, FIFA player of the year, FIFA Puskas's Award, Glamour Award For the unstoppable, and many more.
Further, she has added charm to her team by earning various other awards. Also, the other awards hold considerable prestige and value.
Endorsement
She has worked with Nike as an endorser for many years. Pressure Makes Us: Carli Lloyd, a promotional piece for the athletics organization, had her as its main subject in 2011.
Following the FIFA Women's World Cup in 2015, Lloyd appeared in an Xfinity commercial and agreed to be an endorser for Visa.
She co-starred in the Nike ad Snow Day with Rob Gronkowski and teammate Sydney Leroux in August 2015.
Lloyd was appointed brand ambassador for Lifeway Foods in April 2016, and the same year, she also made an appearance in a Heineken television commercial.
Carli collaborates with Whole Foods Market and appears in a United Airlines television commercial. She signed business agreements with Krave Jerky in June 2016 and joined Michael Phelps.
Carli Lloyd | Criticisms
How Did It Start?
Lloyd has once been highly criticized for a minimal issue.
She had just posted about the car on her Twitter account. Lloyd was just excited and thankful for the thing she got.
Lloyd posted about having the VW car and thanked the brand. People started to make a huge fuss about it.
People flung her in the name of show-off during such a fearful "pandemic." The coronavirus smashed everyone, and people believe that Lloyd is harming some people's feelings by posting that.
This generally didn't make sense. Many people also defended her, but the critics wouldn't stop. In short, it is jealousy.
This is the post that offended a lot of the people around.
Also, #tonedeaf went viral. This hashtag was made to criticize and troll Lloyd.
Reply To The Critics.
Because Lloyd is a fierce woman with guts, she doesn't easily get hurt on such minor things, especially when it's not even her fault.
Some people demanded Lloyd's apology. Also, many people wanted her to delete the post. Lloyd soon came back with a reply.
She had to pass a reply to the people and pour water on the Fire created unnecessarily.
As a result, she mentioned the tweets after most of the criticism.
She tweeted, saying she doesn't need to apologize for being excited or happy about having something.
Critics still didn't stop after all this. But the queen didn't care anymore. In conclusion, she was already done making her statement—the end of the story.
World Cup Criticism
This was the time when Lloyd was at the peak of her Career. Also, had shocked everyone with her amazing skills.
However, Lloyd didn't seem happy even after many awards and appreciation. Later, she made a shocking statement regarding the world cup she played for the U.S.
Moreover, it shocked everyone when the interviewers persuaded her to share her experience.
Because the reply wasn't as expected. Lloyd answered that this was her worst-ever experience.
Turned Into A controversy
It is nothing concerned with the people. It is because Lloyd had experienced horrible things.
She had sprained her ankle when the team needed her the most. Lloyd couldn't play for the team as her ankles needed heavy rest.
Despite all these, she tried but failed. This was the game that decided her worth, she said. Further, she appreciated her teammate Megan Rapinoe for magnificently taking over the team.
Lloyd had only stated about her devastation from her ankle injury. But the critics took it to the next level.
People called her envious, stone-hearted, and whatnot. Her fans were also mad, as they thought she was ungrateful. They bashed her, saying that she sprained her ankle on purpose to make her team lose.
Also, people threw allegations that she was heavily involved in match-fixing and wanted to see her team unable to make it to the finals.
Later, false allegations were made against her even after playing in such a miraculous manner. Further, people started adding up even more.
In short, the public was ungrateful as they didn't stop bashing the Player despite such great efforts made by her.
They even blamed Lloyd, saying that now as the team made it to the finals, she feels sad as she was involved in match-fixing to make the team lose.
However, Lloyd thought to keep her mouth shut on such rubbish rumors people created for no reason.
Carli Lloyd | Personal Life
Lloyd is happily married to the love of her life, Brian Hollins. Her husband is a golfer by profession.
As both are related to sports, they get along quickly because her husband is a golfer, so she often helps him celebrate golf claps.
Despite both being a millionaire, they are down-to-earth and humble. They have respect for each other. Their love is also visible with many sweetening posts; they are both involved in their social media.
Further, You May Be Keen To Learn About Her Husband. Check The Link To Learn More.
Carli Lloyd | Net Worth
Just like the saying, hard work pays off; Lloyd has proved herself. Despite everything, her efforts have led her to a higher level of life.
Her life is luxurious and beautiful today. Lloyd has an estimated net worth of $2 million today.
Lloyd owns a car by VW. She has held several cars in the past, too. But this car is one of her favorites. Lloyd often shares pictures of having a ride-along with the vehicle.
Both she and her husband are in love with the car they own. Despite dealing with millions of controversies, they hold beautiful smiles.
Despite this, she also owns a grand and beautiful house. Her house isn't filled with various luxuries despite being a millionaire.
So, You May Want To Read About Megan Rapinoe. Click On The Link To Learn More.
Net Worth Of Carli Lloyd In Different Currencies
Here is the net worth of Carli Lloyd in different currencies, including the cryptocurrency BitCoin.
Currency
Net Worth
Euro
€

1,709,470

Pound Sterling
£

1,460,090

Australian Dollar
A$

2,756,682

Canadian Dollar
C$

2,532,030

Indian Rupee
₹

147,682,500

BitCoin

฿46
Search Graph
The popularity of Carli is quite impressive due to her playing skill, people are her massive fans
She is mostly on the news for good and bad reasons, which keeps her popular.
Carli Lloyd | Social Media
Instagram: 1.1 million followers (@carlilloyd)
View this post on Instagram
Frequently Asked Questions (FAQs)
Is Carli Lloyd divorced?
Carli Lloyd isn't divorced. Because she is happily married to the love of her life. Lloyd hasn't come up with any kind of such thing yet.
What is Lloyd's salary?
Carli's salary is still under review. Neither the team nor Lloyd herself has clarified anything regarding this.
Also, as it is related to a player's privacy, it might not be made public unless she has her permission.
Where does Lloyd reside?
Lloyd hasn't made this public yet. She is strict and introverted because she is not fond of mixing up her private and professional life.
What is the Jersey Number of Carli Lloyd?
Carli Lloyd is a professional and top-rated soccer player, and on her team, she wears Jersey number 10 while playing.
Has Carli Ever Done Bikini Photoshoot?
Carli is ridiculously talented and has a model body. Still, we haven't seen any bikini photoshoots, so we can conclude that till now she has not yet done a bikini photoshoot.
Where did Carli and Brian's Wedding Take Place?
Carli is married to a golfer, and they had a gorgeous wedding. The Couples wedding took place on a beach in Mexico.
When did Lloyd Joined Manchester City?
Carli started playing soccer at the early age of five and joined Manchester City later in her Career in the year 2017.
When was Loyd Traded to the Houston Dash?
She was traded to Houston in the year 2104 in exchange for Becky Edwards and Whitney Engen.
Where did Loyd Conduct the Soccer Camp?
Loyd started playing soccer early, so she wanted to impart the same soccer enthusiasm to kids and Conducted the Soccer Camp in Hamilton on November 7, 2020.
How far was Carli Lloyd's Field Goal?
Carli Lloyd has achieved many goals throughout her Career, including drilling a 55-yard field goal.
Do you want a Know Mia Hamm? Check The Link To Learn Some Elegant Quotations Made By Her>>