Cam Newton is a true source of inspiration for many people. An example who has rocked his presence by playing magnificent games.
He breaks his own records and sets a completely new one, which is hardly breakable.
This excellent and hard-working player inspires many with his beautiful sayings. One of his sayings goes on,
"No matter what you can, always give effort, show some energy and enthusiasm, and have a positive attitude."
What is the reason why he has such a positive attitude and playing a remarkable game despite the tremendous pressure?
Keep up with the article to ponder and dive into the real journey of Cam Newton.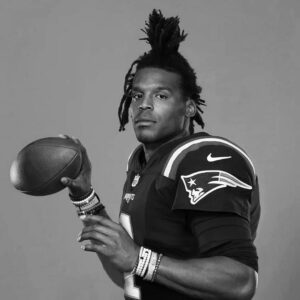 Before we begin, let's have a look at some quick facts.
Quick Facts:
| | |
| --- | --- |
| Full Name | Cameron Jerrell Newton |
| Birth Date | 1989, May 11 |
| Birth Place | Atlanta, Georgia, USA |
| Nick Name | Super Cam |
| Religion | Christianity/ Baptist (Likely) |
| Nationality | African American |
| Ethnicity | Black |
| Education | The University Of Florida, Auburn Tigers Football |
| Horoscope | Taurus |
| Father's Name | Cecil Newton Senior |
| Mother's Name | Jackie Newton |
| Siblings | 2; Cecil Newton, Kellyanne newton |
| Age | 34 Years Old |
| Height | 1.96 m, 6 feet, and 4 inches |
| Weight | 111 kg |
| Hair Color | Dark Brown |
| Eye Color | Black |
| Build | Athletic |
| Profession | Football Player |
| Position | Quaterback |
| NFL draft | 2011 (Round: 1 / Pick: 1) |
| Jersey number | #1 (New England Patriots), #1 (Carolina Panthers) |
| Team | Carolina Panthers, New England Patriots |
| Sexual Orientation | Straight |
| Marital Status | Divorced from Kia, Recent Girlfriend(Instagram model) |
| Ex-Wife | Kia Proctor |
| Kids | Four |
| Net Worth | $45 million |
| Social Media | Instagram, Facebook, Twitter, Youtube |
| Merch | Books, Jersey & Autographed Items |
| Last Update | November, 2023 |
Cam Newton | Early Life, Education, Family
Cam was born in Atlanta on a fine day that was on May 11, 1989. He is the middle son of Jackie and Cecil Newton Sr.
Cam's father Cecil has worked as a safety for the popular football teams Dallas Cowboys in 1983 and Buffalo Bills in 1984.
Likewise, Cam's younger sibling Cecil Newton is a professional football player for Jacksonville Jaguars. He is known for his energy and strength.
Moreover, Cam's father's youngest brother, Caylin Newton, was the Q.B for the Howard Bison in the mid-2010s and was quite popular.
Newton has always looked forward to his dad and brothers. He never learned to give up on something he loved. As a result, he is still pursuing his dreams.
Cam has been a talented baseball and basketball player as a youth, but he later developed a fear of being hit by a pitch in baseball.
Because of this reason, he could not even avoid foul trouble on the basketball court.
High School
Newton completely quit playing baseball at the young age of fourteen years and quit basketball shortly into his high school career.
He later graduated from Auburn University with a prestigious degree in sociology later in 2015.
Newton attended Westlake High School in Atlanta, playing for their high school football team.
As a 16-year-old junior, he passed for 2,500 yards and 23 touchdowns and ran for 638 yards and nine touchdowns, gaining major college programs' attention.
In his senior year, Newton has rated a five-star prospect by Rivals.com, the No. 2 dual-threat quarterbacks in the nation, and the 14th quarterback and 28th player overall.
He received scholarship offers from Florida, Georgia, Maryland, Ole Miss, Mississippi State, Oklahoma, and Virginia Tech.
He committed to the University of Florida at the beginning of his senior year, becoming part of the country's top-rated recruiting class for 2007.
University and College
At the beginning of his education, Cam attended the University of Florida, where he was a member of the Florida Gators football team in 2007 and 2008.
He was a rookie back in 2007, and Newton knocked out fellow freshman John Brantley as the back-up for likely Heisman Trophy winner Tim Tebow.
Cam worked in total five games, passing 40 yards on 5-of-10 and rushing 16 times for 103 yards and three goals flawlessly.
In 2008, Newton played in the season opener against Hawaii during his sophomore season but suffered an ankle injury and took a medical redshirt season.
All charges against Newton were dropped after he completed a court-approved pre-trial diversion program.
In November 2010, Thayer Evans of Fox Sports reported that Newton faced potential expulsion from the University of Florida for three academic dishonesty instances before transferring.
In 2009, Newton transferred to Blinn College in Brenham, Texas, to play for head coach Brad Franchione, son of Dennis Franchione, who also is really renowned.
That fall, he led his team to the 2009 NJCAA National Football Championship, throwing for 2,833 yards with 22 touchdowns and rushing for 655 yards.
He was named a Juco All-America honorable mention and was the most recruited Juco quarterback in the country.
Newton was ranked as the number one quarterback from either high school or junior college by Rivals.com and was the only five-star recruit.
During Newton's recruitment, Oklahoma, Mississippi State, and Auburn were his three finalists. He eventually signed with the Auburn Tigers.
Family
Cam Newton was happily married to his gorgeous wife, Kia Proctor, but they later split up.
He is blessed with four children, namely, Chosen Sebastian Newton, Cashmere Saint Newton, Sovereign-Dior Cambella Newton, Camidas Saint Newton.
Cam Newton | College Career
Newton started the first game of Auburn University's 2010 season, a home win over Arkansas State on September 4, 2010.
Newton accounted for 186 passing yards, 171 rushing yards, and five total offensive touchdowns. He was named SEC Offensive Player of the Week following his performance in the 52–26 victory.
Three weeks later, Newton had a second break-out game with 158 passing yards, 176 rushing yards, and five total touchdowns against the South Carolina Gamecocks in the 35–27 victory.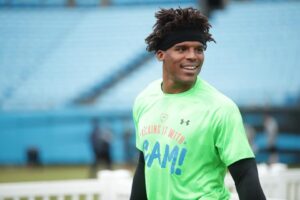 On October 2, Newton led Auburn to a 52–3 victory over Louisiana-Monroe. He completed three touchdown passes, one of which went for 94 yards to Emory Blake.
It was the longest touchdown pass and offensive play in Auburn football history. On October 9, Newton led Auburn to a 37–34 victory over Kentucky.
He passed for 210 yards and rushed for 198 yards, including four rushing touchdowns.
On October 16, Newton ran for 188 rushing yards and three rushing touchdowns during the Arkansas game and threw one touchdown pass in the 65–43 victory.
Following these performances, media reports began to list Newton among the top five candidates to watch for the Heisman Trophy.
You might want to learn about Jenn Brown. Click on the link to learn more.
Cam Newton | Professional Career
Carolina Panthers
In 2011, Newton started working out with George Whitfield Jr. in San Diego. Whitfield has served many popular quarterbacks.
Later, Newton was chosen with the first overall pick in the 2011 NFL Draft by the Carolina Panthers.
He was one of the first ruling Heisman Trophy winners to go initial overall since Carson Palmer.
Cam also was Auburn's fourth No. 1 selection after Tucker Frederickson, Bo Jackson, and Audrey Bruce.
You might be expecting to have a look at a few of the quotes by Bo Jackson. Click on the link to learn more.
Before the draft, Panthers owner Jerry Richardson asked Newton to maintain his clean-cut appearance.
However, Newton told Richardson he had no tattoos or piercings and was thinking about growing his hair longer.
This got some debate on Richardson's part since other team players didn't reach these guidelines properly.
New England Patriots
Cam initially worked in a free agency for nearly about three months. Later, he signed the New England Patriots in early July 2020. The recent contract he signed was worth $1.05 million.
Each player was destined with a minimum salary based on the experience of $1.05 million, and the maximum amount for a player was worth $7.5 million.
According to the media, Cam is a potential player who can owe anything he could wish for. Similarly, as he wished to play for the Patriots, he proved to be there.
Identity in Patriots
Cam was considered as an initial quarterback, or we can say, starting quarterback. He later received the prestige of handling his team as a captain.
He became considered as the team captain of the patriots. It was his initial career starting where he set a victory of 20-11 against a team.
He set an example for many people and set high expectations for the audience and the team. The team grew more ambitious and certain.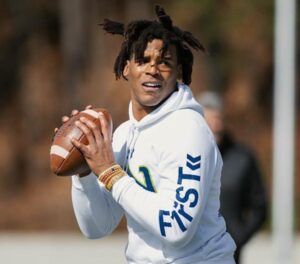 Soon, the game ends, and Newton gets in a fight with Dolphins defensive lineman Christian Wilkins and nose tackle Raekwon Davis.
The players brutally attempt to remove a chain from Newton's neck that had created a problem for the young player, Cam.
Newton highly considered this and was later involved in a fight with the Dolphins as it was a foul.
Talking about the second week, against the Seattle Seahawks on a cozy Night Football, Newton finished with 397 passing yards and 47 rushing yards.
Likewise, he also finished one passing touchdown, an interception, and two rushing touchdowns with perfection.
At the end of the game, with the Patriots trailing 30–35, Newton ran into the end zone from the one-yard line but stopped short as the team stops him, resulting in a Patriots loss.
There was a match on week 4 where the team was supposed to play against the Chiefs but, Newton tested positive for COVID-19, which ultimately postponed the game.
Newton and Stephon Gilmore were the only players on the team who tested positive. It was saddening news for the team and the fans.
You can check and buy Cam Newton's autographed items (jersey, helmets, ball, etc.), click the link to follow>>>
Cam Newton | Career highlights, Awards & Summary Career Stats
2010: Heisman Trophy, Maxwell Award, Walter Camp Award, Davey O'Brien Award, AP College Football Player of the Year, Consensus All-American, SEC Offensive Player of the Year, First-team All-SEC
2011: PFWA All-Rookie Team, NFL Offensive Rookie of the Year, Pro Bowl, Bert Bell Award
2013: Pro Bowl
2015: NFL Most Valuable Player, NFL Offensive Player of the Year, Pro Bowl, First-team All-Pro
Summary Carrer Stats
| | | | | | | | | | |
| --- | --- | --- | --- | --- | --- | --- | --- | --- | --- |
| SUMMARY | G | AV | QBrec | Cmp% | Yds | Y/A | TD | Int | FantPt |
| Career | 140 | 138 | 75-63-1 | 60.1 | 31698 | 7.3 | 190 | 118 | 2740.7 |
Cam Newton and Bill Belichick
"Bill is a cool dude who understands the game. He's like a historian of the game. And for you to just sit down and chat with him, it's like 'Damn!' He's going back, and he's got film, literally teaching the game."
As far as it may seem, the coach Bill Belichick and Cam Newton seem to have a great pairing and relationship between them.
Just with the start of a new year, in February 2021, Newton had stood for Bill, stating he was not a cold person.
During Newton's tenure in Brandon Marshall's 'I Am Athlete' podcast, he openly stated Bill to be misunderstood by most people.
In fact, he had all the good words and praise for the coach. As of now, Cam Newton is in an abyss, and due to his last season's injury list due to COVID, he is low with his stats.
Thus, it was still a concern whether he would be traded or extended for a year more.
Even Cam Newton had stated,
"I'm getting tired of changing, bro. I'm getting to a point in my career where I know way more than I knew last year."
According to Boston Globe's Jim McBride, the Patriots might be extending Cam Newton's contract for a year more.
Apart from it, Denver Broncos had also urged to sign Cam Newton while keeping Justin Fields in the draft. It's not the first time Justin Fields has been named and compared with Newton.
As of now, Netwon has re-signed with the Patriots on a one-year deal worth up to $13.6 million. Also, the deal has up to $6 million tied up in the incentives.
Cam Newton | Blamed for theft
Once in 2008, Newton was arrested on offense charges of theft, larceny, and barrier of justice on an accusation that he stole a laptop computer from another University of Florida student one night.
He was afterward omitted from the team. Campus police traced the stolen laptop to the athlete.
Newton hurled the computer out his dorm window in a comically ill-advised effort to hide it from cops.
All charges versus Newton were taken down after he completed a court-approved pre-trial diversion program.
Cam Newton Net Worth | Endorsements & Earnings >>
He said that he believes that a person should not be thought of as a bad person because of some silly blunders.
He said this in 2010 and added saying that he thinks every person should have a second chance. If they blow that second chance, be it for them and let them get the required punishment.
Cam Newton | Criticisms
Criticism by Kelvin Benjamin
Kelvin and Cam were former teammates once. But once Newton was traded into a different team, the friendship of these teammates developed a barrier.
Kelvin made a really negative comment on Cam. He didn't even think twice before critically commenting on his former teammate.
He said that any quarterback he played with would be better than Cam. Benjamin further adds that he wishes he had never been to Carolina. This was indirectly indicating Cam.
Cam was the one who praised his former teammate after being traded. But, sadly, his teammate probably bashed Cam.
Kelvin said that his former teammate targeted him 51 times in eight games. This comment shocked many, including Cam.
Reply to Kelvin
Newton didn't take a dig. He instead praised Benjamin. He said he isn't interested in going back and forth; all he wants to do is work and focus on his game.
Later he added a story on his Instagram, which later went viral all over Twitter. Here's the video he added to his story.
Criticized for sexist comment
Newton made an open comment on a female NFL reporter, Jourdan Rodrigue. Cam said that it is funny for a female reporter to talk about making routes.
This statement right here made a huge fuss. His own fans got mad at him for being a guy with such a sick mentality.
However, Cam later cleared up and said that the statement he made wasn't meant for being sexist. He said that he was just casual.
The critics didn't stop; it later developed into a huge issue because it was still harsh on a few of the audience. Soon, the criticism eloped.
Cam Newton | Net Worth
Newton is a successful player who has nailed his career with brilliant comebacks and records. According to the reports,
"Cam holds a net worth of approx $45 million"
Newton owns an insane 24-karat gold-plated 1970 Oldsmobile 442 Cutlass. He has incredible rides and has customed his car to make it look more elegant and luxurious.
Newton owned a $2.9 million mansion named Uptown condo. It is on sale right now. This mansion probably hit the market after he kept it on for sale.
He kept this mansion on sale because he wished for an even more luxurious one that would later become his own.
Endorsements and Charity
Furthermore, Newton earns millions from his endorsement deals as well. Initially, he came into the limelight for the advertisers after Super Bowl 50.
Also, he has a shoe brand deal with Under Armour. Besides, Newton endorses other brands as Gatorade, Danon, Beats, Belk, and Electronic Arts.
Alongside his earnings, Cam Newton also indulges himself in charity works.
To elaborate, he founded the Cam Newton Foundation, which looks after the educational, physical, and social needs of children.
Dressing Style
Cam Newton is never behind his fashion style. Indeed, he has turned the heads of many with his avant-garde fashion.
From a whole yellow look to head scarfs and baggy looks, Newton flexes all of them in style. But, of course, Newton is more into the phrase "Dress to impress."
Additionally, Newton has always been giving bold looks and avatars, whether it be his preseason games or MetGala looks.
Hats
Alongside his fashion style, Cam Newton is obsessed with the hats. Actually, his obsession started after watching Alberto Hernandez's unique style and attention to detail in his custom-made hats.
As Newton explains, Alberto's work got him started, and they have worked together to try on multiple new designs. While Alberto brings his creativeness to life, Newton flaunts it on every occasion.
"Cam Newton is definitely my wildest client. He wears a hat every day no matter what; if I want to put a horn on it, he's okay with it."
-Alberto Hernandez

Social Media Presence:
This incredible football player is a massive social media influencer too. As a result, he holds massive followers on all his social media handles.
Instagram: 4.9 million followers
Facebook: 1.9 million likes
Twitter: 1.2 million followers
Youtube: 501k subscribers
Some FAQs:
Is Cam Newton a free agent?
Yes, Cam Newton is currently a free agent.
What is Cam Newton's salary?
Sadly, Cam Newton's salary isn't public because he has recently signed a $1.5 million petition for a complete year.
Are Newton and Benjamin still friends?
These two teammates aren't grooming together since Newton is in a different team. On top of that, Benjamin had made a critical comment about Newton, and as a result, the bond thrashed even more.
Which coach is Newton more familiar with?
Newton is a dear player of coach Belichick. Belichick has praised Newton a lot. Either it is in terms of his playing skills or the amount of dedication and labor he put in his work.
Newton is usually a part of appreciation from Belichick.
Is Newton still married to Kia?
Cam Newton and Kia recently split up their relationship. It is just a rumor that Cam is responsible for their split.
Is Cam Newton in the Hall of Fame, and what is his jersey number?
No, Cam Newton featuring in jersey number 1 for the New England Patriots is not in the Hall of Fame.
Did Cam Newton sign with Bishop Sycamore?
According to sources, Cam Newton agreed to a 2-year deal with Bishop Sycamore. However, nothing is confirmed from Cam Newton's side.
Why is Cam Newton little brother?
Caylin Newton is the younger brother of Cam Newton.
How much is Cam Newton's football rookie card worth?
Cam Newton football rookie card price ranges from $1.88-$8.12.
How many rushing yards does Cam Newton have?
Cam Newton has achieved 5,398 rushing yards in total in his professional football career.
Did Cam Newton and Julian Edleman play together?
Yes, Cam Newton and Julian Edelman played together for the professional football team New England Patriots. However, later Julian Edelman left the team due to an injury.
Also, read about another quarterback star Josh Rosen. Click on the link to learn more.