Carlos Rodon is an American professional baseball player who has just played five professional seasons and is moving on to leave his mark.
The growing athlete is the left-handed pitcher for the Chicago White Sox of Major League Baseball (MLB).
Throughout his bitter-sweet journey to date, he has achieved some feats as the top prospect, winning some notable titles and being featured in the Team USA's National Collegiate Baseball Team.
To dig deeper, Rodon is not a panicker; he enjoys calm moments and encourages every step.
Like every athlete, he started with his college's team entering tournaments, and was drafted for the first time in 2015.
Let's engulf some basic facts about the player before going through his life.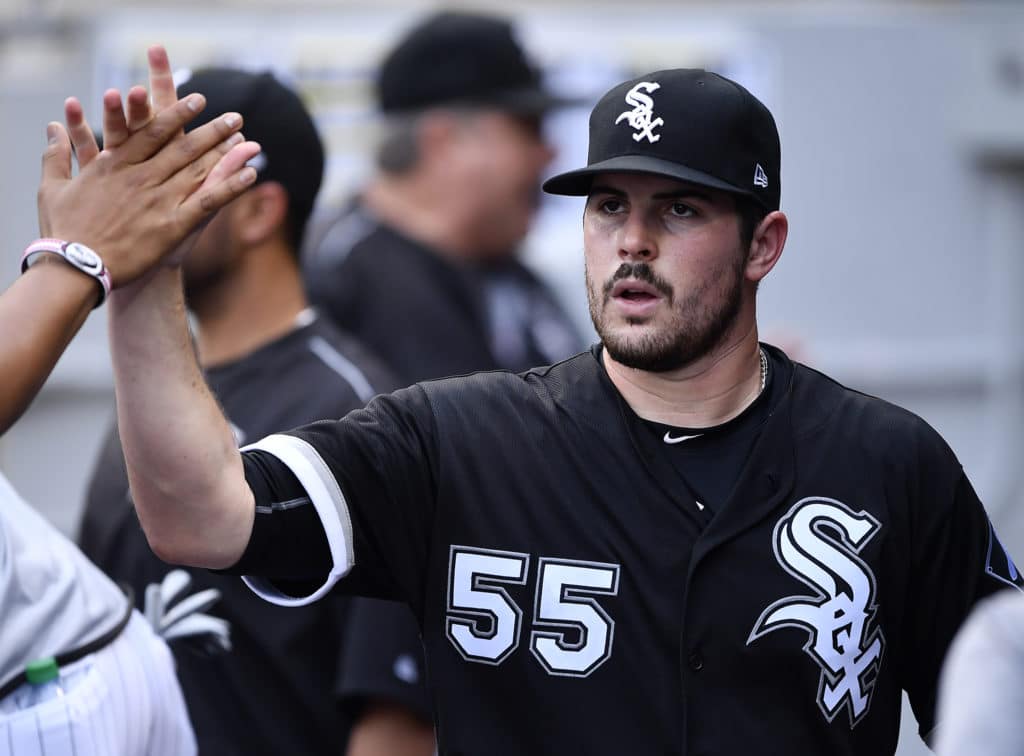 Quick Facts
Full Name
Carlos Antonio Rodón
Date of Birth
December 10, 1992
Birth Place
Miami, Florida
Nick Name
Los
Religion
Catholic
Nationality
American
Ethnicity
White
Zodiac Sign
Sagittarius
Age
30 Years Old
Height
1.91 m (6 ft 2 inches)
Weight
107 kg (235.9 lb)
Hair Color
Black
Eye Color
Black
Build
Athletic
Father's Name
Carlos Rodon, Sr.
Mother's Name
Julie Rodon
Siblings
No
Education
Holly Springs High School
North Carolina State University
Marital Status
Married
Wife
Ashley Paddock (m. 2018)
Kids
A daughter, Willow Rodon
Profession
Baseball player
Position
Pitcher
Affiliations
Chicago White Sox
Active Years
2015-present
Net Worth
$1 million
Social Media
Instagram, Twitter
Merch
Paperback, Autographed Items, Rookie Card, Autographed Baseball, Bobblehead
Last Update
March, 2023
Body Measurements
Rodon is a man of medium build and athletic body, standing aloof at 1.91 m (6 ft 2 inches) while weighing 107 kg (235.9 lb).
To go onto his facial structure, he sort of has a rectangular shape with a heavy black beard and short hair of the same color.
Furthermore, his eyes are the same color, which perfectly stands out due to his fair skin tone.
Carlos Rodon | Early Life and Education
Rodon was born on December 10, 1992, to his parents, Carlos Rodon, Sr., and Julie Rodon.
He was born under Sagittarius' star sign in Miami, Florida, and as he grew up in North Carolina, Holly Springs, he attended high school there.
Rodon commenced his baseball during high school at Holly Springs High School, where in his junior year, NCBCA (North Carolina Baseball Coaches Association) titled him as the All-Star.
As for his junior year stats, he had posted a no-hitter, two one-hitters, four shutouts, a 0.80 earned run average (ERA), and 115 strikeouts.
As he stepped a year from junior days, he defeated the national powerhouse T. C. Roberson High School in a North Carolina 4A state championship.
By the end of the year, Carlos was already scouted in the 16th round of the 2011 Major League Baseball Draft by the Milwaukee Brewers.
However, discarding the offer, Rodon continued his studies and enrolled at North Carolina State University.
North Carolina State University
When Rodon set foot into the University, he commenced his shining days, being the favorite of all.
In his college's rookie year, he posted 135 strikeouts and 43 walks as he pitched 117 innings, thus, sitting him with a 1.57 ERA.
He has been titled the NCBWA Freshman Pitcher of the Year and named ACC Pitcher of the Year, and an All-American.
Thus, he became the first freshman in conference history to gain the Atlantic Coast Conference's pitcher of the year.
Afterward, he led his college's team to a 43–20 overall record in the super regional.
The very same year, Rodon successfully bagged the Louisville Slugger's National Freshman Pitcher of the Year while standing as the Golden Spikes Award's finalist.
Therefore, he closed the year's chapter with a 1.57 ERA with 114 2⁄3 pitched innings, a .176 batting average, and 2 complete games.
The Year 2013
With the end of the perfect 2012 year, he commenced his 2013 year with their first College World Series.
During the match, he recorded a 2.99 ERA in 19 starts as he eliminated 184 batters and walked only 45. Herewith, Rodon set a new single-season record for the sophomore with 184 strikeouts.
Additionally, by the season-ending, he posted his career-high 14 and 16 strikeouts over FAU and LaSalle as he bagged the ACC Pitcher of the Week.
He led the team and won the 2013 USA Baseball Richard W. "Dick" Case Player of the Year Award.
Carlos Rodon | Professional Career
Chicago White Sox
Minor League Baseball
Chicago White Sox drafted Rodon on June 11 with third overall in the first round.
As he was picked up in the 2014 Major League Baseball Draft, Baseball America named him the No. 1 college prospect and the No. 3 prospect overall.
He made his debut for White Sox on July 22 with the Arizona League, where he appeared for two games in total.
Following it, Rodon was promoted to the Winston-Salem Dash of the Class A-Advanced Carolina League, where he played for three games.
Likewise, he was then assigned to the Charlotte Knights of the Class AAA International League, where he posted his season-high eight strikeouts. By the end of the year 2014, MLB.com titled him as the number two prospect.
2015 White Sox
For the 2015 season, Rodon featured in a total of 26 games for the Triple-A Charlotte, where he made 16 quality starts.
Rodon had posted a 3.07 ERA for the overall season, and by the end, his winning percentage stood second, wins stood third, and IP fifth, similar to fifth starts and strikeouts.
Major League Baseball
As White Sox called Rodon for the Major League roster on April 20, he made his debut the next day against Cleveland.
He recorded his MLB's highest strikeout during the same game as he struck out Lonnie Chisenhall in the eighth inning.
However, his first win and start only came on May 9 against the match with the Cincinnati Reds at U.S. Cellular Field.
Following it, at 22, Roson became the youngest White Sox pitcher to strike out 10 or more batters since Jason Bere.
Afterward, he became the fourth Sox rookie to record 10 or more strikeouts at least twice a season, behind Bere, Gary Peters, and Jack Harshman.
With few records and losses, he closed the season's chapter with a three-game winning streak as Baseball America ranked him as the No. 1 Prospect in the White Sox organization.
The Year 2016
On July 9, Rodon was kept on the disabled list with a sprained left wrist for 15 days, and after his return, he managed to post his career-high with nine wins.
However, his season debut against Oakland came as a loss, but he earned his first win in April.
After his treatment, he was kept in rehab back to his injury, starting with Class AAA Charlotte before being reinstated.
Right after it, as he suffered a loss, he rose back to give his career-high five-game winning streak since August 12.
Later, Rodon tied with Joe Cowley's record for most consecutive strikeouts at any point in a game. Overall, by the end of the season, he had 28 quality starts with 168 strikeouts.
The Year 2017
A good year came with a challenging year, as most of the time, Rodon was spending his time on the disabled list due to his left biceps bursitis and left shoulder inflammation.
His season's opening was with a 10-day disabled list due to his left biceps bursitis, followed by a 60-day disabled list, and altogether, he had to spend time on four rehabs.
The rehab continued with Class A Winston-Salem (one time) and Class AAA Charlotte (three-time).
Consequently, his gameplay debut only came in June against the Yankees, which started with a loss.
Similarly, the season's first win came in July against Oakland, as he had two runs on four hits with ten strikeouts.
In addition, as Rodon had five double-digit strikeouts, he became the first White Sox pitcher through his first 56 career appearances to do so.
Following it, as he had three continuous losses, Rodon made five consecutive quality starts, followed by a career-high-tying 11 strikeouts.
Advancing further, he also managed to strike out 10-plus batters for the third time in his career.
Again, with things getting normal, he struggled with a left shoulder inflammation that closed him off for the rest of the season in September. Thus, by the end of the season, he had only 12 starts.
The Year 2018
As the season started for the next year, Rodon was still on the way to recovery from his left shoulder inflammation; hence, he was transferred to the 60-day disabled list.
Like the last year, this year, too, he commenced with four rehab classes with Class AAA Charlotte and Class A Kannapolis.
He made his season debut in June at Boston, where he had seven strikeouts.
Subsequently, he made nine consecutive quality starts allowing five hits, for which he was named the first Sox pitcher since 1908 to allow five hits or less.
Following it, Rodon gained five consecutive straight wins.
The Year 2019
Rodon only had seven this season, with an average of 11.94 strikeouts per 9.0 IP. On March 28, Rodon made his first career Opening Day start at Kansas City, which sadly came as a loss.
His only win of the season came on April 3 at Cleveland, where he posted nine strikeouts over 6.0 IP.
Unfortunately, on May 2, Rodon had to sit on the disabled list due to his left elbow inflammation and was also diagnosed with edema in his left arm's flexor mass.
Therefore, it was announced that Rodon had to go through Tommy John's surgery (Ulnar collateral ligament reconstruction), and thus, he was left out for the whole season.
The Year 2020
With the successful recovery from injury, Rodon returned in the mid-season, and to date, he has featured in a total of four games.
Thus, as for his stats, he has a 0-2 record with an 8.22 ERA and 6 strikeouts in 7.2 innings pitched.
The Year 2021
For the 2021 year, Carlos signed a one-year contract with the White Sox. Likewise, he was supposed to start the first-ever MLB at Field of Dreams but couldn't get the start due to left shoulder fatigue.
Check Carlos Rodon on Fangraphs.com
Carlos Rodon | International Career
To date, Rodon hasn't featured in many international games. His original game was the USA Baseball's Collegiate National Team, which was also nearly slipping from his hand.
That's because his coach at North Carolina State University, Elliott Avent, wanted to shut him down from it, but eventually applied to it as it was an excellent opportunity.
Furthermore, most of the 2013 summer was spent with Team USA, as he was named the top prospect.
His stats show that he had three earned runs over 36 innings (0.75 ERA) and 42 strikeouts for the two seasons.
Carlos Rodon | Pitching Style and 2020 Stats
Carlos Antonio Rodon (pronounced as ROH-DONN) plays under the agent Scott Boras and is expected to be a free agent in 2022.
The player who exceeded his rookie limits during the 2015 season is shown to primarily rely on his Fourseam Fastball, Slider, Change, and rarely on Sinker.
To illustrate, Rodon's four-seam fastball records 93mph, which has less arm movement and average value.
Furthermore, his slider records 84mph, which is seen to have a short glove-side cut and some two-plane movement.
Following it, his change is extreme flyball and slightly firmer at the speed of 84mph. Lastly, Rodon's rarely used sinker is a powerful flyball pitch with a rate of 92mph.
| | | | |
| --- | --- | --- | --- |
| ERA | WHIP | K | Win-loss |
| 8.22 | 1.57 | 150+ | 0-2 (150+) |
Get more career detail on Rodon, including his splits record and scouting report, at Fantasy.com.
Carlos Rodon | Career Stats
Net Worth
Carlos Rodon is reported to have a $1 million net worth with an average salary of $4,500,000. Except for this, no further details are enclosed about his other values.
You may be interested in Andrew Cashner's Bio: Baseball Career, Injuries, Family & Wiki>>>
Net Worth of Carlos Rodon in Different Currencies
Here is the net worth of Carlos Rodon in different currencies, including cryptocurrency and BitCoin.
Currency
Net Worth
Euro
€

853,235

Pound Sterling
£

730,727

Australian Dollar
A$

1,376,937

Canadian Dollar
C$

1,266,070

Indian Rupee
₹

73,810,700

BitCoin

฿23
Carlos Rodon | Love Life and Social Media
Rodon is currently a happily married man to his wife, Ashley Paddock. The duo tied the knot in Playa Conchal, Costa Rica, in 2018, and no further detailed information is out about this power-packed duo.
Apart from what we see in their Instagram uploads, the couple seems to be an avid hunters ready for adventures.
Before their relationship, the baseball player had once dated Keely Warren, which ended for good.
Currently, the duo shares a beautiful baby girl named Willow Rodon and is expecting a baby boy in February 2021.
Some FAQs
What are the Jersey Numbers of Rodon?
Rodon wears jersey number 55.
What Team is Carlos Rodon on?
He is currently playing for Chicago White Sox.