Chad Pennington, "The Golden Boy," is a former American football athlete of the NFL. Before retiring, he played for almost eleven years.
Pennington has achieved many awards and achievements throughout his career while representing the NFL teams New York Jets and Miami Dolphins.
Chad is the only player in NFL history to win the NFL Comeback Player of the Year Award twice.
Likewise, at the time of his retirement, Chad was the All-Time Leader in career completion percentage with 66.0%.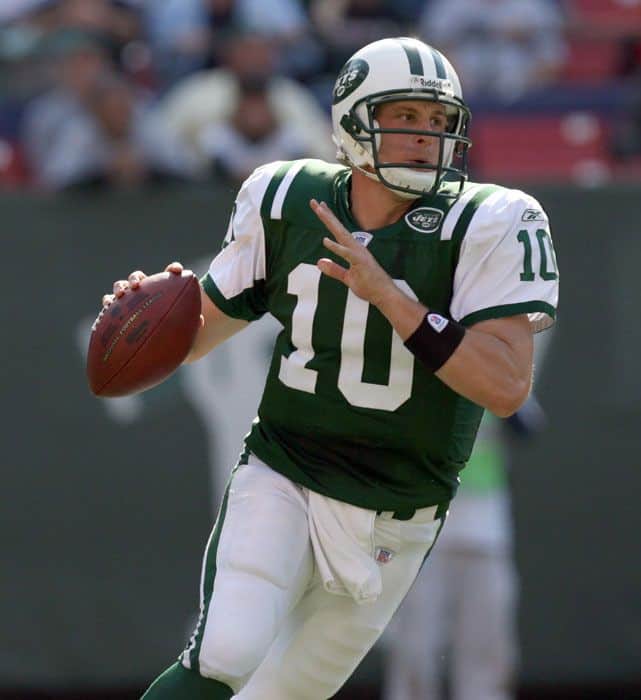 Moreover, let's get into insights into Chad Pennington's personal life, career, and profession. Before getting into the details, here are some quick facts about him.
Chad Pennington | Quick Facts
Full Name
James Chadwick Pennington
Birth Date
June 26th, 1976
Birth Place
Knoxville, Tennessee
Age
47 years old
Nickname
The Golden Boy
Religion
Not Available
Nationality
American
Education
Webb School of Knoxville, Marshall University
Horoscope
Cancer
Father's Name
Elwood Pennington
Mother's Name
Denise Pennington
Siblings
Andrea Pennington
Height
6' 3" (1.91 m)
Weight
230 lbs (104 kgs)
Build
Athletic
Shoe Size
Not Available
Eye Color
Dark Brown
Hair Color
Blonde
Marital Status
Married
Spouse
Robin Hampton
Children
Three sons
Profession
Football Player, Coach, Analyst
Former Teams
New York Jets,

Miami Dolphins

Net Worth
$20 million
Awards and Achievements
2× NFL Comeback Player of the Year

2× NFL Completion percentage Leader

NFL Passer Rating Leader

MAC Most Valuable Player

MAC Offensive Player of the Year

Social Media
Instagram, Twitter, Facebook
Last Update

November, 2023
Chad Pennington | Early Life, Family, & Education
Former football athlete Chad Pennington was born on June 26th, 1976, in Knoxville, Tennessee, to his proud parents, Elwood Pennington and Denise Pennington.
His Father was a football coach and a physical education teacher at Halls High School in Knoxville, Tennessee.
Similarly, his mother is a teacher at a private, coeducational school, Webb School of Knoxville. Also, he has a younger sibling named Andrea Pennington.
Chad has loved sports since he was a child. He initially played basketball and later began playing football during his first year at high school.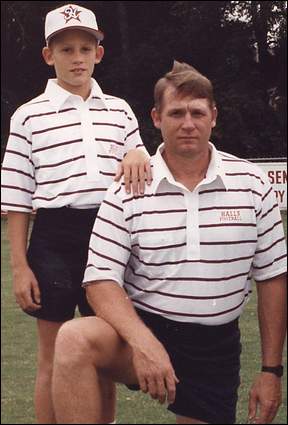 According to the horoscope, Chad is a Cancer. People with Cancer as their sun sign are mostly known for their protective and intuitive nature.
Age, Height, and Body Measurements
Chad, aka "The Golden Boy," turned 45 years old. He possesses an athletic build and stands at the height of 6' 3" (1.91 m), and weighs around 230 lbs (104 kgs).
Also, he has dark brown eyes and blonde hair.
Education
Furthermore, Chad started attending Webb School of Knoxville in eighth grade. There he played several sports like basketball, football, and baseball.
However, he was more passionate about football and knew that he would have great chances of getting offers from colleges through football.
Moreover, two colleges were interested in recruiting Chad: the University of Tennessee at Chattanooga and Middle Tennessee State University.
Chad decided to attend the training camp at his parent's alma mater, Marshall University. Meanwhile, Jim Donnan, head coach of Marshall University's football team, noticed Pennington and offered him a scholarship.
Chad Pennington | Career and Profession
NFL Draft
The New York Jets selected Chad as the 18th overall and the first quarterback during the first round of the NFL Draft 2000.
Pennington was one of the six quarterbacks who were drafted before Tom Brady.
New York Jets
Pennington made only three appearances in his first two seasons and became the fifth-round starting quarterback.
Moreover, Chad helped lead the Jets' from 1–4 to a 9–7 record and towards the AFC East division championship.
Similarly, in the season, his quarterback rating of 104.2 set a new team record.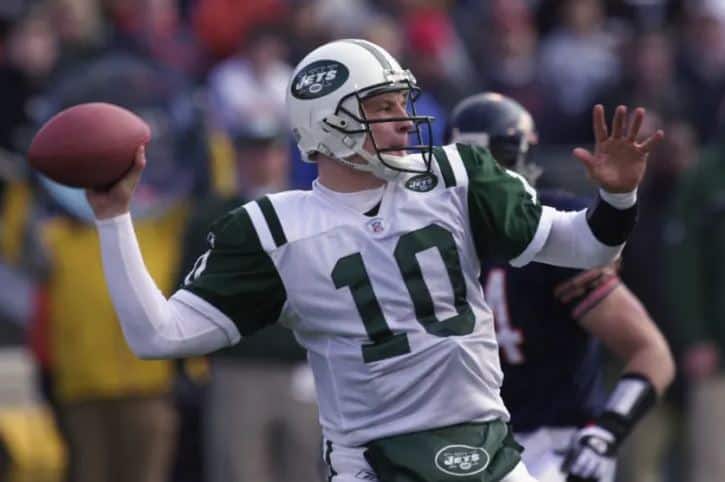 Unfortunately, during the fourth pre-season game while playing against the New York Giants, Chad got hit by the Giants' linebacker, Brandon Short, and suffered from a fracture-dislocation on his left hand.
Because of his injury, Chad missed the first six games of the 2003 regular season. Furthermore, the severity of his injury and the hurried rehab process caused his wrist never to be the same.
Hence, his exceptional play fake turned thoroughly ordinary. Going into the 2004 season, the New York Jets signed a seven-year contract worth $64.2 million with Pennington.
Likewise, while playing against the Buffalo Bills, his rotator cuff got injured, making him miss three games.
Feud with the New York Media
Throughout the 2004 season, Chad had a feud with the local New York media. Moreover, on December 20th, 2004, Chad scolded the media assembled during news conferences.
He told them that covering for the Jets and being around many professional athletes daily is not the media's right but a privilege.
Surgery
During the 2005 season of the NFL, on February 4th, 2005, Chad had to undergo surgery on his right shoulder, which was caused due to a right rotator cuff tear and a large bone spur on the same shoulder.
Moreover, in the following games after his surgery, Chad's dismal performance while playing against the Kansas City Chiefs and Miami Dolphins led to the speculation that he was not fully healed from his injury.
However, Chad and Herman Edwards, Jets coach, denied the speculation and explained that it was due to a lack of practice in the preseason.
Furthermore, Pennington underwent surgery on his right shoulder again on October 6th, 2005.
The team expected that he would have better control and strength in his throws with more time spent on rehabilitation.
Post Surgery
After his surgery, Pennington entered the 2006 season and trained with new throwing coaches. At the time, the Jets appointed a new coach Eric Mangini.
Mangini stated to the team players and the press that the player starting in the quarterback position is uncertain. Hence, all four of their quarterbacks have an equal chance.
Besides, to ensure Chad's shoulder safety, the Jets' medical staff limited him on his throws.
Moreover, Chad won the pre-season quarterback competition of the Jets and started in the 2006 season.
He recorded his career's first back-to-back 300-yard passes, and his exceptional performance earned Chad the AFC Offensive Player of the Week honors.
Furthermore, even after being criticized for his lack of arm strength, he played with significant improvement and won the award of Comeback Player of the Year.
Miami Dolphins
Chad was released by the Jets after acquiring Brett Favre. Reportedly, after his release, six teams were interested in having Pennington on their team.
Among them, Miami Dolphins and Minnesota Vikings were severe competitors.
Likewise, Pennington signed a two-year contract worth $11.5 million with the Miami Dolphins on August 8th, 2008.
While representing Dolphins in his role during the teams' ten-win turnaround, Chad received distinguished MVP consideration from numerous major media outlets.
Moreover, Chad received his career's second Comeback Player of the Year Award after completing the 2008 regular season.
Pennington's Third Surgery
Chad injured the same shoulder where he had two surgeries while playing against the San Diego Chargers during the third quarter on September 27th, 2009.
Moreover, the Dolphins announced that his MRI results contained a torn capsule in his throwing shoulder. Hence, Chad decided to have a third surgery on his shoulder.
Chad stated that he was unsure if he would get to play again, but he would try his best to rehabilitate the shoulder and get back to playing in the NFL. But later, the Dolphins officially placed him on the injured reserve.
Career-Ending Injury
After his third injury, the Dolphins re-signed Chad to a one-year deal worth $5.75 million if he started as the team's quarterback, $4.2 million if he gets traded, or $2.5 million for being the backup quarterback to Chad Henne.
Moreover, on November 10th, 2010, the Dolphins named Chad the starting quarterback for the game against the Tennessee Titans.
Unfortunately, he suffered from a severe shoulder injury again. This particular injury was a potentially career-ending injury.
Although Chad attempted another comeback for the NFL in the 2011 season, he tore his ACL on March 31st, 2011.
He announced that he would work as an analyst during the 2011 NFL season for Fox Sports. On February 9th, 2012, Chad officially announced his retirement following his fourth shoulder surgery.
Chad Pennington |
Awards and Achievements
2× NFL Comeback Player of the Year- 2006, 2008
Heisman Trophy finalist- 1999
2× NFL completion percentage Leader- 2002, 2008
William V. Campbell Trophy- 1999
MAC Most Valuable Player- 1999
NFL Passer Rating Leader- 2002
MAC Offensive Player of the Year- 1999
PFWA Most Improved Player of the Year- 2002
47th "Perfect Game" in NFL History- November 16th, 2003
Chad Pennington | Business Interests
1st and 10 Foundation
Chad and his wife, Robin Pennington, started the 1st and 10 Foundation in 2003.
This foundation's mission was to build stabler communities through funding programs and institutions that seek to improve the quality of life throughout Tennessee, the New York metropolitan area, and West Virginia.
Moreover, since the beginning of the foundation, more than half a dollar has been provided to various charitable organizations.
If you want to buy the rookie card of Chad Pennington rookie card, click the link to follow!
Chad Pennington | Football Coach
The Sayre School hired Pennington as a football coach in 2018. While looking for good schools for his children, Chad and his wife came across Sayre and loved it.
However, the school didn't have a football program.
During an interview with Jim Gehman of Jets.com, he stated –
"I loved what Sayre had to offer, except they didn't have football; I came up with reinstituting the football program….. I started the conversation with Rob Goodman, the head basketball coach, and athletic director, Rich Little. And then, once the conversations got more serious, we presented the idea to the headmaster and then to the board."
According to Pennington, football contains a unique ability to make the school stronger with more fellowship and community spirit.
Hence, he started his journey as a football coach, which his Father took for almost 30 years.
During his first year as a coach, he led the team towards a 3-5 record. Currently, Chad works as the Director of Football for the Sayre School.
Chad Pennington | Net Worth
Throughout his career as an NFL Quarterback, Pennington has earned a pretty good amount for himself.
Looking back at his contract details from past years, he signed a seven-year contract worth $64.2 million with the New York Jets.
Similarly, Chad signed a two-year deal worth $11.5 million with the Miami Dolphins.
Throughout his eleven years playing in the NFL, he earned an estimated $75 million.
Moreover, he also works as an analyst for FOX Sports and as Director of Football for the Sayre School.
Reportedly, the presumable net worth of Chad Pennington in 2020 falls around $20 million.
Chad Pennington | Wife and Children
Chad Pennington is married to his college sweetheart Robin Hampton. The couple got married on March 1st, 2001.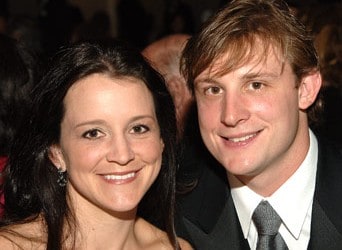 Together they have three sons, Cole Pennington, Luke Pennington, and Gage Pennington.
Their firstborn, Cole, is a football player like his Father and represents Syre School as the Quarterback.
Moreover, he has a scholarship offer from Marshall University, his parent's and grandparents' alma mater.
Are you a huge fan of Chad Pennington? Here, click the link to gain his autographed items like jerseys, balls, cards, and many more!
Chad Pennington | Social Media Presence
Instagram- 1k Followers
Twitter– 18k Followers
Facebook– 190 Friends
Common Queries about Chad Pennington
Was Chad Pennington a good QB?
According to bleacherreport.com, Chad Pennington's inability to throw long passes has made him the top passer rating of the NFL because of his efficient short passes.
What does Chad Pennington do now?
Chad Pennington works as a Director of Football for Syre School.
Is Chad Pennington a Hall of Famer?
Chad Pennington was part of the Hall of Fame (1999)- National Football Foundation.
What is Chad Pennington's 40 Yard Dash and 20 Yard Split time?
According to the NFL Combine statistics, Chad Pennington's 40-yard dash time is 4.85 seconds, while the 20-yard split time is 2.76 seconds.
What are Chad Pennington's NFL career statistics? What is his jersey number?
Chad Pennington's career statistics stand at 102–64 TD-INT, 17,823 passing yards, 66.0 completion percentage, and a passer rating of 90.1.
As for the jersey number, Pennington wears jersey number 10 for the Miami Dolphins.