Many may know Aja Crowder as the wife of former NFL player Channing Crowder but the multi-faceted woman is more than that. She is a realtor, businesswoman & reality TV star.
A Howard University alumnus, Aja excels in the real estate business in Florida. Her hard work, dedication, and genuine interest in pairing luxury home buyers with their ideal dwelling and design set her apart from the rest.
It also makes her a true inspiration for anyone looking to follow their passion.
Aja Crowder & her husband Channing Crowder met at a radio station. And the love story has now led to a decade-long married life & parenthood of three as of 2023.
Currently, Crowder's husband Channing works as a radio personality after his NFL retirement in 2011. Even though he announced getting back into the field in 2012, the linebacker has not made any appearances as a player so far.
In this article, we will go thoroughly about Aja Crowder, her family, her relationship, her net worth & more. So, be sure to read the full article.
Quick Facts
| | |
| --- | --- |
| Full Name | Aja Crowder |
| Birthday | June 10, 1986 |
| Age | 37 Years Old |
| Birth Place | Miami |
| Nick Name | Aja |
| Religion | Christianity |
| Nationality | American |
| Ethnicity | African-American |
| Zodiac Sign | Gemini |
| Hair Color | Black |
| Eye Color | Brown |
| Body Build | Slim |
| Height | 5 feet 7 inches (1.7 m) |
| Profession | Businesswoman (realtor) |
| Tattoo | Yes |
| Education | Howard University |
| Hobbies | Traveling, Spending time with family, Acting |
| Food Habits | Nonveg |
| Marital Status | Married |
| Husband | Channing Crowder |
| Kids | Three |
| Children Names | Ava Milan, Chaz Lee Randolph, Channing Crowder III |
| Husband's profession | Former NFL player |
| Net Worth | $1.5 Million |
| Husband's Net Worth | $5 Million |
| Social Media | Instagram, Twitter |
| Last Update | November 2023 |
Aja Crowder | Mother Raised Her As A Single Parent
Crowder was born on June 10, 1986, in Miami. She is 37 years old. Her zodiac sign is Gemini.
Aja Crowder is very close with her mother Alesia who goes by the IG handle @be.you.ti.ful1. Though she has not shared much more about her.
Often, the American realtor mentions her mom on Mother's Day. In March 2013, she shared a collage picture (childhood & grown-up) with her mother, & wrote:
"She has the biggest heart. Beautiful inside and out. She's sacrificed so much for me growing up, always giving her best. I'm blessed to have her, Happy Mother's Day Momi ❤❤"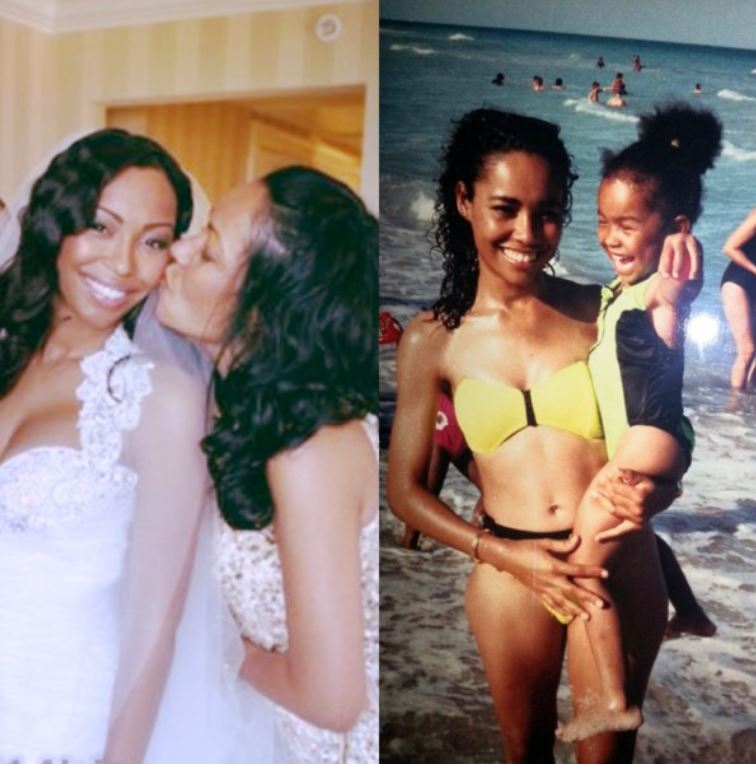 Crowder never met her father throughout her childhood. She was raised by her mother as a single parent.
Reportedly, her parents parted ways even before knowing Aja was in her mom's womb. It was later in her 30s when she got to meet her dad.
As per Aja Crowder herself, she never felt about missing her father as her mother ensured the fulfillment of parental duties.
She is a graduate of Howard University.
Channing Crowder Wife | Aja's Grandmother Passed Away In 2020
While growing up, Crowder lived with her grandparents. She became close with her grandmother Josie Lee whom she considers an important figure in her life.
In March 2020, Aja Crowder lost her grandmother Josie at the start of the COVID-19 lockdown. It would be her first Mother's Day without her.
Moreover, at the time of her grandma's demise, Aja was pregnant with her third child; which made the grieving process even harder.
Despite having job opportunities across the states, Aja chose to stay close to her grandmother in Opa Locka after graduating from Howard University.
Even after moving in with her husband Channing Crowder, she would make timely visits to her.
Aja Crowder's Search For Father
During her sophomore year at the University, Aja found out that her surname was not her father's. So, she went to ask her mom the truth.
According to her mother, her (Aja's) father's name was Bruno & was an attendant at Miami High School.
Reportedly, Crowder's father didn't know that her mom was pregnant when they parted ways, so he didn't know if Aja was born.
But the early search was resultless.
Could y'all plz help my wife and I find her dad. Name is Bruno,54, Cuban dude, attended Miami High late 70s. PlzRT pic.twitter.com/nmsqHIDLj6

— Channing Crowder (@OfficialCrowder) December 13, 2015
The urge to meet her biological father grew even more after she herself experienced the parenthood of two kids.
So, with her husband Channing's help, Aja initiated her father's search again in December 2015. The former NFL player even made a Tweet asking for help from netizens to find his wife's dad.
Reunion After Three Decades
Thanks to her husband's Tweet about finding her father, Aja finally got to meet him. Her father's name is Juan Bruno Aguirre- he works as a real estate advisor in Miami, Florida.
Only a few days after the Tweet, the reality star's dad Bruce called her himself. It was a reunion after 29 years.
Now, Crowder is on good terms with her father. He goes by the Instagram handle @brunoaguirrerealtor.
Aja Crowder (Wife Of Channing Crowder) | Professional Career
The Miami-born first came into the media limelight as the wife of Channing Crowder, a now-former NFL player who played for the Miami Dolphins.
She starred in the reality TV series Baller Wives in 2017 which ran for a season. It chronicled the lives of girlfriends & wives of NFL players.
It co-starred Kijafa (wife of Michael Vick), Stacey (second wife of Chris Chambers), Miko Grimes (Brent Grimes' wife), Jeniva (Asante Samuel's wife), and Kelly (wife of Julius Jones).
Moreover, Aja Crowder also had a successful career in advertising & marketing. She represented branding for clients like Coca-Cola, Universal Studios, Live Nation, and more.
Real Estate Businesswoman
After leaving her marketing job & the conclusion of her reality TV show, she switched her interest to luxury real estate.
Aja Crowder's journey to success has been nothing short of impressive and inspiring. The Howard graduate's knowledge of the South Florida market stands her out from the crowd.
Likewise, her professionalism when assisting homebuyers is noteworthy- from touring to managing urgent deals with seamless delivery of abundant home options.
Channing Crowder Wife | Body Measurements & Personality
The former NFL player's wife Aja Crowder has a slim body build with a height of 5 feet 7 inches (1.7 m). Her beau Channing (b. December 2, 1983), who is three years her senior, is 6 feet 2 inches tall.
An American of black ethnic heritage, Aja has black wavy hair & brown eyes; she exudes a natural beauty that is hard to miss.
Crowder has a well-toned body that leaves many in awe- no denying that she often gets compared to a model. She weighs 64 kg (141 lbs) & has a body measurement of 34-27-34 inches.
Aja Crowder is known for her fitness and healthy lifestyle. On her social media post, she shares pictures of her workouts.
Aside from her physical attributes, she has a charming personality and tries to spread a positive attitude around. She & her husband are active in charity work.
Channing Crowder & Aja Crowder | Married Life, Kids & More!
Channing and Aja are still going strong for more than a decade as husband & wife. They are parents to three children: Channing III, Ava, and Chaz.
The couple met in 2009 at a radio station during a charity event. At that time, she worked at a radio station, while Channing played NFL for Miami Dolphins.
After dating for two years, the duo married on April 23, 2011.
At the time of the wedding, Aja was pregnant with their first child and welcomed son Channing Crowder III in August 2011.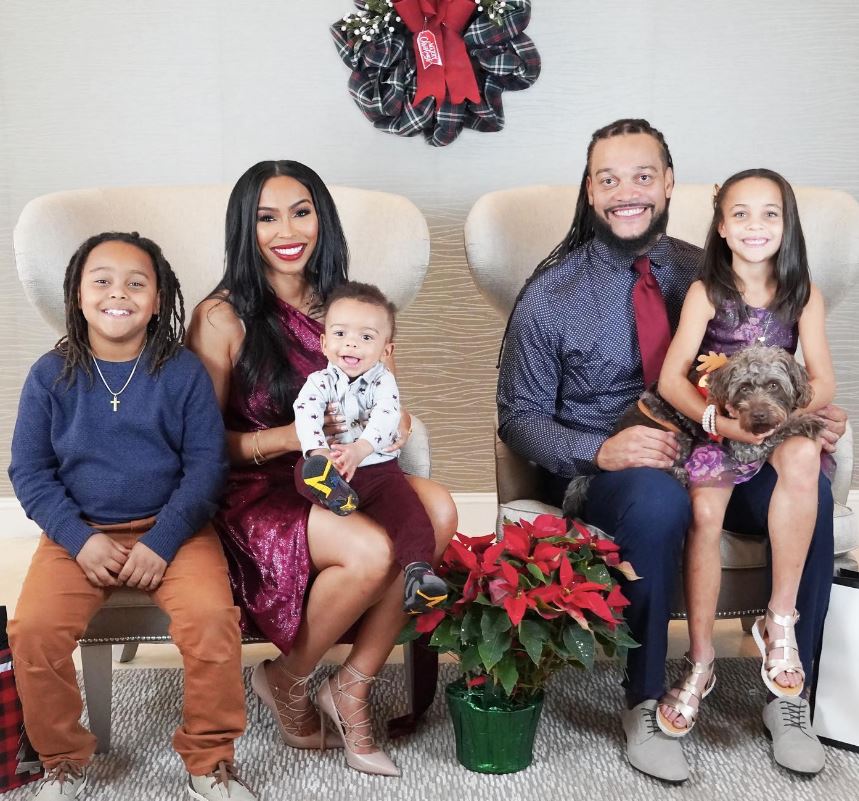 Their eldest child, son Channing III has an Instagram account @channingcrowder3, managed by his retired NFL player father.
Moreover, the duo welcomed daughter Ava Milan Crowder in February 2013.
Aja and Channing became parents for the third time with the birth of son Chaz Lee Randolph Crowder, on June 24, 2020. They had confirmed pregnancy with Chaz in December 2019 & did a gender reveal in May of the following year.
A doting mother of three, Aja Crowder often shares pictures of her kids & husband on her social media. The family of five lives in Florida.
Brief On Channing Crowder | Career & Controversies
Randolph Channing Crowder Jr. is a former NFL player who played his entire 8 NFL seasons with Miami Dolphins (2005-10) before retirement.
Currently, Crowder works as a radio personality. He hosts the radio show The Pivot along with Fred Taylor and Ryan Clark. Moreover, Channing co-hosts Hochman & Crowderruns on weekdays with simulcasts on 790 The Ticket and 560 WQAM from 2 PM to 6 PM.
The University of Florida alumnus became the round-three (70th overall) pick of the Miami Dolphins in the 2005 NFL Draft, where the top 3 picks were Alex Smith, Ronnie Brown & Braylon Edwards.
Crowder played for the Dolphins for 8 seasons (until the 2010 season), totaling 469 tackles, 2.5 sacks, 1 forced fumble & 1 interception.
Ahead of the 2011 season, the team released him on July 29, 2011, and a week later on August 9, 2011, he announced his retirement.
Aside from his professional ventures, the Pennysylvania-born often made headlines with his controversial comments & legal issues. For instance:
Channing Crowder was charged with reckless driving & leaving the crash scene after he crashed his truck into a tree on January 23, 2008.
A confession with NFL Films in a 2012 interview left fans in shock & disgust. He confessed that he urinated his pants after "every NFL game."
A controversial statement that he "couldn't find London on a map" ahead of the Giants vs Dolphins game in London, England in 2007.
Even though Channing announced resuming his NFL career in 2012, no report on his signings came up. For now, he is pursuing his radio career.
He is also known for his philanthropy and dedication to the Boys and Girls Clubs of Fort Lauderdale.
Channing Crowder's Wife Aja Crowder | Net Worth
Aja Crowder has an estimated net worth of $1.5 million as of November 2023. Her fortune results from her relentless pursuit of success and determination to make a difference in her field.
Following her reality TV show & marketing/advertisement career, she currently stands as a renowned realtor in South Florida. Moreover, she works as the super host of the vacation rental company Airbnb.
On her Instagram, the savvy woman features her beautiful home, luxury cars & exotic vacations. She could earn $180-$300 per sponsored via Instagram.
Aja Crowder's husband Channing made $12.25 million in career earnings from eight NFL seasons. His net worth is around $5 million.
On July 23, 2005, he signed a four-year $2.15 million contract & then a three-year $20 million with the Dolphins on February 25, 2009.
After retirement from NFL, Channing Crowder works as a radio host.
Frequently Asked Questions
What is the age difference between Channing and Aja Crowder?
Channing was born on December 2, 1983, and Aja was born on June 10, 1986. Hence, Channing is around 2 years and 6 months older than Aja.
What was Aja awarded with?
Aja Crowder was named the Agent of the Year for Allure Realty Miami in 2022.