Channing Frye is a former American professional basketball player. He played as a power forward in the National Basketball Association (NBA) League until he retired in 2019.
The New York Knicks selected him in the 2005 NBA draft. With that selection, he became the first college senior to get drafted that year.
Previously, before joining the NBA, he played his college basketball for the Arizona Wildcats. While there, Frye had an exceptional career and received many honors for leading his team in NCAA tournaments.
Channing spent about a decade and a half playing professional basketball in the NBA. The athlete played for six different teams in his long career, winning the championship ring with one. He became the NBA champion when the Cavaliers won the 2015-16 NBA Championship.
The former NBA champion could play in the center position as well. However, after retiring from professional life, he started working as a TV-program host and match analyst.
From this article, readers will discover about the former NBA champion's early life, a historical NBA journey, personal life, and much more.
But before moving into the details, here are some quick facts about Channing Frye.
Quick Facts
Full Name
Channing Thomas Frye
Known As
Channing Frye
Date of Birth
May 17, 1983
Birth Place
White Plains, New York, the USA
Nick Name
Black Lightning
Religion
Christianity
Nationality
American
Zodiac Sign
Taurus
Age

39

years old
Height
2.13 m (7 feet)
Weight
255 lb (116 kg)
Hair Color
Black
Eye Color
Black
Build
Athletic
Father's Name
Thomas Frye
Mother's Name
Karen Mulzac- Frye
Siblings
A brother
Siblings' Name
Logan Frye
Education

St. Mary's High School (Phoenix, Arizona)
University of Arizona (Tucson, Arizona)

Marital Status
Married
Sexual Orientation
Straight
Wife's Name
Lauren Lisoski
Kid
Four
Kids' Names
Hendrix, Margaux, remaining two kids' names- unknown
Profession
Professional basketball player
NBA Draft
2005
Position
Power forward/center
League
National Basketball Association (NBA)
Active Years
(2005–present)
Net Worth
$10 million
Currently Plays For
None/ Retired
Former Clubs

New York Knicks
Portland Trail Blazers
Phoenix Suns
Orlando Magic
Cleveland Cavaliers
Los Angeles Lakers

Jersey Numbers
7, 44, 12, 8, 9
Career Highlights & Awards

NBA champion (2016)
McDonald's All-American (2001)
First-team All-Pac-10 (2004, 2005)
NBA All-Rookie First Team (2006)

Social Media
Instagram, Twitter
Merch
Notebook, Trading card
Last Update

December 2022
Early Life, Family & Education
Channing Thomas Frye, popularly known as Channing Frye, was born in Whtie Plains, New York, on May 17, 1983. He was the eldest son of Thomas Frye and Karen Mulzac-Frye.
Karen was a TV reporter and program producer. Moreover, she was an Emmy Award winner. Talking about his dad, he had a company that consulted various private and government schools for multiple purposes.
Young Channing spent his childhood in Phoenix, Arizona, and attended St. Mary's High School. He started playing basketball very early when he was still in his primary level.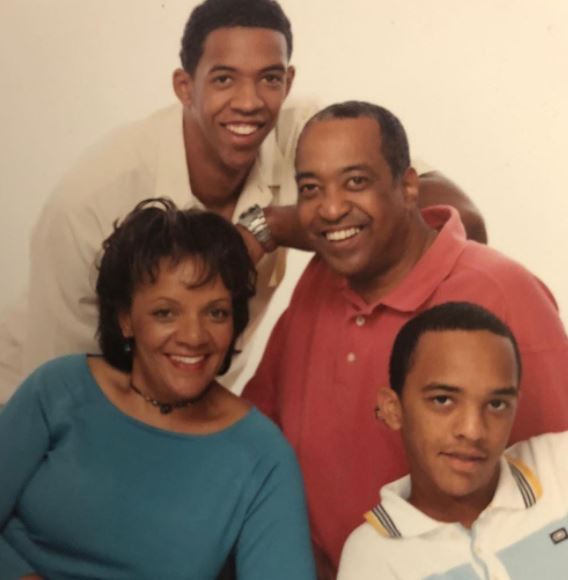 The young boy had already become famous as one of the best centers out there in his town while he was playing for his high school team.
Both his parents loved him very much, and they never hesitated to let him practice basketball with his friends.
After doing great in basketball in high school, he joined the University of Arizona for his college basketball career.
Sadly, the player now no longer has his parents. They both died in 2016, just one month apart. His mother, Karen, died of Cancer in October 2016. Soon after 27 days, his father passed away.
Channing's grandmother discovered his father's dead body when she checked upon him a few days later on Thanksgiving Day. The simultaneous incidents had severe effects on him.
It took quite a while for the player to come out of the trauma. Both his parents were already divorced and used to live apart.
However, he had a great bonding with both of his parents, which lasted until their death. He still misses them very much. Moreover, he has a younger brother named Logan Frye.
Channing Frye | Career
High School Career
Channing Frye played for the St. Mary's basketball team until 2001. During his four years as a high school athlete, he developed various skills and stood out as one of the best players on the squad.
As a junior, Frye led his team to the semi-finals of the 2000 Class 5A state tournament. He averaged 15.0 points and 12.0 rebounds per game throughout the entire tournament.
Going onto his senior year, the Arizona player played even better. He had 22 points and 15 rebounds per game in the 2001 Class 5A state tournament. His team finished the event with a 30-3 record in which he was one of the top contributors.
<<< Jusuf Nurkic Bio: Salary, Relationship & NBA >>>
College Career
Channing joined the University of Arizona to pursue his college career. As a freshman, he played all 34 games of the first season, starting 25 of them. He continued his brilliant performance up to the college season.
He averaged 9.5 points and 6.3 rebounds per game in his first college season. The rookie earned Pac-10 All-Freshman team honors for his performance this season.
As a sophomore, he appeared in 32 games and averaged 12.6 points and 8.0 rebounds per game. He received a couple of honors for the games this season too.
Moving on to his junior year, he played 30 matches and started all games. He averaged 15.9 points and 7.4 rebounds per game.
He played and started all 37 matches in his senior year and did well, like in all his previous years. His stats were impressive, with an average of 15.8 points and 7.6 rebounds per game.
Frye made and broke many records throughout his college career. Subsequently, he declared for the 2005 NBA draft as one of the country's top prospects.
Professional Career
New York Knicks
Channing Frye entered the NBA after New York Knicks selected him in the 2005 NBA draft. He played 65 games for the club in his rookie season and started just 14 games. However, his performance was good, averaging 12.3 points and 5.8 rebounds per game.
Sadly, he could not play as many games as he had wanted to play in his first NBA season. Then, on March 21, 2006, he injured his left knee and had to miss the remainder of the league games.
After a long rest, he returned for the Knicks in the 2006-07 season. He played 72 matches and started more than 50 games but could not perform better. He averaged 9.5 points and 5.5 rebounds per game.
The knee injury tormented him for quite a long whose effect was seen in a few upcoming seasons.
Portland Trail Blazers
After spending two years with them, the Knicks traded him to the Portland Trail Blazers on June 28, 2007. His two seasons with the Blazers were among the worst in his NBA career.
His first season with the club was forgetful as he managed to average just 6.8 points and 4.5 points per game. He again showed a knee injury following this season, which forced him out of the court.
Frye had knee surgery and missed many games in the 2008-09 season. He played 63 matches and averaged 4.2 and 2.2 rebounds per game this season.
Phoenix Suns
Channing signed a two-year contract with the Phoenix Suns on July 14, 2009. He regained his form back while in the Suns and recorded excellent stats. Playing four seasons for the club, he averaged over 10.0 points per game.
Impressed with his progress, the club even signed a new five-year contract in 2010.
However, after four regular seasons with the club, he parted his way with the Blazers.
Cleveland Cavaliers
Frye transferred mid-season to the Cavaliers after spending almost two bad seasons with the Orlando Magic. Frye played 26 matches for the Cavaliers in the 2015-16 season and averaged 7.5 points and 3.8 rebounds per game.
The same season, Channing Frye won the NBA championship ring with the Cavaliers. He was crucial for the club to help them reach the NBA Finals, even though he was late.
However, he did not have much playtime in the final match.
He played more with the Cavaliers one season before moving to the LA Lakers in 2018. However, he returned to the Cavaliers after playing just 9 matches for the Lakers.
Eventually, he retired from his professional career in 2019 while still with the Cleveland Cavaliers.
He co-hosts a sports analysis program called Handles and runs Road Trippin"s podcast.
Channing Frye | Injuries
Channing Frye endured numerous injuries throughout his decade and a half NBA career. However, the athlete suffered a significant knee injury in his rookie season. He sprained his left knee when Andre Barrett accidentally fell upon his knee.
Consequently, he missed all the remaining matches of his first season.
Moreover, he was diagnosed with severe heart disease in 2012 when he played for the Blazers. As a result, he had to go through yoga classes and play fewer physical games like golf for a while.
<<< Jalen McDaniels Bio: Basketball Career, Brother & Salary >>>
He returned to the court in 2013 after a long rest due to that heart defect.
Channing had to undergo knee surgery to recover from his knee injury in the first season fully. He is fine now and living his life very well after retirement.
Awards & Achievements
NBA champion (2016)
McDonald's All-American (2001)
First-team All-Pac-10 (2004, 2005)
NBA All-Rookie First Team (2006)
Age, Weight & Height
As of 2022, the retired player is 39 years of age. He celebrates his birthday every May 17.
Moreover, he stands 2.13 meters (7 feet) tall and weighs around 255 lb (116 kg). Talking about his facial features, he has black colored hair and black eyes.
Net Worth, Salary & Career Earnings
Channing Frye's net worth is estimated to be around $10 million.
The NBA veteran's primary earning source is hosting tv programs and podcasts. Moreover, he earned a lot of money playing professional basketball until 2019.
Throughout his NBA career spanning over a decade, he accumulated about $70 million.
Apart from spending money on his needs, the player has participated in various community service programs.
He established a foundation called The Channing Frye Foundation in 2007. They said they started the foundation for youth consultation and betterment programs.
In addition, he and his wife founded another organization called The Frye Family Foundation in 2010. He also sponsors various charity programs and sports events like kickball, etc.
Channing Frye | Wife & Kids
Channing Frye is married to Lauren Lisoski. He first met Lauren in Portland before the 2007-08 NBA season, and they dated for about 2 years before their marriage.
He said that they were introduced to each other by their mutual friend. Eventually, they married on August 14, 2009, at Portland Portland Vineyards. His close friends and family members attended the minor program.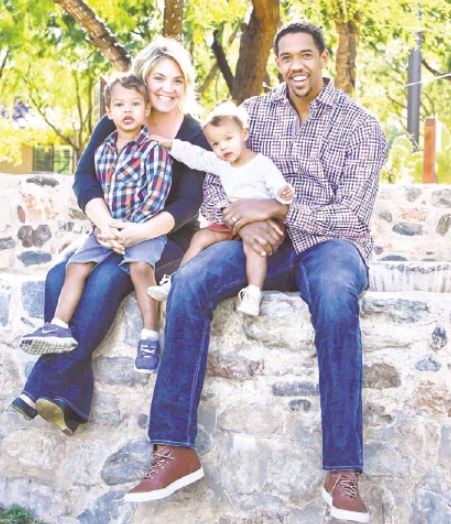 The couple had their first child, Hendrix Frye, on October 4, 2010. Some years later, Lauren gave birth to their daughter, Margaux. Sadly, she was born with a vision impairment.
In addition, the pair is blessed with two more kids. However, there is not much information about them on the Internet.
Social Media Presence
<<< Chandler Parsons Bio: Career, Retirement & Net Worth >>>
Frequently Asked Questions (FAQs)
Did Channing Frye retire?
Yes, Channing Frye retired in 2019. At that time, he was just 35 years old and was playing for the Cleveland Cavaliers. After his retirement, he has taken up a job as a co-host of various tv programs and podcasts.
Why did Channing Frye retire?
Channing Frye retired because, as he said, he wanted to stop his NBA career as a Cavaliers player. He deeply affectionate the club as he won his first and only championship ring playing for them.
Moreover, he had made a funny remark about having "enough money to buy extra guacamole every time" while retiring.