Chris Holdsworth is one of the top contenders who came out of The Ultimate Fighter House with a perfect career record. He is an American former MMA who played six matches and won all six games.
As of 2022, he owns and runs a Mixed Martial Arts Academy based at Greenback Ln, Orangevale, California.
However, his short intended leave turned to retirement from the arena. He has never given up on MMA and is pursuing it from the other way around as a coach.
Holdsworth had given everything from amateur MMA to being in the Ultimate Fighting Championship.
Altogether, he was able to implant his name in the hearts of those who went head over heels for MMA and can't see the other reasons.
In other words, the professional mixed martial artist got only six matches close to his fighting career.
Starting from 2010, it was short-lived as it ended in 2014, and he hasn't stepped in ever since.
Before discussing his whole story, below are quick facts to plunge into.
Chris Holdsworth | Quick Facts
| | |
| --- | --- |
| Full Name | Chris James Holdsworth |
| Date of Birth | October 24, 1987 |
| Birth Place | Van Nuys, California |
| Nick Name | Holds It Down |
| Religion | Christianity |
| Nationality | American |
| Ethnicity | White |
| Zodiac Sign | Scorpio |
| Age | 36 Years Old |
| Height | 5 ft 11 in / 1.80 m / 180 cm |
| Weight | 135 lb / 61 kg |
| Hair Color | Light Brown |
| Eye Color | Grey |
| Build | Athletic |
| Father's Name | Name Unknown |
| Mother's Name | Name Unknown |
| Siblings | An older brother and an older sister |
| Education | Not Available |
| Marital Status | Unmarried |
| Wife | None |
| Profession | Mixed martial artist |
| Division | Bantamweight |
| Affiliations | Team Alpha Male |
| Stance | Orthodox |
| Active Years | 2010-present (As A Coach) |
| Net Worth | $128,000 (Annual Salary as MMA) |
| Social Media | Instagram, Twitter |
| Last Update | December, 2023 |
Chris Holdsworth | Early Life And Family
Holdsworth (fully named Chris James Holdsworth) was born on October 24, 1987, under Scorpio's sun sign.
As for his family background, he comes from an athletic experience full of fighters. Although he hasn't mentioned his parents' names, he has shared childhood stories.
Starting from his grandfather to his brother, they are all fighters. His grandfather used to be a great boxer of his time, while his father was a fighter and a Vietnam War veteran.
As for his mother, she works TSA at the Burbank Airport and is also a breast Cancer survivor. His older brother was also a fighter who was, unfortunately, shot and killed when he was eight.
During his early years, Holdsworth practiced taekwondo initially, while his brother used to learn kickboxing.
When he lost his brother at an early age, it fuelled his passion for sports. Therefore, he devoted himself to fights and pieces of training guided by his father.
Chris said, "My dad, he's always been teaching me from day one, and he got me into it when I was younger. Kung-fu, Vietnam veteran, and we were always watching martial arts movies growing up."
"He had a heavy bag in the garage, and he'd show me stuff. His favorite quote was, 'hit him in the balls, poke his eyes out, and play marbles with them.' My dad was always a bit of a dirty fighter."
Chris Holdsworth | Age, Height & Body Measurements
Chris is 36 years old. Holdsworth is a fair-skinned man with light yellowish-brown hair and a light hint of beard with a similar color.
Furthermore, he has grey eyes, and altogether he is not well-muscled but maintains his weight at 135 lb.
As for his height, he is pretty tall at 1.80 meters and also portrays a samurai tattoo sleeve on his right biceps.
Like everyone, he is strict about his diet, takes fitness training seriously, and focuses on learning the correct form and techniques.
Chris Holdsworth | Introduction To MMA
At first, Holdsworth did have some other career, such as a navy seal in his mind. However, after witnessing his brother's funeral, he wanted to enter MMA and have a name there.
As a teenager, he involved himself in the Gracie Academy brown belt classes named Patrick King.
During the period, Gracie's challenges were entirely in the hype. Therefore as he trained under him, he also got a chance to learn under the Gracies in Torrence.
Altogether he claimed a blue belt from Royce Gracie and his purple belt from the Gracie Brothers (Ryron & Rener).
Following it, he decided to leave his family and moved to Las Vegas to learn under his new instructor Marc Laimon.
Hence, he switched to the Cobra Kai Academy in March 2007, where he earned his brown and black belt in August of the same year.
All in all, Chris Holdsworth had become the youngest Brazilian Jiu-Jitsu black belt in the U.S.
He started MMA slowly alongside UFC stars Johny Hendricks and Shane Roller along his journey.
He said, "It's been hard, man. I'm not going to lie to you. I might not know it, but I might actually be helping people with my story, my fights, or my personality. If I can help people or change people's lives for the better, that's what's important for me."
You Might Also Want To Read Carlos Yulo Bio: Family, Gold Medal, Achievements >>
Amateur Career
After just a few weeks of gaining the black belt promotion, Holdsworth earned his share in the MMA debut as an amateur.
Before that, he had signed a deal with the Tuff-N-Uff promotion and fought with Justin Linn. Chris Holdsworth won the fight via submission.
The debut bout covered him with a glorious triangle, choked submission's victory, and advanced him to fight against Cameron Ramirez.
As they fought on September 18, 2009, Holdsworth claimed the match with TKO (punches).
As an amateur, Holdsworth took four matches in total, all victories, before turning pro. After the second victory, he bagged the match against Gor Mnatsakanyan via TKO.
Following it, he charged successfully over Anthony Gutierrez at Tuff-N-Uff: Xtreme Couture vs. Team Quest on August 6, 2010.
You Might Be Interested In Reading Felice Herrig's Bio: MMA, UFC, Next Fight, Nationality, Net worth >>
Chris Holdsworth | Professional Career
In October 2010, Chris Holdsworth entered the MMA arena as a professional coach through Team Alpha Male.
He featured in four fights with the teams, which were all titled as his victories through submission.
The Ultimate Fighter
Initially, the Ultimate Fighter chose Chris Holdsworth as one of the fighters for The Ultimate Fighter: Team Rousey vs. Team Tate.
Holdsworth fought over Louis Fisette in the elimination fight in the first fight, which resulted in the first-round arm-triangle choke win.
Later, he stood in the team Tate where he faced Rousey's #1 pick, Chris Beal.
This fight became the most anticipated after Holdsworth dominated through strikes, followed by knockdown and guillotine choke in the first round.
All in all, he ended the series after facing Michael Wooten in the semi-finals. Thus, he won the match through a rear-naked choke in the first round.
Ultimate Fighting Championship (UFC)
Holdsworth had three matches in the UFC, including against Davey Grant, Chico Camus, and TJ Dillashaw.
During the match against Chico Camus on May 24, 2014, initially, he was expected to face Kyung-Ho Kang.
However, Kang Kyung-Ho withdrew from the match, and Chico Camus replaced him. Thus, he won the UFC 173 via a unanimous decision.
Chris Holdsworth Vs. Davey Grant
On November 30, 2013, Chris Holdsworth faced David Grant and fought for a "six-figure" contract.
The bout took place at The Ultimate Fighter (TUF) 18 Finale from Mandalay Bay Events Center in Las Vegas, Nevada.
Altogether, their match had a clinch battle, which extended to the second round. With the fight coming to an end, Holdsworth won by rear-naked choke.
Chris Holdsworth Vs. TJ Dillashaw ( Head Injury And Controversy)
The match against Tj Dillashaw in 2014 proved to be the last one for Chris Holdsworth, followed by many controversies.
After the match between the two was left quite a hiatus due to Chris Holdsworth's post-concussion syndrome.
As the match took place, Holdsworth was on the dominating side, and after his Choke, as he got on the mat, he met the knees of T.J.
To elaborate, TJ Dillashaw had used an illegal system to win by kneeing him on top of the head.
After this fight, Holdsworth took leave and never really returned to the octagon ever. Thus, the public was in a rage so were the other fighters regarding Tj's behavior.
Even Urijah Faber and current UFC bantamweight champion Cody Garbrandt accused the fighter of his cheap shot.
However, Tj Dillashaw denied all the claims that were against him. All in all, the truth will always reveal itself, no matter how hard we try to hide it.
After three years of silence, Holdsworth spoke of his incident, stating that Dillashaw tried to harm him.
He said, "I'm just not the type of person to jump into people's feuds or drama. I like to lay low and do my thing, but there's been some talk, and after I heard T.J. lying about the subject, I've got to speak upon it."
"T.J. has always been a great fighter, he's a great athlete, but there were multiple occasions where T.J. got a little bit too aggressive. There are no hard feelings, it's whatever it is, but he's a cheater."
Highlights And accomplishments
The Ultimate Fighter 18 Tournament Winner
Submission of the Night (One time) vs. Davey Grant
Chris Holdsworth | Post Career
We all know MMA is a cruel thing. Sadly, you never know what the next step holds for you.
Whether it is a success or injury, MMA gives everything to you in a wholehearted form. The same happened to Chris Holdsworth.
Holdsworth had a glorious career and record during the fight and was also open of the most promising fighters.
However, he ended up leaving the spot after his concussion, which took everything away in an instant.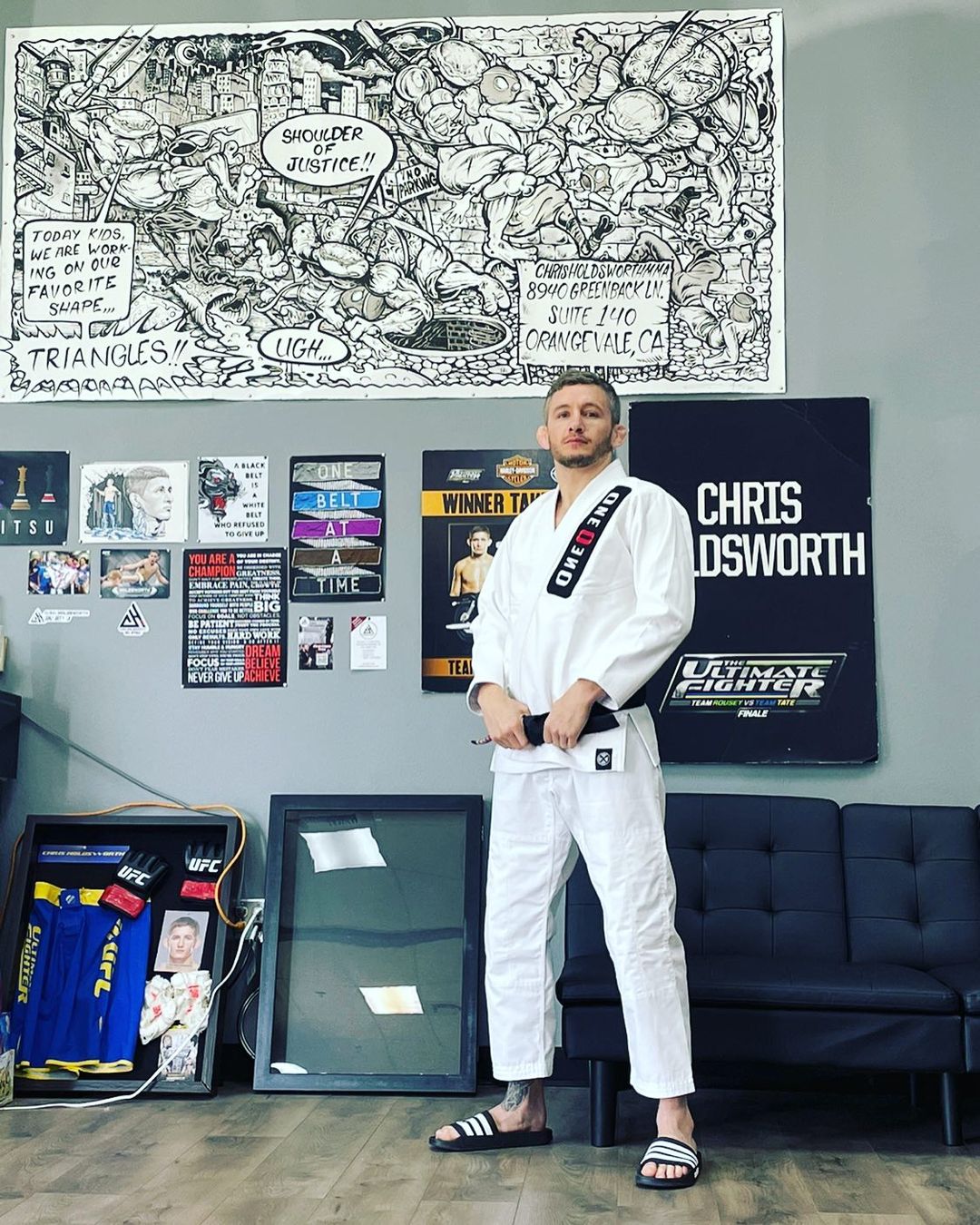 Not to mention, Holdsworth's positivity is immense and infectious. What's great about him?
He hasn't given up; his love for the MMA is still the same measurement or maybe bigger, but not any less.
In fact, he is now a Team Alpha Male coach who tries to provide every piece of knowledge about the field.
Apart from that, he had even chosen not to talk about the incident that hampered everyone around him while he was suffering the most.
Additionally, he has also been featured as the UFC broadcaster after his leave.
He fought six matches and won all six matches, hence undefeated. However, after his retirement, he continued MMA as a coach. He has opened Mixed Martial Arts Academy.
He told that "I've moved past it, and I'm happy where I'm at right now. I'm building world champions, and I'm helping guys, so that's kinda where I'm at right now."
In November 2022, he shared a post on Instagram saying, "Love seeing a packed house" where many people came to join courses in his academy.
Also, he spends quality time with his family and friends. Let's hope that his career as a coach gets successful.
Chris Holdsworth | Skill And MMA Record
Holdsworth is a package full of talents. Among all his skills, his Jiu-Jitsu is the best and the sharpest.
He has been learning it for the longest and has a good side of strikes. All in all, Holdsworth loves Jiu-Jitsu.
"I started with a background doing Hawaiian Kempo and Tai-Kwon-do and stuff like that, and I did boxing before I ever did jiu-jitsu."
-Chris Holdsworth
Furthermore, his MMA record is 6-0. He has won five matches via submission and one competition via decision.
Chris Holdsworth | Personal Life & Girlfriend
Unlike every athlete, the personal life of Holdsworth is not disclosed. Holdsworth is not involved in scandals, rumors, or controversies.
Thus, he must be happily single. Even if you scroll down his social media accounts, he hasn't mentioned his relationships.
As for his early years, he is not involved with anyone; thus, all we can do is wait for him to break the news.
He may look average; however, we know his potential.
He expressed, "I'm a nerd. Some people say I'm socially awkward, but I'm not the guy who runs with a big crowd. I do my own thing and be quiet."
"I'm okay with that. I don't want to look like a fighter. It's not what I want to do. I want to be different."
Anyways, to look into Holdsworth as an average person is entirely unexpected. He has always been the different one with skills and talents.
Chris Holdsworth | Net Worth And Salary
The former fighter is an MMA coach expected to make millions and live lavish lives.
During his MMA career, he earned a yearly income of $128,000.
Social Media Presence
The mixed martial artist is quite active on social media.
You can follow him via these links:
View this post on Instagram
Popularity Graph
Chris Holdsworth was famous for his fights in Mixed Martial Arts.
His search rate hiked as he is the second undefeated fighter who has retired from the MMA.
Frequently Asked Questions (FAQs)
What is Chris Holdsworth's fighting style?
Chris Holdsworth's fighting style is Kickboxing, Brazilian Jiu-Jitsu. He fought in six matches and won all games.
Who were the TUF 18 Finale winners?
Chris Holdsworth and Julianna Pena were the TUF 18 Finale winners.
Has Chris Holdsworth worked for the Atlanta Hawks?
No, the MMA fighter has not worked for the Atlanta Hawks.
He trained the Team Alpha Male.
Is Chris Holdsworth from Edinburgh?
No, the fighter is from California. He has now opened Mixed Martia Arts Academy in California.
You Might Be Interested In Reading Adebayo Akinfenwa Bio: FIFA, Stats, Wife & Net Worth >>