Adebayo Akinfenwa is an English former soccer player who last played for Wycombe Wanderers as a striker. He was named 'The Beast' because of his enormous build and strength. He is an exemplary individual who has deeply settled amongst millions of hearts.
On 22 October 2022, he announced that "The BeastMode On," a documentary, is streaming on Prime Videos through his Instagram post.
Akinfenwa is a player who considers his passion as an energy that can light his soul up in the best way possible.
Soccer is considered one of the most fascinating sports globally. It is a game that has renamed itself as the most passionate sport ever. The level of dedication and strength this sport requires is beyond elaboration.
Akinfenwa is known for his devotional skills and techniques.
He also received Boa Awards in 2022; this association was founded to celebrate African philanthropists.
After retiring from the sport, the former soccer player made his wrestling debut in October 2022. Adebayo hinted that he might be part of WWE PPV Money in the Bank, which will take place in July 2023.
Let's acknowledge the journey he has set so far. Before pondering, have a sneak peek at a few quick facts.
Quick Facts
| | |
| --- | --- |
| Full Name | Saheed Adebayo Akinfenwa |
| Birth Date | May 10, 1982 |
| Age | 41 Years Old |
| Birth Place | Islington, London, United Kingdom |
| Nick Name | The Beast |
| Religion | Christianity |
| Nationality | English / British |
| Ethnicity | Nigerian |
| Education | Not Available |
| Horoscope | Taurus |
| Father's Name | Not Available |
| Mother's Name | Not Available |
| Siblings | Brother, Daley Akinfenwa (Twin) |
| Height | 6'1″/1.85 m/185 m |
| Weight | 102 kg/224 lb. |
| Hair Color | Bald |
| Eye Color | Black |
| Body Measurement | Not Available |
| Build | Athletic |
| Married | Unmarried |
| Girlfriend | Single |
| Children | 5; as per the reports (Name Not Available) |
| Profession | Professional Soccer Player |
| Net Worth | Estimated $10 Million |
| Salary | Around $6k per week (With Wycombe Wanderers) |
| Affiliations | Wycombe Wanderers FC (former) |
| Active Years | 2003 – 2022 |
| Jersey Number | 20 and 10 |
| Social Media | Instagram, Twitter |
| Merch | The Beast: The Story |
| Last Update | June 2023 |
Personal Life & Family
Adebayo Akinfenwa is of Nigerian origin and was born in Islington, North London. His dad is a Muslim, and his mom is a Christian. He observed Ramadan as a child, but he is now a Christian. His father's and mother's name are not disclosed.
Akinfenwa and Clarke Carlisle are close friends; his friend played for Northampton Town. As a child, Akinfenwa followed Liverpool, and his idol player was John Barnes.
He mentioned he is a proud father of five children and takes care of them the best with all his efforts.
Akinfenwa has been listed as the most powerful soccer player globally in various FIFA video game set versions.
He was asked to visit the launch Party for FIFA 15 adjacent to many stars and Premier League members, including Rio Ferdinand, George Groves, and Lethal Bizzle, in September 2014.
Age, Weight, & Exercises
The former soccer player stands tall at 6 feet and 1 inch (1.85 meters) and weighs around 102 kg (224 pounds).
To maintains his bulky physique, he lifts heavy weights. He carries 220 pounds and does 16 sets. Likewise, he bench presses up to 31 sets, carrying 440 pounds.
Being a gym freak, he started his own apparel label, Beast Mode On, which reflects his great status.
Soccer Career
Early Career
Akinfenwa, as a teen, joined the Lithuanian club FK Atlantas on his agent's advice, whose Lithuanian wife's brother knew a coaching staff member there.
While with the club, Akinfenwa won the 2001 Lithuanian Football Cup final and competed in the UEFA Cup qualifying rounds for two consecutive seasons. Playing there, he faced racial insults from fans in the country.
Adebayo spent two years at the club before reverting to the UK in 2003, where he joined Welsh Premier League champions Barry Town.
He aided Barry in Welsh Cup and Welsh Premier League throughout his time at Jenner Park.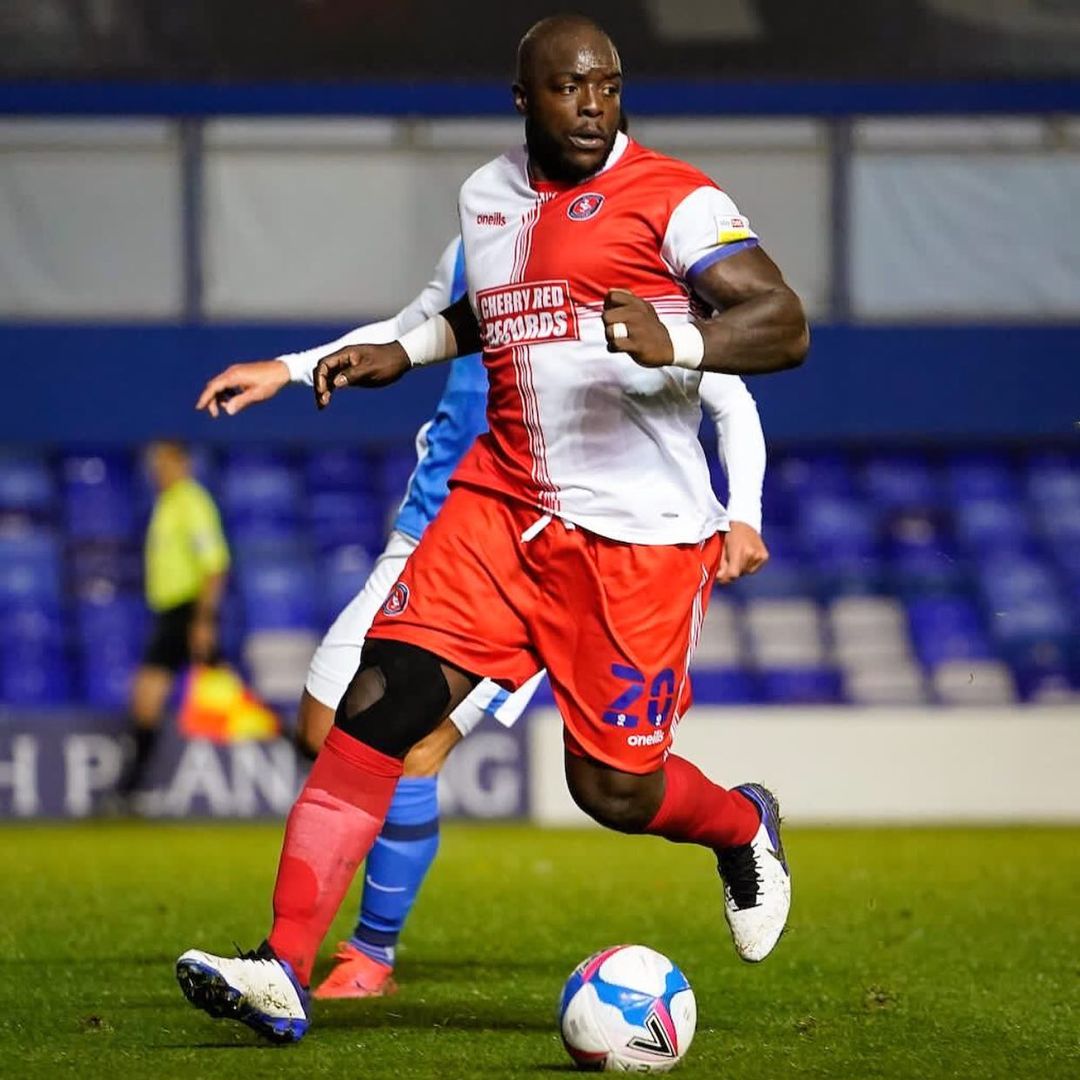 But, after just a few games with the club, it underwent a fiscal disaster and released all its playing staff.
In October 2003, Adebayo debuted for Boston United and bagged a last-minute victory against Swindon Town in the Football League Trophy.
Yet, unable to settle, he was released by Leyton Orient after playing just one month with the team.
He moved to Rushden & Diamonds in December 2003 and later joined Doncaster Rovers, his fifth club of the season, in February 2004.
Torquay United
Adebayo swapped clubs again in July 2004 and joined Torquay United as a replacement for David Graham.
During the 2004–05 season, he scored 14 league goals and was named supporter's Player of the Season.
He was unable to help his club avoid relegation to League Two. As a result, he declined to sign a new contract with Torquay.
Swansea City
Adebayo signed with Swansea City, who paid $99,854 as compensation, way less than what Adebayo asked for in July 2005.
He scored on his debut game against Tranmere Rovers, and this was his first competitive goal scored at Swansea's new Liberty Stadium.
He registered the winning goal in the 2006 Football League Trophy final against Carlisle United.
Adebayo also aided Swansea in advancing to the League One progression play-off final in his first season.
The match went to a penalty shoot-out after a 2–2 draw. However, he was among the two players who missed to find the back of the net.
The following season, he was a regular player until he fractured his right leg in the 2–0 loss at home against Scunthorpe United.
Millwall
He rejected a new contract with Swansea and agreed to sign for Swindon Town on 29 June 2007. But, he failed medical.
In November 2007, after recovery and practice at Gillingham, he joined League One team Millwall on a month-to-month deal. However, he failed to score any goals in seven appearances.
Northampton Town
Adebayo penned a deal with Northampton Town till the 2007–08 season on 18 January 2008. He made his debut for the team in a 1-1 draw against Swindon Town, where he came off the bench to score a late equalizer.
The former soccer player then had the same impact in his home debut, scoring the equalizer against Leeds United in a 1–1 draw.
In his second home match against Gillingham, he scored two goals and went on to score three more goals that season.
Adebayo signed a new one-year contract with Northampton despite Leyton Orient and Grimsby Town's interest on 30 May 2008.
He started the 2008–09 season well, scoring twice in three games. Adebayo ended his stay at Northampton in May 2010, despite getting a new deal from Northampton.
Gillingham
Gillingham and Akinfenwa agreed on a one-year deal, and Akinfenwa scored on his debut for the team with a header against Cheltenham Town on 29 July 2010.
While at the Gills, the former soccer player formed a powerful connection with Cody McDonald, and the duo scored 36 goals that season.
Return To Northampton Town
Akinfenwa was offered a new deal, but the former Gillingham striker decided to return to Northampton Town on May 25, 2011. Gary Johnson got him in to "catch the fans' vision."
In a match against Accrington Stanley, Akinfenwa made his first and only professional hat trick on 10 November 2012.
Three years later, with Northampton coping financially, Adebayo auctioned off the shirt he wore in this game and gave all the proceeds to supporters, raising $520.
Northampton Town released him at the end of the 2012–13 season.
Return To Gillingham
On 2 July 2013, Adebayo signed for Gillingham again on a free transfer.
Later reigniting his successful chemistry with Cody McDonald, scoring ten goals in the 2013–14 season and finishing third in their Supporters Player of the Year honors, Adebayo left the club at the end of his one-year deal.
AFC Wimbledon
Wycombe Wanderers
Adebayo signed for Wycombe Wanderers on a one-year deal. He was nominated for the EFL League Two Player of the Season award in April 2018.
With his strike against Doncaster Rovers on 29 February 2020, Adebayo became Wycombe's record goal-scorer in the English football league with 54 scores.
Adebayo and Wycombe won the 2020 EFL League One play-off Final over Oxford, promoting the EFL Championship for the first time in both the player's career and the club's history on July 13, 2020.
Adebayo ended the season as the club's joint-top league goal scorer with 10 goals.
Wycombe signed a contract extension on July 2021, and he confirmed that it would be his last season.
His last game for the Wycombe Wanderers was in the 2022 League One play-off final, where he was substituted at 75 minutes but could not prevent the team from losing to Sunderland.
He officially retired from soccer in 2022.
Racism
It occurred when Adebayo was a teenager. He was released from Watford, and multiple English clubs showed interest in continuing his development.
However, he joined the Lithuanian club as suggested by his then-agent, who was married to a Lithuanian woman.
His then-agent told him that the nation had already played in the UEFA Cup Football. However, he had never heard of such a team.
He quoted, "when you are young you are fearless, I didn't take into account that I didn't speak the language, that I didn't like the food, or the colour of my skin. I just wanted to play football"
His debut match was a pre-season game, and like most preseason games, he played the native team.
During a match, Adebayo chested the ball, which went down the lane, and he heard someone calling monkey.
In his mind, he thought he might have misheard, but when he got the ball again, he was sure that the spectators were calling him Lemur.
Humiliation
Adebayo went to case the ball down over, and then the chants rose, "Ziga, ziga, ziga, rake the ******* ******."
After, he froze and glanced around and was like, 'huh?'.
And then what made it more acute was the 1000 people verifying it, 500 were from the away crew, and 500 were his home team fans.
The opponent-followers initiated it, and then the home fans – his home supporters – got in.
The club's president competed in Poland, so he spoke a bit of English, but everyone extra, even the administrator, only spoke Lithuanian, so he didn't know what they were saying.
Adebayo asked the president what 'ziga, ziga' intended, and he calmly said it was zip; they just repeated it with the n-word.
He made a call to the club's president and also his older brother. This was around 2001-2002, but he says that he remembers it like it was yesterday.
Further
In a call with his brother, Adebayo said he was coming home. His brother asked him what happened?, and Adebayo told him they were promoting racism and were harming him with their words.
As Adebayo would like to say, it was like a movie, and he wanted to go and hit them. But as early as he got off the call, he wished to go home.
Adebayo went to bed that evening – call it an angelic invasion; he believed God was talking to him – but he then woke up, deeming nobody would kick him out of any place.
Uneasiness
Adebayo realized he was the first black person in the match, one of maybe ten black people in Klaipeda.
A month into his stay, his lover at the time, and his brother, who was 14, went shopping with him, and the entire place closed down as three black individuals came in.
Adebayo scored goals and led his team to the FA Cup final. FK Atlantas had not won any title in 11 years; he scored a goal in their 1-0 win at the 2001 Lithuanian Football Cup.
He didn't want to say that he was a legend amongst his own fans, but Adebayo was the man who helped their team win a cup.
They stopped verbally abusing him because of what he did on the ground, not because they loved him.
How can someone accept an individual because they are making goals for the team but entirely hate them just because of their skin tone?
They never saw a black man, so whatever had been filled into them was what they were stating, but as Adebayo was making goals and conveying rapture to their side, they stared past the tone of his skin.
Complete Opinion
There's an oblivious bent, and then there's obvious bias, so there is no further addition to it, and Adebayo has had an awful time.
It's a mindset he was tender, brave, and went for things he never imagined he would have to.
Finally, he opened up an Adidas shop and didn't get abused in eateries anymore or at the movies. He didn't mean they were cool with him; they were fine as he brought them comfort.
There were stepping stones from seeing a black soul to seeing a black individual who scored goals and did well for their players.
He didn't say he would ever do it over or want to do it repeatedly, but he is happy that he went by it in a roundabout way as it molded him into the person he is now.
Also, he thinks that we've all got a tale to tell, an autobiography.
Akinfenwa believes one should enfold their tests, trials, and hurdles, and he had never hesitated to speak of it.
About Criticisms "Too Big To Play Soccer"
Once, one media member felt the sharp side of Adebayo's tongue after advising the image he propelled – he has earned the nickname "Beast."
Adebayo says that he has been given many opportunities to be himself. He mentioned that his confidence isn't a reward for anything, and he never set out to be this way.
Adebayo has always been trapped within several judgments and has tried to convince many that he is just him.
It doesn't depend on how big or strong he is. It honestly just depends upon his capacity to do and analyze things.
Further, he says that he always focused on his game no matter how much he heard from people. As a result, he never got distracted by awful words.
The critics are no one today, and Adebayo is a renowned soccer player with an immense following.
The most excellent thing he gets from all these things is that he can be himself, and people seem to like it.
Adebayo said that when someone gets into a position of success and fame in a place they have been craving so far, it fires the desire to do even greater.
Adding Up
The critics are essential, too, as they are the ones who point out the mistakes that the sight of loved ones wouldn't ever catch.
Adebayo talks about the directions life has given to an individual. It is either left or right and the paths that decide your future.
The paths to the future may carry either good or bad experiences. Then he adds that most of his friends chose the wrong path, which led them to prison or off in other wrong ways.
In short, he analyzed his friends' good and bad deeds and learned from the mistakes he and his friends made. It is how he prevented himself from getting on the wrong path.
Furthermore
This former soccer player said that soccer has always been responsible for saving his grace. He always wants to let people know they can achieve whatever they dream.
Most people love pointing out the things they can't do, and later it becomes fun to prove them wrong by crossing the boundaries the people have set for others.
In other terms, breaking societal boundaries may be fun.
Adebayo said it is pointless to argue that strong people aren't quick. He adds that these are all baseless clues as speed doesn't really depend on your strength.
It all depends upon the dedication and commitment one puts into the genre if one wants to excel.
Adebayo has more than a million fans across his social media platforms.
His "Beast Mode On" apparel line has led to business events on both sides of the Atlantic. So it is a special day when people don't recognize him on an ongoing route.
World Cup 2022 Qatar
Adebayo gave his 11 picks for the English national team ahead of the World Cup 2022.
GK: Jordan Pickford, RB: Trent Alexander- Arnold, CB: Eric Dier, CB: Fikayo Tomori, LB: Kyle Walker, CDM: Jordan Henderson, CM: Jude Bellingham CM: Phil Foden, CDM: Raheem Sterling, ST: Ivan Toney, ST: Harry Kane
He quoted, "I think Tomori gets overlooked because he is not in the prem."
Harry Maguire and John Stones did not makeup on his list; moreover, Reece James also missed out at right back as Alexander Arnold got the green signal.
Adebayo is quite an optimist about the team composition for the World Cup, even though there is a lack of experience in some fields.
That's winning it (The World Cup), he said as he completed reasoning his selections.
Net Worth & Salary
Athletes in the United Kingdom and Western Europe can make up to $50 million in annual salary. Top soccer players make $1-$5 million yearly in a few countries.
In places where soccer is not as common, like in the US and China, players earn a few hundred thousand.
For most of his career, Adebayo played in England, and until 2019, Adebayo reportedly had a net worth of around $1 million–$5 million.
As of 2023, the former soccer player has amassed a net worth of about $10 million.
In one of the interviews, he told exclusively that he is associated with Jameson and LoversFC, which creates jerseys to celebrate the inclusivity of international soccer.
Net Worth Of Adebayo Akinfenwa In Different Currencies
Here is the net worth of Adebayo Akinfenwa in different currencies, including BitCoin, Euro, and Pound.
Currency
Net Worth
Euro

€9,366,300

Pound Sterling

£8,328,600

Australian Dollar

A$14,544,290

Canadian Dollar
C$

13,422,700

Indian Rupee

₹82,84,78,500

BitCoin

฿439.7
Social Media Presence
In an interview with Versus in 2022, when he was asked about World Cup, he said, " I absolutely love that" That's something a lot of people can definitely relate to watching matches with colleagues you don't really know outside of work, or family members who've never expressed an interest in Football."
"Like you said, that's the power of a competition like the World Cup. In terms of global culture, did the World Cup change how you viewed that?"
Furthermore, he shared about how the World Cup brings people from all around the world together.
You can find him on different social media platforms. He is available on Instagram under the handle @realakinfenwa and on Twitter under @daRealAkinfenwa.
Instagram: 1.4 million followers
View this post on Instagram
Twitter: 267.4K followers
The athlete has excellent fans and mostly shares pictures of him during training and with his friends on his social media.
Let's not forget the iconic moment when Jose Mourinho delayed his press conference to get a selfie with Adebayo.
Popularity
Playing for different clubs and different countries, Adebayo has gained millions of fans from all around the world.
The above graph shows the fluctuating popularity of Adebayo based on Google searches in the United States over a year.
Frequently Asked Questions (FAQS)
Who is the strongest player in the world?
As per FIFA 15, Adebayo is the "World's Most Powerful Athlete." He became known as "the Beast" due to his impressive size.
Has Adebayo Akinfenwa received a red card?
The former soccer player received a red card in 2016 and served a two-game suspension.
Did Adebayo Akinfenwa undergo knee surgery?
Yes, the soccer player underwent successful right knee surgery on July 27, 2020.
What did Pep Guardiola say about Adebayo Akinfenwa?
Pep Guardiola called Adebayo a "Legendary Striker." Pep added, "He put his spirit into the game and has often shared his love for soccer."