Adebayo Akinfenwa is a former English soccer player who last played for Wycombe Wanderers as a striker. He was named 'The Beast' because of his enormous build and strength. He is an exemplary individual who is deeply settled amongst millions of hearts.
On 22 October 2022, he announced that "The BeastMode On," a documentary, is streaming on Prime videos through his Instagram post.
As a renowned player, Akinfenwa follows the sport as his only passion. He is a player who considers his passion as an energy that can light his soul up in the best way possible.
Soccer is considered one of the fascinating sports globally. It is a boost to the stamina and mental awareness of the players.
It is a game that has renamed itself the most passionate sport ever. The level of dedication and strength this sport requires is beyond elaboration.
Akinfenwa is known for his devotional skills and techniques.
He also received Boa Awards in 2022; this association was founded to celebrate African-owned philanthropic.
Let's acknowledge the journey he has set so far. Before pondering, have a sneak peek at a few quick facts.
Adebayo Akinfenwa | Quick Facts
| | |
| --- | --- |
| Full Name | Saheed Adebayo Akinfenwa |
| Birth Date | May 10, 1982 |
| Age | 40 Years Old |
| Birth Place | Islington, London, United Kingdom |
| Nick Name | The Beast |
| Religion | Christianity |
| Nationality | English / British |
| Ethnicity | Nigerian |
| Education | Not Available |
| Horoscope | Taurus |
| Father's Name | Not Available |
| Mother's Name | Not Available |
| Siblings | Brother, Daley Akinfenwa (Twin) |
| Height | 1.85 meters / 6 ft 1 inch) / 185 m |
| Weight | 102 kg / 224 lbs |
| Hair Color | Bald |
| Eye Color | Black |
| Body Measurement | Not Available |
| Build | Athletic |
| Married | Unmarried |
| Girlfriend | Single |
| Children | 5; as per the reports (Name Not Available) |
| Profession | Professional Soccer Player |
| Net Worth | Estimated $10 Million |
| Salary | Estimated Annual Salary $1,53,101 |
| Affiliations | Wycombe Wanderers FC |
| Active Since | 2003 |
| Jersey Number | 20 |
| Social Media | Instagram, Twitter |
| Merch | The Beast: The Story |
| Last Update | January, 2023 |
Adebayo Akinfenwa | Personal Life And Family
Adebayo Akinfenwa is of Nigerian origin and was born in Islington, North London. His dad is a Muslim, and his mom is a Christian, and while he observed Ramadan as a child, he is now a Christian. His father's and mother's name are not disclosed.
Akinfenwa and Clarke Carlisle are close friends; his friend played for Northampton Town. As a child, he followed Liverpool, and his ideal player was John Barnes.
He mentioned without promptness that he is proud to have five children.
And he takes care of them the best with all his efforts. Adebayo has his children grounded as he believes no matter how far you reach, you shouldn't forget the floor we used to step in.
View this post on Instagram
He has been listed as the most powerful soccer player globally in various FIFA video game set versions.
He was asked to visit the launch Party for FIFA 15 adjacent to many stars and Premier League members, including Rio Ferdinand, George Groves, and Lethal Bizzle, in September 2014.
Akinfenwa carried 220 lbs weight and did 16 sets with his rippling muscles.
Likewise, he bench pressed up to 31 sets, carrying 440 lbs, almost substituting his body weight.
He operates an apparel label, Beast Mode On, which reflects his great status. In addition, he has an autobiography, The Beast: Headline Publishing.
Adebayo Akinfenwa | Soccer Career
Early Career
Akinfenwa, as a teen, joined the Lithuanian club FK Atlantas on his agent's advice, whose Lithuanian wife's brother knew a coaching staff member there.
While with the club, Akinfenwa won the 2001 Lithuanian Football Cup final and was rivaled in the UEFA Cup qualifying rounds for two consecutive terms.
He faced racial insults from followers in the nation. Adebayo mentioned, "Coming from London, where nobody disrespects me, this was just brazen."
Adebayo spent two years at the club before reverting to the UK early in 2003, where he entered Welsh Premier League champions Barry Town.
He aided Barry in Welsh Cup and Welsh Premier League service throughout his term at Jenner Park.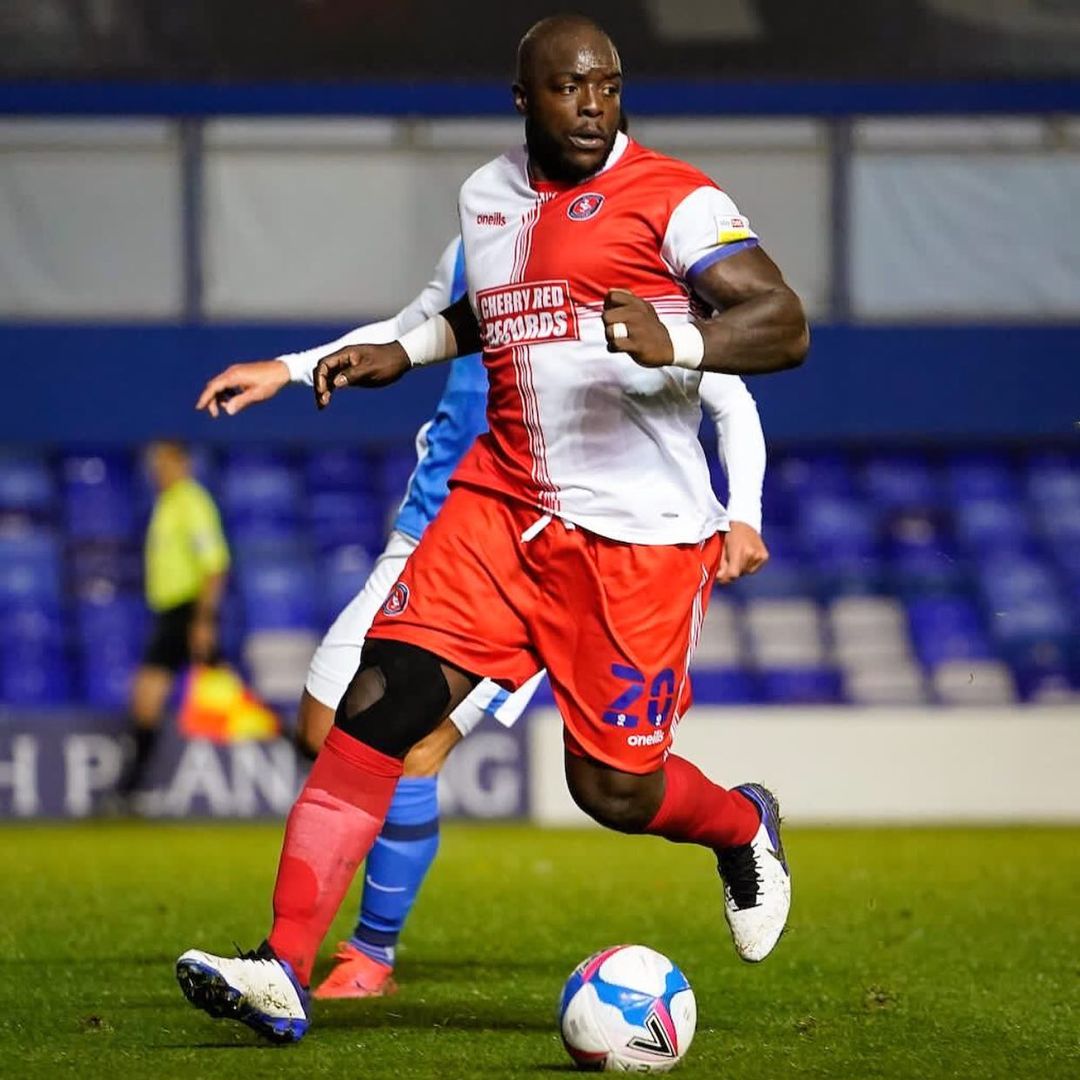 But, just a few events into his job, the club underwent a fiscal disaster and cleared its adept playing team.
In October 2003, Adebayo soon entered Boston United making a last-minute victory in his rookie season next to Swindon Town.
Yet, unable to settle, he glided to Leyton Orient the next month but was freed after one month.
Later he moved to Rushden & Diamonds in December 2003 and entered Doncaster Rovers, his fifth club of the season, in February 2004.
Torquay United
Adebayo swapped clubs again, hired by Torquay United to substitute for David Graham in July 2004.
During the 2004–05 season, he scored 14 league goals and was named supporter's Player of the Season.
He could not aid the club's relegation to League Two. As a result, he declined to get a new contract with Torquay at the session's finale.
Swansea City
Adebayo went to Swansea City and had to pay a $99,854 fee as compensation in July 2005.
He counted on his debut next Tranmere Rovers, and this was also the first ambitious goal made at Swansea's new Liberty Stadium.
He made the leading goal in the 2006 Football League Trophy Cup, in which Swansea struck Carlisle United.
Adebayo also aided Swansea in getting to the League One progression play-off final in his initial session.
The match went to a penalty shoot-out after a 2–2 draw, but Adebayo was two Swansea athletes to refrain with their penalties, granting promotion to Barnsley.
The following season, he was a regular player until a fractured right leg in the 2–0 loss at home to Scunthorpe United closed his term.
Also, Read About A Brilliant Soccer Coach, Jurgen Klinsmann>>
Millwall
Later, he rejected a new contract with Swansea and agreed to sign Swindon Town at the end of the 2006–07 season on 29 June 2007. But, he failed treatment.
In November 2007, after recovery and practice at Gillingham, he entered League One team Millwall on a month-to-month deal. However, he lost to score any goals in seven appearances.
Northampton Town
Adebayo made a deal with Northampton Town till the 2007–08 term on 18 January 2008. He made his rookie season next to Swindon Town, where he came off the board to score a late equalizer in a tie.
Adebayo then had the same impact in his home debut, scoring the equalizer in a 1–1 draw against Leeds United.
And later began the next match, at home to Gillingham, and made two goals in a 4–0 victory.
He made three extra goals that period. Adebayo signed a new one-year contract at Northampton despite Leyton Orient and Grimsby Town's interest on 30 May 2008.
He initiated the 2008–09 season well, scoring twice in three games by the end of the month.
Adebayo ended his visit to Northampton in May 2010. He proposed a new contract, but Northampton could not accept a deal with him in an acceptable timeframe.
Gillingham
He was approved for Gillingham on a one-year deal and scored on his première with a header next to Cheltenham Town on 29 July 2010.
While at the Gills, Akinfenwa formed a powerful connection with Cody McDonald, and the duo could make 36 goals during that period.
Return To Northampton Town
Akinfenwa was given a new deal by Gillingham after the 2010 to 2011 period but decided to return to Sixfields in May, after the new Cobblers handler.
Gary Johnson got him in to "catch the fans' vision." He made his initial intent next Bristol Rovers in August.
In a match against Accrington Stanley, Akinfenwa made his first and only professional hat trick on 10 November 2012.
Three years after, with Northampton coping financially, Adebayo sold off the shirt he wore in this game and gave the yields to a fans' security, fostering $520.
Northampton Town freed him at the end of the 2012–13 period.
Return To Gillingham
On 2 July 2013, Adebayo signed for Gillingham again on a free shift.
Later reigniting his strong alliance with Cody McDonald, making ten goals over the 2013–14 session and getting third in their Supporters Player of the Year honors, Adebayo left the club at the end of his one-year deal.
AFC Wimbledon
Find his all cards on Futhead.com.
Wycombe Wanderers
After his exit from AFC Wimbledon, Adebayo confirmed for Wycombe Wanderers, initially on a one-year contract. He was chosen for the EFL League Two Player of the Season prize in April 2018.
Wycombe gave him a new deal in May 2019, which he accepted on 12 June. With his hit next Doncaster Rovers on 29 February 2020, Adebayo fitted Wycombe's record goalscorer in the English football league with 54 scores.
Adebayo and Wycombe won the 2020 EFL League One play-off Final over Oxford, promoting the EFL Championship for the first time in both the player's career and the club's history on July 13, 2020.
Adebayo ended the term as the club's joint-top league goalscorer with ten total scores. He signed a one-year contract extension with Wycombe on 16 July 2020.
His last game for the Wycombe Wanderers was in the 2022 League One play-off final, where he substituted for 75 minutes but could not prevent the team from losing to Sunderland. He retired from soccer in 2022.
You Can Also Find About Arturas Karnisovas Bio: Wife, Salary, Bulls & Stats>>
Adebayo Akinfenwa | Racism
It occurred when Adebayo was a teenager. He was released from Watford, and he had been interested in England clubs to continue his development.
He accepted the offer from Lithuania Soccer with both hands. Later, he was blind-sighted by what happened to him in Lituania.
He was 17,18 when his contract was over with Watford, his then agent was married to Lithuanian woman.
They said to him that the nation had already played in the UEFA Cup Football, however, he never heard of such a team.
He quoted, " when you are young you are fearless, I didn't take into account that I didn't speak the language, that I didn't like the food, or the colour of my skin. I just wanted to play football"
The initial match he played was a pre-season game, and like most preseason games, he played the native team, so he didn't play in an arena; he worked on a strike where all the followers were very close nearby.
Similarly, he hit off and went out to the flats so we could play askew. Adebayo chested the ball beneath, went down the lane, and heard monkey hymns immediately.
In his mind, he held that it couldn't be. Then, when I got the ball anew, monkey hymns. The second time he knew it was lemur hymns.
Humiliation
Adebayo went to case the ball down over, and then the chants rose, "Ziga, ziga, ziga, rake the ******* ******."
After, he froze and glanced around and was like, 'huh?'.
And then what made it more acute, of the 1000 people verifying it, 500 were from the away crew, and 500 were his own partners.
The off-followers initiated it, and then the home fans – his home supporters – got in. Further, he got into moiety rate.
His crew chief competed in Poland, so he talked a bit of English, but everyone extra, even the administrator, only spoke Lithuanian, so he didn't know what they were saying.
Adebayo asked the chief what 'ziga, ziga' intended, and he calmly said it was zip; they just repeated it with the n-word.
The other half came, and they initiated doing over, so he waved to the administrator he was getting off. Then, as he got off, there was a huge boom.
He took the president's call and called his older brother as he got off. This was 20 years ago, but he says that he remembers it like it was recently.
Further
Adebayo told him he was coming home, his brother asked him what befell, and Adebayo told him they were promoting racism and were harming him with their words.
He said he wouldn't tell Adebayo to stay anyplace.
Beast says he wasn't compatible, but they would prevail if he went. That was all he implied.
It was hilarious. As Adebayo would like to say, it was like a movie, and musicology sprang striking, and he went to go and hit them, but as early as he got off the call, he still wished to go home.
He didn't mind; they could sway.
Adebayo went to bed that evening – call it an angelic invasion; he believed God was talking to him – but he then woke up, deeming nobody would kick him out of any place.
The thing that hurt him was that he let them make him come off that pitch in the other half; it still breaks Adebayo to this day.
A few people will say it wasn't a fault but a blunder for him. He says he was naive and hadn't gone over those events.
Uneasiness
Adebayo realized he was the first black person in the match, one of maybe ten black people in Klaipeda, a prominent place.
A month into his stay, his lover at the time, and his brother, who was 14, came buying with him, and the entire place closed down as three black individuals came in.
To this time, his brother still keeps telling him how nervous he feels, but he has got so related to the anxiety, which should never be the cause.
It would help if thee never got used to that, but he got into it.
Adebayo obtained goals; he got to the equal of the FA Cup final, FK Atlantas didn't win a cup in 11 years, he won it 1-0, and he made the score.
He didn't want to say that he was a legend amongst his own followers, but Adebayo was the man who brought a cup, and they ended up saying the bigoted insult.
They ended due to what he did on the ground, not because they kenned him, which gave him a fog level.
How can someone accept an individual because they are making goals for the team but entirely hate them just because of their skin tone?
They never knew Adebayo either way, so it was a lot of stupidity and fear of the desert for him.
They never saw a black man end up, so whatever had been filled into them was what they were stating, but as Adebayo was making goals and conveying rapture to their side, they stared past the tone of his peel.
A lot of confusion came into the game and what he got from the whole trial was that some people fear what they don't grasp.
Complete Opinion
There's an oblivious bent, and then there's obvious bias, which was clear right in his face. So there is no further addition to it, there is bias, and Adebayo has had an awful practice.
It's a mindset. He was tender, brave, and went for things he never imagined he would have to.
Many years prior, he had to go to the internet coffeehouse to use MSN Messenger or buy phone cards to phone home, so he was alone when he went along it.
Finally, he opened up his initial Adidas shop and didn't pay in eateries anymore or at the movies. He didn't mean they were cool with him; they were fine as he brought them comfort.
There were stepping stones from seeing a black soul to seeing a black individual who scored goals and did well for their players.
He didn't say he would ever do it over or want to do it repeatedly, but he is happy that he went by it in a roundabout way as it molded him into the person he is now.
Also, he thinks that we've all got a tale to tell, an autobiography. This was a bit of him.
The feast is the evil word, but he thinks one should enfold their tests, trials, and hurdles, and he had never had an obstacle speaking of it.
Seldom when someone is going through their bad times, that molds one for their light bits.
Learn More About Jared Cannonier Bio: UFC, Wife, Next Fight & Net Worth >>
Adebayo Akinfenwa | Criticisms
Too Big To Play Soccer
There is still the thought that the mouth seldom acts before the brain, but in a way that convinces.
Once, one media member felt the sharp side of Adebayo's tongue after advising the image he propelled – he has earned the nickname "Beast" his own – was just a persona, a trick.
Adebayo says that he has been given many opportunities to be himself, and as the talks pour out, it would take some bold decision to accuse him of simulation.
He mentioned that his confidence isn't a reward for anything, and he never set out to be this way.
Adebayo has always been trapped within several judgments and has tried to convince many that he is just him.
It doesn't depend on how big or strong he is. It honestly just depends upon his capacity to do and analyze things.
Further, he says that he always focused on his game no matter how much he heard from people. As a result, he never got distracted by awful words.
The critics are no one today, and Adebayo is a renowned soccer player with an immense following.
The most excellent thing he gets from all these things is that he can be himself and people seem to like it.
Adebayo said that when someone gets into a position of success and fame in a place they have been craving so far, it fires the desire to do even greater.
Adding Up
The critics are essential, too, as they are the ones who point out the mistakes that wouldn't ever be caught by sight by loved ones.
Adebayo talks about the directions life has given to an individual. It is either left or right and the paths that decide your future.
The paths to the future may carry either good or bad experiences. Then he adds that most of his friends chose the wrong path, which led them to prison or off in other wrong ways.
In short, he analyzed his friends' good and bad deeds, and he learned from the mistakes he and his friends made. It is how he prevented himself from getting on the wrong path.
Furthermore
This magnificent player said that soccer has always been responsible for saving his grace. He always wants to let people know they can achieve whatever they dream.
Most people love pointing out the things they can't do, and later it becomes fun to prove them wrong by crossing the boundaries the people have set for others.
In other terms, breaking societal boundaries may be fun.
Adebayo said it is pointless to argue that strong people aren't quick. He adds that these are all baseless clues as speed doesn't really depend on your strength.
It all depends upon the dedication and commitment one puts into the genre if one wants to excel.
Honor has had its perks. Adebayo has more than a million fans across his social media platforms.
His "Beast Mode On" apparel line has led to business events on both sides of the Atlantic. So it is a special day when people don't recognize him on an ongoing route.
Adebayo Akinfenwa | Opinion On Himself
The more severe vocation rose now, and there was quite a voice for Adebayo when, upright after helping AFC Wimbledon to elevation in the play-off final at Wembley, he got himself a free doer.
His terms aired live by the slant's view, where he mentioned that he didn't have any employment, due to which any type of manager hit him up on WhatsApp.
They tried getting in from the U.S., Turkey, Mexico, Australia, and Qatar.
The request came from the relatively old-fashioned prophet of a text, and it hit a chord with Adebayo.
The two kenned each other as playing rivals of old, and Ainsworth says they "had that sense of honor for each other, the look you can give someone that says when they actually know what you are on."
Adebayo Akinfenwa | World Cup 2022 Qatar
Adebayo has given his 11 picks for the World Cup 2022 Qatar for England
GK: Jordan Pickford, RB: Trent Alexander- Arnold, CB: Eric Dier, CB: Fikayo Tomori, LB: Kyle Walker, CDM: Jordan Henderson, CM: Jude Bellingham CM: Phil Foden, CDM: Raheem Sterling, ST: Ivan Toney, ST: Harry Kane
He argues that,"I think Tomori gets overlooked because he is not in the prem."
Harry Maguire and John Stones did not makeup on his list; moreover, Reece James also missed out at right back as Alexander Arnold got the green signal.
He is quite an optimist about the team composition for the World Cup, even though there is a lack of experience in some fields.
That's winning it (The World Cup), he said as he completed reasoning his selections.
Adebayo Akinfenwa | Net Worth And Salary
Athletes in the United Kingdom and Western Europe can make up to $50 million. Top soccer players make $1-$5 million yearly in a few countries.
In places where soccer is not as common, players earn a few hundred thousand a time as in the United States and China. The most despicable paying alliances can pay under $50 thousand per cycle.
Adebayo's net worth in 2019 was around $1 million – $5 million. His net worth is about $10 million as of the year 2022.
In October 2022, he announced that his documentary "The BeastMode On" is officially streaming on Prime videos.
In one of the interviews, he told exclusively that he is associated with Jameson and LoversFC, which creates jerseys to celebrate inclusivity through international soccer.
As of that, he must have a handsome amount in his pocket.
Net Worth Of Adebayo Akinfenwa In Different Currencies
Here is the net worth of Adebayo Akinfenwa in different currencies, including the Euro and Pound.
Currency
Net Worth
Euro
€

8,851,650

Pound Sterling
£

7,560,350

Australian Dollar
A$

14,044,940

Canadian Dollar
C$

12,940,300

Indian Rupee
₹

758,169,500

BitCoin
฿

216
Adebayo Akinfenwa | Social Media Presence
In his recent (2022) interview with the Versus, he said " I absolutely love that" That's something a lot of people can definitely relate to watching matches with colleagues you don't really know outside of work, or family members who've never expressed an interest in Football."
"Like you said, that's the power of a competition like the World Cup. In terms of global culture, did the World Cup change how you viewed that?"
More than just a manager & more than just players. 👊🏿🙏🏿💙 #BeastModeOnDoc @wwfcofficial pic.twitter.com/zYy1ZErXRt

— daRealAAkinfenwa (@daRealAkinfenwa) October 28, 2022
Furthermore, he shared about how the World Cup brings people all around the world together.
You can find him on social media accounts.
Instagram: 1.4 million followers
Twitter: 267.6K followers
The athlete has excellent fans and mostly shares his life as a professional player on his social media handles.
Let's not forget the iconic moment when Jose Mourinho delayed his press conference to get a selfie with Adebayo, and he wouldn't let him leave without getting one either.
Popularity Graph
This is Adebayo Akinfewa's popularity graph.
He is renowned for his physique and the strongest player in the FIFA games.
Frequently Asked Questions (FAQs)
Who is the Strongest Player in the World?
As per the Fifa 15 processor game, Adebayo is the "world's most powerful athlete." He became known as "the Beast" due to his impressive size.
The player has made more than 160 goals in his work. In addition, he owns a raiment range named "Beast Mode."
Has Adebayo Akinfenwa received a red card?
Yes, the athlete received a red card in 2016 and served a two-game suspension.
Did Adebayo Akinfenwa undergo knee surgery?
Yes, the soccer player underwent successful right knee surgery on July 27, 2020, as he had an injury during the match.
What did Pep Guardiola say about Adebayo Akinfenwa?
Pep Guardiola called Adebayo a "legendary striker." He put his spirit into the game and has often shared his love for soccer.
Also, Read About A Renowned Player, Reggie Wayne. Click on the link to learn more >>