Being a Mixed Martial Art fan, it is unfortunate not to have heard of Johny Hendricks. Back in 2014, the guy peaked his career in the Ultimate Fighting Championship (UFC).
Who is Johny Hendricks, then? Johny Hendricks or you may know by his stage name 'Bigg Rigg,' is an American retired mixed martial artist. His win against Robbie Lawler has poached several Fight of the Year awards from different sports associations.
Hendricks bagged the UFC Welterweight Championship belt in 2014. During his days at the UFC, he fought in the welterweight and middleweight divisions.
Before that, he competed in collegiate wrestling for Oklahoma State University.
He has snatched the Big 12 Conference Championship three times and NCAA Division I two times in 165 pounds category. Johny retired from MMA in 2018.
Soon after that, he tried to pursue a Bareknuckle boxing career but could not achieve his desired success.
With fighters like Conor McGregor and Khabib getting the limelight lately, he is an unsung hero. Overall he had an 18-9 win-loss record in his decade-long MMA career.
Let's find out some more information about his life and career journey from his childhood.
Quick Fact
Full Name
Johny Harvey Hendricks
Birth Date
September 12, 1983
Birth Place
Ada, Oklahoma, United States
Nickname
Bigg Rigg
Religion
Christianity
Nationality
American
Ethnicity
Mix
Education

Edmond Memorial High School, Edmond, Oklahoma
Oklahoma State University

Horoscope
Virgo
Father's Name
Keven Hendricks
Mother's Name
Nancy Hendricks
Siblings
One Brother and One sister
Brother
Raymond Hendricks
Sister
Waukita Hendricks
Age
40 Years Old
Height
5'9″ (175 cm)
Weight
84 kg (186 lb)
Build
Athletic
Eye color
Brown
Hair Color
Brown
Profession
Mixed Martial Art Fighter
Active years in MMA
2007 – 2018
Team

Team Takedown
Jackson Wink MMA Academy

Marital Status
Married
Wife/ Spouse's Name
Christina Hendricks (m. 2009)
Children
Three Daughters and One son
Son
Rigg
Daughter
Abri, Adli & Avin
Net Worth
$2 million
Career Earnings
$1.95 million
Social Media
Facebook, Twitter, Instagram
Merch
Cap,
DVD
Last Update
November, 2023
Johny Hendricks: Early Life, Family, and Education
Hendricks was born in Ada, a city in the Pontotoc County of Oklahoma state. He was born to Keven and Nancy Hendricks.
Besides him, his parents gave birth to two other children. Waukita, sister, and Raymond, brother, are his siblings. He was raised and educated with his siblings in Ada.
Johny joined Edmond Memorial High School in Edmond, Oklahoma. Overall, he had an outstanding 101-5 win-loss record in his high school wrestling career.
Accordingly, he won the Oklahoma high school wrestling championship three times. Also, he was the high school national wrestling champion two times while he was at the school.
However, Johny was uncertain if he wanted to pursue the Olympics for wrestling. But it was during that time that young Hendricks found the thrill in fighting.
Johny Hendricks: College Career
Johny enrolled at the native Oklahoma State University for higher studies. He was redshirted for the year 2003, where he had a 10-0 record. The next season, he had a 37-7 record, finishing 5th in the nation at the 157 pounds category.
For the remaining three seasons, he uplifted himself, competing in the 165 pounds division.
Hendricks went on to win the Big 12 titles in 2005, 2006, and the 2007 season. With 27-4, 29-4, and 34-0 win-loss records in those three years, he also bagged the NCAA Division I national championships in 2005 and 2006.
However, in the final season, he came second to Mark Perry of the University of Iowa. Overall, he had a record of 159-13 in his college career.
Johny Hendricks: MMA career
Training and Establishment
Hendricks started training at Cobra Kai Jiu-Jitsu under Marc Laimon in Las Vegas soon after graduation. Former wrestlers Shane Roller and Jake Rosholt also joined him there.
Later, he signed for Team Takedown in Texas. Here he received funding for his training and had to split the profit of the matches he won.
Johny debuted against Victor Rackliff in September 2007 with a TKO victory at Masters of the Cage 16 in Oklahoma City. Later in the same year, he again defeated Spencer Cowley with a TKO at Snakebite Fight Night in Tulsa.
Notably, his television debut came late in March 2008 at HDNet Fights Xtreme Fighting League in Tulsa. There he had a submission victory against Richard Gamble.
World Extreme Cagefighting
Hendricks signed for the World Extreme Cagefighting with a multi-fight deal. His training colleagues Roller and Rosholt also signed on the same occasion.
At WEC 37 in December 2008, Johny had a win over Justin Haskins.
Soon after that, he defeated Alex Serdyukov with a unanimous decision at WEC 39 in March 2009. Later, WEC announced to remove the welterweight division from its competitions after his match.
Accordingly, his match at WEC 39 became the last bout under the 170-pound division in its history.
UFC career
Hendricks could no longer compete at WEC as his weight class was removed there. So, in the search for a new stage and new challenges in his career, he signed for the UFC in 2009.
During those times, wrestler Brock Lesnar was fighting in UFC.
He debuted at UFC 101 in Philadelphia against the former UFC champion Amir Sadollah in August 2009. Hendricks punched Amir continuously for the victory within 29 seconds.
Again, in December 2009, at UFC 107, he grabbed another win over Ricardo Funch with a unanimous decision.
Similarly, he secured his third straight win at UFC 113 against TJ Grant with a majority decision in May.
Also, he defeated Charlie Brenneman in August 2010 with a second-round TKO. Eventually, defeat came to him in December 2020 at The Ultimate Fighter 12 Finale. There Rick Story won by a unanimous decision.
Consecutive wins
In 2011, Hendricks won against TJ Waldburger at UFC Fight Night 24 with a first-round TKO. The victory saw him snatch the Knockout of the Night title. Similarly, he defeated Mike Pierce at UFC 133 via a split decision.
Notably, his next match was against Jon Fitch, the then no. 2 welterweight fighter.
Hendricks won the match by knockout in just 12 seconds of the first round. That saw him earn Knockout of the Night honors.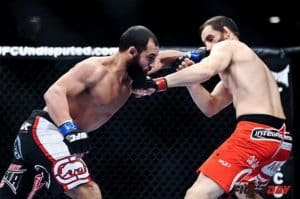 Similarly, the same honor came to him at UFC 154 against Martin Kampmann. There he had defeated martin within 46 seconds in the first round by a KO.
Similarly, his next victim was Carlos Condit in March 2013. Again, Hendricks defeated him by a unanimous decision. The Fight of the Night title was awarded to both of the participants.
Title winning matches
Hendricks had a match against Georges St-Pierre in November 2013 for the UFC Welterweight Championship. Sadly, Georges defeated him with a controversial split decision.
As a result, he had to suffice his title-winning desires with only a Fight of the Night award. Nevertheless, all media members and the UFC president claimed that Hendricks should have been victorious that night.
Georges vacated the championship belt in December 2013. Accordingly, the clash between Hendricks and Robbie Lawler for the title was announced.
The fight took place in March 2014 at UFC 171, where Hendricks came on top with a unanimous decision.
As a result, he won the UFC Welterweight Championship title and the Fight of the Night honor as a bonus.
However, he could not defend his title against Robbie in a rematch at UFC 181. Losing by a unanimous decision, he had to hand over the title to Robbie.
Next year, Hendricks defeated Matt Brown in March at UFC 185 with a unanimous decision. However, he suffered an intestinal blockage and a kidney stone attack in October.
Losing matches
At UFC Fight Night 82 in February 2016, he lost against Stephen Thompson with a TKO in the first round. It was for the first time in his MMA career that he was finished in the first round.
Similarly, he tasted another defeat to Kevin Gastelum at UFC 200 by a unanimous decision. Also, he had to give 20% of his purse to Kevin for missing the weight by one-fourth of a pound.
Again, Neil Magny defeated him at UFC 207 in December 2016. There too, he had to surrender 20% of his purse to his opponent as he crossed the welterweight by two and a half pounds.
Eventually, he quitted the welterweight class as he crossed the weight limit on several occasions.
Middleweight
Hendricks shifted to the middleweight class in 2017. Later, he defeated Hector Lombard with a unanimous decision in the class's debut game at UFC Fight Night 105.
However, he lost against Tim Boetsch at UFC Fight night 112 in June by a TKO in the early second round. There, he had overweighed by two pounds over the middleweight limit.
Johny fought his last match under his UFC contract at UFC 217 in November 2017. It was a losing attempt against Paulo Costa as a TKO defeated him.
Here are Johny's stats from his match with Paulo Costa.
FIGHTER
SIG. STR
SIG. STR. %
HEAD
BODY
LEG
DISTANCE
CLINCH
GROUND

Johny Hendricks

Paulo Costa

27 of 54

49 of 90

50%

54%

10 of 32

25 of 62

2 of 2

23 of 26

15 of 20

1 of 2

27 of 52

45 of 84

0 of 2

3 of 4

0 of 0

1 of 2
Accordingly, he retired from MMA fights in June 2018. However, in his retirement announcement, he showed a desire to return to wrestling as a coach.
Johny Hendricks: Bare Knuckle Boxing
It was speculated that Hendricks would pursue a career in bare-knuckle boxing after leaving MMA forever. His debut match was set against Brennan Ward, also a retired MMA fighter.
However, he was replaced by Dakota Cochrane in the fight week. The fight took place at an inaugural event of the World Bare Knuckle Fighting Federation in November 2018. Sadly, Dakota knocked out Hendricks in the second round.
Johny Hendricks: Awards and Titles
Hendricks started adding titles and awards to his shelf during his high school career. At the collegiate level, he won NCAA Division I championship two times under the 165-pound category.
Similarly, he made it to the NCAA Division I All-American for four years at Oklahoma State University. In addition, he bagged the Big 12 Conference Championship two times.
At the high school level, he had won the USA Junior Freestyle Championship two times.
Notably, he is the one-time winner of the UFC Welterweight Championship. He has been honored with Knockout of the Night three times and Fight of the Night three times. Similarly, he was MMAValor.com's Fighter of the Year in 2012.
Also, mnafighting.com, Sherdog, MMAJunkie.com, Bleacher Report, and Wrestling Observer Newsletter honored him with Fight of the Year in 2014.
Johny Hendricks: Net Worth and Salary
Hendricks has had a decade-long MMA career with 18 wins and nine losses. He had earned $150,000 for both UFC 171 and UFC 158.
Accordingly, he has earned approximately $1.95 million in his MMA career.
Johny Hendricks has a net worth of approximately $2 million as of 2023.
Hendricks has a luxurious lifestyle living with his family. With almost 15 years of fighting career, the 37-year-old deserves every comfort of his retirement.
Also, he makes a significant sum of fortune from Reebok, for which he is a brand ambassador.
Johny Hendricks: Relationship and Children
Johny Hendricks was married to Christina in 2009. The lovely couple has four children as of now, three daughters and a son. Abri, Aldi, and Avin are their daughters, and Rigg is their son. Their son is the youngest kid who was born in 2016.
As a retired man, Hendricks provides enough time for his family. Moreover, he is a loyal husband and is fully committed to his wife. The couple has not had any serious disputes as of now.
Similarly, no affairs have been rumored for either of them until now. So, it can be assumed that they have a pretty awesome married life.
Hendricks's failed business attempt.
In 2015, the UFC fighter Johnny opened up a steakhouse restaurant in Texas called "Big Rigg Steakhouse. The now-retired champion claimed he attempted to give back to his community.
Sadly, just a year later, the restaurant closed its door. Talking with Dallas Morning News, Hendricks said,
"Restaurant is done. I tried a business that failed; you learn from it and move forward."
Well, Johny may have conquered the octagon during his prime but running a restaurant, and a successful one at that, is where he failed at.
Johny Hendricks: Social Media Presence
Johny is fairly active in social media but adds posts in months. He has accounts on Facebook, Instagram, and Twitter. Accordingly, Hendricks posts photos of his family in those accounts.
Twitter: 276.1 Thousand followers
Facebook: 103 Thousand followers
Instagram: 31.2 Thousand followers
FAQs
What is Johny Hendricks doing now?
Johny Hendricks has strayed far from the media after his retirement in 2018. At the moment, the former UFC fighter is busy keep himself fit and in shape.
Where does Johny Hendricks train?
According to MMA Weekly, Hendricks train at the Jackson-Winkeljohn Academy in Albuquerque.