Chris Paul, commonly known as CP3, is an American professional basketball player who adheres to the Christian faith.
Paul is considered one of the greatest point guards in NBA history, and his impact on the sport and his community is widely recognized and celebrated.
He played college basketball for Wake Forest University, where he was named McDonald's All-American and led the Demon Deacons to two NCAA tournament appearances.
He then entered the NBA Draft in 2005 and was selected fourth overall by the New Orleans Hornets (now the Pelicans).
The Point God currently plays for the Phoenix Suns alongside talented players such as Devin Booker and Kevin Durant.
The star point guard sat next to Durant following their team's dominant 112-100 victory over the Clippers, securing a 3-1 series lead at the Crypto.com Arena.
As the two NBA greats shared a moment, Paul reflected on his current standing in the league and the impact of his performance on the court.
"I've never played with this much talent," Paul said after scoring 12 of his 19 points in the fourth quarter of Saturday's win.
"Where people are doubling off of me … I've never seen so many open shots."
Ethnicity & Religion
Chris Paul's ethnicity is African American, he follows Christianity, and he has roots in the southern United States.
His paternal grandfather was a sharecropper in North Carolina, and his maternal grandfather was a minister in Virginia.
He was born and raised in Winston-Salem, North Carolina, and has spoken about the importance of his African American heritage in shaping his identity and perspective.
Family Tree
Chris Paul was born to his parents, Charles Edward Paul and Robin Jones, on May 6, 1985, in Winston-Salem, North Carolina.
His father, Charles Edward Paul, was an athlete who played college basketball at Winston-Salem State University. Charles passed away when Chris was only six years old.
Chris has often spoken about how his father's death has shaped his life and career and has dedicated many of his accomplishments to his father's memory.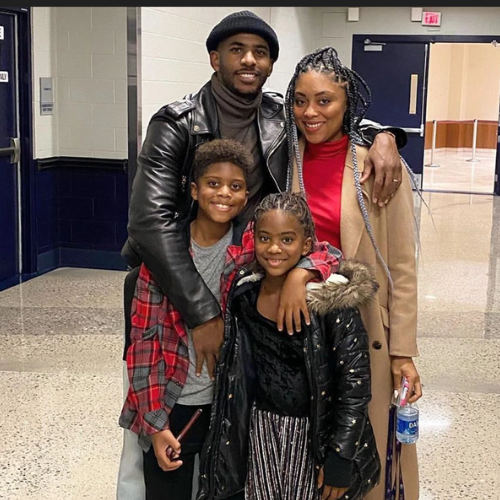 Paul's mother, Robin Jones, raised Chris and his older brother Charles "C.J." Paul as a single mother after their father passed away.
She worked hard to provide for her family and support her sons' dreams. Chris has spoken about how his mother's love and sacrifice have been instrumental in his success on and off the court.
Paul was given the nickname "CP3" by his parents and brother.
Chris Paul | Injuries
Chris Paul has experienced several injuries throughout his career. Here are some of the notable injuries that he has suffered:
In March 2007, he suffered a sprained right ankle that caused him to miss a few games.
In December 2008, Chris Paul suffered a torn meniscus in his left knee that required surgery.
Similarly, in January 2010, he suffered a concussion after colliding with a teammate during a game.
Chris separated his right shoulder during a game and missed several weeks of play in February 2014.
In March 2015, Paul suffered a hamstring strain and a torn ligament in his left thumb in January 2016.
Despite these injuries, CP3 has remained one of the NBA's top players and has continued to compete at a high level.