Devin Booker is a professional NBA player who plays as a shooting guard for the Phoenix Suns. The son of former NBA player Melvin Booker, Devin is dating Kendall Jenner and has a hectic net worth of millions. He is a three-time NBA All-Star and Gold Medalist at Tokyo Olympics.
Now, the 26-year-old has been serving as a shooting guard for the NBA team Phoenix Suns since 2015.
Furthermore, the player has made headlines with his exceptional basketball skills, as he comes from an athletic family.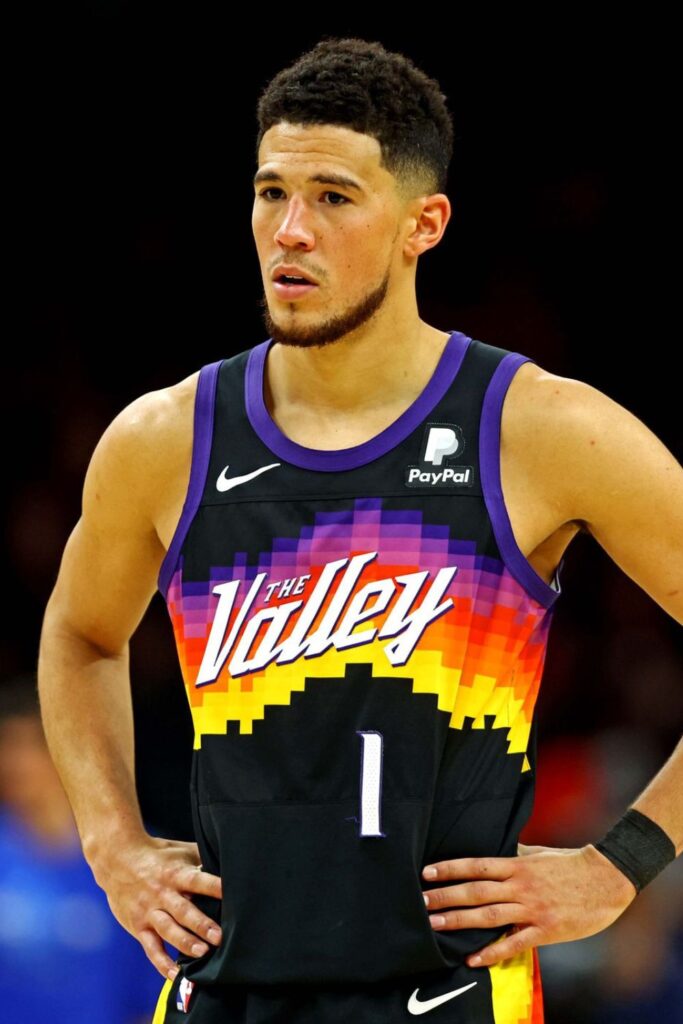 Devin and Kendall's relationship raised many eyebrows and media attention as Kendall has dated some NBA players in the past, such as Ben Simmons, Blake Griffin, Jordan Clarkson, etc.
On October 30, Kendall wished Booker's 26th birthday by sharing a picture of both with the caption "birthday boy."
Before details about the Sun's shooting guard's life and career, let's look at his quick facts.
Quick Facts
| | |
| --- | --- |
| Full Name | Devin Armani Booker |
| Birth Date | October 30, 1996 |
| Birth Place | Grand Rapids, Michigan, the United States |
| Nick Name | Book |
| Religion | Christian |
| Nationality | American |
| Ethnicity | Mixed |
| Education | University of Kentucky |
| Horoscope | Scorpio |
| Father's Name | Melvin Booker |
| Mother's Name | Veronica Gutiérrez |
| Siblings | Two; Davon Wade and Mya Powell |
| Age | 26 Years Old |
| Height | 1.95 m (6 feet 5 inches) |
| Weight | 206 lbs (93 kg) |
| Hair Color | Black |
| Eye Color | Black |
| Build | Athletic |
| Profession | NBA Player |
| Current Team | Phoenix Suns |
| Position | Shooting Guard |
| Active Years | 2015 – Present |
| Marital Status | Unmarried |
| Girlfriend | Kendall Jenner |
| Jersey Number | 1 |
| Net Worth | $30-$50 million |
| Annual Salary | $33.8 million |
| Social Media | Instagram, Twitter |
| Merch | Phoenix Suns Jersey, Rookie Card |
| Last Update | April, 2023 |
Where is Devin Booker from? – Early Life and Family
The Suns' shooting guard, Devin Booker, was born in Grand Rapids, Michigan, the United States. His parents are Melvin Booker and Veronica Gutiérrez.
His father is a former basketball point guard who played for the Grand Rapids Hoops in the Continental Basketball Association. Likewise, he was the Big Eight Player of the Year in 1994.
Melvin had entered the 1994 NBA Draft but went undrafted. He says it was one of the worst nights of his life to this date.
However, he eventually played in the NBA for the Houston Rockets, Denver Nuggets, and theGolden State Warriors.
Furthermore, his mother is a cosmetologist. Booker has a close and special bond with his mother.
Veronica has always encouraged her son to express his love for basketball. Likewise, Melvin has also praised her for being a great co-parent.
But his parents were never married. Nevertheless, they were a great parenting team, and they have co-parented Devin since he was eight months old.
Devin learned everything about basketball from his Father.
Besides, the NBA player mostly stayed with his mom during his dad's professional career. Nonetheless, he would visit him every summer.
Melvin would teach his son about basketball, its rules, and a few of his moves. Consequently, he grew up loving and respecting the game.
Aside from that, the basketballer has two siblings. He has an older half-brother named Davon Wade and a younger half-sister named Mya Powell.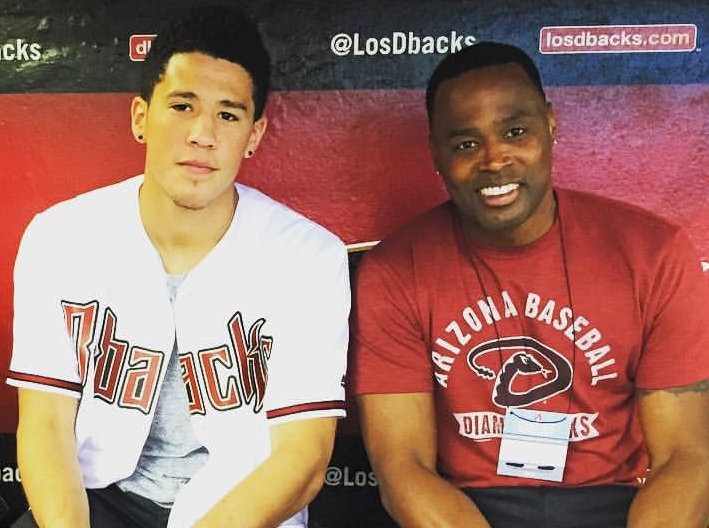 The brothers would play almost all sports together while their sisters cheered them on.
Mya was diagnosed with a chromosomal genetic disorder called Microdeletion syndrome when she was young.
As a result, the disorder has stunted her emotional intelligence and overall growth. However, the diagnosis does not stop her from enjoying life and being a wonderful sister.
Education
Initially, the basketballer attended high school at Grandville Public School in Michigan. He started his high school basketball journey there.
But the athlete's father wanted him to play at Moss Point School District in Mississippi, where he played.
Furthermore, Melvin retired from his professional career and became an assistant basketball coach at Moss Point to be close to his son.
Likewise, he wanted Devin to develop a better work ethic and proper basketball skills.
So, he persuaded Booker and Gutiérrez that he had to move to Mississippi to be today's great basketball player.
The mother-son duo initially hesitated but eventually gave in after Booker's freshman season.
Upon moving to his father's alma mater, the NBA player learned how to shoot better and in perfect form.
Hence, even though he couldn't grasp the importance of moving as a high schooler, he is grateful for it today.
Moreover, the athlete thanks his mother for making the strong decision to let him go.
After that, he attended the University of Kentucky, where he played collegiate basketball for the Kentucky Wildcats men's basketball team.
Devin Booker | Age and Height
The basketballer is 26–years old as of October 30, 2023.
Besides that, he is an exceptional athlete and takes great care of his body and diet.
As a result, he is quite healthy and has a toned physique. Furthermore, the shooting guard is 1.95 meters tall and weighs 206 lbs.
Talking about the other physical appearances of the basketball player, he has a black pair of eyes with black hair color.
Likewise, his faded haircut style is quite famous on social media sites.
Booker also has got a tattoo on his right forearm. The tattoo says 'Be Legendary,' which is a tribute to Kobe Bryant.
A few years back, Kobe gifted Booker a signed shoe with the message "Be Legendary" written on them, and Devin got the same tattoo on his body.
Devin Booker | Basketball Career
High School Stats
The NBA player started his high school basketball career with Grandville Public School. He played at the school for his first year.
After that, he transferred to Moss Point School District in Mississippi, where his father worked as an assistant coach.
Under his father's guidance and coaching, his shooting skills improved greatly.
In his sophomore year, he scored more points than his entire team. As a result, the Sun Herald newspaper named Booker South Mississippi Player of the Year.
During his junior year, he sustained some minor injuries. However, it barely impacted his game. The basketballer was named the Division 7-5A All-Division team and was its MVP.
Similarly, the shooting guard was the 2013 Mississippi Gatorade Player of the Year. Furthermore, he had scholarship offers from several reputable colleges.
Moreover, Rivals.com named him a four-star prospect and the 30th-best player in 2014, while ESPN named him the 18th-best player.
As a senior, the shooting guard participated in the Kevin Durant Skills Academy, the LeBron James Skills Academy, the CP3 Elite Guard Camp, Nike Global Challenge, and the National Basketball Players Association (NBPA) Top 100 camp.
College Highlights
After high school graduation, the NBA player committed to playing for the University of Kentucky.
Furthermore, he played alongside future NBA players like Karl-Anthony Towns, Tyler Ulis, and Trey Lyles.
Booker had a brief collegiate career, as he only played one season with the Kentucky Wildcats.
However, he received SEC Sixth Man of the Year honors in his first year.
Similarly, the athlete was on the SEC All-Freshman Team and the All-SEC Second Team.
In addition, he announced his entrance to the 2015 NBA Draft following his freshman season.
NBA Career
Initial Career
After entering the 2015 NBA Draft, the Phoenix Suns drafted Devin in the first round. Moreover, he was the 13th pick overall.
The basketballer started setting new records immediately upon his arrival.
Likewise, he was the youngest Suns player and the fifth-youngest player in franchise history to record a double-double.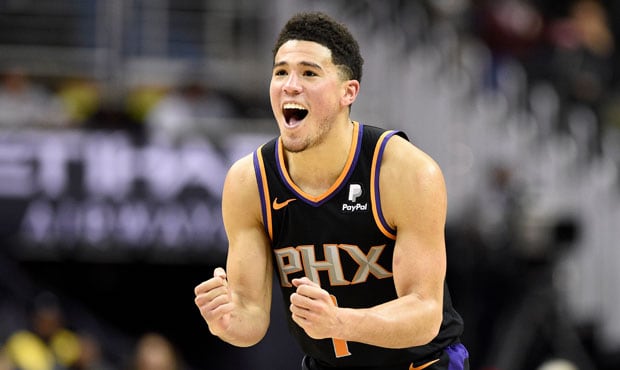 Similarly, he was the youngest and fourth rookie player to participate in NBA All-Star Weekend's Three-Point Contest.
The athlete came in third behind Klay Thomson and Stephen Curry.
Devin was the sixth NBA player in his second NBA season to score 70 points in a game. Furthermore, the following season he won the Three-Point Contest.
Injuries, All-Star Games, And Ejection
While playing in the 2018-19 NBA season, he signed a contract worth $158 million with the Phoenix team.
The shooting guard underwent surgery to fix the fifth metacarpophalangeal joint in his right hand.
He became the fifth-youngest player to make five thousand career points. However, Booker suffered a sprain in his left ankle that resulted in missing the last three regular games.
Devin earned his first All-Star game to replace Damian Lillard, who suffered a groin strain injury. Furthermore, he was also nominated for the Seeding Games MVP award.
In the 2020-21 season, the basketballer earned the Western Conference Player of the Week title.
Besides that, he will play his second All-Star game to replace Anthony Davis, who has strained his calf.
In a recent game against the Lakers, the athlete was ejected from the game after two technical fouls.
Media sources later revealed that he received his first foul for "continuous complaining" and the second for "directing profane language at a game official."
Highlights and Achievements
Three-time NBA All-Star in the years 2020, 2021, & 2022

2018 NBA Three-Point Contest Champion

NBA All-Rookie First Team in the year 2016

2015 SEC Sixth Man of the Year

Second-team All-SEC in the year 2015

2015 SEC All-Freshmen Team

2014 McDonald's All-American