Kevin Durant, aka KD, an NBA power forward, got traded to Phoenix Suns from Brooklyn Nets in 2023.
The hardcore NBA fans may not have forgotten the guy who played incredibly in the NBA Finals of the 2016-17 and 2017-18 seasons for the Golden State Warriors.
Durant has bagged two NBA Championships, with the Finals MVP title on both occasions. Besides, he has earned the NBA MVP Award and the Rookie of the Year Award once each.
Starting his NBA career in 2007, he has successfully poached three gold medals at the Olympics (2012, 2016 & 2020.)
Showing the best performance in the NBA Finals from a team of top players like Stephen Curry and Klay Thompson is not easy.
Today, he is easily included in the world's list of highest-earning basketball players with team contracts and endorsement deals. So let's quickly look at his journey from childhood to success.
Quick Facts
Full Name
Kevin Wayne Durant
Birth Date
September 29, 1988
Birth Place
Washington, D.C., United States
Nickname
Durantula, Cupcake
Religion
Christianity
Nationality
American
Ethnicity
Black
Education
National Christian Academy, Maryland
Oak Hill Academy, Virginia
Montrose Christian School, Maryland
University of Texas
University of Southern California
Horoscope
Libra
Father's Name
Wayne Pratt
Mother's Name
Wanda Durant
Siblings
One Sister & Two Brothers
Sister
Brianna Durant
Brothers

Tony Pratt
Rayvonne Pratt

Age
34 Years Old
Height
6'11″/211 cm/2.11 m
Weight
108 kg/240 lb.
Shoe Size
18 (U.S.)
Build
Athletic
Favorite Food
Crab Legs
Eye Color
Dark Brown
Hair Color
Dark Brown
Profession
Basketball Player
Playing Position
Small Forward / Power forward
Active years (Senior Career)
2007-Present
Team

Seattle SuperSonics (2007 – 2008)
Oklahoma City Thunder (2008 – 2016)
Golden State Warriors (2016 – 2019)
Brooklyn Nets (2019 – 2023)

Phoenix Suns (2023-Present)

Sexual Orientation
Straight
Marital Status
Unmarried (Single)
Ex-Girlfriend's Name

Apryl Jones (Rumors)
Monica Wright
Cassandra Anderson
Amy Shehab

Favorite Album
'Take Care' By Drake
Net Worth
$200 Million
Salary
$42 Million
Endorsements
Gatorade, Nike, Degree
Social Media
Facebook, Twitter, Instagram
Merch
Vinyl Figure, Signed Nike Shoes
Update
May 2023
Early Life, Family & Education
Kevin was born in Washington, D.C., on the 29th of September 1988 to Wayne Pratt (father) and Wanda Durant (mother.)
His parents divorced when he was an infant, so his grandma Barbara Davis helped his mother to raise him.
Kevin grew up with his three siblings in Maryland; Tony and Rayvonne (brothers) and Brianna (sister.)
He joined National Christian School, where he played basketball for two years. Later, his father joined him in traveling to basketball tournaments when he was 13.
Then, he was transferred to Oak Hill Academy for a year. Eventually, he ended up at Montrose Christian School in Rockville, where he played his senior year.
Kevin was tall from the early days of his life, as he was 6 feet in middle school and (6'11") 2.11 m in senior level at high school.
He idolized Vince Carter of his favorite NBA team Toronto Raptors. Also, he played basketball in the Amateur Athletic Union.
Besides, the Washington Post named him the All-Met Basketball Player of the Year. Also, he received the MVP title at the McDonald's All-American Game in 2006.
Age, Height & Physical Appearances
Durant is 34 years old, born under the sun-sign Libra. It is believed that people born with this sun sign tend to have a logical mind and fair judgment.
When talking about Kevin's height, he stands at a great height of 2.1 meters.
This seems to be an excellent height for a basketball player like him. Likewise, he weighs around 108 kg (240 lb.) with regular physical exercise and a balanced diet plan.
Kevin's look is incomplete without his dark brown eyes and dark brown hair. Similarly, he wears a shoe size of 18 (U.S.). Unfortunately, his body measurement is unknown at the moment.
Durant belongs to the Afro-American ethnicity and follows Christianity.
College Career
Durant joined the University of Texas in 2006. With the Texas Longhorns, he averaged 25.8 points and 11.1 rebounds in the first season.
Kevin and the Longhorns had a sad exit in the NCAA Tournament in the second round.
Kevin received eight honors in college, including the John R. Wooden Award and the Naismith College Player of the Year award.
This made him the first freshman to win either national-level Player of the Year award. The Texas Longhorns later retired his jersey No. 35 jersey in his honor.
Professional Career
After the first season with the Texas Longhorns, Durant declared himself available for the NBA Draft at 19.
Seattle SuperSonics
The Seattle SuperSonics poached him in the first round of the 2007 NBA Draft. He debuted against the Denver Nuggets with 18 points and five rebounds.
He recorded an average of 20.3 points, 4.4 rebounds, and 2.4 assists per game in his debut NBA season.
Besides, he was the third teenager in NBA history, behind Carmelo Anthony and LeBron James, to average at least 20 points in a season.
His brilliance was recognized with the NBA Rookie of the Year title.
Oklahoma City Thunder
With New Colors – Blue, Orange, & Yellow
In 2008, the SuperSonics became Thunder after moving to Oklahoma City. In the opening season with Thunder, Kevin recorded 25.3 points per game.
Also, he played at the 2009 NBA All-Star Weekend, earning 46 points, a Rookie Challenge record. The following season, he earned his first NBA All-Star selection. That season, he recorded 30.1 points per game.
Durant started the 2010-11 season with an $86 million five-year contract extension with the team.
Besides, he led the team in the playoffs by defeating the Denver Nuggets and Memphis Grizzlies. But they had to bow out from the next round of Conference Finals.
First NBA Finals
Durant earned the NBA All-Star MVP Award at the 2011 All-Star game. He recorded an average of 28 points per game in the 2011-2012 season.
In the playoffs, he was the key player in the Thunder's win over Dallas, the Lakers, and San Antonio Spurs. However, they lost 4-1 against the Heat in the finals.
Kevin averaged 28.1 points per game in the 2012-13 season. Unfortunately, with the first seed in the Western Conference, the Thunder had to lose out on the playoffs' second round.
They had defeated the Houston Rockets before losing against the Grizzles.
MVP Of The Season
Kevin had a streak of 41 games with at least 25 points that saw him surpass the record held by Michael Jordan.
He led the Thunder to 59 wins in the 2013-14 season. Individually, he achieved a 32 points average, 7.4 rebounds, and 5.5 assists per game. These stats won him the NBA's Most Valuable Player of the season voting.
Late Days With The Thunder
Durant was forced to miss out first 17 games of the 2014-15 season with a fracture in his right foot. As a result, he appeared in only 27 games in the season with 25.4 points, 6.6 rebounds, and 4.1 assists per game.
The following season, he made an NBA record of 64 consecutive games with at least 20 points. In the 2015-16 season, Durant averaged 28.2 points with 8.2 rebounds and five assists per game.
In the playoffs, he led the Thunder to win the first and second rounds against the Mavericks and Tim Duncan's San Antonio Spurs, respectively.
However, the run was halted as the Golden State Warriors beat them in the third round.
Golden State Warriors
Kevin signed a $54.3 million two-year deal for the Golden State Warriors in 2016. It was considered a good move for a player of his caliber.
He debuted for the Warriors in October 2016 against San Antonio Spurs. His previous team's fans booed him when the Warriors defeated the Thunder.
NBA Finals & MVPs
In the postseason of 2016-17, Durant was a crucial player in the Warriors' NBA Finals journey. He averaged 35.2 points with 8.4 rebounds and 5.4 assists per game.
The Warriors went on to win the finals against Kyrie Irving's Cleveland Cavaliers.
He earned the NBA Finals MVP title but declined the $27.7 million player option and became an unrestricted free agent.
Nonetheless, he re-signed with the Warriors on July 25, 2017.
He earned a career total of 20,000 points on January 10, 2018, against the Clippers.
Later he averaged 28.8 points, 10.8 rebounds, and 7.5 assists in the postseason games. The Warriors won over the Cavaliers for the second NBA Final in a row, and Durant again won the Finals MVP honor.
Final Season With The Warriors
Durant again extended his contract with the Warriors with $61.5 million for a two-year contract. However, he strained his right calf in the Western Conference semifinals against the Rockets.
This saw him sidelined for nine games. Again, after returning, he fell and injured his lower right calf. Subsequently, the Warriors lost the NBA finals.
Brooklyn Nets
Durant signed for the Brooklyn Nets on July 7, 2019, under a sign-and-trade deal.
The following season, he caught the Coronavirus along with three of his teammates. After 14 days in isolation, he tested negative for the disease.
International Career
Durant entered the United States national team at the 2010 FIBA World Championship.
He had a vital role in earning the championship title for his nation. Besides, he received the tournament's MVP honors on the way. Furthermore, he helped the US to snatch the gold medal at the 2012 London Olympics.
Again, he played for the national team at the 2016 Rio Olympics.
This time too, he performed exceptionally to secure a gold medal for the United States. Accordingly, he received USA Basketball Male Athlete of the Year.
Kevin Durant At The Tokyo 2020 Olympics
The two-time Olympic gold medalist was included in the 2020 Tokyo Olympics roster selected by head coach Gregg Popovich for the US men's national basketball team.
Gregg is one of the greatest coaches in the history of the NBA, who has led the San Antonio Spurs to five NBA championships.
In the 2020 Olympics, he first went through the Group stage, where he competed with France (76-83), Iran (120-66), and the Czech Republic (119-84.)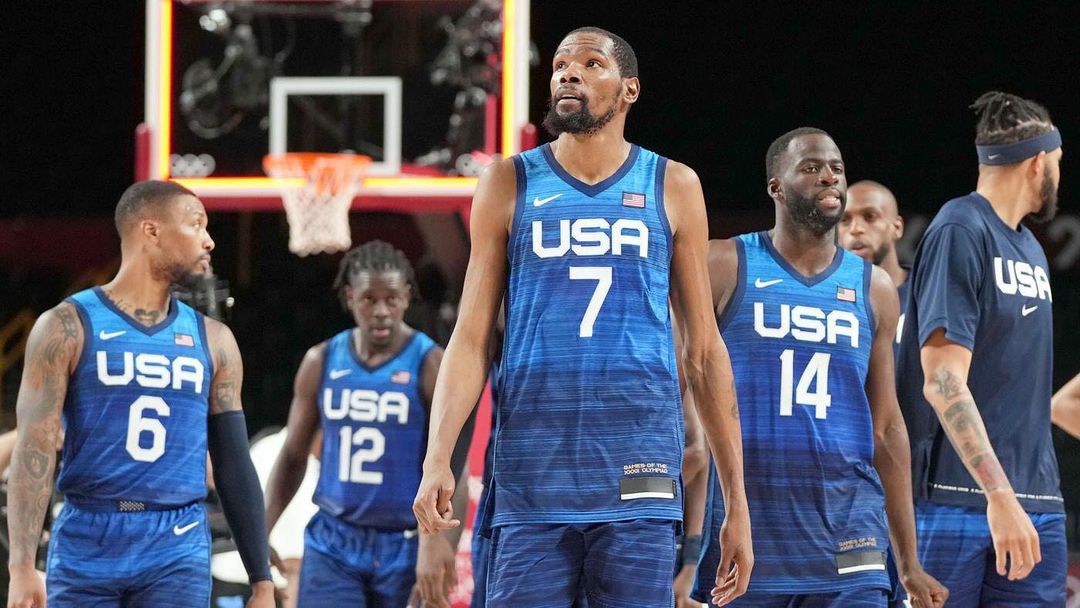 KD played alongside exceptional NBA players like Devin Booker, his former teammate Draymond Green, 2021 NBA champions Jrue Holiday & Khris Middleton, Damian Lillard, Jayson Tatum, etc.
Pranking At the Tokyo 2020 Olympics
At the Tokyo 2020 Olympics opening ceremony, the 2014 NBA MVP was the victim of a harmless prank.
Durant's former GSW teammate organized that prank where the entire US Olympic squad sang KD the birthday song.
However, Kevin's birthday wasn't until late September. The two-time Olympic gold medalist stood there with a straight face while glancing at everyone.
Injury & Covid-19
There's no doubt that players suffer from many injuries when playing games.
Kevin suffered a right calf strain injury when playing during Game 5 (2018 NBA) of the Western Conference against the Houston Rockets. This injury led him to miss Game 6.
In his next season, after recovering, Durant was back in Game 5 2019 NBA Finals, where he was diagnosed with a torn Achilles tendon after falling and grabbing his lower right calf.
A torn Achilles is considered one of a basketball player's worst injuries.
After recovering from his torn Achilles, on March 17, 2020, he tested positive for Covid-19. But he recovered from Covid-19 after a short period.
Controversy
Milwaukee Bucks superstar Giannis Antetokounmpo threw shade at Kevin on The Daily Show with guest host Hasan Minhaj by calling him out for changing his team frequently as he got traded to the Suns recently in 2023.
Giannis said, "You keep joining super teams to win an NBA title. How about we work together sometime so I can teach you how to carry your team?"
Awards & Titles
With the Golden State Warriors, Durant lifted the NBA Championships twice in 2017 and 2018.
He was the Finals MVP on both occasions. Similarly, he won the NBA MVP of the season in 2014. Besides, he has been named to the NBA All-Star 10 times and All-NBA First Team 6 times.
The NBA Rookie of the Year 2008 has been the NBA All-Star Game's MVP two times.
He made it to the NBA All-Rookie First Team in 2008 and won NBA Rookie Challenge MVP in 2009.
With the US national team, he won Olympic gold two times. Also, he was the MVP in the 2010 FIBA World Cup gold medal-winning run.
Net Worth & Salary
Durant is one of the highest-paid basketball players right now. Last season, he earned $65 million from the team and other endeavors.
Besides, he has had a four-year, $164 million contract with the Brooklyn Nets since 2019. Also, sources suggest that he has made a fair amount of investments in different sectors.
Kevin Durant has a net worth of $200 million as of 2023, with a salary of $42 million per year.
Besides, he has an income of $36 million through deals with various brands, including Gatorade, Nike, and Degree.
Also, he brought a house worth $12.05 million to Malibu beach, California.
Notably, Durant established the Kevin Durant Charity Foundation in 2013. The foundation aims to enrich low-income people's lives through educational, athletic, and social programs.
Stats
| | | | | | | |
| --- | --- | --- | --- | --- | --- | --- |
| Year | GP | GS | MPG | FG% | 3P% | FT% |
| Career | 997 | 975 | 36.7 | .498 | .384 | .886 |
| All-Star | 10 | 8 | 26.9 | .536 | .349 | .897 |
| Playoffs | 151 | 151 | 40.4 | .476 | .356 | .866 |
Relationship
Durant is not married yet and is a single guy. However, his fame and charm attracted many girls to him.
He was linked to California's real estate agent, Cassandra Anderson, after being spotted with her after he won the 2018 NBA Finals with the Warriors. However, he left her around October 2018.
Besides, Kevin was also linked with Amy Shehab, a model. In addition, he had a serious relationship with the WNBA player Monica Wright.
According to sources, the couple was engaged before they separated in 2015. Furthermore, the then Thunder man was reportedly dating Jasmine Shine until 2016.
Currently, he is rumored to have affairs with Apryl Jones, but neither party has shown signs of the relationship yet.
Social Media Presence
Durant is one of the most famous basketball players of the decade.
His brilliant performances in the NBA have drawn fans' attention to his social media. He uses Facebook, Twitter, and Instagram as his social media handles.
Facebook: 11 million followers
Twitter: 20.8 million followers
Instagram: 13.2 million followers
In 2023, Durant was seen collaborating with Boardroom, a media network covering sports and entertainment.
Search Graph
Frequently Asked Questions (FAQS)
How many rings does Kevin Durant have?
Kevin Durant has two championship rings (2017 & 2018) with the Golden State Warriors.
What teams does Kevin have Played for?
Kevin has played for teams like Seattle SuperSonics, Oklahoma City Thunder, Golden State Warriors, Brooklyn Nets, and Phoenix Suns
For how long has Kevin Durant been in the NBA?
Durant has been in the NBA since 2007-present.
When did Kevin join the Warriors?
Kevin joined the Warriors in the year 2016 and played until 2019.
What's the jersey number of Kevin?
Kevin wears jersey number 35 for the Phoenix Suns.