For soccer legend Christine Sinclair, the 2023 World Cup is an opportunity to etch her name as the first player ever to score in six World Cups. With her soaring popularity, fans are curious about her boyfriend and personal life.
Who is Christine dating in 2023? Is she single? Read the article till the end to find out.
Christine Margaret Sinclair is an accomplished Canadian professional soccer player. She plays as a forward and captains both Portland Thorns FC and the Canadian national team.
Known for her ball skills, athleticism, and technique, Sinclair is an Olympic medallist, a CONCACAF champion, and a 14-time Canada Soccer Player of the Year.
Sinclair is the all-time top goal-scorer in international soccer, with 190 goals in 324 appearances for Canada.
The 40-year-old made her World Cup debut in 2003.
In addition, Sinclair has played in four Olympic Soccer Tournaments besides her appearance in six FIFA Women's World Cups.
A seven-time FIFA Women's World Player of the Year nominee, Sinclair is a living legend on the field.
Is Christine Sinclair Dating Anyone?
Christine Sinclair is a very private individual when it came to her personal life. The soccer player has not yet revealed her dating status.
Throughout her career, she rarely discussed her dating life with the media, choosing to keep her relationships out of the public eye.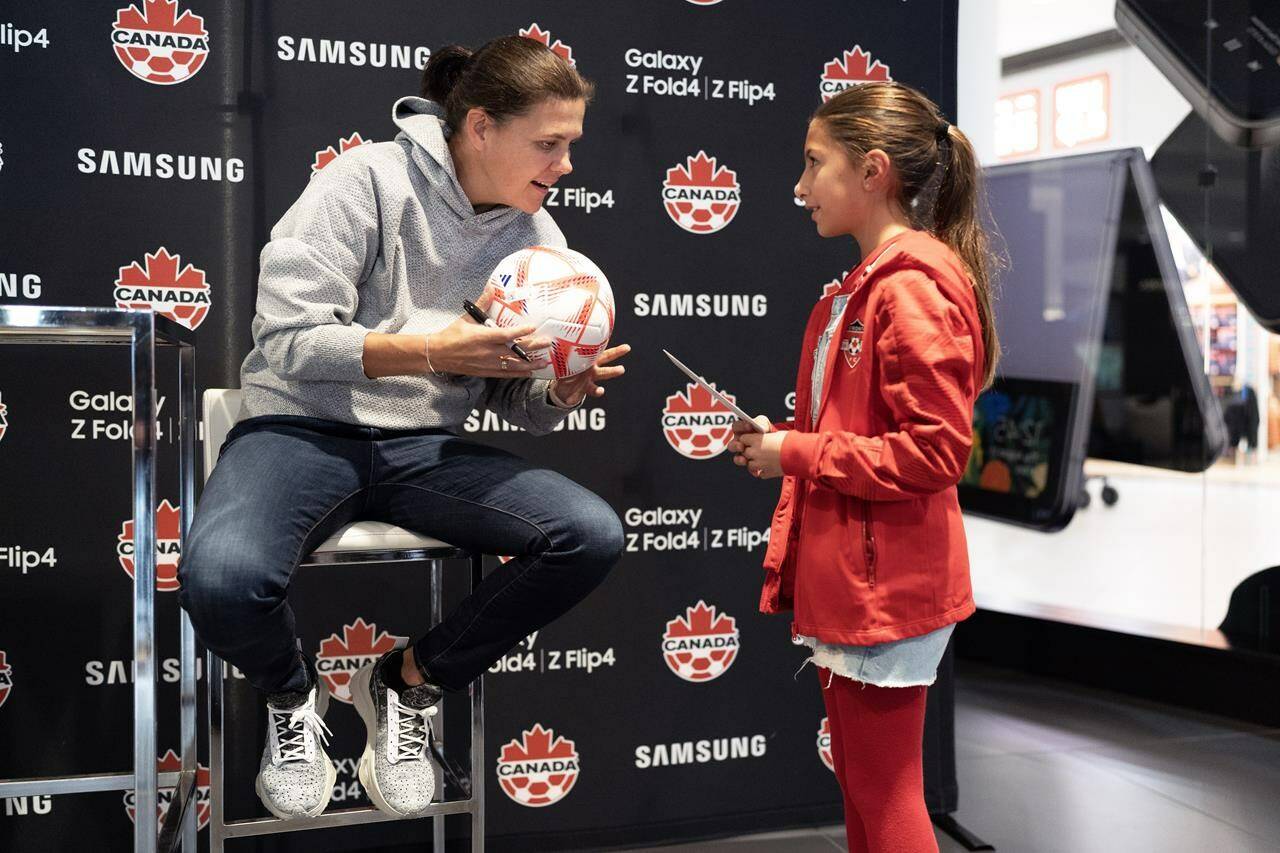 However, the media was not free of occasional rumors and speculations about her dating status.
There were rumors circulating in 2019 that Christine Sinclair had tied the knot with her fellow Canadian women's soccer teammate, Janae Hermann.
Additionally, some local news portals had claimed that Sinclair was romantically involved with Jeremy Medaglia.
Nevertheless, the Canadian has not confirmed any romantic relationship publicly.
As of 2023, there is no public information about her dating status, and she continues to focus on her stellar soccer career.
Christine Sinclair Parents & Family
Sinclair was born on June 12, 1983, in Burnaby, British Columbia, Canada, to parents Bill and Sandra Sinclair.
She grew up in a supportive and sports-loving family, where her passion for soccer was nurtured from a young age.
Her father, Bill Sinclair, was also a soccer player. He played college soccer in Canada, which instilled a deep love for sports in his daughter.
Albeit, the soccer connection in the Sinclair family doesn't stop at her father. Sinclair's uncles Brian and Bruce Gant were Canadian amateur soccer champions.
So it was no surprise that Sinclair had an innate talent for the sport. Sadly, Christine's father died in April 2016 at the age of 69.
Her mother, Sandra, was also an important figure in her life, encouraging her journey.
Sandra took her to parks daily and provided her with every opportunity to grow as a player.
Interestingly, Sandra was a head coach at a children's group, which was huge support for the player.
Unfortunately, Sandra also passed away in February of 2022 after her long battle with multiple sclerosis. Sinclair remembers her mother as the strongest person she knew.
Together, Sinclair's parents played a significant serving as a strong foundation, helping her overcome challenges and achieve remarkable success on the soccer field.
Meet Brother Mike
Sinclair was the second child of her parents after her older brother, Mike Sinclair. She grew up sharing her soccer interest with her only sibling.
However, the two fought all the time as they were born only three years apart. But they were as quick to become friends as they were to become enemies.
The siblings share a close bond, and Mike's support has been instrumental in Christine's success both on and off the field.