CJ Stroud brother Isaiah and Asmar are the two supportive older brothers of the American football quarterback.
C.J. Stroud brother Asmar, and Isaiah, are part of C.J. Stroud's family, which includes his mother, Kimberly, and sister, Ciara.
Coleridge Bernard "C. J." Stroud IV, born on October 3, 2001, has made an indelible mark as an American football quarterback.
Before his professional career, Stroud showcased his immense talent on the college football stage at Ohio State, etching his name into the annals of the sport's history.
Later he was also named a Heisman Trophy finalist in not just one but two consecutive years—both in 2021 and 2022.
The pinnacle of his journey was realized in the 2023 NFL Draft, where the Houston Texans recognized Stroud's exceptional potential and selected him as the second overall pick.
CJ Stroud Brother: Who Are Isaiah And Asmar?
Stroud grew up in a quiet involved family in their church, with his father serving as pastor.
Furthermore, as the youngest of four siblings, CJ spent much of his childhood with his siblings, helping to build the church's foundation.
The Stroud brothers also have a sister Cieara Stroud, who resides in Pomona, California.
Asmar Stroud & Isaiah Stroud
Supportive of his career, CJ's elder brother, Asmar Stroud, attended the prestigious Heisman Ceremony on December 11, 2021, where CJ was honored.
Apart from that, as he keeps his details private, not much information is present regarding Asmar Stroud.
His other elder brother, Isaiah Stroud, has carved a successful career in the navy, earning respect and admiration from all quarters.
The significance of Isaiah's journey became apparent on September 10, 2013, when his mother, Kimberly, took to Facebook to share a heartwarming snapshot of Isaiah in his Navy uniform.
Her post resonated with pride as she celebrated her son's accomplishments and dedication to serving his country.
On Veterans Day, CJ's beloved grandmother, Olga Boykin, joined the chorus of appreciation by posting a picture of Isaiah.
Later Olga, in 2017, updated in a Facebook post that Isaiah was out of the navy and ready to start life in other career fields.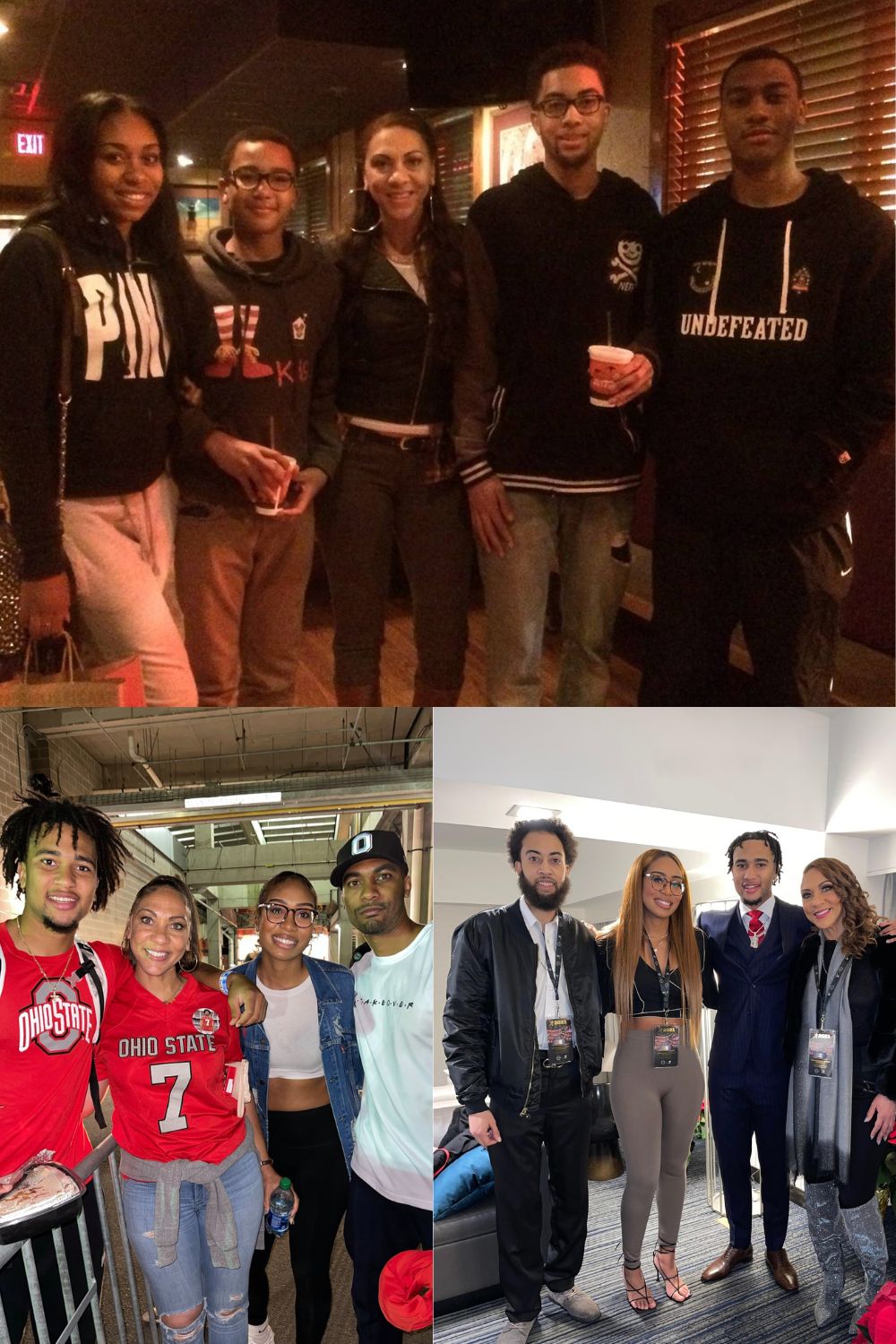 Isaiah's personal life shines brightly. He is happily wed to his wife, Sydney, a partnership that reflects unwavering support and companionship.
Likewise, on September 7, 2017, their joy expanded with the birth of their cherished first child, a beautiful daughter.
Their daughter marked a new chapter in Isaiah and Sydney's journey, filled with love, joy, and the promise of a bright future.
CJ Struggle After His Father Left
C.J. Stroud's father has been serving a prison sentence for six years at Folsom State Prison near Sacramento and is eligible for parole in 2040 when he will be 74 years old.
His absence impacted the family, leaving CJ's mother, Kimberly, to support their four children—older sons Isaiah and Asmar, daughter Ciara, and CJ.
Kimberly took on various jobs as a property manager to make ends meet, and the family had to move multiple times to smaller homes.
They even faced the possibility of eviction from a condo unit before Kimberly accepted a job managing a storage facility in Upland, California.
As part of her role, the family could live in a two-bedroom, one-bathroom apartment above the facility's office, which provided a vital lifeline and prevented them from becoming homeless.
Despite the challenges, CJ remained resilient. He often had to open the storage facility after hours for renters and embraced his circumstances with a lighthearted perspective.
CJ remained focused on his dreams and aspirations despite his family's financial constraints.
CJ's story reflects his resilience, humility, and commitment to achieving his goals despite obstacles.