The 2008 NASCAR Nationwide Series champ Clint Bowyer is the father of two kids with his Lorra Bowyer. The couple, married in 2014, together raise their son Cash Aaron and daughter Presley Elizabeth.
Born Clinton Edward Bowyer on May 30, 1979, the semi-retired stock car racer currently works as an analyst for NASCAR on Fox and competes part-time in the SRX Series.
The 6 feet (1.83 m) tall racing car driver competed in NASCAR from 2005 to 2020, competing in the Cup Series, Xfinity Series, and the World Truck Series.
Aside from his racing career with Richard Childress Racing in NASCAR, he raced for Michael Waltrip Racing for four years, HScott Motorsports for one year, and Stewart-Haas Racing for four years.
The 44 years old racing driver has a net worth of $40 million as of 2023.
It's obvious that his carer as a racer had a hefty deposit in his fortune but also his analyst career & business venture had no less part.
As reported, Bowyer created Clint Bowyer Racing, a Dirt Late Model team, in 2008. Moreover, he is the owner of a car dealership, Clint Bowyer Autoplex, in his hometown.
Clint Bowyer Kids: Cash Aaron & Presley Elizabeth
In April 2014, Bowyer tied the knot with his wife Lorra, beginning a new and joyous chapter in their lives.
Shortly after their wedding, the couple shared the exciting news of their upcoming addition to the family-a baby boy.
On October 1, 2014, they welcomed Cash Aaron Bowyer, their firstborn.
Their love and happiness continued to grow as they received another blessing.
On June 15, 2016, it was announced that Bowyer and Lorra were expecting their second child.
Then, on December 9, 2016, Lorra gave birth to a baby girl whom they named Presley Elizabeth.
More On Bowyer's Children
Clint's son Cash Aaron is following in his father's footsteps.
According to Clint's Instagram post of 22 November 2020, Cash achieved his inaugural triumph in a go-kart race at the tender age of 7.
Upon reaching Victory Lane, the young driver was greeted by his proud parents, Clint and Lorra, and his sister Presley.
The young talent is making waves on the track and is active on social media platforms. With his presence on Instagram, he has amassed over 2,300 followers.
On his profile, he shares captivating updates about his journey as a kid go-kart rider, giving fans an inside look into his racing experiences.
In 2020, Clint Bowyer had an interview on the Stewart-Haas Racing YouTube channel, where his children had the opportunity to ask him questions.
During the interview, it became evident that his daughter, affectionately nicknamed 'P' by her father, tends to be more reserved and shy than her energetic brother Cash.
Compared to her brother, Cash, limited information has been shared about Presley. Apart from her name and birthdate, little is known about her.
Married Life Of Clint Bowyer With His Wife Lorra
Clint and Lorra have been happily married for over eight years. Their wedding took place in the Bahamas. They are blessed with two children, as previously mentioned.
Lorra is a multi-talented individual. Aside from being a devoted wife and mother, she is also a social media influencer with over 28,000 followers on Instagram.
Moreover, she is a skilled designer and a determined entrepreneur.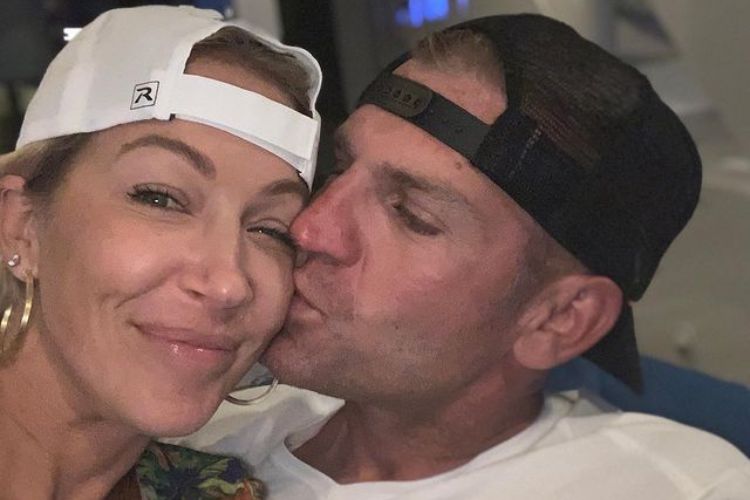 Lorra's creative endeavors led her to design a unique T-shirt for the Toyota Racing For The Cure Campaign in 2012, showing her support for those battling or having fought breast Cancer.
Furthermore, her Instagram profile hints at her involvement in the jewelry business, showcasing her interest and expertise.