Chase Carter is a popular swimsuit and runway model who is also popular as Chicago Cubs' first baseman Cody Bellinger's girlfriend. In October 2022, Carter announced they were expecting their second child through her Instagram.
Cody is very private with his relationship, but in contrast to that, it seems his present girlfriend, Chase Carter has a different opinion.
Carter shared a shirtless photo of Cody lying on the bed, hinting at their relationship on her Instagram. However, they officially declared their relationship in September 2020.
Carter is very supportive of Bellinger's sports activities. She is also seen attending most of his games and rooting for him.
The news soaring up about them expecting a child together intrigued most fans to know more about their dating life. So in this article, we will discuss Cody and Chase's beautiful relationship.
Furthermore, we will also look into Chase's and Bellinger's past relationships.
But before that, let us understand more about Cody Bellinger's girlfriend by thoroughly looking at the quicks facts about her.
Chase Carter | Quick Facts
| | |
| --- | --- |
| Full Name | Chase Carter |
| Date of Birth | June 10, 1997 |
| Nickname | Lil Baby Cheezus |
| Religion | Not Available |
| Father Name | Mark Carter |
| Mother Name | Denise Carter |
| Marital Status | Not Married |
| Birthplace | Nassau, The Bahamas |
| Gender | Female |
| Ethnicity | Mixed |
| Age | 25 Years Old |
| Profession | Model & Instagram star |
| Nationality | Bahamian |
| Agency | IMG models |
| Height | 5'10″/1.77 m/177 cm |
| Eye color | Blue |
| Hair Color | Blonde |
| Weight | 57 kg/126 lb. |
| Body Measurements | 32-24-35 inches |
| Body | Slim |
| Shoe Size | Not Available |
| Favorite Sports | Soccer |
| Relationship Status | Mingled |
| Boyfriend | Cody Bellinger |
| Children | One; Caiden Carter Bellinger |
| Siblings | Tess (sister) and Clayman Carter (brother) |
| Zodiac Sign | Gemini |
| Net Worth | $5 Million |
| Social Media | Instagram |
| Cody Bellinger Merch | Jersey, Baseball Card |
| Last Update | March 2023 |
Cody Bellinger | Personal Details
Cody Bellinger, born on July 13, 1995, in Chandler, Arizona, is an American professional baseball player. He is the first baseman and outfielder for the Chicago Cubs of Major League Baseball (MLB).
Los Angeles Dodgers drafted Bellinger in the fourth round of the 2013 MLB Draft. However, he made his MLB debut in 2017.
Cody is the son of Clay Bellinger, who also played in the MLB. Bellinger was mostly around Major League clubhouses when he was young and played baseball from the get-go.
He was named All-Star twice in 2017 and 2019 and National League's Rookie of the Year in 2017.
He also won the National League Most Valuable Player Award in 2019 and the 2020 World Series with LA Dodgers.
With his excellent playing skills, Cody has accumulated many awards. He engraved a record by becoming the first Dodger to have hit two home runs in two back-to-back games.
Cody Bellinger | Relationships
Cody Bellinger is dating Chase Carter, born on June 10, 1997, a Bahamian model. They have been dating for above a year.
Born to Mark and Denise Carter, Chase has been on the cover of Maxim magazine. She is the granddaughter of Sir Charles Carter, a radio broadcaster and former house of assembly member.
Born and brought up in the Bahamas, she has a younger sister named Tess and a younger brother named Cayman.
Cody Bellinger Girlfriend Chase Carter | Modelling Career
Chase was first scouted to be a model at 13 while visiting family in Australia. In addition, she also modeled for a Maybelline New York advertisement.
In the 2018 Sports Illustrated Swimsuit Issue, Carter was a rookie. But, according to her, it was her most significant achievement. She has also modeled for Pink (Victoria's Secret).
Besides that, young Carter has modeled for Polo Ralph Lauren, Maybelline, and Philipp Plein. She has also appeared in Galore and V magazines.
Cody Bellinger Girlfriend Chase Carter | Love For Sports
Chase is a self-proclaimed sports proponent. In addition to modeling, Carter is an avid sports fan.
She is interested in sports and was a multi-sport athlete. Her hobby was javelin throwing. Moreover, she is also a massive fan of soccer.
Carter was a former Bahamas National Football Team player who is now a marathon runner. Cody Bellinger's girlfriend also participated in the New York City Marathon in 2018.
Chase Carter | Past Relationships
In 2016, Chase dated Cameron Alexandar Dallas, born on September 8, 1994, an American internet personality, actor, and musician. He came to fame from Vine and YouTube.
In 2017, Carter had a relationship with a former American swimmer and Olympic gold medalist, Conor Dwyer.
He has impressively won seventeen medals in major international competitions. In addition to swimming, Conor is also an internationally signed model.
He was the face of international clothing brand Bench's men's wear campaign in North America and the United States.
Likewise, in 2018, a rumor about Chase dating an American professional baseball player, Giancarlo Stanton, swirled in the media. She met him during CC Sabathia's celebrity softball game in June.
Stanton plays for the New York Yankees of MLB, and is known for his immense physical strength and capacity to hit long home runs.
Are Cody Bellinger And Chase Carter Expecting Their Second Child?
On July 13, 2021, Cody Bellinger's girlfriend, a famous Instagram model Chase Carter revealed they were expecting their first child together via Instagram.
They also announced that they were having a girl. So the child was the first experience for both of them.
They welcomed their baby girl, Caiden Carter Bellinger, into the world on November 30, 2021.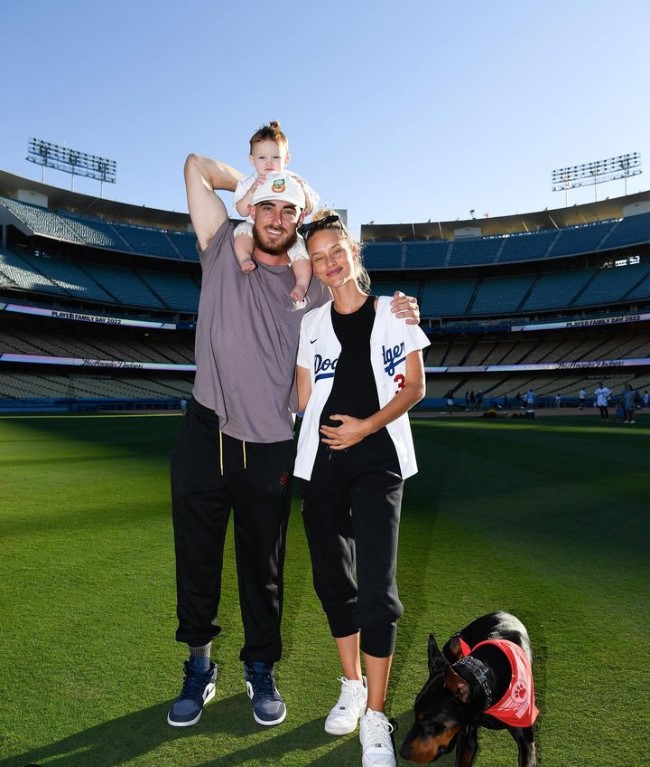 Cody and Carter have been in a relationship since last year. News like this reflects that they're madly in love with each other.
She also appeared when the Dodgers won the 2020 World Series at Global Life Field.
Moreover, they celebrated throughout the postseason, and lucky Carter was even allowed to enter the Dodgers Stadium to celebrate.
Recently, on October 18, 2022, the 25 years old model took her Instagram to announce that they are expecting another child soon.
Chase Carter | Social Media Presence
The IMG model Chase Carter is an active user of social media. Moreover, she is most active on her Instagram as @lilbabycheezus.
The model regularly shares heartwarming photos with her loved ones. Besides that, she also shares pictures of her photoshoot and travels.
She also utilizes her vast amount of followers by raising awareness of societal problems like Black Lives Matter.
Likewise, Chase Carter officialized her relationship with Cody Bellinger through her Instagram by sharing an adorable picture of both in September 2020.
Instagram: 401k followers
View this post on Instagram
Chase Carter | Net Worth
The beauty, Chase Carter, has been featured in different magazines and runway events.
She is a bold, hot, and humble person who truly cares for her fans. Chase Carter's net worth is approximately $5 million, mostly from her modeling career.
Besides she also earns from Instagram and various other promotions and endorsements. Unfortunately, there is no specific information about her assets and income.
Cody Bellinger | Past Relationships
Cody Bellinger had kept his past relationships low-key before Chase Carter. Although, there are a couple of women linked to Cody. We will talk about his relationship from 2017 and prior.
Melyssa Perez
Melyssa Perez graduated from the University of Texas as a law student. She was born to Ruben Perez and Elizabeth Lawson. She also has a sister, Cassie, and a brother, Issac Perez.
Perez appeared in several Dodgers games throughout the 2017-18 season. She also said that if you think Cody is better at playing baseball, you've not seen how he is good at getting on her nerves.
In 2017, Melyssa shared several snaps of her and Cody hanging out after a Dodgers game. Later, many media reported that they went on a couple of dates.
However, the couple never confirmed the news about dating each other.
Melyssa Perez | Social Media Presence
Melyssa Perez, the ex-girlfriend of Cody Bellinger, loves to spend her time at sea and fishing. Undoubtedly, her social media reflects her love for fishing.
She has shared pictures of her fish-catching skills, leaving her followers in awe.
Her social media also reflects that she loves to travel as she shared many snaps of her travel diaries. However, she is not active since 2018.
Melyssa Perez | Net Worth
Melyssa works as a lawyer and spends most of her time working. Her net worth is estimated to be approximately $200,000.
Perez also volunteered for an American Gateways organization that provides helping hands to low-income immigrants in Texas.
Likewise, she completed an internship for Team Industrial Services in Texas before joining the organization.
Sabrina Denham
Cody and Sabrina were high-school mates. She attended Grand Canyon University and graduated with a Psychology major and Marketing as a minor.
Sabrina is a social media specialist at Brandon Crawford Camps in Phoenix, Arizona.
Also, Sabrina commenced her career as a social media marketing intern at Wilderness Athlete. She was later hired as a recruitment advisor at Medix.
In 2019, there were rumors of them dating after Sabrina attended the Los Angeles Dodgers Foundations' 5th anniversary Blue Diamond Gala alongside Cody.
Cody and Sabrina met during the high school reunion. There were even rumors spreading out that they were dating throughout 2019. However, they both never officially announced they were dating.
Sabrina DenHamm | Social Media Presence
Sabrina DenHamm, daughter of Briand and Lisa DiGiovanni Denham, gained popularity after her relationship with Cody Bellinger was made public.
Social media specialist and marketing coordinator Sabrina shares adorable pictures there. She is stunning and mesmerizingly beautiful.
Below is the link to her social media; you might want to follow her:
Instagram: 6,396 followers
LinkedIn: 500+ connections
Sabrina DenHamm | Net Worth
As a social media specialist and marketing manager, Sabrina DenHamm's net worth is estimated to be between $150,000 and $200,000.
She is also a marketing coordinator and Biz Dev for Dan White loans.
Becca Tiley
There were rumors of Cody Bellinger dating former The Bachelor contestant Becca Tiley (born October 30, 1988).
She was the runner-up on the 19th season of The Bachelor. Later, she returned to the 20th season but got eliminated in the 7th week.
Even though she had just broken up with her ex-boyfriend Robert Graham at that period, she shared a cozy picture with Cody giving a hint about their relationship.
Later Becca said she was happy being single, which led to false rumors about their relationship, and many of her fans wondered if she had moved on with Cody.
Becca Tiley | Social Media
Becca Tiley is very active on social media, with massive followers. She regularly posts about her life events on her social media.
In addition, she also does a podcast and has her hands on every social media platform.
She is also actively present on YouTube, where she shares fashion, pranks, makeup, Q&A, challenges, etc.
Apart from this, she has her website beccatiley.com. She also writes a blog related to fashion, lifestyle, travel, and her videos and photography.
Below are the links to her social media:
Instagram: 1.1m followers
Twitter: 218.1k followers
YouTube: 35.6k subscribers
Becca Tiley | Net Worth
Becca Tiley, social media influencer and Chiropractic assistant has not disclosed her net worth on the internet.
However, Becca's net worth is assumed to be approximately $2 million.
Her primary source of income comes from sponsorships, Internet content, promotions, and endorsements.
Becca has earned tremendous money and still has a lot to accumulate with her creative profession.
Facts About Chase Carter
Chase Carter is a very widely known Instagram star and Bahamian model. Her popularity rose due to her YouTube channel, MickCheese.
The Bahamian model, Carter, is widely known as the girlfriend of Cody Bellinger.
Below are some unknown facts about her which will enthrall your mind.
In 2017, Chase dated professional swimmer and model Conor Dwyer.
Chase loves to engage in sports; her favorite sport is soccer.
Carter's favorite football team is Washington Redskins.
She is an immense dog lover.
Chase Carter started her first modeling career at the age of 13.
Chase Carter | Popularity
Chase is a popular model and has already been featured for top brands like Pink and Polo Ralph Lauren.
Besides, she also gained a lot of followers after dating Cody Bellinger. You can see the hike in her Google search graph after she announced that she is expecting another child with Cody.
The above popularity graph illustrates the popularity of the 25-year-old model in the United States in a span of one year.
Chase Carter | FAQs
When did Chase Carter and Cody Bellinger meet?
There is no formal information about the date of their first meeting. However, the model sparked the rumors by posting their pictures on her Instagram in September 2020.
There were reports that they started dating in August 2020.
Did Chase Carter have her baby?
Yes, Chase and Cody welcomed their first child, a daughter, on November 30, 2021. They are also expecting their second child.