Tommy Schrader and Jenny Schrader are the young athlete Cody Schrader parents.
The emerging football star credits his family, especially his father, Tommy, for his success so far.
With his father's strong support in his football career, he is devoted to making his parents proud and staying dedicated.
Cody Schrader is a running back from St. Louis, Missouri, who gained recognition for his impressive high school and college football career.
He attended Lutheran South High School in St. Louis, Missouri, where he was a standout running back and linebacker.
During his high school years, he excelled with 6,759 rushing yards, 99 touchdowns, and multiple awards, including all-conference and all-state honors.
Following that, Schrader had a notable college football career at Truman State University as a running back.
In 2021, he was named GLVC Co-Offensive Player of the Year and earned an Unanimous All-GLVC First Team selection.
Moreover, he led NCAA Division II in rushing yards and touchdowns, showcasing his versatility and impact on the field.
In 2022, Cody transferred to the University of Missouri (Mizzou) as a graduate student and continued to play as a running back.
As a walk-on, he made a big impact, leading the team in rushing yards and touchdowns during his senior season.
Hence, his football journey so far includes high school success, college achievements, and transitioning to a bigger NCAA Division I program at Mizzou.
Cody Schrader Parents: Meet Tommy And Jenny Schrader
Cody Schrader's journey in football was not a predestined path but rather an experience shaped by the dreams and constant support of his parents, Tommy and Jenny Schrader.
When he was a kid, his father, Tommy, had big dreams of his son excelling in baseball.
He feared that an injury on the football field might risk Cody's chances of pursuing his baseball dreams.
It wasn't until eighth grade that Cody took his first steps onto the football field. Despite his relatively smaller stature, he was determined to make an impact, even if it meant shedding a shoe while sprinting down the field.
It was during this moment that Tommy realized football could lead Cody to success, recognizing his son's potential.
Cody credits his family's constant support, especially from his father, for every step in his football journey.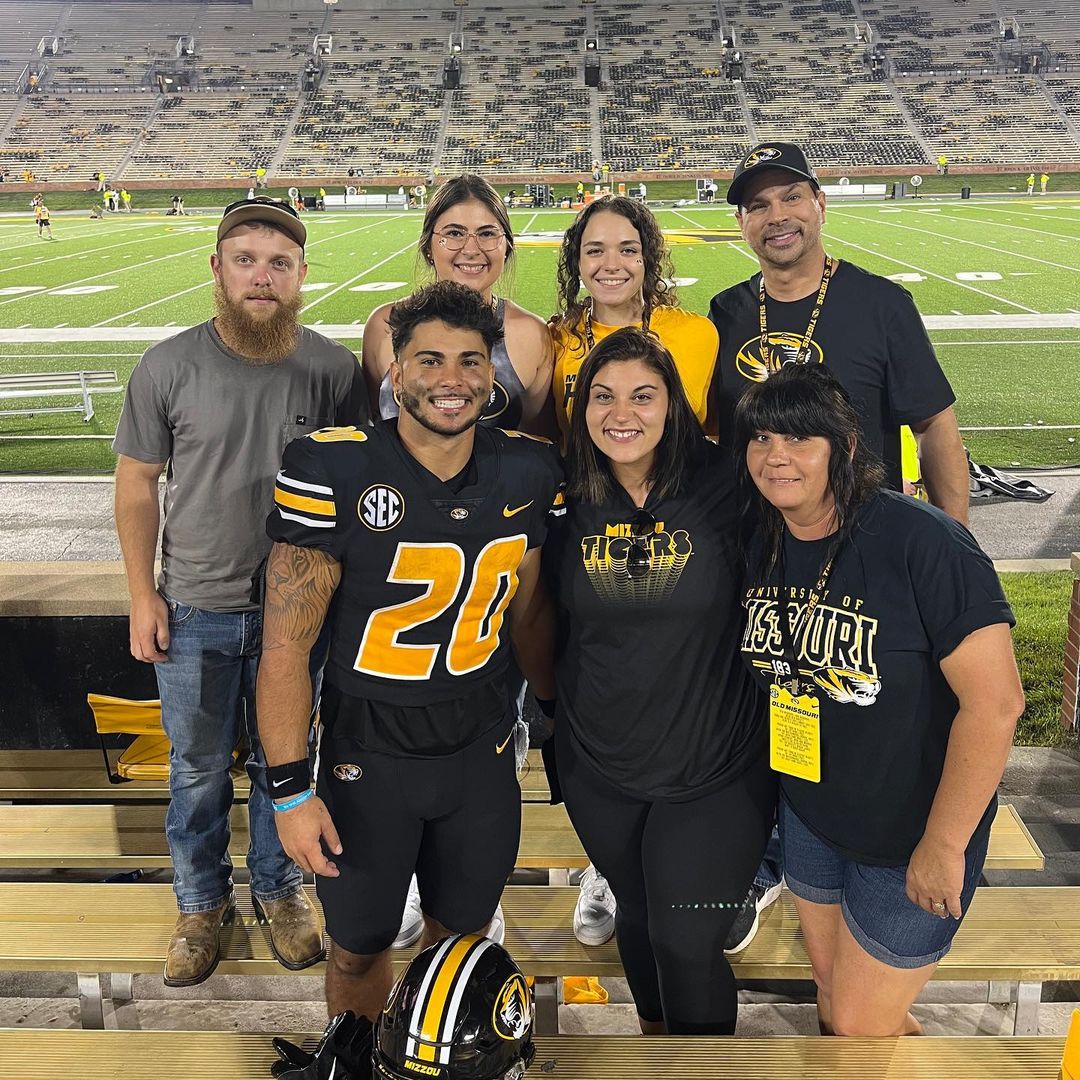 In interviews, Cody consistently credits his father's belief for fueling his determination and preventing him from giving up.
Meanwhile, Tommy, a proud and humble father, credits Cody's success to his relentless hard work and commitment.
Furthermore, the old man believes Cody has never let him down, never saying"no" to any of his challenges.
With gratitude and determination, Cody promises to tirelessly chase excellence, striving to bring recognition to the Schrader name and make his family proud.
Therefore, the family has built their legacy on dreams, dedication, and support, creating a permanent story of triumph and love.
Cody Schrader Motivates Missouri Team
Missouri's team captain, Cody Schrader, had some wise words for his teammates after they lost 30-21 to Georgia on November 4, 2023.
Schrader, who rushed for 112 yards in the game, not only set a good example on the field but also gave important advice.
In his second year at Missouri, Schrader has been outstanding in the last two games, running for over 100 yards in each, a first for him as a Tiger.
Moreover, he motivated his team during the Georgia game when they were attempting a comeback from being behind by two scores.
Even if winning the SEC East seems hard, Schrader is determined to give his best in the next three weeks of the season.
He concluded by saying,
"I don't believe in losing; I believe in learning," Schrader said. "After we review the game footage, I think we can discover how to execute better… losing stings, but it's an opportunity for growth, and we'll learn from it."
Despite losing to Georgia, Schrader views it as an opportunity for the team to get better and grow.