Cody Allen Zeller is known for his mobility and splendid performance in the high post and baseline. He is an American Professional basketball player with great agility and scoring instincts.
He has always been praised for his fair play and incredibly high knowledge to sprint the screen and roll by the commentators.
Zeller is one of the best court players in college basketball and was always praised by commentators. He was a college basketball star for Indiana University.
In 2013 he was drafted 4th overall by the Charlotte Bobcats. Currently, the 6ft 11in player plays for the Portland Trail Blazers of the National Basketball Association (NBA).
Cody is the brother of NBA players Tyler and Luke and the nephew of Al Eberhard, a former NBA player.
This article will discuss Cody's family, early life, career, and net worth.
Quick Facts
Now let's look into the facts to gain more information about him.
Full Name
Cody Allen Zeller
Birth Date
October 5, 1992
Birth Place
Washington, Indiana
Nick Name
The big handsome
Religion
Christianity
Nationality
American
Ethnicity
White
Education
Indiana University Bloomington
Horoscope
Libra
Father's Name
Steve Zeller
Mother's Name
Lorri Zeller
Siblings
Two brothers
Age

30 years old

Height
6'11" (2.11m)
Weight
240 lbs (109 kg)
NBA Draft
2013/Round: 1/Pick: 4th Overall
Hair Color
Light Brown
Eye Color
Green
Career Highlights & Awards

NBA All-Rookie Second Team (2014)
Consensus second-team All-American (2013)
First-team All-Big Ten (2013)
Second-team All-Big Ten (2012)
Big Ten Freshman of the Year (2012)
Big Ten All-Freshman team (2012)
McDonald's All-American (2011)
Second-team Parade All-American (2011)
Indiana Mr. Basketball (2011)

Build
Athlete
Marital Status
Unmarried
Girlfriend
Not Available
Position
Center/Power Forward
Profession
Professional Basket Player
Net Worth
$1-$5 Million
Salary
$2,389,641
Currently Plays for
Portland Trail Blazers
League
NBA
Active Since
2013
Social Media
Instagram, Twitter
Merch of Cody Zeller
Notebook
Last Update

June, 2023
Cody Zeller: Early Life, Family & Education
On October 5, 1992, Cody was born to his parents, Steve Zeller and Lorri Zeller, in Washington, Indiana.
Zeller is the youngest in the family. However, he has two older brothers, Tyler and Luke, both NBA players. Tyler plays for North Carolina and NBA center, and Luke is former Notre Dame and Phoenix Suns forward-center.
His uncle is former NBA player Al Eberhard. So born into a family of inherent talent, Cody was naturally attracted to basketball.
While growing up, he was a Peyton Manning fan. First, he wanted to be a football player, but he became interested in basketball later.
Zeller loves food and going out to eat. He loves Midwood Smokehouse. His favorite foods include salmon, chicken, pasta, etc.
His favorite timepass includes playing board games. He has mentioned that the whole family loves to play board games and cards.
Commentators have always praised him for his humility and fair play despite the pressure of high expectations. Since the beginning, he has had the perfect work ethic for being a star basketball player.
Zeller was active since his high school days in the game. As a result, he was of the best players in his college.
He also played tennis in high school. In his free time, he makes excel sheets for everything as he is an excel nerd.
Zeller joined high school in 2007 and showed his excellent game for his team Washington Hatchets. Later the team won the 3A IHSAA state championship.
A business graduate from Indiana University's Kelley School of Business, Zeller has dry wit and prankster's mirth.
Age, Height, and Weight of Zeller
Zeller is 30 years old player. His zodiac sign is Libra.
Zeller stands 6'11" (2.11m) tall, which means he is above average for a basketball player. His weight is 240 lbs (109 kg). Hence his nickname 'The Big Hansome.'
Read about Aaron Gordon Bio: Career, NBA & Networth!
He has kept up his body with 47-37-16 inches, with a heavy workout to maintain the physique of his chest measure, waist measure, and biceps measure, respectively. His shoe size is 16 (US).
Cody Zeller: Career
High School Career
Cody had great success at the high school level before playing in university. He went to Washington, Indiana, for high school studies.
As a team member of Washington Hatchets, Zeller led the team to victory. The team won a Class 3A IHSAA state title. It was just at the beginning of his career at secondary school.
Zeller led Washington to a Class 3A state title in his lesser season. Later that season, he was named an Indiana Junior All-Star. Zeller continued to show the team's results to Class 3A IHSAA state title's third title.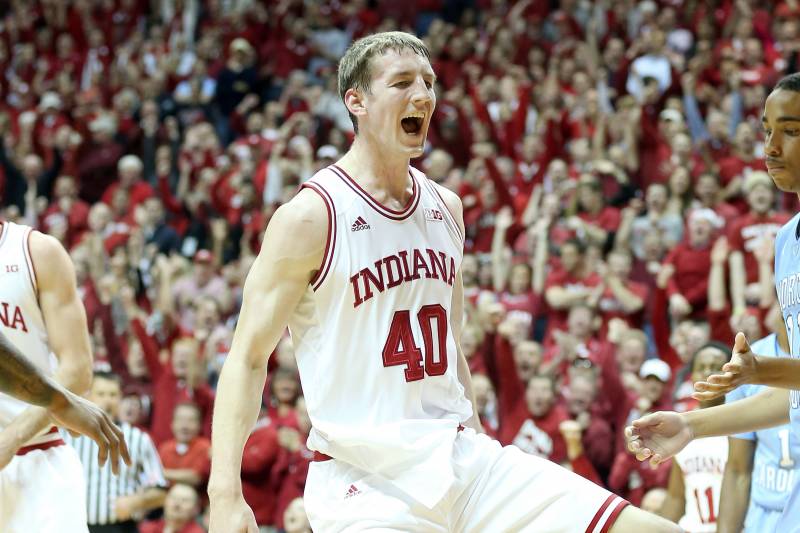 In his senior year, Indiana was able to get a two-game breadth of the Kentucky All-stars. Because of this, he played AAU basketball was for the Indiana Elite program, which drove USA 2011 squad to Adidas Nations Championship in Chicago.
Zeller was named Indiana Mr. B-ball following his excellent game in his senior season. He was finally able to honor both of his older siblings. Zeller was able to play for the Hoosiers as 26th Mr. B-ball from Indiana.
In 2011 Zeller was McDonald's All-American player as he scored 10 and aided 3 to become an elite player of the game. In addition, because of his splendid performance in secondary school, he got the Gatorade Player of the Year award.
College Career
Following his success in high school, Zeller committed to play Indiana University on November 12, 2010. Because of this, he was named savior of Indiana basketball, and the coach acknowledged his dedication.
During his time at university, Zeller got the nickname 'The Big Handsome.'
Freshman Season
Zeller led the team in the first year with 15.6 points and 6.6 rebounds per game. He ranked fourth in field goal percentage. In addition, he had an offensive rating of 126.8, which helped him rank 14th nationwide.
He earned Big Ten Freshman of the Week seven times and later Big Ten's Freshman of the Year by coaches' votes. He was also Second Team All-Big Ten and First All- American for a First Team Freshman.
Hoosiers record improved by fifteen games with the addition of Zeller to the team. But Hoosiers lost in the Sweet Sixteen to Kentucky.
Sophomore Season
Zeller returned for his sophomore season at Indiana. Indiana Hoosiers became Big Ten champions under Zeller's leadership.
He was the third-highest scorer (16.8) and second highest rebounder (8.2). Also, he was second in shooting at 57%.
Zeller was named 2013 All-American, First-team All-Big Ten, and First Team Academic All-American. He entered the 2013 NBA draft in his sophomore season.
Professional Career
Zeller got picked in the NBA draft at the end of his sophomore season. He scored his first career double with 12 points and 11 rebounds on April 5, 2014.
Zeller was named NBA All-Rookie Second Team at season's end. He started to show his talent in the game with high points and rebounds throughout the years.
He scored 23 points in a 98-95 win over Milwaukee Bucks on February 19, 2016, also five double-doubles in the season.
Nothing could ruin his game, even injury, the way he played on October 26, 2016, against the Bucks. As a result, he signed a four-year contract extension with the Hornets for $56 million.
His gameplay was as impressive as his high points in the different match throughout the years. But, unfortunately, he had to miss 27 games because of a knee injury. Because of this, he could only appear in 33 games in 2017-18.
On November 28, 2018, Zeller returned by scoring season-high 19 points against the Hawks. Continuing the scoring points on December 14, he could tally his first double-double of the season. And also his third straight double-digit scoring performance.
Also, read this article that may interest you, Calvin Ridley: News, Contract, Injury & Net Worth.
He was ruled out for six weeks following a right-hand injury on December 31. Zeller missed 16 games. Finally, he came to his game with career-high 28 points but lost to the warriors.
Cody signed with the Portland Trail Blazers on August 4, 2021.
Cody Zeller: Net Worth
Cody's net worth is estimated to be between $1 Million- $5 Million. He has made such wealth from his primary career as a basketball player.
Recently he joined Portland Trail Blazers with a salary of $2,389,641.
Apart from earning huge wealth, the player is also active in charity and donations. We can see his posts on Instagram regarding the charity programs.
Relationship Status
Zeller tries to keep his personal and love life private, so there is little information. However, as of 2023, he is single.
You may also like this article, Rosa Moto Bio: Olympics & Marriage.
Cody Zeller: Awards & Achievements
Followings are Zeller's awards and achievements in his 8 years of career.
NBA All-Rookie Second Team (2014)
Consensus second-team All-American (2013)
First-team All-Big Ten (2013)
Second-team All-Big Ten (2012)
Big Ten Freshman of the Year (2012)
Big Ten All-Freshman team (2012)
McDonald's All-American (2011)
Second-team Parade All-American (2011)
Indiana Mr. Basketball (2011)
Social Media Presence
Cody has verified Instagram and Twitter accounts. He is active on both platforms as he shares his professional activities. Click the link given above to check out his posts.
Frequently Asked Questions (FAQs)
How is Cody Zeller in the NBA?
Cody played college basketball for the Indiana Hoosiers in his sophomore season. Charlotte Bobcats selected him with the fourth pick in the 2013 NBA draft. Hence his journey started with NBA.
Is Cody Zeller a free agent?
Zeller has been in the NBA since the 2013 draft, but since the Hornets center signed a rookie scale extension in 2016, he got four years onto his four-year rookie contract. Currently, he is signed with Portland Trail Blazers, so he has never been a free agent.
How many Zeller brothers are in NBA?
Cody is the youngest with two older brothers, Tyler and Luke. All three of them are in NBA. Tyler plays for North Carolina and NBA center, and Luke is former Notre Dame and Phoenix Suns forward-center.
Is Cody Zeller injured?
On December 11, 2021, Portland Trail Blazers has released the information regarding his injury with needed evaluation. Portland has revealed that Cody has a small right patellar fracture.