Connor Jaeger is a retired American professional freestyle distance swimmer. Even having a short career, he enjoyed much success.
He competed in two Olympics and won one silver medal. Likewise, he is an 800m freestyle US Open record holder and a 1500m freestyle American record holder.
That's not bad for a swimmer who was not in the spotlight during his high school days. But after joining the University of Michigan, he had a meteoric rise in the swimming scene.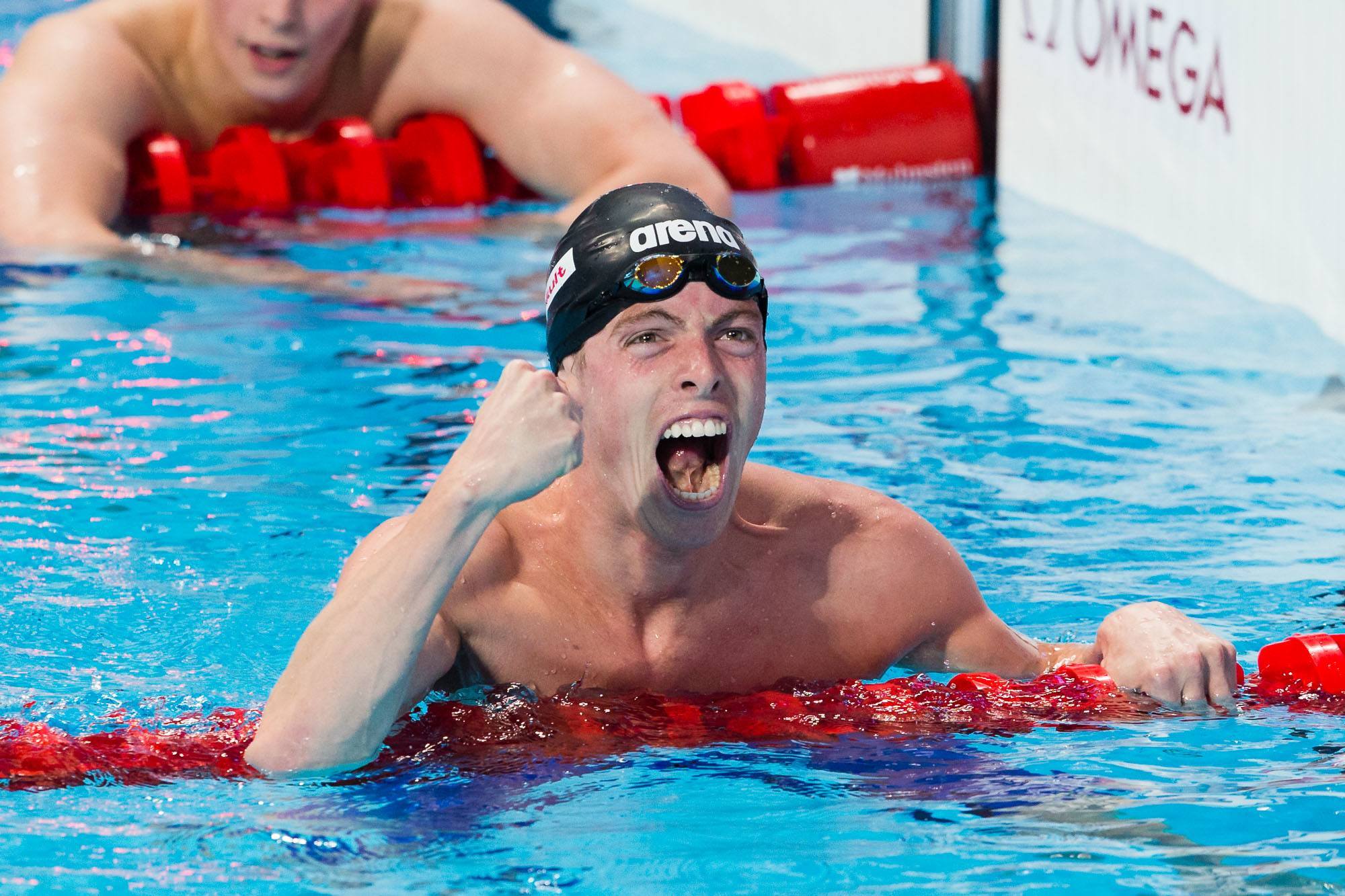 Moreover, Jaeger's college coach described his development as an excellent swimmer, a once-in-a-blue-moon occurrence.
After retiring, he returned to the swimming world again. This time as an instructor joining Fitter and Faster, organizing various kids' clinics.
Jaeger likes surfing and lifeguarding besides swimming. In addition, he worked as a lifeguard during his teenage days.
Quick Facts
Name
Connor Lee Jaeger
Date of Birth
30th April 1991
Birth Place
Hackensack, New Jersey, USA
Nick Name
Crazy Eyes
Age
32 years old
Gender
Male
Religion
Unavailable
Nationality
American
Ethnicity
Unavailable
Horoscope
Taurus
Profession
Swimming
Height
6 feet (183 cm)
Weight
77 kg (170 lbs)
Body Mass Index (BMI)
23.1
Build
Athletic
Hair Color
Blonde
Eye Color
Brown
Tattoo
Yes
Father Name
Eric Jaeger
Mother Name
Bernadette Jaeger
Siblings
Dana Jaeger (sister)
Relationship
Married (2018)
Wife
Courtney Beidler
Education
Rumson-Fair Haven Regional High School, University of Michigan
Team
Club Wolverine
Status
Retired
Strokes
Freestyle
Career
2012 to 2016
Olympic Records

London 2012: 1500m freestyle (sixth)
Rio 2016: 1500m freestyle (Silver)

World Championship Records

2015 Kazan: 1500m freestyle (Silver)
2013 Barcelona: 400m freestyle (Bronze)

Personal Best

200m freestyle (LC): 1:47.60, Indianapolis (2013)
400m freestyle (LC): 3:43.79,Omaha (2016)
800m freestyle (LC): 7:44.26, Barcelona (2013)
1500m freestyle (LC): 14:39.48, Rio de Janerio (2016)

Salary
Unavailable
Net Worth
$1 million
Hobbies
Surfing, Lifeguarding
Social media
Instagram, Facebook, Twitter
Swimming Merch
Arena Swimming Gear
Last Update
May, 2023
Connor Jaeger | Early Years
Connor Jaeger was born on 30th April 1991 in Fair Haven, New Jersey. He is the youngest child of Eric Jaeger and Bernadette Jaeger.
Likewise, he has an older sister named Dana Jaeger. They grew up doing swimming training together during their childhood.
He was kept in swimming class at a young age by his parents. He also mentions crying every single day during lessons.
Now her sister works in a medical device company as an engineer. Moreover, started his competitive journey at the young age of 8, playing for Central Aquatic Club (CJAC).
Later, before the age of 13, he was selected as New Jersey All-Star and Junior Olympics.
Dark Horse
Connor Jaeger was a good swimmer during his high school days but didn't have any record at the National age level.
Later, after joining the University of Michigan, he developed into a superstar. Thanks to his work ethic and hard work, he became one of the best distance swimmers.
Moreover, his college coach described Jaeger's swimming development as once in a lifetime phenomenon.
Furthermore, he could not achieve all of his success without supportive and influential people surrounding him.
His club coach developed his aerobic capacity, feeling for water, and muscle capillarization.
Likewise, his parents always supported him without making any attempt to control his swimming career.
Similarly, they always supported his success and felt for him when Jaeger couldn't achieve his aim. They also used to get in touch with him frequently with kind words.
Later, at the University of Michigan with amazing training facilities, training facilities, and supportive teammates, he improved in a short time period.
Training
During his competitive days, Jaeger used to train 6 days a week. Moreover, his daily workout used to include a 15km swim and a double workout session.
Likewise, going into detail of his workout session, he approached freestyle using his whole body while doing different strokes. He especially engaged his core.
Although being a distance swimmer, he maintained a ripped physique. In addition, he focused on heavy lifting, core circuits, balancing, and resistance exercises.
Read Also: Gabriele Detti Bio: Girlfriend, Olympics & Sponsors >>
Connor Jaeger | Personal Life
Connor Jaeger married his longtime girlfriend, Courtney Beidler, in October 2018. Courtney is a trainer at Fitter and Faster, training and instructing children at clinics.
Not to mention, Courtney is also the former captain of the University of Michigan swimming team during the 2013-14 season.
However, they got engaged in June 2017. Moreover, while proposing for his marriage, he posted on his Instagram.
Although they don't have children, the couple has a dog name, Stella. He got her during his appendix removal recovery session.
Recently in August 2021, Jaeger featured documentary The Water Is My Sky was released, where he has described the highs and lows of his career.
Favorites
Besides swimming, Jaeger likes surfing and lifeguarding. Moreover, while training with CJAC, he also worked as a lifeguard.
He likes traveling and describes the 2017 Europe backpacking trip as one of his best adventures. One can look at his Instagram how avid a traveler he is.
He also loves charity works. Moreover, he is actively engaged in Covenant Hosue, providing housing and other facilities to homeless youths.
Connor Jaeger | Swimming Career
College
After graduating from Rumson-Fair Haven Regional High School, Jaeger enrolled at the University of Michigan in 2010.
He won his first NCAA championship during his freshman year only, winning 800 yards freestyle relay in 2011.
Later in his sophomore season, he secured the third position in 1650 yards freestyle and fifth in 500 yards freestyle.
Although he was elected as team captain in sophomore season, he turned to respect his rising seniors.
Next season, coming freshly from the Olympics, Jaeger was appointed as captain, and his name was listed on every voting ballot.
Later, he led Michigan to the NCAA Team Championship, winning 500 yards and 1650 yards freestyle.
In his final year, Jaeger successfully defended his 1650 yards freestyle title, but he came third in 500 yards freestyle.
Furthermore, in his last two years at Michigan, he won consecutive Big Ten Swimmer of the Year.
Likewise, he was also 10 time NCAA All-American member in his four collegiate years.
Read Also: Anthony Ervin Bio: Parents, Tattoos & Olympics >>
International
Debut
Connor Jaeger burst into the international swimming world while studying in college.
During the 2012 US Olympics Trails, he was selected in the USA Olympics team in 1500m freestyle finishing behind Andrew Gemmell with a time of 14:52.51.
Heading towards the 2012 Olympics, his timing was fifth fastest in the world. It was his only fifth swim in 1500m competitions.
Although miscounting laps and doing an extra 100m, Jaeger finished under 15 minutes for the first time in his swimming career.
He also participated in 400m freestyle but finished sixth at the finals.
Later, in the Olympics, he managed to get into finals of 1500m. However, he placed 6th in the finals with a timing of 14:52.99.
Next year in Phillips 66 National Championships, Jaeger placed himself among the world's best swimmers, winning 400m, 800m, and 1500 freestyle.
World Championship
Jaeger won his first medal at the World Championship at the 2013 FINA World Championship held in Barcelona. He earned the bronze medal in 400m freestyle.
Likewise, in the 2014 Pan Pacific Championship, he earned his first international gold medal-winning 1500m freestyle. He finished with a time of 14:51.79.
Jaeger also bagged two more bronze medals in 400m and 800m freestyle, finishing with a time of 3:45.31 and 7:47.75.
Connor Jaeger set an American and US Open 1650Yards freestyle record at USA Swimming Winter Nationals with the timing of 14:23.52
In Kazan's 2015 FINA World Championship, he missed the podium finish slightly in his first two events.
He managed to secure the fourth position in both 400m and 800m freestyle. However, in his last event, he restored American pride in distance swimming.
Jaeger won the grueling 1500m freestyle just 4 seconds below the American record. Although trailing the majority of the race, he bounced back in the last 500m.
Olympic Medalist
During the opening night of the USA Olympics Trials, Jager got his ticket to the Olympics games, winning 400m. Likewise, on the last day of the trails, he won 1500m freestyle.
Later, in the Rio Olympics, he finished 5th in the 400m freestyle event on the opening night.
However, Jaeger finally got his hand on his only Olympic medal on the last day of the swimming event in Rio.
He won a silver medal in 1500m freestyle finishing the race with a new American record of 14:39.48.
Retirement
Jaeger studied mechanical engineering as an undergraduate at the University of Michigan. Later, he again returned to Ross for a Master in Business.
Jaeger wanted the solid base of his real state career. So he took a business degree to complement his engineering degree.
His life has always been balancing; while training for the 2016 Olympics, he pursued his master's degree.
Likewise, even after retiring, Jaeger remains close to the swimming world, joining Fitter and Faster and working as a real state project manager.
He has been working for Real state developer Toll Brothers since his retirement. Specifically, he is working for Toll Brothers City Living division.
In addition, Jaeger is conducting about 6 Fitter and Faster clinics across the country, providing training to children.
Connor Jaeger | Earnings and Net Worth
Earnings
In 2013, after winning a bronze medal at FINA World Championship, he earned $5,000.
Likewise, for securing fourth place in two events, Jaeger earned an additional $10,000 ($5000 for each event).
Later, in the next world championship in Kazan, he took $15,000 for winning the bronze medal.
Similarly, in 2013, he again finished fourth in two events, earning him another $10,000 ($5000 for each event).
Furthermore, Jaeger came home with one silver medal in the 2016 Rio Olympics. Later, for his achievement, US Olympic Committee handed him a $15,000 cash prize bonus.
In addition, USA Swimming also attached a bonus of $30,000 for his silver medal finish.
Similarly, his salary at Fitter and Faster is also not published. However, their earnings depend on how many clinics did elite swimmers organized.
On average, they can earn $25,000 to $40,000 depending on 4or 6 clinics they have conducted.
Read Also: Florent Manaudou Bio: Siblings, Olympics & Endorsements>>
Sponsors
In 2014, after graduating from college Connor Jaeger signed his first professional sponsorship. He tied an endorsement deal with Italian swimwear company Arena.
Later, he agreed to extend his deal until 2016, which expired after his retirement. As a result, he has only worn Arena swim gears throughout his career in any major events.
Likewise, before starting of Rio Olympics, he signed one year deal with credit card company VISA. So, in the Rio Olympics, he wore a cap having the logo of VISA.
Later, after retiring from competitive swimming, he was employed by Fitter and Faster.
Since then, he has got his hand into many more sponsors. But it has not been revealed to the public yet.
The exact figure of Connor Jaeger's net worth is not revealed yet. However, according to various online sites, he has an estimated net worth of around $1 million.
Connor Jaeger | Social Media Presence
Connor Jaeger is actively present on his social media handles. He has Instagram, Twitter, and Facebook handle, which is private at the moment.
Instagram: 15.5k Followers
Twitter: 9k Followers
Read Also: Yasmani Copello Bio: Wife, Career & Sponsors>>
Frequently Asked Questions
When did Connor Jaeger retire?
Connor Jaeger retired in 2016 after winning a silver medal in Rio Olympics at 1500m swimming events.
Moreover, he had a short career, having made his international debut only in 2012.
What is Connor Jaeger doing right now?
When Connor Jaeger retired from swimming, he still became close to the swimming world. Jaeger works in Fitter and Faster Swim Tour clinics.
During the lockdown, he also ran a Zoom session for kids. Jaeger is also a member of the USA Swimming Investment Committee.
Where did Connor Jaeger go to college?
Connor Jaeger went to the University of Michigan. He graduated with a mechanical engineering degree in 2014. He also completed a Master in Business from Ross.
During his last two seasons, jaeger won Big Ten Swimmer of the Year. In addition, he is 3 time NCAA champion. He is also 10 time NCAA All-American member.