Dalano Banton, a Canadian-born NBA player, is a point guard for Toronto Raptors (2021- now). Raised in a challenging neighborhood, he is an exemplary figure of inspiration & motivation to chase one's dream.
The Toronto Raptors chose him as the 46th overall (round-two) pick in the 2021 NBA draft. It made him the first-ever Canadian to be an NBA draft pick in the team's history.
Banton's two-year rookie contract with the Raptors runs throughout the 2022-23 season, and becomes a free agent in 2023 if no new deals are offered.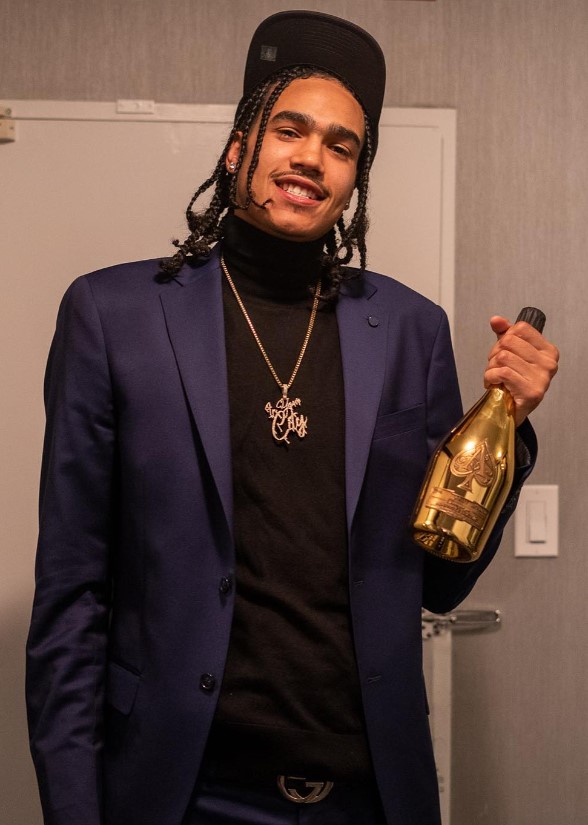 A four-star prospect of high school, he honed his gameplay even more during his collegiate basketball days.
A freshman at Western Kentucky, Banton transferred to Nebraska as a sophomore, where he scored a triple-double with 13 points, 11 rebounds, and 10 assists in 21 minutes of action.
No doubt that Dalano Banton's passion for hoops from a young age & rising potential has led him to become a fan favorite.
There is much more to know about Dalano. Let's get a thorough insight into the NBA player's family, net worth & relationship.
Quick Facts
Full Name
Dalano Banton
Date of Birth
November 7, 1999
Age
23 Years Old
Birth Place
Toronto, Ontario, Canada
Nationality
Canadian
Religion
Christianity
Zodiac Sign
Scorpio
Chinese Zodiac
Rabbit
Height
6 feet 9 inches / 2.06 m / 206 cm
Weight
204 lbs / 93 kg
High School

Central Toronto Academy
MacDuffie School
Redemption Christian Academy

University

Western Kentucky University (2018-19)
University of Nebraska (2019-21)

Father's Name
Damian Banton
Mother's Name
Suzanne English
Girlfriend
N/A
Children
None
Profession
Basketball player
League
NBA
Position
Guard/Forward
Team
Toronto Raptors (2021- now)
Jersey Number
45
NBA Draft
Round: 2, Pick: 46th overall, 2021
Net Worth
$500K- $1 Million
Social Media
Instagram, Twitter
Last Update
June 2023
Early Life & Family
Dalano Banton (b. November 7, 1999) was born & raised in Toronto, Canada, to a Jamaican father, Damian Banton, and a Canadian mother, Suzanne English.
His parents instilled in him a deep appreciation for his heritage.
Often in his interviews, Banton mentions his siblings, but further detail on them is yet to be out.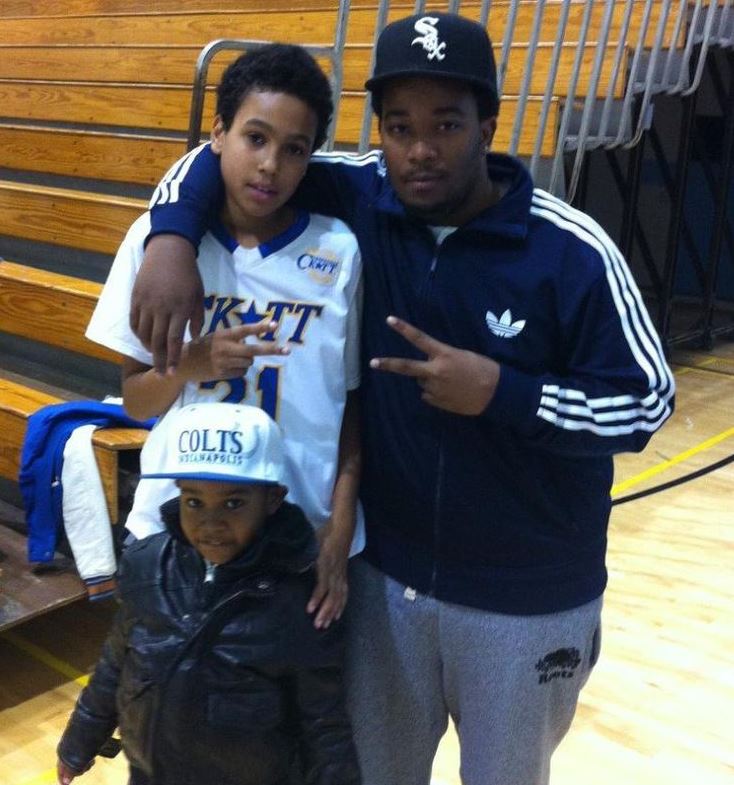 Growing up, Banton spent most of his time at his grandmother's house in the bustling neighborhood of Rexdale, where he fell in love with her mouth-watering cooking of jerk chicken and oxtail.
Not only did his grandmother teach him how to be respectful inside and outside of her home, but she also provided him with much-needed stability in his life.
Age, Height & Body Measurements
Banton is 23 years old as of 2023.
The NBA player with an athletic physique stands 6 feet 9 inches (2.06 m) tall and weighs 204 lbs (93 kg).
Likewise, he has a 6 feet 10.25 inches (2.09 m) wingspan with a standing reach of 9 feet (2.75 m).
When Did He Start Playing Basketball?
From an early age, Banton's love for basketball was evident as he would spend hours playing the sport at various locations.
He played at the North Kipling Community Centre, Rexdale Community Hub, and even in a nearby parking lot.
His passion for the game was fueled further by attending camps organized by former Toronto Raptors star DeMar DeRozan, who held these events in the neighborhood.
It was at the age of 16 when Banton's undeniable talent on the basketball court started to turn heads.
High School & Collegiate Basketball
After attending Central Toronto Academy in Ontario, Dalano moved to the United States & enrolled at MacDuffie School in Granby, Massachusetts as a transfer student.
Then, he went to Redemption Christian Academy & was a four-star prospect by the end of his high school.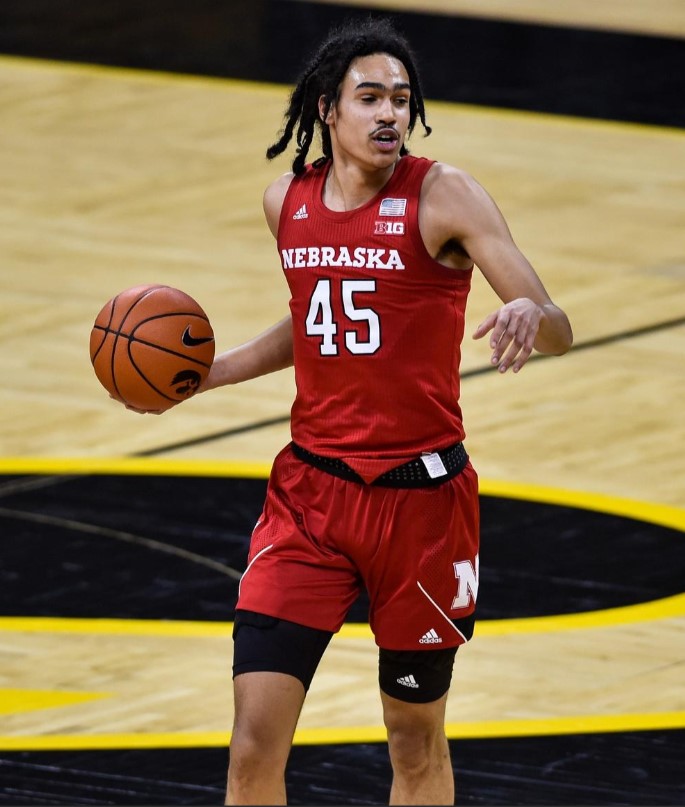 Over offers from colleges like Kansas State, Minnesota & Massachusetts, Dalano committed to Western Kentucky University, where played for one season (2018-19).
Then, he transferred to the University of Nebraska & red-shirted the 2019-20 season due to NCAA transfer rules.
In the 2020-21 season with the Nebraska Cornhuskers, he made a triple-double on December 17, 2020, scoring 13 points, 11 rebounds, and 10 assists against Doane College.
After his sophomore year (academic junior), he declared for the NBA draft.
NBA Draft & Professional Career
In the 2021 NBA draft, Banton was the 46th overall (second-round) pick of the Toronto Raptors & became the first-ever Canadian to be drafted by the franchise.
In the Raptors, he joined the fellow draft Scottie Barnes, a Florida State alum who was 4th overall pick, after the top threes: Cade Cunningham (#1), Jalen Green (#2) & Evan Mobley (#3).
On October 20, 2021, Dalano made his NBA debut in a loss against the Wizards, where he played for six minutes & scored six points.
His rookie NBA season averaged 3.2 points, 1.9 rebounds & 1.5 assists per game, which included a season-high 12 points against the Pistons on November 13, 2021.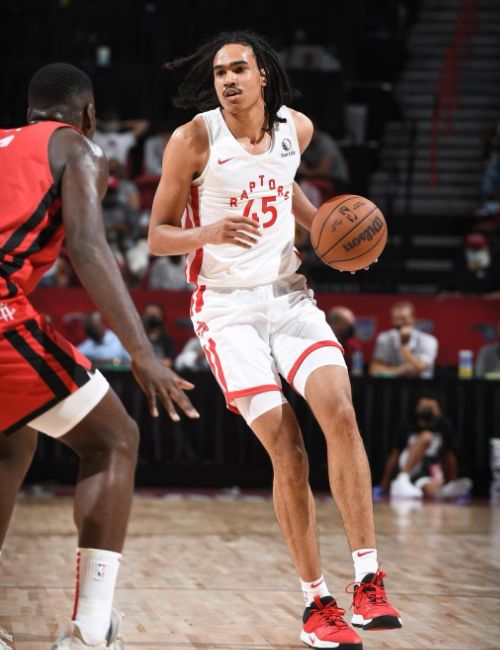 Also, he played in four games of the 2022 NBA playoffs (of the 2020-21 season), losing to the Philadelphia 76ers in the first round.
Then, in the 2022-23 season, Dalano Banton scored his career-high 27 points in a win 115-111 over the Pistons on November 24, 2022.
Moreover, the NBA player has played for the team's G League affiliate Raptors 905 & scored his G League-high 37 points against the Iowa Wolves on December 29, 2022.
Injury Update
Following his game against the Golden State Warriors on December 18, 2022, Banton was sidelined after his left hip soreness.
He missed 22 straight games in recovery before returning in a loss against the Utah Jazz on February 1, 2023.
But in late February 2023, he had a left thumb sprain & was ruled out. Even though he was called up from the NBA G League assignment, he was not deployed in the rotation till the end of March 2023.
Who Is Dalano Banton's Girlfriend?
Banton is among those NBA figures who like to keep their personal life away from the media spotlight as possible. So far, the NBA player has not talked about his relationship status.
No report on his dating profile or girlfriend ever surfaced. Allegedly, he is single at the moment.
On his Instagram (@_dubberdon) & Twitter (@DALANOBANTON), Dalano's posts feature his basketball journey.
With his passion and dedication to his craft, it's no surprise that he's focused on making strides on the court rather than in his love life.
So, while his heart may belong to basketball, it leaves plenty of room for his fans to fall in love with his impressive skills on the court!
Net Worth & Contract
Dalano Banton's net worth is estimated to be around $500K-$1 million as of 2023.
Yet to land a lucrative endorsement deal, the Canadian basketball player's majority of earnings came from his NBA career.
On August 13, 2021, he signed a fully guaranteed two-year contract worth $2.48 million with the Toronto Raptors, which saw him a potential average annual salary of $1.24 million.
As a rookie in the 2021-22 season, Dalano earned a base salary of $925,258.
For the 2022-23 season, Banton's base salary is $1.563 million, while the highest-earning player of the Raptors is Pascal Siakam (who earns $35.44 million).
If no contract extension is offered, he will become a restricted free agent in the 2023-24 season with a qualifying offer of $1.954 million.
Charity
Aside from being a talented basketball player, Dalano is also a generous person who cares about his community.
He has participated in a campaign with The Bay to launch a collection of Toronto Raptors merchandise that celebrates the diversity and culture of Canada.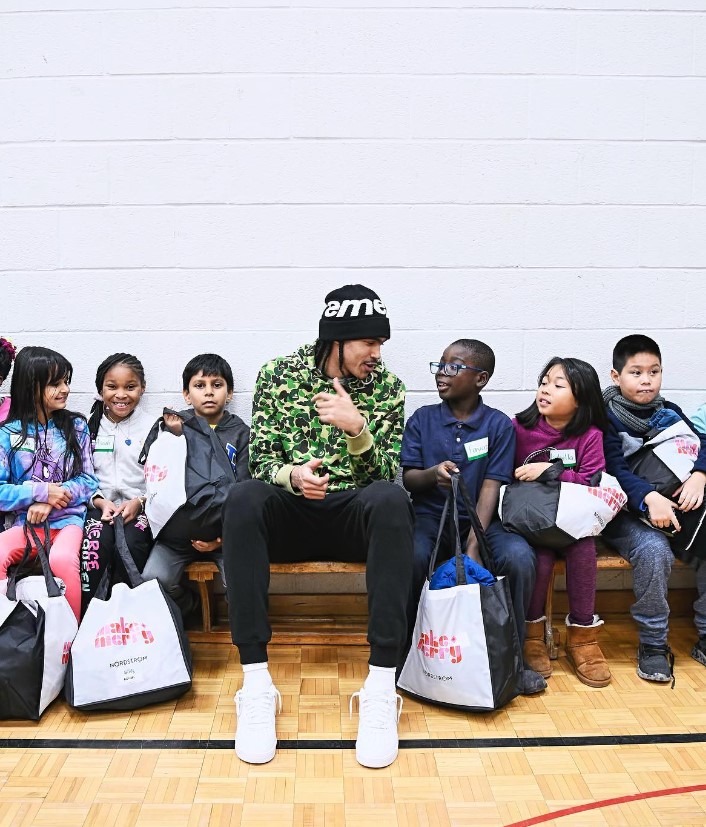 Likewise, the player also joined forces with Pascal Siakam and other Canadian collaborators, such as Raptors 'Superfan' Nav Bhatia and his daughter Tia Bhatia, a philanthropist and social media influencer.
100% of net merchandise proceeds were donated to Hudson's Bay Foundation Charter for Change, an initiative to accelerate racial equity in Canada.
Moreover, on December 7, 2022, Dalano joined @nordstromcanada and Operation Warm to give 390+ brand-new coats to kids at Daystrom Public School.
Interesting Facts
Banton's jersey number, #45, is a nod to the 45 Kipling bus that he traveled on during his school days. Many players have worn or currently wear 45 in the NBA, including Michael Jordan, Adrian Dantley, Donovan Mitchell, and Boban Marjanovic.
Dalano also played for the Canadian national team at the 2017 FIBA Under-19 Basketball World Cup.
Dalano Banton was 5′ 6" (1.67 m) at the start of high school & grew from 6'6″ (1.98 m) in prep school to 6'9″ (2.05 m) in his final year at the University of Nebraska.
While at Nebraska, he scored the college's history second triple-double with 13 points, 11 rebounds & 10 assists against Doane College. The first-ever was by Cam Mack against Purdue in 2019-20, with 11 points, 10 rebounds & 12 assists.
Frequently Asked Questions
What jersey number is Dalano Banton?
Banton wears jersey number 45 for the Toronto Raptors. He is the first one to wear this number for the Raptors.
How much is Banton's salary?
From the two-year rookie deal, Dalano Banton's salary for the 2022-23 season is $1.563 million.
What college did Dalano go to?
Banton enrolled at Western Kentucky University & played collegiate basketball for a season only before transferring to the University of Nebraska as a sophomore.