Pascal Siakam, "Spicy P," is a Cameroon-born professional basketball player affiliated with the Toronto Raptors of the National Basketball Association (NBA).
Even though he started playing basketball late, he had the back of his family, and now he's experiencing jewels in the crown moments with bunches of glories.
After his successful college stints, he had explicit workouts with some NBA teams; he wasn't sure if he wanted to enter the NBA draft.
Later, after a seemingly encouraging workout with Toronto Raptors, the team sighted enough of him to take a chance on him, and he got drafted by the Raptors as the 27th overall pick in the 2016 NBA draft.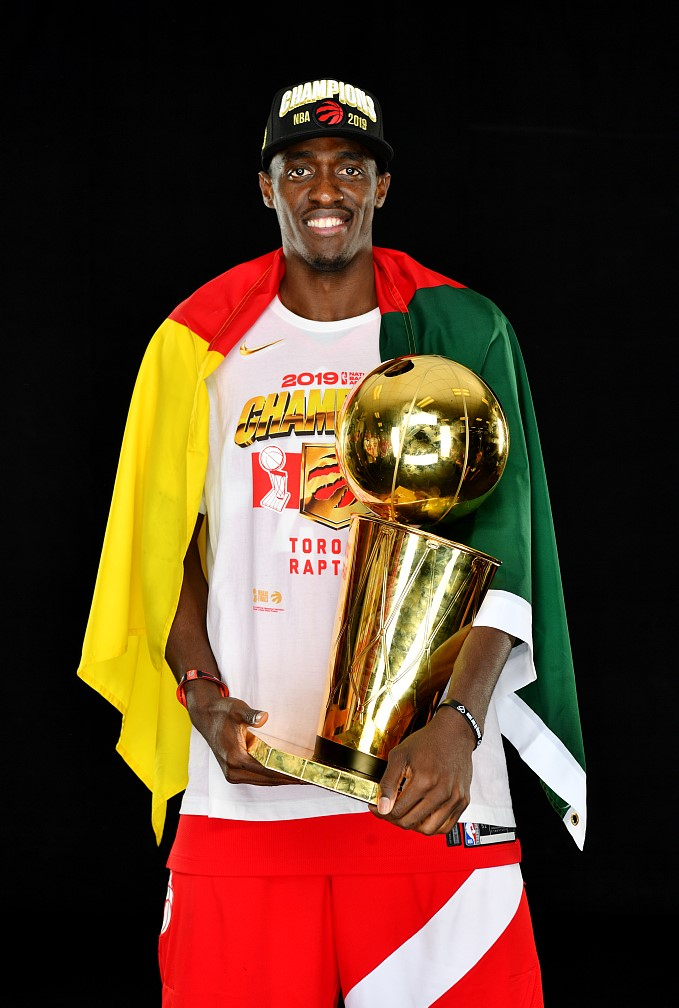 Entering the NBA, Siakam joined a team that would immediately succeed with championship glory.
His versatility with a defensive identity became significant for the team and is playing with the Raptors since he was drafted.
The Cameroon native had no clue about basketball and didn't begin playing organized basketball until the age of 17. Well, today, he is an NBA champion.
Adding to that, he's earned NBA All-Star two times and NBA Most Improved Player once.
Siakam is agile, quick, and long-framed and could play both guard positions, but when asked about his preference for the position in the game, he just called himself a basketball player.
Excavate further intriguing information about the competent basketball player Pascal Siakam below.
Quick Facts
Full Name
Pascal Siakam
Birth Date
April 2, 1994
Birth Place
Douala, Cameroon
Nick Name
'Spicy P'
Religion
Christianity
Nationality
American
Ethnicity
Unknown
Education

God's Academy
New Mexico State

Horoscope
Aries
Father's Name
Tchamo Siakam
Mother's Name
Victorie Siakam
Siblings
Five (James, Boris, Raissa, Vanessa, & Christian Siakam)
Age

28

Years Old
Height
6'8″/2.03 m/203 cm
Weight
104 Kg/230 lb.
Jersey no.
43 – Toronto Raptors
Hair Color
Black
Eye Color
Black
Body Type
Athletic
Profession
Basketball player
NBA Draft
2016 / Round: 1 / Overall 27th pick
League
NBA
Active Years
2016 – present
Sexual Orientation
Straight
Marital Status
Unmarried
Girlfriend
Not available
Kids
Not available
Net Worth
$30 Million
Position
Power Forward
Current Team
Toronto Raptors
Social Media
Instagram, Twitter, YouTube, Facebook
Merch
Book
Last Update

March 2023
Early Life & Family
Pascal was born to his parents, Tchamo and Victorie Siakam, in Douala, Cameroon, on April 2, 1994. His father worked in a local transit company and was also the mayor of Makénéné.
Siakam belonged to a family that valued education. His father, a mayor of a small town, sent him to St. Andrew's Seminary in Bafia, a Cameroonian town, at the age of eleven.
He's blessed to have five siblings to share his companionship; brothers, James Siakam, Boris Siakam, and Christian Siakam and sisters, Raissa Siakam and Vanessa Siakam.
He never wanted to go to school and was fiercely against it, mainly because of all the bad stories from his older brothers.
Even though seminary school had a strict program with a combined schedule, he learned enough from it in terms of academics and discipline within seven long years.
In the meantime, he and his brothers were more into soccer, and even Siakam once wanted to play soccer professionally.
He confessed that he intended to be a Catholic priest and merely preferred to play basketball.
An Interest Born for Basketball
Nevertheless, as Siakam grew older and reasonably taller, he gradually inaugurated to widen his interest in basketball.
Siakam didn't like playing basketball at first, but his father encouraged him to play.
In 2012, at 18, he completed his graduation from Seminary school and then found himself inclining more towards basketball.
That was the time when a basketball player was born. At the same time, he partook in the 'Basketball Without Borders' camp, where he met some basketball players, including Joel Embiid, a player who also started playing basketball quite late, just like him.
This camp was the turning point of his life when he was sighted by a bunch of scouts and agents trying to find good players to play in the NBA.
Pascal rarely watched the NBA or recognized any players. He played basketball alongside Serge Ibaka and Luol Deng in the camp.
After meeting them, he realized that if they could make it through against all the odds, then he could as well.
At 18, he moved to the United States and enrolled at God's Academy in Lewisville, Texas. Later, he got recruited to play at New Mexico State from 2014 to 2016.
Demise Of His Father
Making the situation worse in late 2014, his beloved father passed away before his first-ever college game. When Pascal was 20 years old, Tchamo died in an outrageous car accident.
He faced a low point in his life and decided to turn himself into a relentless workhorse from a shy and sluggish kid.
Henceforward, he became more committed and motivated to make it to the NBA at any cost because that's what his father always wished for.
Siakam often credits his father for pushing him to pursue a career in the NBA. His mother was the one who continually supported his ambitions after his father's demise.
Pascal's mother and brothers have always been the source of motivation and strength for him.
Basketball Career
College Career
Siakam attended New Mexico State University in 2013 but was redshirted in the 2013-14 season due to an injury.
He joined the New Mexico State Aggies men's basketball team and earned the Western Athletic Conference Freshman of the Year honors for the 2014-15 campaign.
He logged 20.2 points, 11.6 rebounds, and 2.2 blocks across 34 games and earned unanimous WAC Player of the Year honors.
Professional Career
"Spicy P" was selected with the 27th overall pick by the Toronto Raptors in the 2016 NBA draft.
Later in October 2016, he became the first rookie to start the Raptors' season opener game since Jonas Valanciūnas in 2012.
Siakam was alternately assigned to the Raptors 905 of the NBA G League.
Playing for the Raptors 905, he aided his team to the Finals and clinched the title after defeating the Rio Grande Valley Vipers 2-1. He was named the G-League Finals MVP after averaging 23 points and 9 rebounds in the series.
The player kept improving his abilities and gameplay, and henceforward, he helped the team win over several other groups like New York Knicks, Washington Wizards, Milwaukee Bucks, etc.
Likewise, Siakam-with-team earned their first NBA championship in franchise history after defeating the Golden State Warriors in six games.
Thus, Siakam was named the NBA's Most Improved Player for the 2018-19 season.
Further
The power forward showboated an impressive performance with the team and was named for his first NBA All-Star Game in 2020. On September 16, 2020, he made it to the All-NBA Second Team.
He posted his first career triple-double with 22 points, 13 rebounds, and 10 assists in a 112-111 loss against the Portland Trail Blazers.
In April 2020, he posted 23 points, 10 rebounds, and 7 assists in a Game 5 win, and later, the Raptors lost to the Philadelphia 76ers in six games.
However, Siakam logged 24 points, 7 rebounds, 7 assists, and 3 steals in Game 6.
On November 2, 2022, he recorded his fifth career triple-double with 22 points, 10 rebounds, and 11 assists in a 143-100 win over the San Antonio Spurs.
His career-high 52 points came in a win over the Knicks on December 21, 2022, and he was named Eastern Conference Player of the Week for Week 10 after averaging 38.7 points, 10.3 rebounds, and 7.3 assists.
Pascal was named for the All-Star Game as a reserve, replacing the injured Kevin Durant in February 2023.
Grants Honors
NBA Champion (2019)
Earned NBA All-Star (2020)
NBA Most Improved Player (2019)
All-NBA Second Team (2020)
NBA D-League champion (2017)
NBA D-League Finals MVP (2017)
WAC Player of the Year (2016)
AP Honorable mention All-American (2016)
WAC Freshman of the Year (2015)
Net Worth & Salary
The prominent basketball player, Pascal Siakam, is estimated to have a net worth of $30 million as of 2023.
Talking about his salary, in the 2022-23 season, he is expected to earn $35,448,672, making him the highest-paid player on the team.
In the initial three seasons, Pascal earned a somewhat similar salary ranging from $1.1 million to $1.5 million.
The power forward bagged $33,003,936 in the 2021-22 season and $33,559,200 in the following season.
During the 2019-20 season, he accumulated $2,351,838 for his duty with the Raptors.
Overall, playing seven seasons with the Raptors, he has garnered a total of $105,270,259.
The Reason Behind His Nickname "Spicy P."
Siakam used to watch YouTube a lot, and there was a YouTuber named Clarence. The YouTuber used to say the spicy word plenty of the time, and he picked the word from there.
Then, he began to say the word spicy all the time. People just added the letter "P" on it to describe something nice about it, and that's how they came up with the "Spicy P" aftermath.
Body Features
Siakam was born on April 2, 1994, which makes him 28 years old as of 2023.
About his physical stats, he stands at a soaring height of 6 feet 8 inches (2.03 meters), and weighs around 104 kg (230 pounds).
He retains an athletic physique with an imposing 7 feet 3 inches (2.2 meters) wingspan.
Siakam has an assorted physical frame that gives him a solid core to outshine on the floor. In addition to this, he is a fireball with great speed and agility who rarely stops.
He is often sighted with stylish headbands, especially black and white. Additionally, he prefers wearing wristbands with powerful quotes such as "doing it for you," which encompasses his father, who has influenced him a lot.
Other quotes in his wristbands are, "Humble, hustle, and heart will set you apart." It reminds him that he has come a long way and has perpetually stayed with the same humbleness.
With his medial-length black hair and off-the-court trendy attire, he never goes out of style. He has a tremendous perception of style and looks remarkable in his chosen apparel.
Who is Pascal Siakam's Girlfriend?
The notable hoopster Pascal Siakam is seemingly single and possibly relishes his single life.
He's not found rumored with any of the ladies thus far and assessing his past relationships, no rumors exist about his link with any females.
Thus, he might appreciate his solitary life or wants to keep his relationship confidential.
Exciting Facts About Pascal Siakam
Siakam relishes playing games, and he's precisely good at FIFA.
One of his favorite shoes is Nike Prestos.
His favorite movies are "Boyz N The Hood" and "Superbad."
Even though he's not a jewelry person, he got a family jewelry with a picture of his mom and dad. He often wears it, almost in every single game.
Siakam loves wearing caps, and his hats have a print of two letters, P and S, in a heart shape logo.
Social Media Presence
Pascal Saikam is an avid social media user. His social media feature pictures of him during the games, wearing trendy dresses and some endorsement deals.
The NBA player is available on Instagram, Twitter, YouTube, and Facebook. By the looks of it, he likes to show his presence on the court and all social media platforms.
Instagram: 689k followers (@pskills43)
Twitter: 164.3k followers (@pskills43)
YouTube: 5.34 subscribers (Pascal Siakam)
Facebook: 252k followers (Pascal Siakam)
Popularity
Siakam started making a buzz after winning the NBA G League in his rookie season and the NBA championship in 2019. Since his rookie season, his fan following has continuously increased.
The above graph gives brief information about the popularity of Pascal Siakam based on Google searches in the United States over a year.
Frequently Asked Questions
What surprise did Pascal Siakam give to his mother?
Pascal took the chance to give back to his mother, for all the contribution she made, on mother's day and bought a house for his mom.