If you are an Instagram user, you have undoubtedly come across the name Daniel Brandon Bilzerian a.k.a. Dan Bilzerian.
The American-born shook the internet with his extravagant lifestyle with a mind-boggling $200 million net worth. Dan has now become an internet sensation, a former poker player, living out every man's wildest fantasies.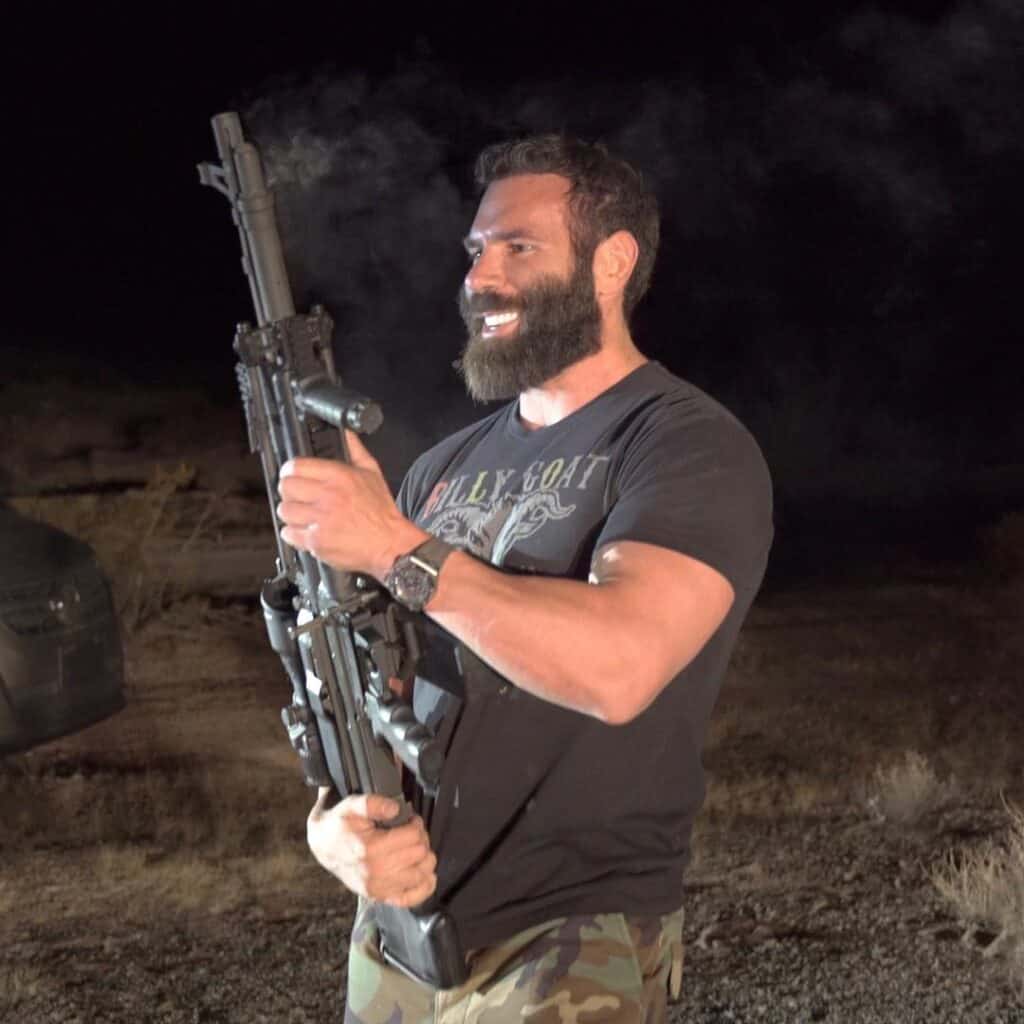 How did he come into all this money? Is Poker-playing his chief income source? There's much more to Dan than just Poker.
He has a wide range of assets and investment deals; a self-proclaimed venture capitalist enjoys life with money, women, and booze. Let's find out more about his income and financial assets.
Quick Facts about Dan Bilzerian
Full Name
Daniel Brandon Bilzerian
Known As
Dan Bilzerian
Birthdate
December 7, 1980
Birthplace
Tampa, Florida, United States
Age
41 Years Old
Nickname
Biltz
Father's Name
Paul Bilzerian
Mother's Name
Terri Steffen
Sibling
A brother
Brother's Name
Adam Bilzerian (also a poker player)
Education
University of Florida
Citizenship
United States (1980–present)
Armenia (2018–present)
Profession
Actor
Amateur Poker Player
Social media Influencer
Businessman
Business
Ignite Co
Social Media Handles
Instagram
Twitter
Facebook
Dan Bilzerian Net Worth | Who Exactly is Dan Bilzerian?
Dan Bilzerian was a resident of Tampa, Florida, and celebrates his birthday every year on December 7, 1980. His father is Paul Bilzerian, a corporate takeover specialist, and he had established a trust fund for both him and his brother, Adam.
Now, you get the idea of how Dan Bilzerian gets his net worth from, well, partly.
In his early life, the Instagram King tried for Navy SEAL training, which now is prominent for the execution of Osama Bin-Laden.
After engaging in a training program that was technically for 24 weeks, he dropped out in the second week due to safety violations.
However, Dan received an honorary discharge, which helped him financially to attend the University of Florida, where all the gambling and cash-making began.
Poker Career
Amidst studying to get a degree in Business and Criminology at the University of Florida, Dan Bilzerian would make time to learn poker.
At one point in life, Dan ran short of money. To continue his education, Bilzerian had to sell guns. It was not enough, and he later found poker as an alternative. He got so good at it that the Blitz made $90k per week.
Eventually, he dropped out of college. What was the point of him being there when he knew all? Dan Bilzerian's net worth is what it is today due to his involvement in high stake games.
At one instance, the Instagram sensation was playing Heads Up No-Limit Hold'Em while staking $5k to$10k per game, and astoundingly he won a whopping $10.8 million on the spot.
Not only known as a player but also an investor, Dan makes a hefty sum from Victory Poker.
Dan Bilzerian Net Worth | A Bona Fide Pro
Yes, the money-spending and lavish lifestyle are ever-present in Bilzerian's life, but what is more evident is his flair for the business.
He isn't willing to lose money and not expect to get it back. The pro poker player claimed that he made $10.8 million in a single night in like manner.
Unbelievable right? Dan even bet his lawyer for $400k to participate in a drag race. His dubious claims of staking
Although Bilzerian's love for money is immense, he is willing to turn down offers that don't seem lucrative enough for him.
For instance, an unnamed Facebook co-owner offered $100k if Dan would shave his beard, but he isn't into it, declining the offer upfront.
Similarly, Dan's life is a pure gamble of madness. He holds high-stakes poker games with BILLIONAIRES.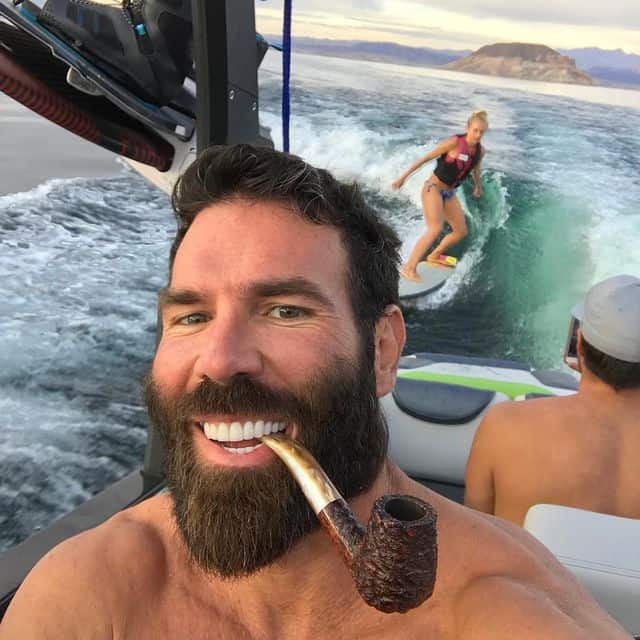 Poker may be his main gig, but his side-hustle includes working as an actor and a stuntman in films like Olympus Has Fallen, The Other Woman, Equalizer, and Lone Survivor.
A well-recognized internet celebrity, Dan has mouth-watering earnings from his social media presence. In particular, fans can see him boasting about his income and lifestyle on Instagram.
He parties, he travels, but mostly he has a dozen women claiming to be models who probably are there for, well, you know, for manly needs.
Dan Bilzerian Net Worth | Houses, Lifestyle & Cars
Dan Bilzerian may have retired from poker, but he sponsors players and hosts tournaments, and as such, the return he receives overshadows what he initially spent.
Talking about his lifestyle, the bearded macho man lives in Hollywood Hills with the likes of Leonardo DiCaprio as his neighbor. The house overlooks Los Angeles City.
The mansion is complete with an infinity pool, a separate poker room, a bar of his own, a movie room with high definition never before seen large-screen television.
Similarly, the house stands over a large acre that even homes a custom-made Brabus Truck purchased for a jaw-dropping sum of $760k.
With a chroma-plated 1965 Shelby Cobra, a Lamborghini Aventador, Dan also owns two pet goats, one named Zeus.
It's safe to say Bilzerians goat lives much lavish life than we ever hope to live. Your life is the best if you sleep under a $700 blanket.
Furthermore, the King of Instagram has even built several houses in Los Angeles, La Jolla, and San Diego occupying a vast land with exquisite views.
Also, a travel freak, Dan often rents out his condominiums and houses while out exploring the world.
Not limited to these, Dan has loaded weaponry lying about his house. Hence, people visiting the house are advised by security not to touch the weapons under any circumstances.
Besides that, he has an amazing glass collection and all the items are worth good money. His Buck Glass fish and Goat skull chandelier are especially famous.
To follow that, the former poker player has built a room capable of storing thousands of firearms. Dan often takes to Instagram to boast his collections by showing his skills at a gun range or just out and about in any open space.
Apart from these, Bilzerian even established a company called Ignite that includes a range of products from THC and CBD relating to cannabis.
Dan's brainchild company aims to change the way people perceive the use of marijuana. For instance, Dan hired models to promote Ignite products. Ignite emerged as a result of Bilzerian's love for Cannabis.
Dan Bilzerian | Net Worth | Endorsements & Charity
Dan Bilzerian has a whooping net worth of $200 million.
Apart from being a glorified playboy, the former poker player has a soft corner for the poor and deprived. Dan rented out his Hollywood Hills mansion for Steve Aoki's gig, which benefited the charity fund he was sponsoring.
Added to these, the Blitz organizes poker parties inviting several A-List celebrities, and after the conclusion of the party, funds raised went directly to a non-profit charity.
People like him, and some don't, but he is an internet sensation that knows the value of money and even understands that a small gesture will be paid forward.
The King of Instagram, with over 27 million fans, isn't stopping anytime soon. Dan Bilzerian's net worth is only increasing day by day, and one can only wonder how he does it.
What's in store for the bearded, jacked cannabis puffing multi-millionaire? Only time will tell my friends!
Dan Bilzerian | In the Army?
Dan Bilzerian joined the navy, followed by basic SEAL training. However, he did not graduate as a working military member.
He must have gotten the military attraction from his father, Paul, who was a Bronze Star after he served in Vietnam.
Dan had intentions of becoming a part of the SEAL special forces unit when he first chose to join the military. The training is usually of 24 weeks aimed to strengthen the physical and mental stamina of the trainees.
However, Dan suffered from a broken leg which extended his training for a period of a year and a half.
Even though he failed in making it through SEAL training, his injured leg and honorable discharge provided him a disability allowance as a veteran worth $6,000 per month.
Dan Bilzerian | Bongs
Dan, a cannabis-obsessed person, is certain to own bongs. In fact, he demonstrated his love for it even in his social media account.
Dan Bilzerian | Drugs and Heart attacks
Bilzerian has been into drugs, and he has also talked about it openly. He lives an utterly lavish life which brings him into a risky position very often.
In fact, he was very near to death after he consumed drugs rampantly at a party. He discussed taking six times the recommended dose of Viagra, excessive cocaine, weed, and drinking for four days straight with a sleep of about an hour.
Any person would suffer hazardous consequences with a lifestyle as brutal as his. In fact, he underwent two heart attacks. The doctor claimed that there was no issue with his heart and the drugs were to be blamed for his deteriorating health.
Dan Bilzerian | Diet
Dan Bilzerian has a stunning body weighing almost 187 pounds. His diet is highly responsible for his fitness.
He consumes an omelet with four egg whites and two whole eggs, toast oatmeal with fruits and a scoop of protein powder, and juice in his breakfast.
His pre-workout meal consists of pre-workout shakes and dry fruits. Likewise, he consumes protein shakes, chicken, rice, and veggies as his post-workout food.
His lunch consists of salmon, rice, and veggies. Similarly, his evening meal is protein she and dry fruits.
He eats chicken or turkey, rice, and veggies for his dinner. Moreover, he consumes supplements and multivitamins to attain his fitness goal.
Dan Bilzerian | Gun Room
Bilzerian owns a massive collection of guns. He has 97 guns and a loaded gun on display in every room of his residence situated in Hollywood Hills.
Dan Bilzerian | Clothes and Shoes
Bilzerian is indeed a style icon. He is always seen well dressed and classy. You can purchase his clothes, shoes, and other apparel on the website of Ignite.
Moreover, his brand Ignite and its logo are quite popular among admirers.
Dan Bilzerian | Cat
Bilzerian is a cat person. In fact, who would not be if they get a stunning fluffy baby like Smushball?
Smushball is a three-legged doll face Persian cat who is well-spoiled by his crazily rich owner. Dan loves Smushball very dearly, who happens to be the light of his life.
In fact, Smushball seems to be his only constant as everyone has witnessed his always-changing females on Instagram.
Dan Bilzerian | Quotes
Here are some of Dan Bilzerian popular quotes:
"If a person bluffs a lot in poker, he just thinks everyone else is bluffing more often. People equate things to how they live."
"If I wanna go to Vegas in the middle of the night, then that's just what I'll do."
"Climbing the mountain is always more fun than sitting at the top. it's just that you have to find different mountains to climb."
"In poker, it's tough. It's tough to manage your money. Because you don't know, you can go out and play great and still lose. You can get your money in with the best hand and still get unlucky."
"Spent time this week in the mountains. It's good to disconnect; all things important in the city are irrelevant here."

"I don't feel like the laws make it that much safer."

"All the big cars, bitches, and bullshit in the world won't make you as happy as having one good pal."
Dan Bilzerian | Private Jet
Dan Bilzerian owns a Gulfstream G-IV private jet. Its registration is N701DB. He painted the plane as per his choice with a request to the authority. Often, David Goggins accompanies his trips on the jet.
Dan Bilzerian | Social Media Presence
FAQs about Dan Bilzerian
What kind of watch does Dan Bilzerian wear?
Dan Bilzerian wears a 45mm Richard Mille RM11-03 Automatic Flyback Chronograph in 18k rose gold with a titanium clasp and a skeleton dial. The watch has a yellow strap. Moreover, it has up to 55 hours of power reserve.
It cost him an amount between $500,000–$800,000.
Does Dan have a new haircut?
The poker player recently changed his haircut to a "white trash" Mohawk. His hair is shaggy on top and the sides. Moreover, the sides are shaved.
Did Dan Bilzerian flee the Las Vegas shooting?
Yes, the player was caught in one of the worst mass shootings in modern U.S. history in 2017. He claimed that he saw a woman getting shot right in front of his face.
Not to mention, he posted a clip of him saying that he was going to grab a gun on social media. However, another clip of him showed Bilzerian standing in front of the police lights completely shocked.
Shortly after, Dan went back home claiming that there was nothing he could do as the police had already captured one of the shooters.
What does Dan Bilzerian have to do with Donald Trump?
Dan Bilzerian was in Donald Trump's favor in the presidential election. In fact, they met at the Trump Tower around the time.
Dan wrote this on his Instagram after the meeting: "In an age of pussified political correctness, you have to respect the people who remain unfiltered (Donald Trump)."
Not to mention, the poker player himself is thinking of running for president in the year 2024.
Ate Ambien and went shopping online. A few days later this stupid 6500 dollar fish arrives… pic.twitter.com/ardB6Zj8VW

— Dan Bilzerian (@DanBilzerian) February 7, 2014
Was Dan Bilzerian exposed?
Recently reports came up that the poker players' credit card bills were paid by someone else. He charged the Ignite company with all of his charges including rent, yachts, models, flights, etc.