Phil Ivey, a telemarketer, turned into one of the world's richest poker players. The American-born is dubbed "Tiger Woods of Poker." And likely so, has an impressive net worth of $100 million. After winning more than ten worldwide series of Poker Bracelets, and the World Poker Tour, he became a household name and an unbeatable force in the poker world.
Aren't we all curious? Is Poker playing that profitable? Can anyone master the game? What makes Phil Ivey so unique? Does he have any other side hustle?
Many, many questions arise. Making hundreds and thousands of dollars in a high stake game like Poker is no joke. Gambling is no joke.
But, it's nothing for Phil Ivey. Learn more about the master!
Quick Facts
Full Name
Phillip Dennis Ivey Jr.
Birth Date
February 1, 1977
Birth Place
Riverside, California, US
Nick Name
Phil Ivey/ The Phenom/ No Home Jerome/ Tiger Woods of Poker
Religion
Christianity
Nationality
American
Ethnicity
Afro-American
Education
Old Bridge High School
Horoscope
Aquarius
Father's Name
Phil Ivey Sr.
Mother's Name
Pamela Ivey
Siblings
Not Available
Age

46

years old
Height
6'2″/188 cm
Weight
171 lb/78 kg
Hair Color
Bald
Eye Color
Golden Brown
Body Type
Athletic
Profession
Poker Player
Active Years
1990- present
Marital Status
Divorced
Spouse
Luciaetta (2002-2009)
Children
None
Net Worth
$100 Million
Social Media
Facebook, Instagram, Twitter
Last Update

May, 2023
Phil Ivey Net Worth | How He Came To Be "The Phenom"?
Phil Ivey was born Phillip Dennis Ivey Jr., in Riverside, California. The poker star celebrated his birthday on February 1, 1977. However, Ivey's family decided to relocate to New Jersey when he was just an infant.
Growing up in a suburban town is where Phil would master his poker craft. Similarly, the Poker Hall of Famer has his grandfather to thank for paving a passage to the world of Poker.
The first time an American heard of the word "Poker" was in a barbershop, and since then, Poker has become life.
Moreover, starting at 8, Grandpa Ivey and little Ivey spent much of their playing 5-card stud and even placing some pennies for the stakes.
To everyone's amazement, Phil turned out to be a natural, even going as far as strategizing to win games on his own.
Likely so, Phil's grandfather saw the immense potential and later encouraged him to go pro. While completing school, Ivey's love for the game never receded.
At age 13, Ivey would refine his amateur skills against co-workers in a telemarketing firm.
The game meant so much to young Phil that he would create a fake ID to play Poker in Atlantic City; hence people dubbed him "NO Home Jerome."
Phil Ivey Net Worth | Poker Career
Before going pro, however, Poker professionals Barry Greenstein and Daniel Negreanu advised Phil to play better. The ever-so-eager, knowledge-hungry perfectionist Ivey gobbled everything thrown his way. The mentorships from the pros made the person we now know as "Tiger Woods of Poker."
In the year 2000, the world finally got to know the Californian-born. In particular, the 23-year-old up-and-coming Poker master gained the upper hand against the legendary Amarillo Slim and won his first-ever WSOP bracelet.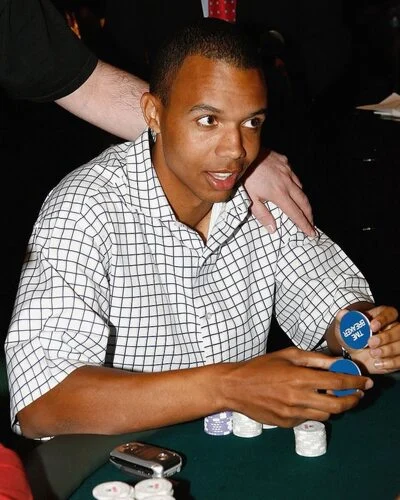 Added to the title, a hefty $200k sum filled his pocket. Winning against a Poker legend boosts your confidence. Ivey took another step to establish himself further.
Similarly, the year 2001 did not go according to plan. Despite Ivey's extraordinary performance, defeat was awaiting him.
Speculations arose that the up-and-coming poker player was just a one-season wonder.
Regardless of prevalent beliefs, the soon-to-be Hall of Famer bounced back and topped 2002 in a stunning 3 WSOP gold bracelets wins.
After that, Ivey's collection of gold bracelets reached 6, totaling about 10 WSOP gold bracelets to date. Since 2000, Phil's participation and subsequent win resulted in the winner's sum of thousands of dollars.
No-Limit Hold 'em
Further, from 2000 to 2014, the poker star earned a total of $2,054,154, individually $195k, $118k, $107k, $132k, $635k, $96k, $220k, $329k, $51k, and $166k.
Nonetheless, Phil Ivey's net worth is much more than those mentioned earlier.
From the Monte Carlo Millions tournament, the Americans became $1 million richer. Due to Poker, Ivey has become an avid traveler and believes it's worth traveling for Poker.
In 2008, the Poker Hall of Famer pocketed $1.5 million after destroying legends like Phil Hellmuth and other greats. The game was No-Limit Hold'em.
In 2012, the land down under (Australia) called him for another worthy travel. It was undoubtedly worthwhile as Phil came head-to-head with another exceptional Poker player, Patrik Antonius.
What's life without a bit of difficulty, right?
And the process is even sweeter when you walk out with $2 million in a $250k No-Limit Hold 'em. After that good win, Ivey would return to Australia two years later and bag another $3.5 million.
Phil Ivey Net Worth | Living A Pro-Life
Poker changed his world for the best. Gambling isn't easy and doesn't fall on anyone's forte. With immense practice, disappointments, and countless mind-warping strategies can later call himself a Poker player, and still being a pro seems far-fetched.
You live a good life if you are Phil Ivey. To begin with, regardless of the type of sport, every player wishes to achieve the highest height to traverse.
In like manner, Poker is no different, and being inducted into the Hall of Fame is something that every Poker player dreams of.
The institution took form in 1979, and every year, the existing member and a set of 18-person blue-ribbon panels convene and come up with a ten-finalist directory.
Finally, in 2017, rumors spread that Ivey was on the list, making the 40-year-old eligible to be a member.
First-year Hall of Fame induction is extremely rare, but it's Tiger Woods of Poker, people. Ultimately, the announcement disclosed that Phil and David Ulliott made the final cut. The legendary status on Ivey now reads the label Immortal!
For illustration, Phil Ivey's total live tournament winnings exceed $26,250,000. To date, he has garnered millions through online and cash games.
A massive part of his net worth amounts to total winnings from cash at the WSOP.
Marcelo Vieira Bio: Age, Wife, Salary, Stats, Transfer Wiki >>
Phil Ivey Net Worth | Income & Other Sources
Poker After Dark is another type of Poker game wherein players go against each other for a $120k all-in prize pool. The show features a different set of players every week.
Phil Ivey was part of one of the show's segments that aired on NBC on January 1, 2007.
During Week 4, players like Sam Farha, Tony G, Mike Matusow, Phil Hellmuth, and Andy Boch competed, and then there was Phil.
In the face of such competition, the Americans won it all that year. Ivey participated in five segments of the show's 7-season long run.
Indeed, his involvement came to fruition, garnering significant limelight from international audiences, some being Canada, Russia, and most parts of Europe.
Commercial appearances also added significant net worth to an empire Phil Ivey managed to build.
For instance, Chrysler came up with the idea to promote their new product with a theme that featured a group of hardworking people who achieved success independently.
Another commercial from the same company marked the first time a poker player garnered widespread attention.
The Californian accepted a deal from Aria Resort and Casino, which included the Casino using Ivey's name for their one-table high-limit room. The actual description of his income from this deal is not available, but we can assume it is just another jaw-dropping amount.
Apart from these, the Poker King wanted to divulge information regarding how he came to be who he is.
Thus, Ivey partnered with Masterclass, a website that includes thousands of professionals who want to better society by revealing some tips for success.
As of now, Phil established the Ivey League, designed to refine poker playing skills for beginners. It has three plans: undergraduate, bachelor, and masters.
Full Tilt Poker
Chris Ferguson first introduced full Tilt Poker alongside Ray Bitar in July 2004. Later, Howard Lederer, Phil Ivey, John Juanda, Erick Lindgren, and Jennifer Harman joined Full Tilt Poker.
Together, they all commenced the slogan "play with the pros." Indeed, this gave fans a reason to sit and play across their favorite player.
Also, it was sponsored by High Stakes Poker, which made a great deal in marketing.
In the end, it became the most popular poker show ever filmed, and they had $300/$600+ games regularly. However, it came to shut down completely, wiping its existence in February 2021.
After stiffening its U.S. customers an estimated $150 million, it's reached its end. Hence, PokerStars has since acquired Full Tilt and agreed to pay back money owed to U.S. gamblers.
Joachim Low Bio: Age, Salary, Wife, Germany Coach Wiki >>
Phil Ivey And Andy Beal
Phil Ivey and Andy Beal have been having on-and-off high-stakes rivalry since 2001. Currently, Phil Ivey took $16.6 million on behalf of "The Corporation" three days of intense play.
The Corporation includes top players like Doyle and Todd Brunson, Ted Forrest, Johnny Chan, Jennifer Harman, Chau Giang, and Minh Ly.
The Top 4 hands Of Phil Ivey
Ivey vs. Paul Jackson – Poker Monte Carlo Millions 2005 (Ivey took the winning prize worth $1,000,000)
Ivey vs. Doug Polk – Aussie Millions 2015 (Ivey took $1,710,854 home)
Ivey vs. Tom Dwan – High Stakes Poker (cost Ivey $6,00,000)
. Ivey vs. Patrik Antonius – High Stakes Poker
Phil Ivey Net Worth | Philanthropic Champion
Taking inspiration from his grandfather, Phil wants to give back to society.
So, alongside his mother, the poker star created The Budding Ivey Foundation, which aims to ensure children's upliftment in underprivileged conditions and sponsors them so that these deprived children can receive a formal education.
The institution provides reading materials and one-on-one classes. Likewise, the institution motivates children to dream more significantly with two yearly full-ride scholarships.
Additionally, the award mainly targeted students seeking to pursue careers in STEM. Furthermore, Ivey personally sits as a moderator in the selection process.
Controversy And Divorce Settlements
Poker fans are aware of the Black Friday moment that etches deeply into the history of Poker. To begin with, the U.S. government enforced a law banning any activity related to Poker on the internet.
As a result, many players got forced to withdraw money, but specific problems awaited them. Full Tilt squandered all the funds and never planned to return them.
Ivey, at that time, dealt with the sponsorship from Full Tilt. Utterly embarrassed by the act, the hall of fame inductee chose not to compete in the 2011 WSOP.
Subsequently, Phil filed a case against the Tiltware company hoping to dole out justice to all the affected players. Mostly, the Californians accept the blame due to the sponsorship.
A little reminder that gambling isn't anyone's game. A club in Mayfair named Crockfords refused to pay Ivey and one of his partners a staggering $7.7 million.
Due to fraudulence's involvement, the judge declared Phil guilty after five years of battling the case in court.
Similarly, the tension in Ivey's life doesn't end there. Things weren't smooth for the couple after a lifetime of marriage to high school sweetheart, Luciaetta.
Although both claim that the divorce was amicable, big money says otherwise. Luciaetta walks away with $180k per month, jewelry, and other accessories that amount to $2.2 million.
Robert Lewandowski Bio: Age, Height, Stats, Club, Career, Net Worth Wiki >>
Documentary
Phil Ivey's documentary is currently being filmed at the 2022 World Series of Poker. Kevin Mathers was the first to notice the news while exploring the tournament grounds.
Noticing this posted in the tournament areas pic.twitter.com/h41yN0dwpL

— Kevin Mathers (@Kevmath) June 13, 2022
A notice was put up informing nearby residents that they are being videotaped for a project called "UNTITLED PHIL IVEY DOCUMENTARY" and consent to have their image used perpetually.
Search Graph Of Phil Ivey
We can observe this popularity graph to learn about the popularity of Phil Ivey of 2023, which keeps fluctuating and indicates that Phil is being searched by people ample times.
Awards
All In Magazine 2005 Poker Player of the Year
All In Magazine 2009 Poker Player of the Year
Social Media Presence
Twitter: 445.7k Followers
Facebook: 291k Followers
Instagram: 169k Followers
FAQs
What happened to Phil Ivey?
It is still not confirmed, but there are rumors about Phil Ivey playing games in Macau. He has been photographed there in the past.
Is Phil Ivey better than Phil Hellmuth?
Judging from the WPT titles alone, Phil Ivey with two tags is better than Phil Hellmuth with zero titles.
Is Phil Ivey MasterClass worth it?
Phil Ivey's MasterClass is suitable for both beginners and professionals. Hence, many claim his class to be worth it.
Dan Bilzerian Net Worth: Salary, Real Estate, Mansions, Yacht >>