Known for his exceptional dunking skills, particularly alley-oops, and his shot-blocking ability, Daniel Gafford plays as a center for the Washington Wizards (2021- now).
The Arkansas attendant was the round-two, 38th overall pick of the Chicago Bulls in the 2019 NBA Draft. With the Bulls, Gafford played for two seasons before his trade to the Wizards.
Gafford signed a three-year extension with Washington Wizards in October 2021 that runs through the 2024-25 season.
With the Wizards, he played his first-ever NBA playoffs (of 2021) & broke the all-time record for field goal percentage with 84.6%.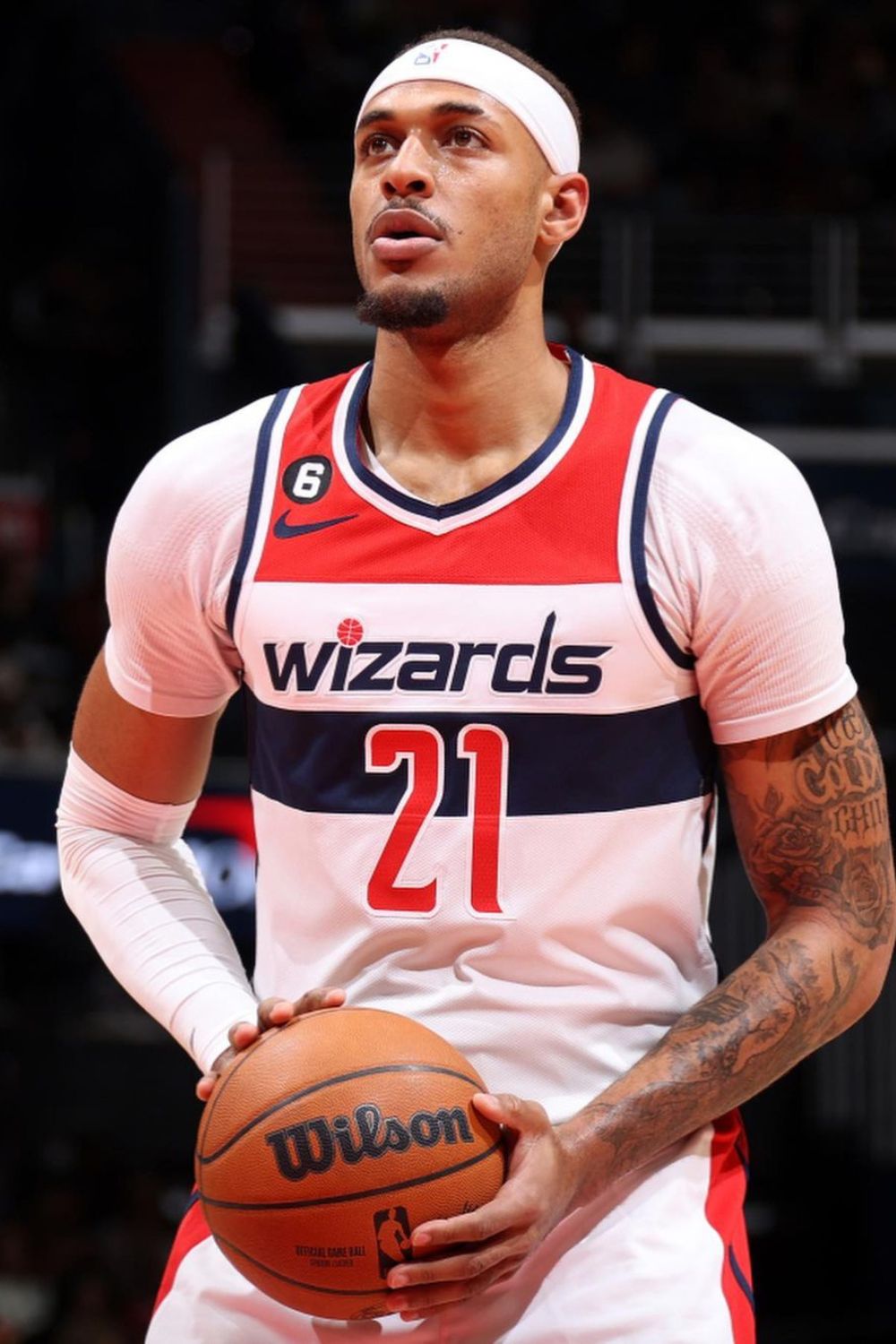 In addition to a successful NBA career, the basketball player enjoys a blissful married life with his college-time girlfriend-turned-wife DaShundra.
But amidst that bliss, Daniel admits that he never forgets the life-threatening car accident which happened during the last year of high school.
Get further insights on Daniel Gafford's NBA journey, married life, family & accident.
Quick Facts
Full Name
Daniel Gafford
Nickname
The Landlord
Birthdate
October 1, 1998
Age
24 Years Old
Birthplace
El Dorado, Arkansas
Father's Name
Wayne Gafford
Mother's Name
Teresa Frazier
Siblings
Four
Nationality
American
Marital Status
Married
Wife
DaShundra (Morgan) Gafford
Height
6 ft 10 inches/ 2.08m/ 208cm
Weight
234lbs/ 106kg
Zodiac Sign
Libra
Profession
Professional Basketball Player
Education

High School: El Dorado
College: University Of Arkansas (2017- 2019)

NBA Draft
Chicago Bulls: 2021/ Round: 2/ Pick: 38th Overall
Awards & Achievements

First-team All-SEC (2019)
SEC All-Defensive team (2019)
SEC All-Freshman team (2018)

Playing Career
2019- Present
Association

Chicago Bulls (2019-2021)
Washington Wizards (2021-Present)

Position
Center/ Power Forward
Jersey Number
21
Average Annual Salary
$1.5 Million
Net Worth
$1-3 Million
Social Media
Facebook, Instagram, Twitter
Merch
Trading Card
Last Update
March 2023
Daniel Gafford's Parents & Siblings
Gafford was born to Wayne Gafford and Teresa Frazier on October 1, 1998, in El Dorado, Arkansas.
His father, Wayne Gafford, is a graduate of Sacramento City College, & currently lives in Farmerville, Louisiana, where he runs his own business, Gafford Electronics & Photography.
The NBA player's mother, Teresa, claims herself a digital creator on her Facebook profile.
Teresa Frazier is a 1989 grad of El Dorado High School & later pursued her higher studies at Al-Imra International University (graduated in 2019).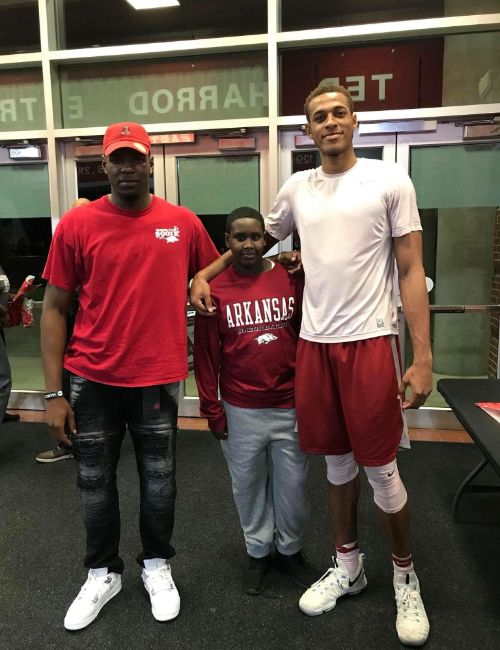 Daniel Gafford has four siblings- of whom only three are known.
His elder brother named, Cornelius Watson, played college basketball at Southern Arkansas University.
Gafford's elder sister Tequillia Renee Frazier is the mother of two kids & lives in El Dorado, Arkansas.
Gafford's youngest brother is Jeremiah Frazier.
College Career At Arkansas
Considered a four-star recruit, Gafford, an attendant of El Dorada High School, received scholarship offers from multiple colleges.
He committed to the University of Arkansas on August 1, 2015, and played there for two seasons: junior & sophomore years.
Daniel Gafford finished a perfect 8 for 8 shooting with 6 blocks and 7 rebounds in his first start for the Arkansas Razorbacks against Minnesota on December 9, 2017.
Gafford was named to the SEC All-Freshman team after averaging 11.8 points and 6.2 rebounds per game.
In his sophomore year, he improved his performance averaging 16.9 points, 8.6 rebounds, and 1.9 blocks per game.
He was then named to the 2019 SEC All-Defensive Team and a 1st Team All-SEC pick.
After his second year, Gafford revealed that he would skip the 2019 National Invitation Tournament to prepare for the 2019 NBA draft on March 18, 2019.
NBA Career With The Bulls & The Wizards
Chicago Bulls drafted Daniel Gafford on June 20, 2019, as the 38th overall pick in round two of the 2019 NBA Draft.
He made his NBA debut against Toronto Raptors on October 26, 2019, in which he played only two minutes.
Gafford was also assigned to the Windy City Bulls for the NBA G League 2020 season.
On January 16, 2020, he suffered a dislocated right thumb in a 115-106 victory against Washington and missed nine games.
He was then traded to Washington Wizards as a part of a three-team trade involving the Bulls, the Wizards & the Celtics.
With the Wizards, he made his playoffs debut in the 2021 NBA playoffs (of the 2020-21 season), where they lost to the Philadelphia 76ers in the first round.
His career-high 24 points came in a 132-114 win against Minnesota Timberwolves on April 5, 2022, in the 2021-22 season.
On January 28, 2023, he scored the 2022-23 season's first season-high 21 points against the Pelicans.
Married Life & Wife
The NBA star is happily married & lives with his wife DaShundra (Morgan) Gafford. They walked down the aisle on June 8, 2022, after dating for six years.
Daniel met DaShundra at an off-campus party during his first year at Arkansas.
The encounter happened when Gafford was searching for a Wi-Fi signal in his phone. Coincidentally, the area with the strongest reception was near to DaShundra and her friends.
As reported, DaShundra, who found Dafford attractive, had the first approach & even gave him her Twitter handle. And the rest is history!
The couple is yet to share children of their own.
Gafford has a vertical tattoo behind his right ear, which reads 'DaShundra.'
Daniel's wife DaShundra is currently working in The CyroBar (February 25, 2020- now). Her father's name is Frank Carlos Morgan, and her mother's name is Natasha Wallace.
Daniel Gafford's Car Accident
Gafford considers this accident as the scariest moment of his life, which he told in Off The Bench Podcast on January 7, 2023.
The accident happened in his last year of high school when he was with his friends in Arkansas.
Daniel Gafford went to a party in Magnolia, Arkansas, thirty minutes from his hometown.
That night, he stayed with two friends he had known from a very young age. Neither of them had been asleep the whole night.
They stayed there until five in the morning and left around 5:30. Upon returning, the friend that was driving had to go to work at six or seven.
The NBA player was in the passenger seat while the other friend was seated at the back. As soon as he settled in the car, he fell asleep, and so did his friend, who was in the back seat.
As the driver tried to regain control of the car, it flipped four times, causing the friend seated in the back to be thrown out of the vehicle.
The door from the back seat, through which the friend was ejected, ended up on the top of the driver's door.
Gafford was thrown in the back seat as he did not have his seatbelt on while the driver was stuck in the front and dragged him out.
According to Gafford, there was smoke in the ignition of the car, and it could have exploded.
Luckily, there were no fatal injuries. He had glasses stuck on his skin, and a jammed shoulder, his friend in the back seat suffered a bruised rib, and the driver broke his shoulder.
Net Worth & Salary
Daniel Gafford holds an estimated net worth between $1-$3 million as of 2023.
Most of his earnings are from his NBA contracts & a considerable amount from endorsements too.
Gafford is sponsored by Anta Sports and Rockstar Original and promotes them by posting pictures on his social media.
NBA Contracts
The NBA player signed a four-year $6.1 million contract with Chicago on July 7, 2019, earning him $842K in his rookie season (2019-20 season).
Nearing the end of the 2020 season, he was traded to Washington Wizards on March 25, 2021, as part of a 3-team trade that involved the Boston Celtics.
The Washington Wizards acquired Gafford, Chandler Hutchison, and a traded player exception from the Chicago Bulls in exchange for Troy Brown Jr, Moe Wagner, and cash.
As a result of the mid-season deal, Daniel bagged $551,000 from the Bulls & $966,000 from the Wizards, in the 2020-21 season.
On October 19, 2021, Washington Wizards exercised and fully guaranteed a $1.93 million option for the 2022-23 season.
OFFICIAL: We've signed @Dan_G33 to a multi-year contract extension! #DCAboveAll

— Washington Wizards (@WashWizards) October 19, 2021
Moreover, on the day of the option exercise, he signed a three-year $40.18 million contract extension with Washington, which averages an annual salary of $13.39 million.
At the end of his contract in 2026, Gafford will become an unrestricted free agent (UFA), meaning he can sign with any team.
Age, Height & Social Media
Gafford, 24 years old, is an avid social media user & is active on Facebook, Instagram, and Twitter.
Gafford has 71.3k followers on Instagram and 24.5k followers on Twitter as of this writing.
He mainly shares his game pictures and highlights reels on his social media. The brown-eyed & black-haired NBA player has a height of 2.08 m & weighs 234 lbs.
Popularity Graph
Ever since Daniel Gafford stepped into NBA, he is often in trend with his impactful games. Moreover, his wife, family & salary are among the most-search topics.
The above graph indicates his search interest for the past twelve months.
Interesting Facts
During his childhood, Daniel Gafford played football and was a wide receiver at El Dorado High School.

Gafford loves playing video games from the early 2000s to the newest ones. He also loves watching anime.
He has a tattoo of the hit television sitcom 'Friends' on his inner left wrist and has binge-watched all ten seasons numerous times.
Frequently Asked Questions (FAQs)
What is Daniel Gafford's standing vertical leap and wingspan?
Daniel Gafford has a 9 feet 2 inches (2.79 m) standing vertical leap and a wingspan of 7 feet 3 inches (2.2 m).
What number does Daniel Gafford wear?
Gafford wore number 12 for the Chicago Bulls and wears number 21 for the Washington Wizards.
What position is Daniel Gafford?
He plays as a center and also a power forward.