Danny Granger Jr. was born in New Orleans, Louisiana, the USA, on April 20, 1983. He is a former professional basketball player. The Indiana Pacers drafted him in 2005.
Danny served as a small forward/power forward for his ten professional seasons. He spent most of his playing career for the Indiana Pacers in the NBA.
The USA-born athlete was able to initiate the team's offense. In a similar way, he also served as a point forward in case of necessity.
Granger was named NBA-All-Star in 2009. In addition, he was named the league's Most Improved Player in the same year.
Here are some quick facts about Danny Granger you might want to know.
Quick Facts
| | |
| --- | --- |
| Full Name | Danny Granger |
| Date of Birth | April 20, 1983 |
| Age | 40 |
| Birth Place | New Orleans, Louisiana, USA |
| Nickname | Danny G |
| Religion | Jehovah's witness |
| Nationality | American |
| Ethnicity | African American |
| Education | Grace King High School, Bradley University, University of New Mexico |
| Father's Name | Danny Granger Sr. |
| Mother's Name | Janice Granger |
| Siblings | 2 (Scotty and Jamie) |
| Zodiac Sign | Taurus |
| Height | 6 feet 8 inches (203.2cm) |
| Weight | 222 lbs (101 kg) |
| Hair Color | Black |
| Eye Color | Black |
| Build | Athlete |
| Marital Status | Married |
| Wife | Dionna Kann Granger |
| Sexual Orientation | Straight |
| Profession | Basketball player |
| Professional Career Teams | Indiana Pacers, Los Angeles Clippers, Miami Heat |
| Position | Small forward |
| Drafted In | 2015 / Round: 1 / Pick: 17th overall |
| League | NBA |
| Playing Career | 2005-2015 |
| Net Worth | $20 million |
| Salary | 2.077 million USD (2015) |
| Merch | Danny Granger T-shirt |
| Social Media | Twitter, Instagram |
| Last Update | November, 2023 |
Danny Granger | Early Life, Family, and Education
On April 20, 1983, Danny Granger Jr. was born in New Orleans, Louisiana. Granger is an American national and is of African American ethnicity.
Mom, Dad, and Siblings
Danny was born to Danny Granger Sr. and Janice Granger.
He has a very talented younger brother, Scotty Granger, who is a musical artist and a songwriter. He also has a younger sister named Jamie Granger.
Danny and his siblings were raised in the religious household of Jehovah's Witness.
Amateur Days
Danny played basketball at Grace King High School in Metairie, Louisiana, and was a four-year letterman. He was also a McDonald's All-American nominee here.
Danny was also a standout student in his high school. He got enrolled in the top-10 percent of his class. He also earned admission to one of the country's top universities, Yale University.
The 6 feet 8 inches, Granger had exemplary academic and athletic achievements. This made him a state finalist for the 2000 Wendy's Heisman. In addition, he was a strong student who scored a 30 on the ACT.
Danny had spent the first two years of his college career at Bradley. Then he transferred to New Mexico. He graduated as a civil engineer.
Danny Granger

| Age, Height, and Weight

Danny is 40 years old, standing tall at 6 feet and 8 inches and weighing 101 kg.

His Body Mass Index (BMI) is 24.9, typical for him. Moreover, Danny's tall and lean body makes it easy for him to compete with the best players in the NBA.
Danny Granger

| Career
College Career
At Bradley University, Granger started his basketball career, where he played the 2001-02 and 2002-03 seasons.
After a lackluster second season, Granger transferred to the University of New Mexico. He began playing for New Mexico during the second semester of his junior season in 2003-04.
At the start, Danny was not allowed to be playing for the Lobos until January 2004. He said his reason for college transfer was because of Jim Lee, Braves head coach's intimidating tactics.
He said that he was even verbally abused.
In the whole of school history, Granger was the first player to get 60 assists, 60 blocks, and 60 steals in a single season of 2004-05.
Granger then went on to win the Most Valuable Player award in the Mountain West Conference tournament. He also led the Lobos to the NCCA tournament.
In 2008, in support of the Lobo Leap, Danny made a $500,000 pledge to his alma mater. The pledge was an excellence capital campaign to name the new men's locker room in The Pit.
Indiana Pacers (2005-2008)
The Indiana Pacers selected Danny as 17th overall in the 2005 NBA Draft. Former Lobo Mel Daniels and Hall of Famer Larry Bird were part of the organization.
In his first NBA, the USA native played in 78 regular-season games. Granger scored 7.5 points and 4.9 rebounds per game. He was able to add 8.2 points and 5.2 rebounds in 6 playoff games.
In the 2005 season, Danny was named to the All-NBA Rookie Second Team.
Everything you need to know about Kobe Bryant Net Worth: Stats, House, Cars, Lifestyle, Kids & Death>>
Peja Stojakovic departed from the Pacers, and with that, Al Harrington arrived during the 2006 offseason. Subsequently, Granger played the starting point-forward for the 2006-07 season.
Contract Extension
Granger then became the first man off the Pacers' bench in the first 15 games.

Since January 17, 2007, Granger started playing as the small forward and shooting guard spots due to the eight-player trade with the Golden State Warriors. The trade was made due to Harrington's departure from the team.
Pacers lost their second and third scoring options. And Granger got more scoring chances. He then got an average of 13.9 points per game.
In 2007-08, Granger then led the Pacers in scoring in the 2007-08 season. He averaged 19 points per game. Pacers played 80 games that season and the USA native was involved in all.
A 5-year contract extension was agreed upon between Granger and the Pacers on October 31, 2008. The sum would increment by ten percent each year. But after the 2013-14 season, the increment would end.
The deal was finalized and announced that night only a few hours before the midnight deadline.
Achieving Heights with Pacers
On December 12, 2008, Danny scored his career-high 42 points in the 2008-09 season against the Detroit Pistons. He again achieved the milestone against the Golden State Warriors in the following month in January.
The Eastern Conference announced Granger as an All-Star reserve on January 29, 2009. He was named the Most Improved Player for the 2008-09 season.
Granger had raised his scoring average by at least five points per game each year at the end of that season. 7.5, 13.9, 19.6, 25.8 for three consecutive years.
With this, he became the only player in league history to achieve this record.
Comeback After the Breakout Season
The 2008-09 season was Granger's breakout season. After this, his next season was a bit of a disappointment. He was struck hard with injuries and losses.
But Granger came back strong from his setback. He scored 44 points against Utah Jazz. He got an opportunity to play for the US Senior National Team in 2010 in the FIBA World Championships that summer.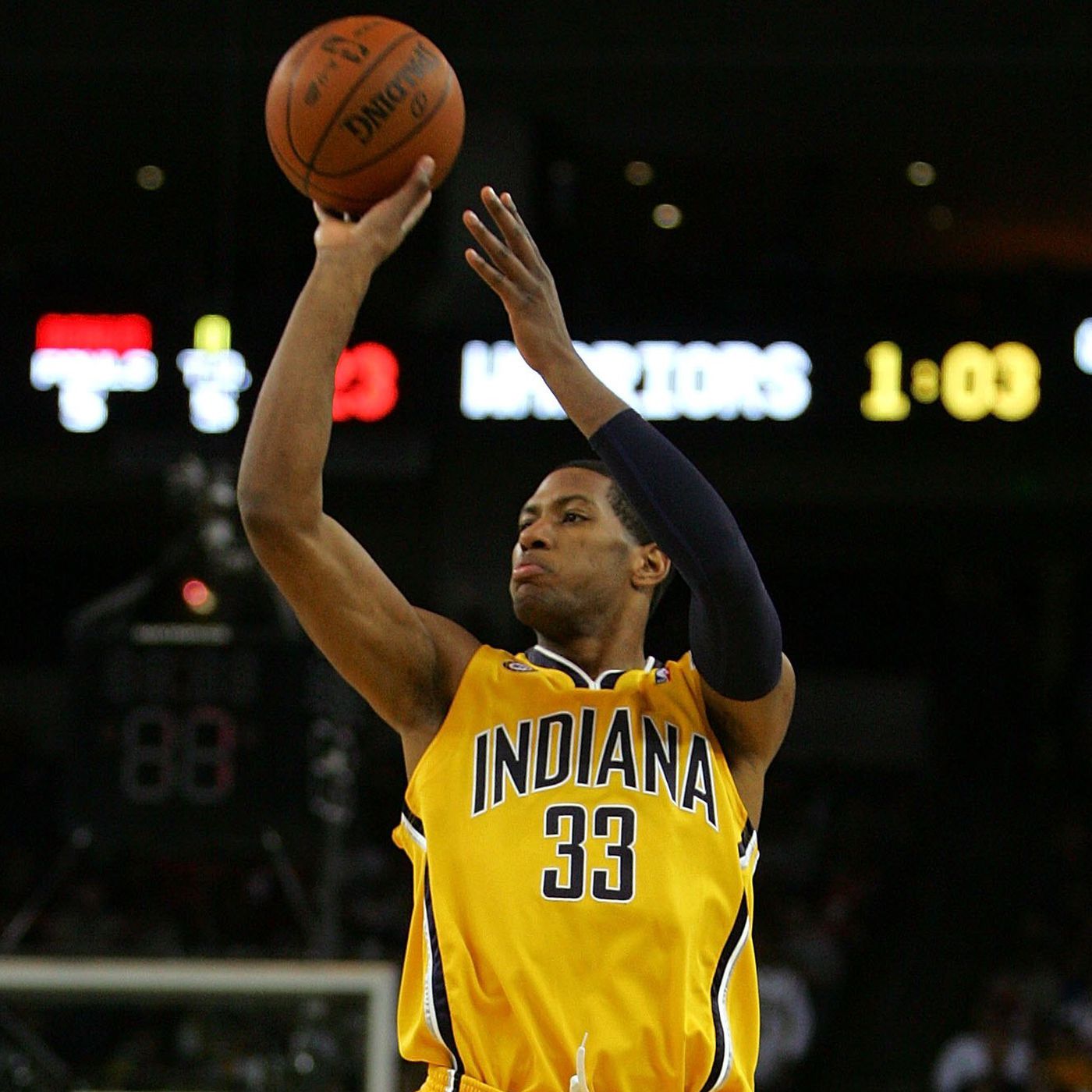 Granger and the US team were able to win the gold medal at the 2010 FIBA World Championship. They beat Turkey 81-64, the host country, on September 12.
With the 6 feet 8 inches athlete, the Pacers finally advanced to the playoffs. They had missed the playoffs on the previous four seasons. But against the Chicago Bulls, the Pacers came up short.
Granger suffered a setback with patellar tendinosis in the 2012-13 season. And with the injury, he only played five games.
After this major setback, Granger made his comeback on December 20, 2013. He made his season debut with a win.
His team beat the Houston Rockets in a 114-81 home win. The Bankers Life Fieldhouse crowd gave him a standing ovation for his performance in return.
Click here if you want to know about Michael Jordan: Early Life, Career, Success & Net Worth>>
Later Years
Granger was traded to the Philadelphia 76ers in exchange for Evan Turner and Lavoy Allen on February 20, 2014. He was bought out six days later by the 76ers.
A few days later, Granger again signed with the Los Angeles Clippers. The Miami Heat again signed him in July. He scored a season-high of 21 points in a 101-102 loss to the Orlando Magic in December with the heats.
The same season Granger was traded to the Phoenix Suns. The trade involved three teams, the New Orlean Pelicans. But his playtime was null as he picked up a knee injury. He didn't feature for the Suns that season.
He, however, exercised his one-year, $2.17 million option despite his injury with the Suns on June 17, 2015.
Granger was traded to the Detroit Pistons after an unsuccessful season in 2015. The trade was in exchange for a 2020 second-round draft pick. The Pistons waived him in October before the season started.
His injury was still there, and Granger took the rest of the season off to make sure he got fully recovered.
The elite basketballer now works as a T.V. analyst for the CBS Sports channel. He has still expressed his interest in comeback to play in the NBA.
Danny Granger | Wife, and Children
Danny married his long-time girlfriend, Dionna Kann Grange, in 2009.
The couple has been enjoying their company with each other for the past 12 years. They are blessed with three children.
Danny's wife Dionna gave birth to twins. They named their twin sons Jaxon and Jake Granger.
A few years after that, the Granger family welcomed a new member. However, the name of their third child has not been revealed yet.
Danny Grange
|

Net Worth

Danny Granger has been a fantastic basketball player throughout his career. He has a total net worth of $20 million.

Throughout his 11-year career with the Pacers, Danny has made $68.8 million.

His yearly salary in the final year of his career in 2015 was $2,170,465.

Granger agreed to a rookie contract in 2005 with the Pacers. It was a 4-year contract worth $7 million.
Social Media Presence
The 6 feet 8 inches tall player in height is active in social media with more than 37.6k followers on Instagram and 275.7k followers on Twitter. But on Facebook, Danny is not active.
He mostly posts his CBS analyst job, basketball-related posts, and his family posts.
Frequently Asked Questions (FAQs)
Is Danny Granger related to Mahalia Jackson?
Yes, Danny Granger is related to Mahalia Jackson. He is the great-nephew of the "Queen of Gospel."
How many All-Stars does Danny Granger have?
He has only featured in one All-Star Game. But he could still make an effective stretch in the late 2000s with the Pacers.
What happened to Danny Granger?
Granger had knee surgery in April 2013, which forced him to be on the sidelines. After his surgery, he still couldn't be 100 percent at the being of the 2013-14 season, he had strained his calf.
Due to this major injury, he played only 66 games for the rest of his career after the 2011-2012 season.