Dante Bichette's wife, Mariana Bichette, comes from a Brazilian heritage but lived her entire life in the US. Dante shares two sons with Mariana.
The former MLB player, Dante Bichette, and his wife, Mariana Bichette, in Boston in 1991. The two quickly hit off and soon tied the knot.
In the past, Mariana talked about balancing life as a baseball wife and mom, which might sound easy but happens to be a difficult task.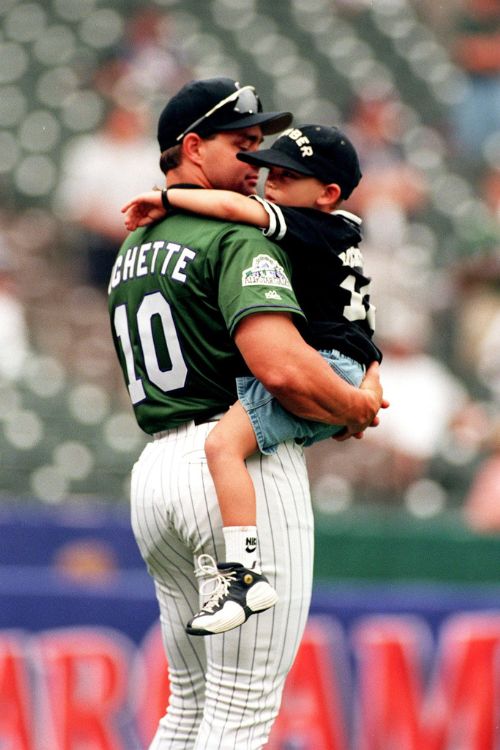 After she was done playing the role of baseball wife, Mariana was then handed over the role of becoming a baseball mom. She is one of the biggest cheerleaders of her son, the rising MLB star Bo Bichette.
Having debuted with the Blue Jays in 2019, Bo has already been named an All-Star twice, with the first instance being in 2021.
Last week along with teammates Vladimir Guerrero Jr, Whit Merrifield, and Kevin Gausman, Bo was named to the All-Star team for the second time.
Dante Bichette Wife, Mariana Bichette
Dante Bichette met his wife, Mariana Bichette, at a gym across Fenway Park in 1991.
The former baseballer had come to Fenway Park with his then-team, Milwaukee Brewers. That day also happened to be Mariana's first day at her new job.
She crossed paths with Dante in the gym but didn't make a fuss about it as she didn't know much about baseball. Mariana made protein shakes for him and gave him a quick gym tour.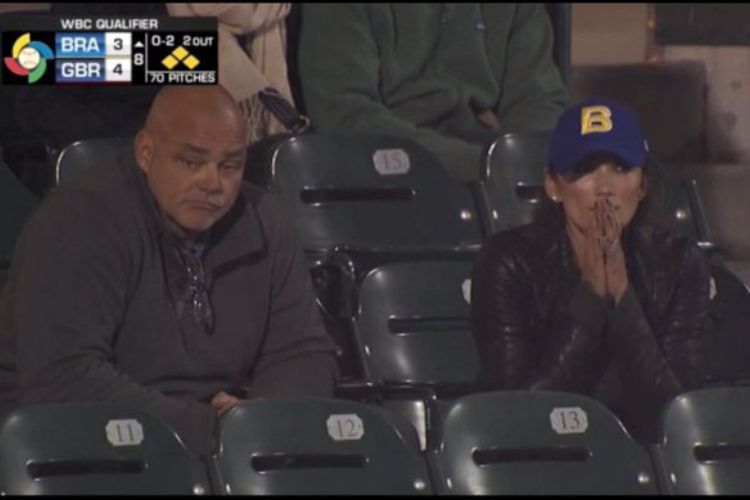 Though she might not have known, Mariana had left quite an impression on Dante. So, the baseballer invited her and her manager to his game later that day.
She went to the game and told the baseballer to meet her and her friends at the bar she worked at. But Mariana was so late that Daniel almost left the bar.
But Daniel waited for her patiently for 45 minutes, and finally, Mariana showed up. Two years after that incident, the couple tied the knot and are now parents to two kids.
Getting To Know Mariana Bichette
Dante Bichette's wife, Mariana Bichette, has Brazilian roots and has been living in the US since her early days.
During an interview with MLB Reports, when asked whether she had envisioned herself as a baseball wife and mom, Mariana said she never thought about it in her wildest dream.
She had no idea about baseball and only started to learn about the game after her marriage to Dante. Mariana was barely 18 when she began dating Dante, which delayed her degree from Boston University and took her ten years.
When asked if the baseball wife lifestyle is as glorious as it seems, Marian replied with the problems she faced as they changed their address 40 times with the post office.
Moving from apartment to apartment was not fun, and they never lived in a home for more than two years. At the end of her interview, Mariana gave a small piece of advice to baseball wives and moms.
Mariana advised the soon-to-be wives to be in love with their man and not the profession. She also said a baseball wife needs to be confident and look at their life as an adventure and opportunity.
Dante Bichette Son, Bo Bichette, Has Followed In His Footsteps
Dante Bichette's son, Bo Bichette, made his MLB debut in 2019, 31 years after his father's debut.
Bo is the youngest son of Dante and Mariana and was born on March 5, 1998. He was drafted by Toronto Blue Jays in 2016 as the 66th overall pick.
Many baseball dads are the reason for their sons playing the game, but in the case of the Bichette family, Dante didn't want his son to take up baseball.
The former MLB player wanted his son to play tennis after seeing many baseball players' dreams shatter in front of his eyes.
But Bo was fixated on playing baseball after he started accompanying his dad to Denver, where he became Colorado Rockies hitting coach.
Since making his debut in 2019, Bo has become a vital player in his team. He has been an All-Star twice, in 2021 and 2023. Bo was also AL's hit leader in 2021 and 2022.
Dante Bichette Eldest Son, Alphonse Dante Bichette Jr
Alphonse Dante Bichette Jr is older than Bo by six years. He is a former baseball player and was drafted by the New York Yankees in the first round in 2011.
Alphonse played as a third baseman and made his debut for GCL Yankees, and later played for Staten Island. He continued to play for the Yankees until 2017 and later joined Colorado Rockies.
He played his last game for Washington Nationals' High Point Rockies in 2019. After quitting playing baseball, Alphonse focused his attention on music.
His latest work came on July 1, 2022, titled "God Knows," and he had previously debuted an EP "Danny to Dante," in 2020.
Alphonse is available on Instagram with the username @good_ol_dbj and continues to share his artistic endeavors with his followers.
During an Instagram Q&A in 2022, Alphonse shared with fans that he didn't have a good relationship with his dad and has suffered abuse from his hands.
A lengthy discussion about it took place on Reddit. During the discussion, one of the Redditors also linked a story from 1995, which showed Dante Bichette's history with domestic violence in 1992 and 1993 towards his then-pregnant wife.