Whit Merrifield shares a tight bond with his younger sister, Costner Merrifield, a real estate agent with experience in the sports industry.
Having former athletes as parents certainly helped Costner and Whit to develop an interest in sports.
Though Costner might have said goodbye to the sporting field, her brother continues to make his legacy in it.
The Toronto Blue Jays outfielder waited six seasons to debut in the MLB.
It might have been six rough years in the minor leagues, but Merrifield has become one of the celebrated players after his debut.
The outfielder began his MLB journey with the Kansas City Royals in 2016, and what it looked like he could be one team player, Merrifield joined the Toronto Blue Jays in the 2022 season.
Whit played alongside Hyun Jin Ryu and Lourdes Gurriel Jr for the Blue Jays in the 2022 season.
The Jays earned their first Wild Card berth that season since 2016; however, they fell to the Seattle Mariners by scores of 4-0 and 10-9.
Sister Of Whit Merrifield: Costner Merrifield
The family's eldest child, Whitley David Merrifield, famous as Whit Merrifield, grew up with a younger sister and a younger brother.
Whit's sister, Costner, is three years younger than him, while his brother, Hite, has an age gap of eleven years.
Costner, the sister of the baseball star, enrolled at the University of South Carolina before transferring to Wake Fore University.
She graduated with a Bachelor of Arts degree, majoring in communication, with a minor in journalism in 2014.
Costner has been working in real estate for the last six years. Her journey in real estate began in 2017 when she worked at Newmel Properties.
Since March 2019, she has been working as a full-time realtor at Yancey Realty.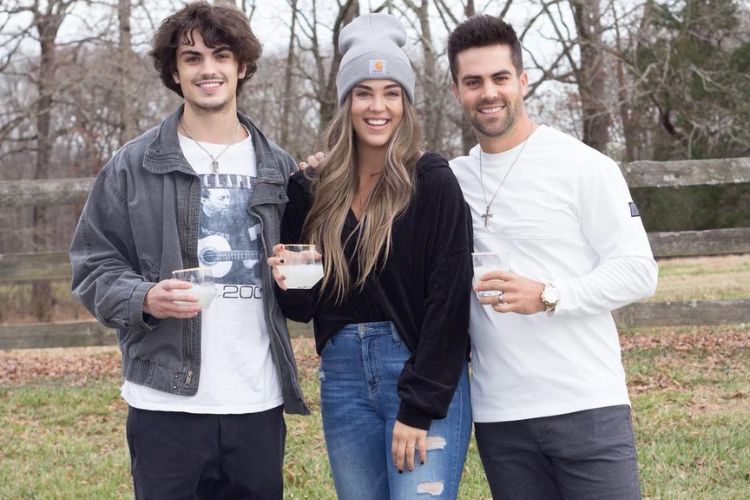 Before working in real estate, Costner had shown interest in the sporting world, not as a player, but as a reporter.
She worked with NASCAR Digital Media as a video coordinator/reporter, for four years & seven months, before becoming a real estate agent at Newmel Properties.
At NASCAR Digital Media, Costner conducted one-on-one interviews and hosted multiple live events.
In addition, she has also worked as a sports department intern at FOX 8 News.
She is available on Instagram with the username @costnerrealestate and has been previously seen at several baseball games cheering on her brother.
The youngest sibling in the family, Hite Merrifield (born: July 28, 2000), is a Wake Forest University graduate, like his sister.
He finished his three-month Global Communications and Public Affairs internship at Kontoor Brands.
Parents: Bill Merrifield & Kissy Merrifield
Whit Merrifield comes from an athletic family with his parents, Bill and Kissy, former athletes.
His father, Bill Merrifield, is a former baseball player, having played in the minor leagues for six seasons.
Unlike his son, Bill never got the chance to make it big in the MLB.
Whit toiled in the minor leagues, for six seasons, with his debut finally arriving in 2016.
But his father didn't have the patience like him to wait and quit the sport in 1988, playing six seasons of minor league baseball.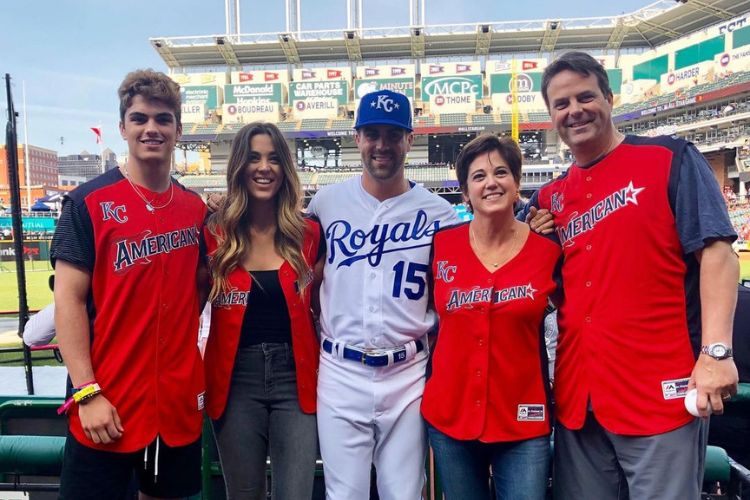 Bill works as an Assistant AD for Wake Forest University, having joined the team in 2012.
His mother, Kissy Merrifield, is a former collegiate tennis player, having received a scholarship to play at Wake Forest University.
Her mother was a tennis coach, and Kissy would follow her to tennis practices as a kid.
Kissy quit the sport after marrying Bill in her senior year. Today, she is a proud mother of three and makes sure to attend every possible game of Whit.
Whit Merrifield Married Life With Jordan Michael
Whit Merrifield is a man who has kept his married life under wraps. This is not unusual for a baseball player, but at least in other players' cases, we have their spouses sharing pictures on social media.
But that's not the case between Whit and his better half, Jordan. Like her husband, Jordan isn't enthusiastic about sharing details of her married life.
The couple tied the knot in 2019, having dated for thirteen years. The baseball couple's wedding video is available on Facebook with the account Charis Wedding sharing the post a year later in 2020.