Vladimir Guerrero Jr, the baseball first baseman, is father of two lovely kids with his girlfriend-turned-wife Nathalie. The two married secretly in the early spring of 2023.
The Canadian-born baseball player plays for the MLB team Toronto Blue Jays since his major league call-up in 2019.
On January 12, 2023, Vladimir signed a one-year $14.5 million contract with the Jays.
It made him the team's fourth-highest earner for the 2023 season, behind George Springer, Kevin Gausman, Chris Bassitt & Jose Berrios.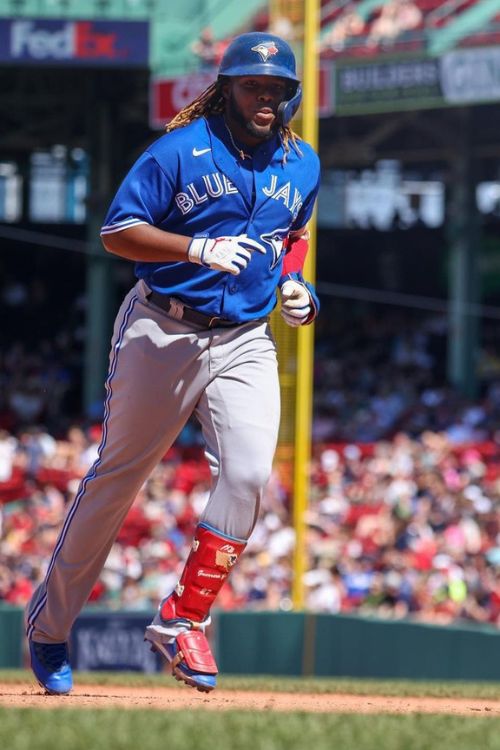 Earlier, the designated hitter played in minor leagues, having signed with the Jays affiliation in 2015 as an international free agent.
The 24-year-old youngster has been a two-time MLB All-Star honoree.
Moreover, he won the 2021 Silver Slugger Award and the 2022 Gold Glove Award.
Vladimir Guerrero Jr Wife
Family man Vladimir Guerrero Jr exchanged vows with his long-time girlfriend, Nathalie, in March 2023.
With only their close friends and family invited, they tied the knot in a private ceremony. However, two of them have not openly addressed their marriage. Being reserved, Vladimir has not disclosed much information regarding his relationship.
Even though the pair have been together for a while, less information is known about them. It is still unclear when and where the couple first met.
Well, there are fewer details available about Nathalie. She helps her husband run a non-profit organization named vg27foundation that aims to support children and their families.
Moreover, she is active on Instagram, where she posts pictures with her husband and children.
Furthermore, the couple raises two daughters- Vlaishel Guerrero and Vlaimel Guerrero. Born on August 1, 2017, Vlaimel is older than Vlaishel, born on August 13, 2018.
Additionally, the one who has been with Vladimir since the beginning is his wife, Nathalie. She constantly pushes him to achieve more in his life.
Born To MLB Player Father- More On Family!
MLB player Vladimir Guerrero Jr was born on March 16, 1999, to Vladimir Alvino Guerrero Sr and Riquelma Ramos.
His parents parted ways when he was too young, and his mother moved to Santiago, Dominican Republic. He used to split time to spend days with both his mother and father.
Vladimir hails from an athletic background. His father is a former professional baseball player who spent 16 years playing in the MLB. Guerrero Sr is a widely recognized and highly-ranked player in MLB history.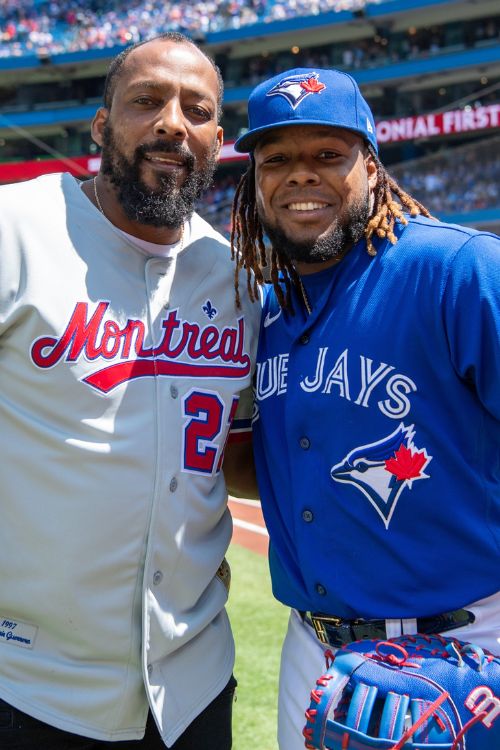 His uncle Wilton Guerrero is also a former second-hand baseman in MLB. He was a versatile player who gave his best in every game. Growing up, Vladimir learned from his uncle to play baseball.
Nevertheless, it would not be wrong to say that the player followed in his family's footsteps. The success he has achieved today makes everyone in his family proud.
Vladimir Guerrero Jr Injuries
Being a player, he is sure to face some injuries while playing. Vladimir Guerrero Jr has dealt with several injuries in his career.
On June 6, 2018, Guerrero suffered from a leg injury in a game against the Akron RubberDucks. After the test, the doctor revealed a strained patellar ligament in his left knee.
In March 2018, he had to deal with an oblique strain and couldn't participate in the spring training.
Similarly, on August 12, 2019, he couldn't continue playing after he suffered from left knee discomfort.
On May 6, 2023, he was placed on the injured list after suffering from a sore left wrist. Despite the injuries, he has always given his best in every game he plays.