Well-popularized for his baseball games, Darrin Jackson, can now be seen on your home television on various channels as a color analyst/expert commentator.
Flicking through sports channels, we see many former players working their post sport life as commentators, analysts, or a broadcaster.
Amidst the athletes, so is the former baseball outfielder Darrin Jackson, who had devoted 12 years of his life to Major League Baseball (MLB).
To illustrate, the athlete has featured in the big league for teams such as the Chicago Cubs, San Diego Padres, Toronto Blue Jays, New York Mets, Chicago White Sox, Minnesota Twins, and Milwaukee Brewers.
During their tenure, Jackson has also played for the Japanese team named Seibu Lions for a season. Altogether, he ended his career to start a new phase in life.
As we advance further into his life, let's plunge into a quick dose of general get-to-go facts.
Quick Facts:
Full Name
Darrin Jay Jackson
Date of Birth
August 22, 1963
Birth Place
Los Angeles, California
Nick Name
DJ
Religion
Christianity
Nationality
American
Ethnicity
White
Zodiac Sign
Leo
Age
59 Years Old
Height
5 feet 11 inches (1.8 m)
Weight
86 kg (190 lbs)
Hair Color
Brown
Eye Color
Black
Build
Athletic
Father's Name
Not Available
Mother's Name
Not Available
Siblings
Not Available
Education
Culver City High School
Marital Status
Married
Wife
Robin Jackson
Kids
Four kids: Alexandre Jackson, Adian Jackson, Arianna Jackson, and Tatum Jackson
Profession
Baseball player
Position
Outfielder
Batted
Right
Threw
Right
Affiliations
Chicago Cubs (1985, 1987–1989)San Diego Padres (1989–1992)
Toronto Blue Jays (1993)
New York Mets (1993)
Chicago White Sox (1994)
Seibu Lions (1995–1996)
Minnesota Twins (1997)
Milwaukee Brewers (1997–1998)
Chicago White Sox (1999)
Active Years
1985-1999
Net Worth
$8 million ($45,000 average annual salary)
Social Media
Twitter
Merch
Baseball Card, Rookie Card
Last Update
March, 2023
Where is Darrin Jackson from? Early Life
Jackson (fully named Darrin Jay Jackson) was born on August 22, 1963, under Leo's sun sign.
His hometown is Los Angeles, California, and he later spent most of his childhood in Culver City.
Darrin Jackson's mother's message to her son: "Keep hitting home runs, all the way to the major leagues."

Posted by Chicago White Sox on Friday, May 31, 2019
Unfortunately, the athlete has not disclosed any information regarding his parents and family background to date.
However, we can be convinced things must be pretty well between them as they get immense support from them.
Education & Amateur Career
Jackson was athletic since his young days and started playing baseball right through his high school days.
As for his academics, Jackson attended Culver City High School, where he was a baseball team member.
He partook in the Culver City National Little League and Culver City Babe Ruth League during high school.
Likewise, his school's team stood second during the 1978 Babe Ruth World Series.
Also, check out: <<Israel Adesanya Bio: Career, Net Worth, Girlfriend & UFC >>
Advancing further, Jackson stood in the 1981 Free Agent Draft. Following it, in the 1981 MLB Amateur Draft, Chicago Cubs took him into their team in the second round.
In the meantime, five Culver City High School members were drafted during that year's draft.
He was drafted into the team, but he never appeared in a game for the team during this stint.
How old is Darrin Jackson? Age, Height, and

Body Measurements

Darrin Jackson is a man of medium build with a decent height of 5 feet 11 inches (1.8 m) while maintaining his weight at 86 kg (190 lbs).

Like many players, Jackson is quite sensitive to diets and workouts to keep his body athletic and in shape.
Going back in time. How about this swing. pic.twitter.com/HmAydt7FRc

— Darrin Jackson (@DJWhiteSox) August 9, 2015
As for his appearance, Jackson has a fair skin type with a small oval face. All in all, he has short brown hair and black eyes.
Darrin Jackson | Professional Career
After not appearing in any matches as an amateur, Jackson broke into the big leagues at 21 years and 299 days old.
Likewise, his MLB debut was against the New York Mets on June 16, 1985. During his debut, he faced Ron Darling as the opponent.
Later, he played five games for the Cubs and was assigned to the Chicago Cubs AA affiliate in Pittsfield, Massachusetts.
As their member, Jackson bagged the Eastern League's all-star team.
Moreover, he was called to the Chicago Cubs AAA affiliate, Iowa, with just a season over.
However, he had to undergo surgery on September 21 to remove his tumor from the groin. Thus, all the processes made him away from the games for a whole season.
Apparently, in 1988, Jackson became one of the three players in the club's history, alongside Dale Long and Carmen Fanzone, to homer in consecutive pinch-hit at-bats.
Until then, he had played 100 games with the cubs, and his homer was from the match against St. Louis' Ken Dayley and Cincinnati's Tom Browning.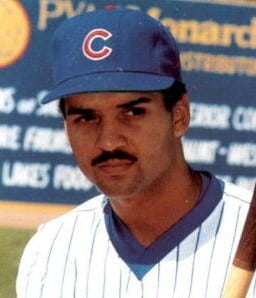 "My second game in the big league was against Dwight Gooden, and my third was against Ed Lynch.
I ended up getting my first big-league hit off the former general manager of the Cubs – a line drive over the second baseman."
-Darrin Jackson
San Diego Padres
On August 31, 1989, Chicago Cubs traded Darrin Jackson to the San Diego Padres, where Jackson started playing for the Padres and Class AAA Las Vegas.
Altogether, his foremost pinch-hit homer for Padres came in the match against Pittsburgh and made his career four-hit game against the Los Angeles Dodgers.
Similarly, Jackson recorded his career-high 21 homers in 122 games, where he stood fourth in the NL with one homer every 17 at-bats.
Similarly, he posted his first career grand slam against his former team, Chicago Cubs' Bob Scanlan.
As an original outfielder, Jackson first made his appearance as a relief pitcher for the 1991 game as he pitched the last two innings of the game.
His only career pitching ended with an allowance of two innings, 2 batters, and two earned runs.
"The pitching part wasn't the most challenging thing. It was after. I could barely move, and my butt was killing me from stretching out the glutes and hamstring.
It took me five days not to feel sore. I was throwing 86-87 m.p.h. I didn't throw a curveball because I was scared to hit somebody."
-Darrin Jackson
By the end of his time with the Padres, Jackson had started 23 games for the team and had posted a career-high 70 RBI, 146 hits, and 14 stolen bases.
Overall, he had career-high four hits against St. Louis and Montreal.
Similarly, Jackson had three game-winning homers while he stood together with National League outfielders with a .996 fielding percentage.
Toronto Blue Jays & New York Mets
After the spring training, San Diego Padres traded Darrin Jackson to the Toronto Blue Jays in 1993.
However, his time with the Jays was short-lived, as the New York Mets took him in the same year.
Altogether, Jackson had batted .216 for the Blue Jays and .195 for New York. Additionally, he had spent nearly two months on the injured list due to hyperthyroidism (overactive thyroid).
Seibu Lions
In 1995, Darrin Jackson took an extra step to play in the Japanese Pacific League alongside Seibu Lions.
During his tenure, he played 126 games and had a .266 with 19 home runs and 64 RBI.
Lester Quinones Bio: Early Life, Career, NBA Draft & Girlfriend >>
Consequently, Jackson stood as the 7th in league with a .289 average with 20 home runs.
Overall, before retiring from MLB, Jackson had his final match against the Minnesota Twins on October 3, 1999.
Darrin Jackson | Career stats
Darrin Jackson | Broadcasting Career
In the beginning, Jackson had no idea what to do after or when he would retire.
Also, the reporters always asked what his plans were like, coaching, and kinds of stuff; however, he was always confused.
You can now see where he ended and how well he is doing as a color analyst after starting as a broadcaster.
He commenced in a different direction in 2000 after gaining an opportunity to become the White Sox television color analyst.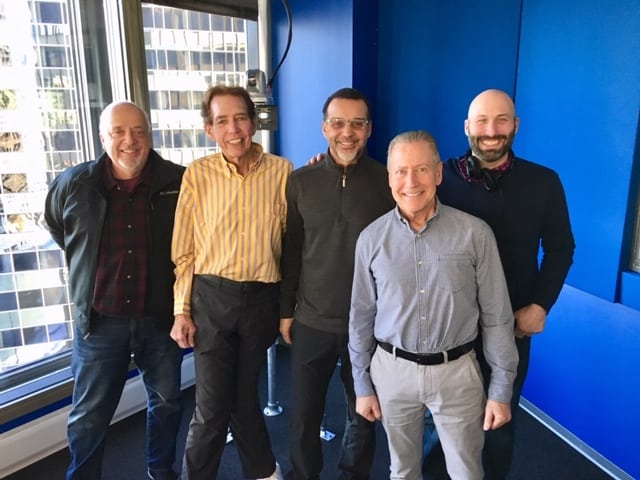 "I said you know you're 36 years old; how much more are you going to play? I'm in good shape; that's not the issue; it's just I'm not playing anymore at all.
I was watching baseball, so why not go up there in the booth and watch baseball and talk about it."
-Darrin Jackson
During his foremost experience, he featured alongside Ken "Hawk" Harrelson, which he did for years until 2008.
Afterward, Chicago White Sox replaced Jackson in television broadcasting to put Steve Stone.
Thus, the Chicago Tribune moved Jackson to the radio color analyst position alongside Ed Farmer.
Today, he has spent the 20th season with the team covering media outlets, including ESPN and the new Major League Baseball channel.
Ed Farmer's Death
The only difference you can probably see is that Ed Farmer is not standing beside him now.
Ed Farmer was a close friend of Darrin Jackson, who spent 11 years together in the White Sox radio broadcast.
My partner Ed Farmer. Looking sharp. pic.twitter.com/3fDdNXwNzd

— Darrin Jackson (@DJWhiteSox) April 15, 2015
The late Ed Farmer was an advocate for organ donations who struggled with kidney disease.
Jackson first met Ed during his tenure in Chicago as a player, and since then, they have become friends and a radio partner.
Although Ed's death isn't fully disclosed, it is reported that he died in a Los Angeles-area hospital of complications from a previous illness.
"My heart is broken, but my mind is at peace, knowing my dear friend is no longer suffering.
Ed was a competitor who also was everyone's best friend. My heart goes out to (Farmer's wife) Barbara and (Farmer's daughter) Shanda, the only people he loved more than the White Sox and his hometown of Chicago."
-Darrin Jackson
How much is Darrin Jackson worth? Net Worth and Salary
The net worth of Darrin Jackson hasn't been revealed in a detailed table; however, he is estimated to be around $8 million.
As for his salary, he is expected to make $45,000 on average annually.
<<You might be interested in Curt Menefee Bio: Career, Wife, Children & Net Worth>>>
Who is Darrin Jackson married to? Personal Life and Kids
Like every aspect of his life, Jackson's married life is also overshadowed.
He resides happily with his longtime girlfriend and now wife, Robin Jackson, alongside their four children.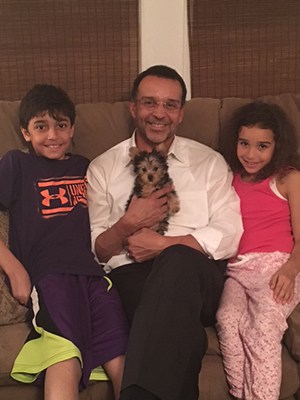 Their kids are Alexandre Jackson, Adian Jackson, Arianna Jackson, and Tatum Jackson; they are a small, happy family.
Social Media Presence:
Some FAQs:
Who was Darrin Jackson's agent?
Alan Meersand used to be Darrin Jackson's agent.
What is a Darrin Johnson Baseball card worth?
Darrin Johnson Baseball card worth $2.00-$14.00.
Is Darrin Jackson white sox announcer?
Darrin Jackson is the radio color analyst for the Chicago White Sox. Likewise, he became the television color analyst for the White Sox in 2000.