The best relationship is when both start as nothing and grow together to become successful people.
That kind of relationship is rare, but famous NFL player Davante Adams is lucky enough to have that beautiful bonding with his wife, Devanne J Villareal.
Starting as college sweethearts and becoming the most loved NFL's golden young couple, Davante Adams and his wife Devanne are making the standard as the couple.
The beautiful couple is in talks for their cutest proposal shoot, majestic wedding, and their first step in parenthood.
This article covered more about the beautiful Davante Adam's wife, Devanne J Villareal.
Devanne J Villareal: Quick Facts
| | |
| --- | --- |
| Full Name | Devanne J Villareal |
| Age | 29 Years Old |
| Birth Date | January 14, 1993 |
| Birthplace | Salinas, California |
| Residence | De Pere, Wisconsin |
| Nationality | American |
| Mother | Barbara Davis |
| Father | Gustavo Villareal |
| Stepmother | Adelaida Villareal |
| Siblings | Logan, Alessa, Nate, Celeste, and Christopher. |
| Marital Status | Married |
| Star Sign | Capricon |
| Height | N/A |
| Weight | N/A |
| Husband | Devante Adams |
| Daughter | Deija Leigh Adams |
| Eye Color | Black |
| High School | Everett Alvarez High School |
| University | Fresno State |
| Profession | Esthetician and skincare professional. |
| Social Media | Instagram |
| Net Worth | Not Available |
| Merch of Davante Adams | Notebook |
| Last Update | December, 2022 |
Who is Davante Adams's Wife?
Devanne J Villareal is the wife of the famous NFL player Davante Adams. He is a well-known professional footballer who plays for the Green Bay Packers in NFL.
Esthetician and makeup artist as a profession, Devanne is a long-term girlfriend turned wife of the Adams. She is also the mother of Deija Leigh Adams, daughter of Devante Adams.
Devanne J Villareal: Early Life, Family, and Education
Devanne J Villareal was born in Salinas, California, on January 14th, 1993. Her Father is Gustavo Villareal, and her mother is Barbara Davis.
Her Father is Mexican but has lived in the USA for a long time. Devanne's mom, Barbara, used to be a fitness model.
But unfortunately, her parents got divorced, and Devanne's dad remarried Adelaida Villareal. Devanne lived with her Father but frequently caught up with her mother.
She has five siblings, among which her brother Logan Vonne is a famous TikToker and footballer at Alvarez High School. Her sister Alyssa Esparza is a makeup artist.
Devanne's brother, Nate, is a valedictorian pursuing aerospace engineering at UC San Diego. Her other siblings, Celeste and Christopher, had just graduated high school.
Devanne had a good childhood, although her parents were divorced, and she had to live with her stepmother. She lived a happy life in her childhood with her five siblings.
Education
Devanne graduated her high school from Everett Alvarez High School and then attended college at Fresno State. That's where Devanne met Adams, and a beautiful love story started.
Devanne was highly interested in makeup and skincare. So, she studied relating to that to become a licensed esthetician and skin care professional.
Click here to learn about Khalil Mack Brothers and their Family and Relationships >>>
Devanne J Villareal: Profession
Villareal is a professional esthetician and skincare professional. She does facials, waxing, pore cleansing, and exfoliating treatments in her clinic.
The average salary of an esthetician in Fresno is around $37,000. Villereal, with more exposure and skills, might earn more than that.
Devanne J Villareal: Relationship with Adams
Devanne attended the same college as Adams. For a time, the two were just friends before they decided to take their friendship to the next level and started dating.
They dated for a long time and supported each other in their career. Davante was beginning his football career, and Devanne was studying to become an esthetician.
Sharing the graduation photo of Devanne, Davante wrote on his Instagram, "She ain't a gold digger, I am lucky," which raised a lot of attention on social media.
Devanne is a strong, independent woman who knows what she wants and does not rely on others.
Click here to learn about the legendary cricketer Ian Botham. Net Worth: Endorsements, Wealth, and Earnings >>>
Even after Davante was drafted, Devanne studied hard in college to get that degree and become the esthetician, the job she had dreamt of.
Devanne might have gotten the public spotlight as Davante's wife, but she has her aura and charm that not just makes her Devante's wife but to be known as Devanne J Villareal, her own identity.
Devanne has gone through thicks and thins with Davante Adams. She supported him during his hard times and saw him grow into a famous NFL player in America.
Davante is also loyal to her long-term girlfriend and has never been caught in affairs and rumors in his entire career.
The Proposal
Everyone loves watching romantic films where the hero gets on his knees and proposes to the heroine for marriage.
That's a scenario that everyone wants to happen in their life. Devanne got to live that filmy scene.
Davante had told Devanne that they were going on a trip to the Bahamas for a photoshoot. But Devante had a surprise plan for her.
The trip was made to propose to her on the beautiful beach of the Bahamas, the place Devanne loved visiting.
Devante had prepared a beautiful diamond ring to propose to her, and he ensured that Devenne wouldn't get any hint or suspect anything about this.
Unaware of the proposal, Devanne thought that they were hanging out casually. She had no clue about the proposal.
On July 6, 2017, they walked together by the beach and enjoyed the cool breeze.
Just then, Devenne noticed Davante stopped walking. When she turned around, she saw Davante on his knees, taking out his wedding ring.
"Will you marry me?" asked Davante, to which Devenne replied, "YESSS!".
The Majestic Wedding
On June 23rd, 2018, Davante and Devenne were no longer boyfriends and girlfriends. They officially tied the knot on becoming husband and wife.
The marriage ceremony was held in Pebble Beach in Monterrey County, California.
It was a grand wedding where many people, including their family, close ones, and Adam's fellow players like Bryan Bulaga and Aaron Rodgers, attended the ceremony.
Both bride and groom looked gorgeous in their white strapless gown and black tuxedo. Their wedding venue was beautifully decorated with brilliant lights and various lovely flowers.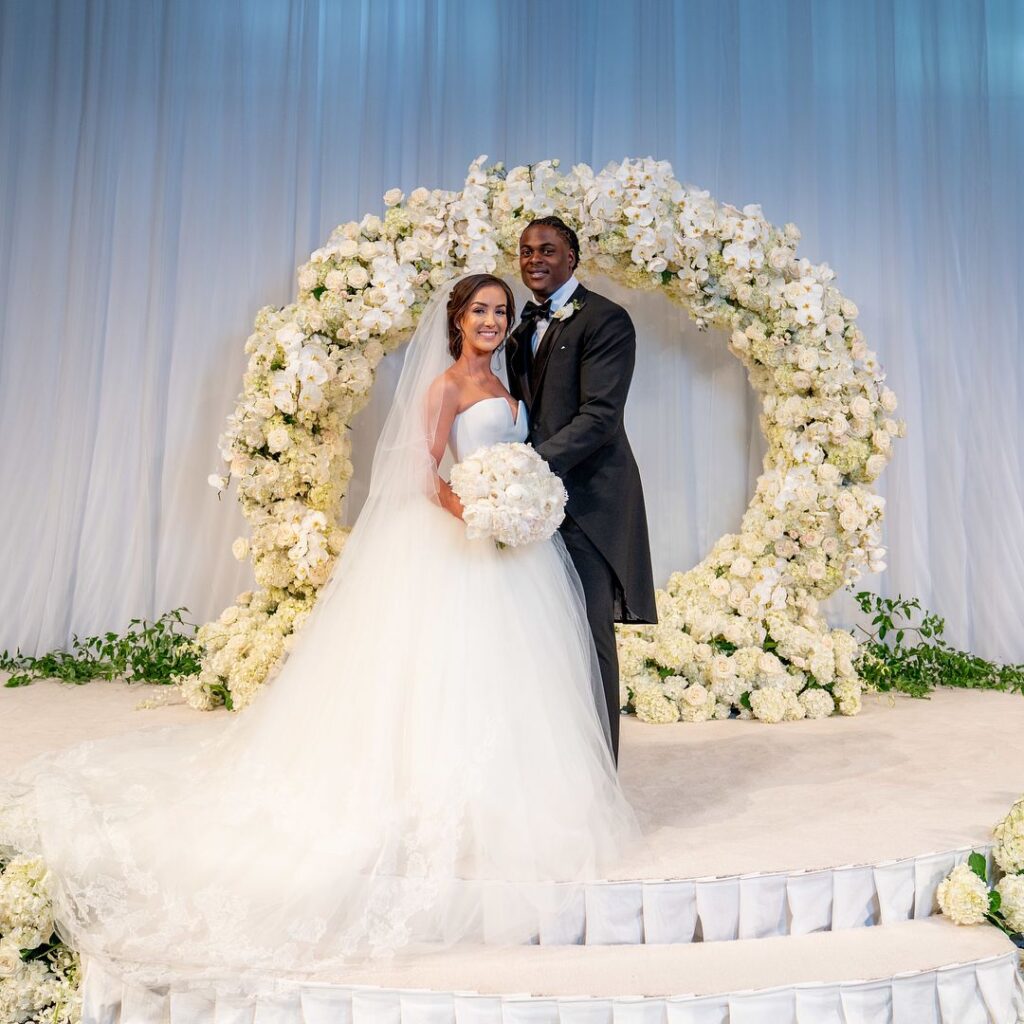 The wedding photo took the internet by storm as many of their fans flooded their comment section with congratulations. Their wedding was hot talk in the town, and everyone was happy for them.
After the majestic wedding, they went to Santorini, Greece, for their honeymoon.
Stepping to their first parenthood
After the majestic marriage and fantastic honeymoon, the couple was looking forward to having a baby to complete their family.
Soon, their wish was fulfilled as Devanne was pregnant with Adam's baby.
Following the Packers' Week 3 victory over the Broncos, Adams announced that he and his wife were expecting a baby girl.
Once again, the comment section is flooded with congratulations and best wishes for the couple.
Devanne gave birth to a beautiful baby girl on September 20, 2019. The couple named the baby Deija Leigh Adams.
Baby Deija celebrated her first birthday on September 20, 2020. The couple had a Party in their home for the celebrations. Unfortunately, only a few people were invited due to the covid pandemic.
Get to know about Travis Kelce Brother, Jason Kelce Achievements, and more about NFL, Stats & Jersey >>>.
Devanne J Villareal: The dog lover
Devanne is a huge dog lover. She has a pet named Louis, whom she loves more than anything else.
Louis is a pitbull by breed. He is snow white and has black dots on his body parts.
Her Instagram feed is full of her pet Louis. She regards him as a child, and so does Devante.
Before Louis, she had a dog named Mia. It was her family dog that she grew up with, but the dog died after 15 years.
Writing a sad post on her Instagram, Devanne expressed that a piece of her dog now lives in heaven.
Louis currently lives with Devanne and Adams in their House. He probably is the couple's first child, as they love him and take care of him as their son.
Devanne J Villareal: Social media
The 29 -year-old Devanne has many followers on her personal Instagram account. She is seen actively uploading her photos with her husband, Devante Adams, her daughter Deija Leigh Adams and her pet Louis.
Her entire posts are filled either with photos of her with Devante or her daughter Deija. In addition, she openly shares her personal life on her Instagram.
Devanne goes by her Instagram id @_devadams and has more than 18.8K followers on her account.
However, Devenne seems inactive on other social sites, such as Facebook, apart from Instagram.
Frequently Asked Questions (FAQs)
What is the ethnicity of Devante Adams's wife?
Devanne J Villareal was born in California, USA.Though her Father is Mexican since she was born and raised in the USA, she is American.
Who is Devante Adams's girlfriend?
Devanne J Villareal was Davante Adam's girlfriend, and now she is his wife. The couple also has a daughter named Deija Leigh Adams.