Dawid Malan is a phenomenal cricketer hailing from a lineage of sporting excellence. Within his family, he shares a special bond with his brother Charl, a former cricketer in his own right.
Dawid Johannes Malan, a.k.a. Dawid Malan, born on September 3, 1987, actively represents England in all formats of cricket internationally.
He plays for Yorkshire in domestic cricket. He previously represented Middlesex and participated in multiple Twenty20 leagues, including the Indian Premier League, where he played for Punjab Kings.
Malan debuted in Test and Twenty20 International (T20I) matches in 2017 and One Day International (ODI) matches in 2019.
In 2020, he achieved a record-high rating of 915 in the ICC Men's Player Rankings. It still stands as the highest rating in the format. He contributed significantly to England's triumph in the 2022 T20 World Cup as part of the winning team.
As a left-handed top-order batter and occasional leg-break bowler, Malan actively showcases his skills on the field. He is among only four English cricketers who scored a century in T20 International matches.
Dawid Malan Brother
Charl Malan is the younger brother of Dawid Malan. Charl Christiaan Malan was born on February 23, 1989. He formerly played cricket for England.
Charl is a right-handed batsman who bowled right-arm off-break. He was born in Wandsworth, London, and received his education at Paarl Boys' High School in South Africa.
While pursuing his degree at Loughborough University in England, Malan debuted in first-class cricket for Loughborough UCCE against Leicestershire in 2010.
He actively participated in two other matches for the team that year, facing Kent and Hampshire.
In the subsequent season, he actively played a match for the team, now known as Loughborough MCCU after a name change, against Yorkshire.
As seen on his Instagram, Charl has transitioned into video creation after leaving his promising career in Cricket.
Through captivating visuals, he shares his exploration of different destinations worldwide. He shares the stunning landscapes of many places. Charl's videos provide an immersive experience beyond aesthetics.
Family
Dawid Malan comes from a family with a strong sporting background. His parents are Sr. Dawid Malan and Janet Malan.
Sr. Dawid had an accomplished cricket career, showcasing his skills as a right-arm fast bowler and a right-handed batsman in both South Africa and England domestic cricket leagues.
Dawid also has siblings who have made their mark in the world of sports. We have already discussed his brother Charl Malan who was also a cricketer.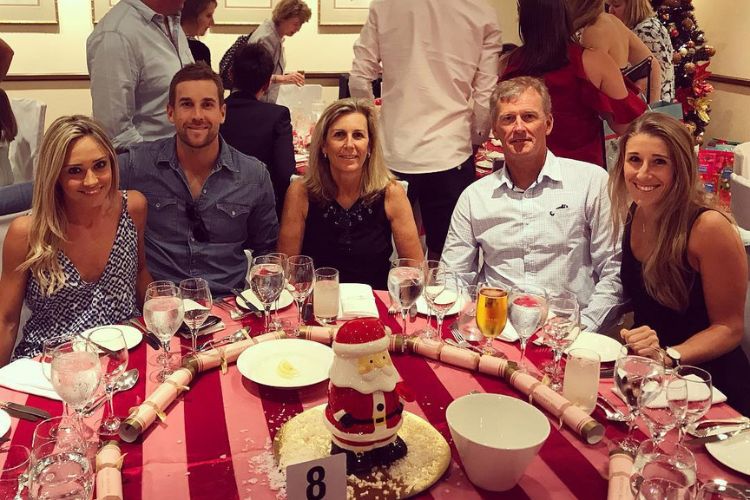 Additionally, Dawid has a sister named Line Malan. She was a former hockey player. She gained recognition as an international field hockey player representing South Africa.
Furthermore, Dawid has established his own family after tying the knot with Claire Malan. Together, they have a child.
The affinity for sports is a common thread that runs through their family. It is evident in the accomplishments and involvement of various family members in different athletic disciplines.