The number one prospect in the 2024 recruiting class, Dylan Raiola, has a brother named Dayton, who also plays the same position as him, i.e., quarterback.
Dylan Raiola is an American football quarterback who recently committed to Georgia Bulldogs for his collegiate football.
Raiola attended Burleson High School, and during his sophomore season, he passed for 3341 yards, 32 touchdowns, and 5 interceptions.
After the sophomore season, Dylan transferred to Chandler High School in Arizona.
During the junior season at Chandler High School, the player passed for 2435 yards, 22 touchdowns, and also had 5 interceptions.
Again, Raiola transferred to continue his journey for his senior season at Pinnacle High School.
The major recruiting organizations have listed Raiola as the number one recruit in the 2024 class.
Dayton Raiola: Brother Of Dylan Raiola
The quarterback grew up with two siblings: an elder sister and a younger brother.
Dayton is the youngest sibling in the family. The brothers have an age gap of three years between them.
Following in his father's and brother's footsteps, he also plays football as a quarterback at Pinnacle High School.
He previously played as a quarterback for Chandler High School.
Dayton received his first offer from the Nebraska Cornhuskers on October 25, 2022.
Talking about his sister, Taylor Raiola (born: October 1, 2001), is a volleyball player playing for Texas Christian University and majoring in Youth Advocacy and Educational Studies.
Additionally, she has also signed as an ambassador for Think NIL.
On a personal note, Taylor is currently in a relationship with Owen Falkenberg.
Parents Of Dylan Raiola
Dylan Raiola was born on May 9, 2005, to former NFL player Dominic Raiola and Yvonne Garrigan-Raiola.
His father, Dominic (born: December 30, 1978), played college football at the University of Nebraska.
The Detroit Lions drafted him in the second round of the 2001 NFL draft, and Dominic went on to play for 14 seasons for the Lions.
After his retirement, Raiola's father runs his own spa business, CryoSpa Detroit.
On the other hand, Dylan's mother, Yvonne (born: November 16, 1979), played Division One water polo at the University of Hawaii.
Dylan Raiola Commits To Georgia
On May 15, 2023, Dylan announced that he will be committing to Georgia Bulldogs for his collegiate football.
He made this decision over offers from more than twenty-five colleges offers.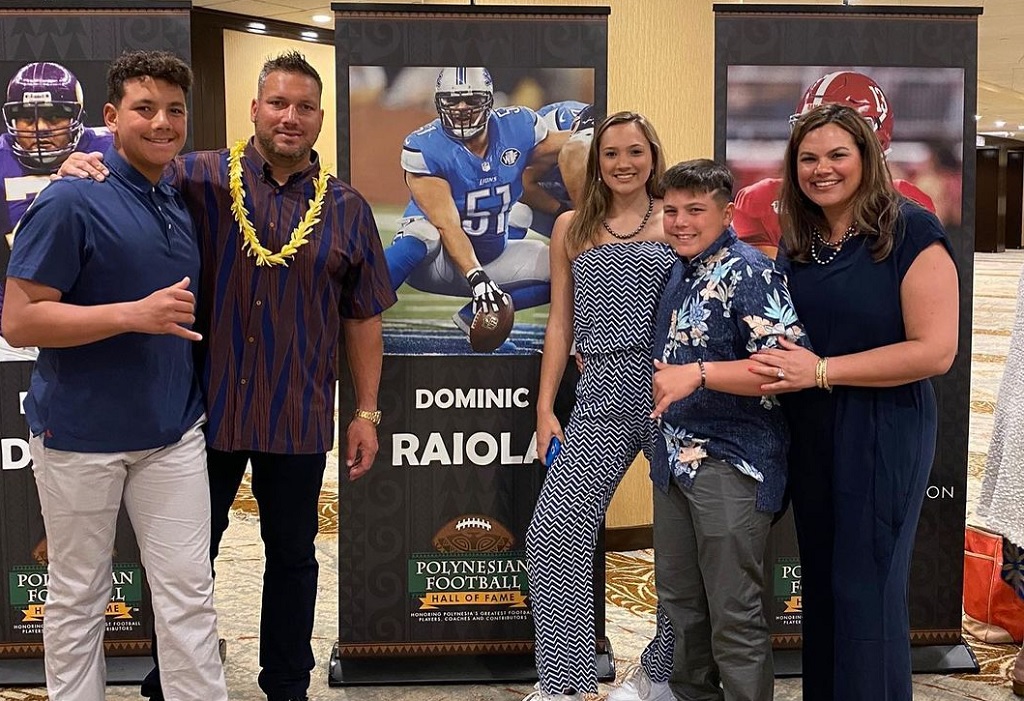 Firstly, on May 9, 2022, he committed to Ohio State University, but seven months later, in December, he decided to recommit from the Buckeyes.
Raiola explained why he chose the Bulldogs this time while speaking with ESPN.
"There's a culture and a standard that I was attracted to," he explained. "The more time that went by, the stronger I felt about Georgia and ultimately led to this decision.
The player explained how he learned from his first experience and did not rush or feel pressured to commit.
This time he properly sat down, had a conversation with his close ones and considered Nebraska and USC along with Georgia.
In addition to that, QB Dylan has to put up great numbers before joining the Athens team, where he will have to compete with tough competitors.