Dejounte Murray parents, Meka and John Murray, missed a large part of the NBA star's childhood. Murray grew up in a rough neighborhood in South End Seattle.
His mother, Meka, was constantly facing charges, and his father, John, wasn't around. But the Atlanta Hawks' shooting guard surrounded himself with the right people at the right time, or else who knows what could have been of him.
It was when Murray was in sixth grade the former NBA player Jamal Crawford noticed his talent and didn't let him fall into bad habits. And finally, Murray's affiliation with the gang life ended when he was in grade tenth.
Murray scored the match-winning three points against Orlando Magic, with the Hawks clinching the game 120-119 with 31 seconds left to play.
Murray has formed a strong partnership with his teammate Trae Young, and the two recently even voiced the same thoughts on the Hawks' In-Season Tournament promotion.
Dejounte Murray Parents: Meet Meka And John Murray
Dejounte Murray parents, Meka and John Murray, were never present around him when the NBA star was growing up. The Atlanta Hawks player came from a broken household.
At age five, most kids are becoming more socially interactive and communicative. But Murray already had an idea of what drug was by that age.
He had started to understand most of his family members were part of gangs and were involved in crime. He was able to recognize drug addicts and drug dealers.
In an interview with Sports Illustrated, Murray said he had heard stories that his great-grandmother was in a gang. His mother succumbed to gang life and was in and out of the prison.
One Strong Bond And Another Growing One With His Parents
The mother-son duo of Dejounte and Meka would hop from one apartment to another. When Murray got arrested for the first time in middle school, he and his mother were kicked off state housing.
In 2019, Murray made an emotional post for his mom, thanking her for not breaking her promise. Murray wrote his mother returned from prison and told him she would never go back.
And Meka did that. She stuck by her son and saw him become one of the top basketball players in the nation. Murray also had a tight-knit bond with his stepfather, whom he called Heavy Chevy. His step-dad passed away in 2020, with Murray sharing a heartfelt post for him.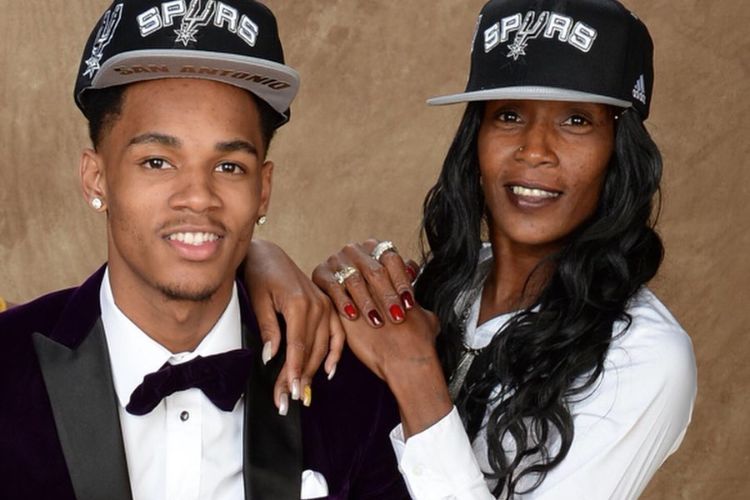 Murray and his father, John, also didn't have a strong bond. As Murray says, he wasn't a deadbeat but not a dad who would be around to take care of his kids.
But those days have been long gone. Instead of continuing the family tradition, Murray put his head down and started surrounding himself with the right people.
In recent years, his relationship with his father has also vastly improved. Last year, on Father's Day, Murray gifted his father an SUV and shared the video on his Instagram handle.
The Hawks player wrote in the caption that he wanted a relationship with his dad before it's too late. He also wrote his father had acknowledged his absence in Murray's life when he was a kid.
Dejounte Murray Is A Father To Two Girls
The 2022 NBA All-Star player Dejounte Murray has welcomed two beautiful girls with two partners. The basketball player is rumored to have tied the knot with Jania Meshell, but their wedding date remains unknown.
Before he started seeing Jania in 2020, Dejounte had already welcomed a baby girl with his former partner. His previous partner's identity remains unknown.
Murray's oldest daughter, Riley, has previously attended several basketball games with her father. Earlier this year, Dejounte shared a sweet birthday post for his daughter.
He took his daughter and the rest of the family to celebrate the big occasion. Dejounte has always emphasized that he wants his kids to have a better childhood than him.
On April 9, 2023, Dejounte welcomed his second daughter, Icelynn Mercedes Murray. Icelynn is the second child of not only Dejountey but Jania as well. Jania has a son named Kacey with the American rapper NBA Youngboy.
In 2022, NBA Youngboy had a beef with Murray related to the basketball player's treatment of his son. Jania cleared the air and said Dejounte had never treated Kacey poorly.
It is evident from the family photos that Dejounte has tried his best to integrate their family, and Kacey is also a big part of the Murray household.