Shelby Miller is famously known as the fiancee of Trae Young. They have been dating since 2018, even before Young was drafted into the NBA.
Atlanta Hawks star Trae Young 2021 announced his engagement on his Instagram with long-time girlfriend, Shelby Miller.
If you've watched the eastern conference finals of the 2021 NBA Playoffs, then you must be familiar with the name Trae Young. The Dallas Mavericks drafted him into the NBA in the 2018 NBA Draft.
In short, the basketballer has set many records in the NBA and garnered praise from legendary players like Lebron James and Stephen Curry.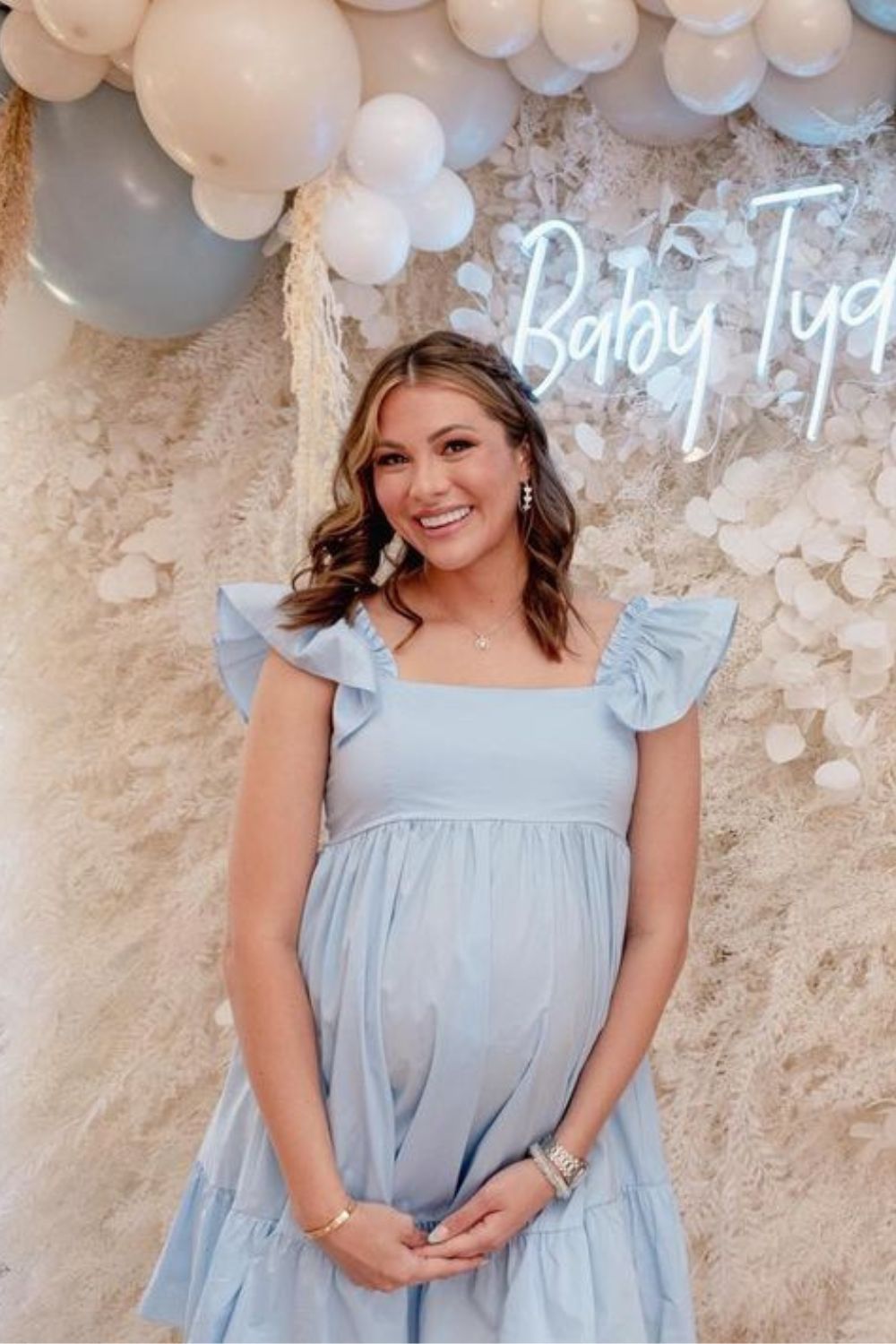 Besides that, the star player recently got engaged to the love of his life, Shelby Miller. The soon-to-be Trae Young's wife attended the same college as the basketball player.
This lovely duo has been together for over four years, and their love seems to be growing. Miller is one of Young's biggest support systems.
Shelby, in 2023 is all occupied with her newborn, Tydus Reign Young.
Before details about Trae Young's wife's life and career, here are some quick facts about her.
Quick Facts | Shelby Miller
| | |
| --- | --- |
| Full Name | Shelby Miller |
| Birth Date | October 25, 1995 |
| Birth Place | Norman, Oklahoma, the United States |
| Religion | Christian |
| Nationality | American |
| Height | 5'8″/1.73 m/173 cm |
| Weight | 57 kgs/125 lbs |
| Ethnicity | White |
| Education | University Of Oklahoma |
| Horoscope | Scorpio |
| Father's Name | Mike Miller |
| Mother's Name | Sherri Miller |
| Siblings | One Sister; Cassie Todd |
| Age | 27 Years Old |
| Hair Color | Brown |
| Eye Color | Black |
| Build | Athletic |
| Profession | Former Cheerleader |
| Marital Status | Unmarried |
| Boyfriend | Trae Young |
| Kids | Tydus Reign Young |
| Trae Young's Net Worth | Est. $20 Million |
| Social Media | Instagram |
| Trae Young Merchandise | Book, T-shirt |
| Trae Young Jersey Number | 11 |
| Last Updated | March, 2023 |
Trae Young Wife | Early Life, Family & Education
Trae Young is committed to Shelby Miller. She was born in Norman, Oklahoma, in the United States.
Shelby was born to her parents, Mike Miller and Sherri Miller. Shelby's mom is an adjunct instructor and an intern supervisor at the University of Oklahoma, while her father is the Vice President of EnviroProducts.
Besides that, Young's fiancee also has an older sister named Cassie Todd, who got married at the end of 2019.
Trae was invited to her sister's wedding, and the duo looked mesmerizing. As of now, Shelby is already a proud aunt to her niece Tinsley Todd who turned three in June of 2022.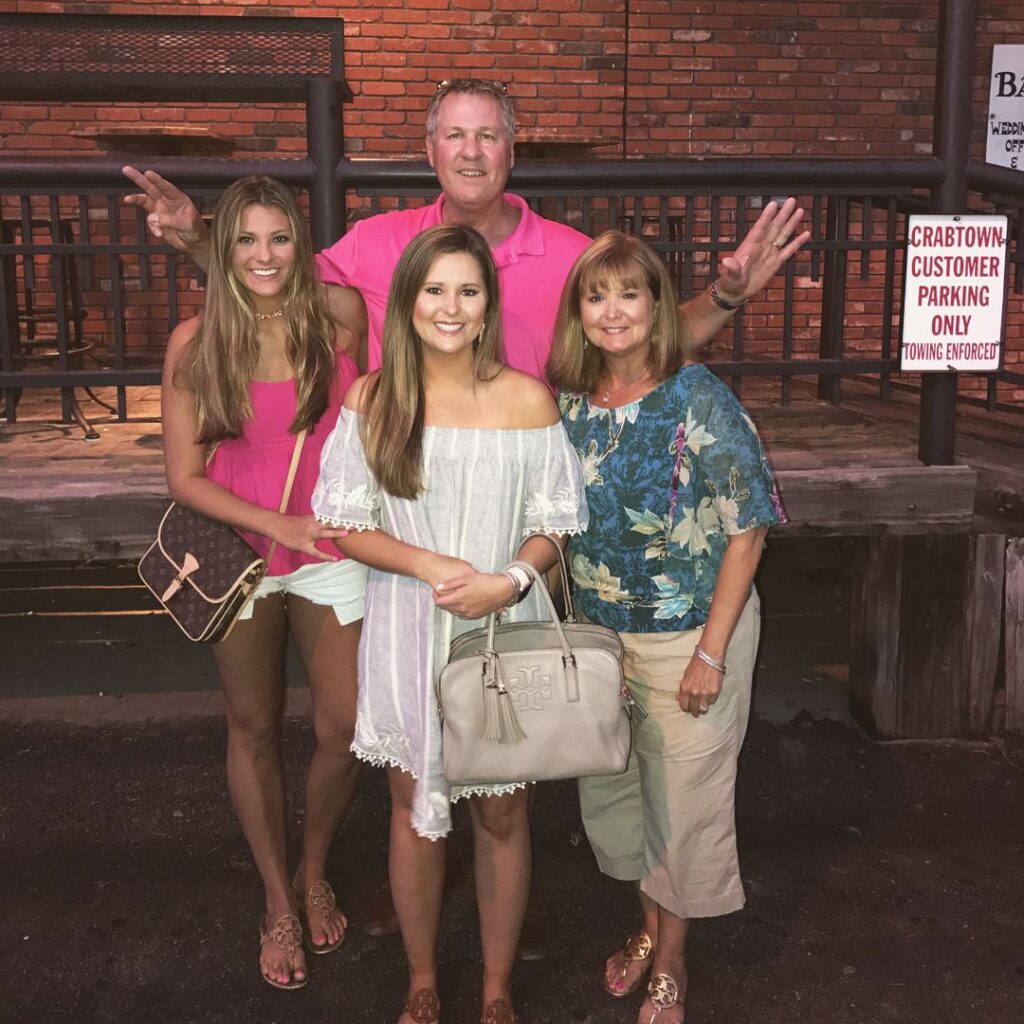 Moreover, Miller had a very normal childhood and studied in a local school in her hometown.
After her high school graduation, Shelby went to the University of Oklahoma and was on the University's cheerleading team.
In many of her initial posts, she is cheering with her cheerleading squad cheering for the college's athletic teams.
After that, she moved to Atlanta, Georgia, with her boyfriend and has supported his career ever since.
Fortunately, the couple is living their picture-perfect life with their newly born son Tydus Reign Young in 2022.
Trae Young Wife | Age, Height & Weight
On October 25, 1995, Miller was born and is 27 years old. As a former cheerleader and the fiancee of a professional athlete, she is very into fitness and maintains a balanced diet.
As a result, she is quite fit and has a toned physique. Furthermore, she is approximately 1.73 m tall and weighs 125 lbs.
Trae Young Wife | Professional Career
Shelby got graduated from the University of Oklahoma in May 2019. However, her degree details are not known to the public yet.
Likewise, she has not mentioned her work and career anywhere on her social media handles.
On the other hand, Miller's boyfriend is a well-known NBA player who was 2018's first-round pick.
About Trae Young
The Dallas Mavericks drafted Trae as the fifth pick overall in the 2018 NBA Draft and traded him to the Hawks in exchange for Luka Dončić.
Similarly, he was an equally outstanding player in his high school years. The point guard assisted his school, Norman North High School, in winning the 2015 area championship.
Additionally, the athlete was named Oklahoma's Sophomore of the Year. His junior year was even more rewarding as his team won the regional title.
Not to mention, many reputed media sources named him Oklahoma's Player of the Year. After graduation, he attended the University of Oklahoma, where he played for the Oklahoma Sooners men's basketball team.
In his first and only 2018 season at Oklahoma, he was named Consensus first-team All-American and First-team All-Big 12. Likewise, the point guard was honored as the Big 12 Freshman of the Year.
Also, he set records as the NCAA's season scoring leader and NCAA's season assists leader in 2018. Young also received the 2018 Wayman Tisdale Award.
NBA Career
After failing to win in the 2018 NCAA Men's Basketball Tournament, Young announced his entry into the 2018 NBA draft. Since his rookie year, Young has been an exceptional player.
He recorded many season highs as a rookie. In 2019, the player was named to the NBA All-Rookie First Team.
Further, his game improved significantly in 2020 and was selected in the NBA All-Star selection. Finally, in 2021, the athlete made it to the playoffs and eventually appeared in the Eastern Conference Finals with the Hawks.
His game with the New York Knicks in Madison Square Garden was highly publicized, and many media sources dubbed him the most hated man in New York. After winning the series against the Knicks 4-1, Young took a bow to agitate the New York fans even more.
He gave the 2021 NBA Champions, Milwaukee Bucks, along with the team, tough competition in the conference finals. However, the Hawks lost the series at 118-107 against Milwaukee Bucks, but Trae gained a lot of respect and admiration for his game.
Furthermore, the athlete was equally remarkable during his collegiate career and won many awards and honors. Trae played college basketball for the University of Oklahoma under former NBA coach Lon Kruger.
Not to mention, Young represented the U.S. in the 2016 FIBA Americas U18 Championships and became a gold medalist.
The Atlanta Hawks offered Trae Young a five-year, $215,159,700 contract in 2021, which included an annual average salary of $43,031,940.
Young's base salary in 2022 and 2023 will be $37,096,500.
Trae Young Wife | Proposal
Shelby is engaged to the Hawks' star point guard Trae Young. The two reportedly met at the University of Oklahoma, where Young played for the Oklahoma Sooners men's basketball team while Miller was in the college's cheerleading team.
Hence, the pair are college sweethearts and have been together since then. After Shelby's graduation, she moved to Atlanta, Georgia, to be closer to her boyfriend.
The pair seems to enjoy each other's Company a lot. However, while Miller has her Instagram handle covered with pictures and videos of her with her boyfriend, Trae shares minimal about his personal life on his social media handle.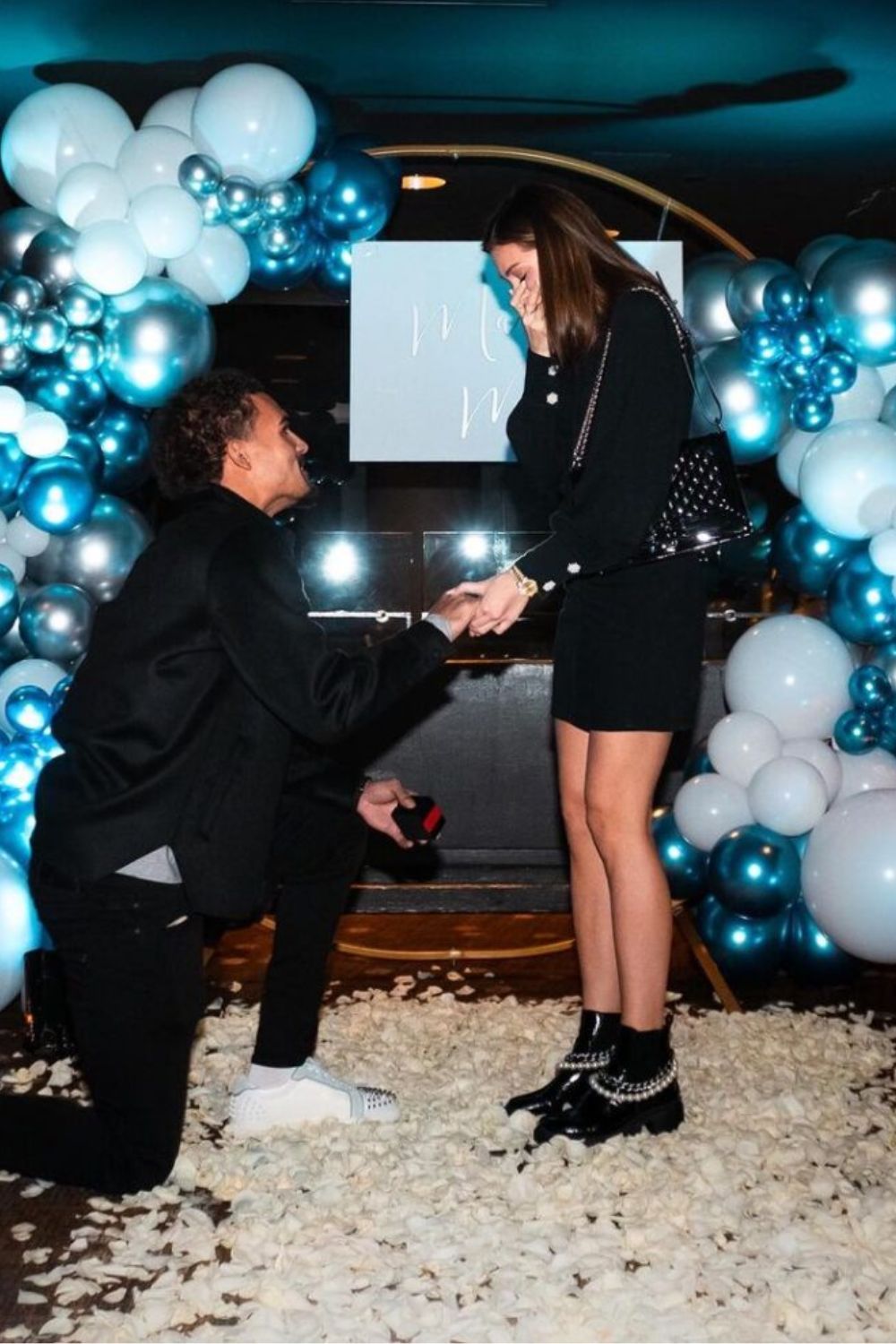 The two can be seen making tons of Tiktok videos together. Besides that, they travel together, and Miller attends most of Young's games to show him her support.
They even did a Q and A, revealing they wanted three future kids. Not to mention, the pair got engaged in December of 2021.
The proposal was romantic as the room was filled with blue balloons, and the floor was covered with rose petals. Young got on his knee and asked Shelby to be his wife with a stunning diamond ring.
Hence, it is safe to express that the pair seem serious about their relationship and are headed somewhere in the future. Shelby is Young's greatest cheerleader and is there to show her support for him at almost every game.
Trae Young Wife | Net Worth, Salary, Contract & Endorsements
Since we have very few details on Shelby's career, her net worth and salary are unknown and very limited. However, on the other hand, her boyfriend has a net worth of $20 million.
What's more, his career earnings amount to $26,135,649. Likewise, the point guard's 2021-22 season salary was $8,326,471.
In the earlier season, he made $6,571,800 in salary from the Hawks. Recently, he signed a five-year extension contract with the Hawks worth up to $207 million.
As a result, the athlete is set to make $29,750,000 in the 2022-23 NBA season.
The contract binds him to the Hawks till the 2026-27 season, when he will be set to earn his highest salary ever, i.e., $39,270,000.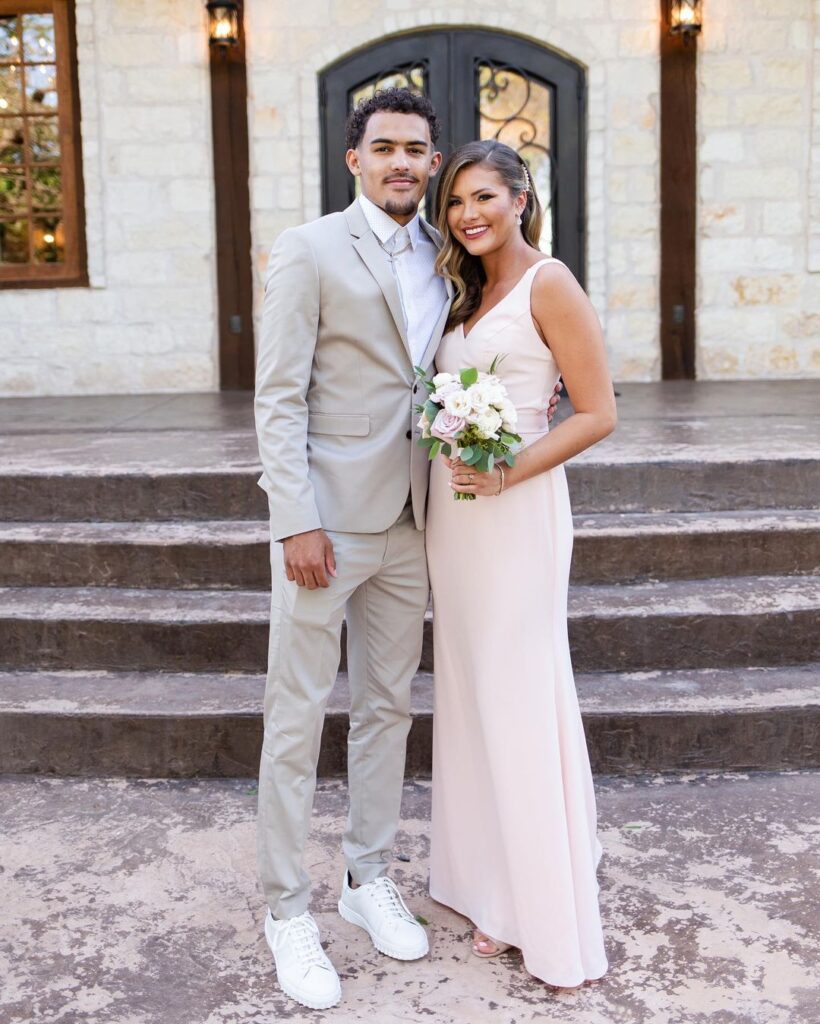 Additionally, the basketballer earns fairly well through sponsorships and endorsement deals.
Before joining the league, he signed an agreement with a well-known shoe, clothing, and accessories manufacturer Adidas.
Trae designed his first signature shoe with Adidas and debuted them in the 2021 playoffs. Similarly, he has partnered with 'Through The Lens,' which connects users with exclusive video lessons of iconic basketball players.
Besides that, he had endorsement deals with Grooming Products Companies, Watch Companies, Tissot, Old Spice, Bodyarmor, Chipotle, eBay, Fortnite, Restaurant Companies, NBA2K, and Sports & Health Drink Companies.
Trae Young Wife | Social Media Presence
Miller is quite active on her social media platform. Hence, she has an Instagram handle with 42.1k followers as of March 2023.
She mostly shares her life as the fiancee of an NBA player. She can be seen in most of her posts with Trae posing or making cute Tiktok videos.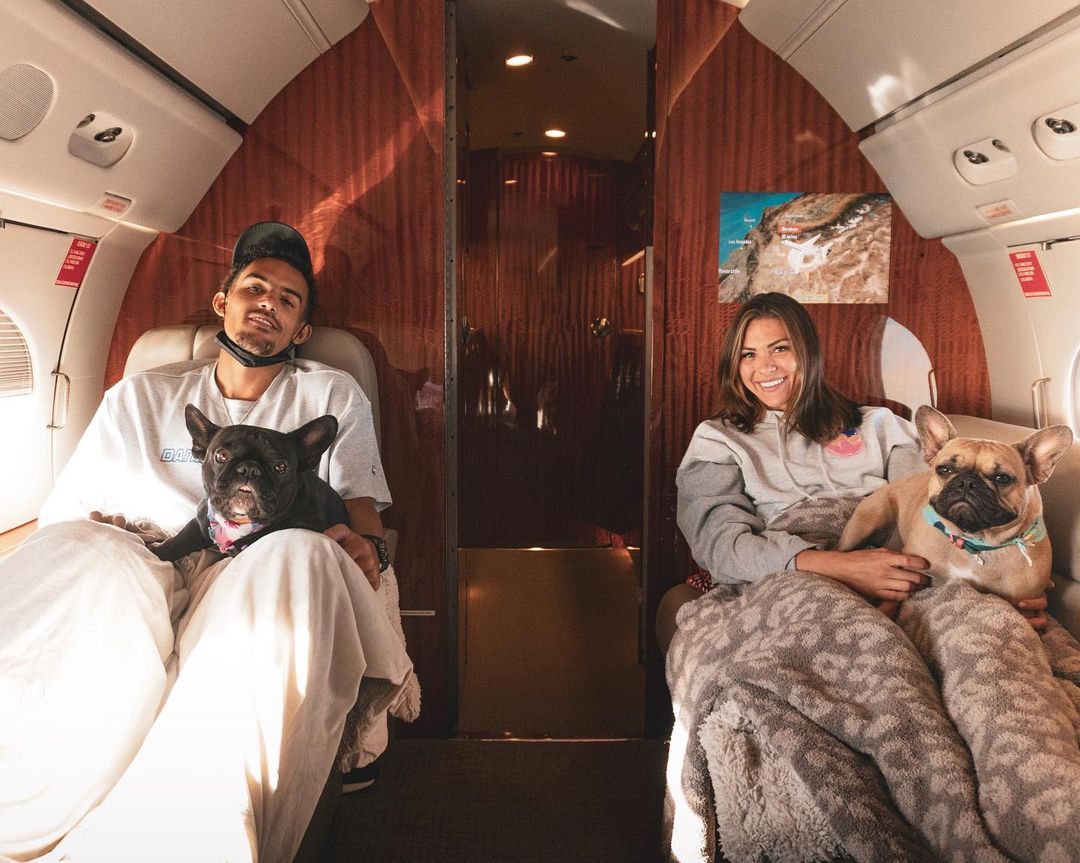 Besides, she loves flaunting her fit physique while on vacations and with her friends.
Moreover, Miller is a dog mom with two adorable French bulldogs named Normi and Lanta.
In her earlier posts, she was with her cheerleading teammates, cheering for the Sooners athletic teams. In addition, Shelby has also shared a few pictures with her parents, sibling, and niece.
Shelby Danae | The Search Graph
Trae Young's wife is the fiancee of Trae Young and currently, the couple has a baby together in 2022.
She is famous because of his to be husband, which her graph is illustrating.
Shelby Danae | FAQs
Who Is Shelby Danae?
Shelby Dane is the fiancee of the basketball player Trae Young. He serves as a point guard to the Atlanta Hawks. Moreover, he is a star player for the NBA team.
Does Trae Young have a family?
Yes, the player's family consists of his parents, Rayford & Candice, and three siblings, namely Caitlyn Young, Camryn Young, and Timothy Young. He is yet to have a family of his own.
Who is Trae Young's wife?
Trae Young is unmarried but is engaged to Shelby Dane Miller. The couple was blessed with a newborn in 2022.