In the states, Football is one of the most popular sports. Hence, there is an increase in the number of players today. Among the many other players is Denzel Perryman, an American Professional Football player who plays for Los Angeles Chargers.
Similarly, he plays as a line breaker for the Chargers. The San Diego Chargers picked Perryman in the second round(48th overall) in the 2015 NFL Draft.
Perryman had an exciting career starting from high school. He was a two-time First-team All-ACC selection in 2013 and 2014. Also, he was a third-team All-American in 2014.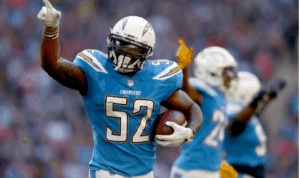 Do you want to know about this thriving player? If you want to, you are precisely in the right place. In this particular article, you will find everything about Denzel Perryman.
The details will be about a player's career, girlfriend, kids, net worth, and social media.
Before heading towards the article, let us quickly look into his quick facts about him.
Denzel Perryman | Quick Facts
| | |
| --- | --- |
| Full Name | Denzel Perryman |
| Birth Date | December 05, 1992 |
| Age | 30 Years Old |
| Place of Birth | Miami, Florida |
| Jersey Number | 52 |
| Nationality | American |
| Ethnicity | Mixed |
| Profession | Football Player |
| Education | University of Miami |
| Father's Name | Desmond Perryman |
| Mother's Name | N/A |
| Siblings | Quintero Perryman, Derrius Perryman |
| Marital Status | Unmarried |
| Girlfriend | Cassie-Raye Stuart |
| Children | Ella Grace Perryman, Evee Perryman, and Styles Perryman |
| Height | 180 cm (5 feet 11 inches) |
| Weight | 240 lbs (109 kgs) |
| Birth sign | Sagittarius |
| Eye color/ Hair color | Dark Brown/ Black |
| Merchandise | Autographed Card |
| Social Media | Instagram |
| Net Worth | $3 million |
| Last Update | February, 2023 |
Denzel Perryman | Early Life, Family, and Education
Denzel Perryman was born on December 05, 1992. in Coral Gables, Florida. His birth sign is Sagittarius. And they are known for their tenacity, vigor, and knack for winning.
Likewise, Denzel was born to his father, Desmond Perryman, while his mother's name is still unknown. Besides his parents, Perryman has three brothers, particularly Quintero Frierson, Derrius Perryman, and Desmond Jr.
Two of his brothers, Quintero and Derrius, are football players like him. Quintero plays as a linebacker for Rutgers, whereas Derrius plays as a linebacker for Bryant Bulldogs.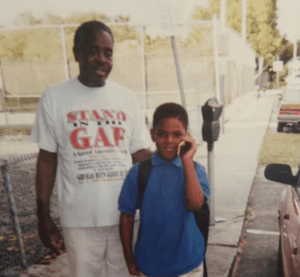 As for his high school education, Denzel attended Coral Gables Senior High School. He later joined the University of Miami.
Denzel Perryman | Height, Weight, and Age
The American player is 27 years old as of now. Being a football player since his childhood, Perryman has a sturdy and athletic physique. He also stands 180 cm (5 ft 11 in) tall.
Also, the Los Angeles Chargers linebacker weighs 240 lbs (approx. 109 kgs). In close contact sports like football, considering your opponent is vital.
It might be his build or tactics as a defenseman, but we are not surprised that he was assigned the role of a linebacker on the team.
Denzel Perryman | Football Career
Career With Coral Gables Senior And Miami Hurricanes
Perryman's football career started back in high school. He registered 105 tackles, 9 sacks, and 6 interceptions during his sophomore year.
In his junior year, he was given defensive player of the year for his 166 solo tackles and recorded 177 tackles, 9 interceptions,9 sacks, and 5 interception returns for touchdowns.
During his first year at Miami college, he ranked first among ACC first-year students and second overall on the team.
He registered 127 tackles in 8 starts out of 12 games he played. Also, Denzel had 64 tackles in 9 begins in their sophomore year.
Moreover, he had 108 tackles in 13 games and 110 in 13 games during his junior and senior years, respectively.
He had an outstanding performance throughout his college years; in total, he played 47 games for the University of Miami and registered 351 tackles.
As a result, Perryman was selected for the first-team All-Atlantic Coast Conference(ACC) in his junior and senior years.
NFL Career
NFL Draft
Denzel's consistent performances got him an invitation to the 2015 Senior Bowl alongside the other three of his Miami Colleagues. Unfortunately, he could not play in the main event due to a minor injury during the practice session.
He attended the Senior Bowl as part of the Jacksonville Jaguars. Even though he couldn't play in the Senior Bowl, his impressive performances during practice sessions earned interest from San Diego Chargers.
He performed exceptionally well during practice and was ranked fourth-best inside line breaker in the draft by NFLScout.com.
He was also one of 35 collegiate line breakers to attend the NFL Scouting Combine held in Indianapolis, Indiana.
Likewise, the big day for the talented youngster came in 2015 when the San Diego Chargers drafted Denzel in the second round of the 2015 NFL Draft.
On May 14, 2015, he signed a four-year contract with the San Diego Chargers worth more than $4.7 million in a heartbeat.
However, along with Melvin Ingram, he was sidelined in the beginning due to a hamstring injury. Denzel's debut for San Diego Chargers came in a victory against Detroit Lions, and they registered one solo tackle to help San Diego succeed.
Career With Los Angeles Chargers
Moreover, his full debut came in during a game against Green Bay Packers, where he registered eight tackles. However, he sustained a pectoral injury before starting two consecutive games.
Perryman returned from injury and put on a solid performance with six tackles and his first career sack in the game against Kansas City Chiefs.
He registered season-high ten solo tackles in week 13, and later on December 24, 2015, he surpassed his season-high record after registering 11 tackles and one sack against Oakland Riders.
Also, Perryman finished his first season with a total of 73 tackles, including 60 solo tackles and two sacks in nine starts out of 14 games. Besides that, he received a lot of criticism for playing charity football while injured.
Injury
Playing in competitive, close-contact sports means being prone to injuries and accidents. Similarly, the San Diego Charger's linebacker suffered another injury during the offseason training camp.
Nonetheless, back from injury, he registered a season-high 10 tackles and one sack against Indianapolis Colts. In addition, Perryman made his first career interception on Matt Ryan during an overtime victory against Atlanta Falcons on October 23, 2016.
Denzel was in and out of the games throughout the season due to injury, which also cost San Diego Chargers a position in the playoffs after they finished last in AFC West.
In the 2017 season, Perryman was again injured during the preseason game against Seattle Seahawks and was expected to miss 6-8 weeks. He also had to go to surgery for the ankle injury he sustained.
Their head coach was fired in the same season, and San Diego Chargers changed and returned to Los Angeles Chargers for the 2017 season.
Return
Nevertheless, as an outside line breaker, Denzel returned and played his first game of the season on November 12, 2017.
He also recorded his season-high ten tackles on his return against Jacksonville Jaguars, which ended in defeat for Los Angeles Chargers.
Later in December 2017, he sustained another injury and was ruled out for a while. All in all, Perryman finished the season with his career-low 37 tackles in seven games.
Perryman started the 2018 season on a high note. He started the first 9 games for the Chargers as the middle line breaker.
Unfortunately, he sustained a knee injury in week 10, had surgery on his hamstring, and was placed on an injured reserve.
The professional football player recorded his first interception in week 13 of the 2019 season and was in and out of the team due to injury.
He also signed a new two-year deal with the Los Angeles Chargers in 2019 worth $12 million.
Carolina Panthers and Trade to the Las Vegas Raiders
In March of 2021, the athlete signed a two-year contract to play for the Panthers. However, the two didn't work out great since he was traded to the Raiders in August.
Since then, Perryman has been playing with the Raiders and having an impeccable career. He recorded many career highs and was even selected for the Pro Bowl 2021.
Achievements and Highlights
First-team All-ACC in 2013
First-team All-ACC in 2014
The third team All American in 2014
Denzel Perryman | Stats
Defense
Year
GP
Tackles
For Loss
Sacks
Int
FF
College Totals
47
351
27.0
4.5
1
6
Learn More About His Stats, Projections, Madden Rating, and Latest News on Fantasy Pros, Mut Head, and Rotowire.
Denzel Perryman | Relationships, Wife, and Children
Denzel is a romantic and caring person. According to sources, the linebacker has a beautiful girlfriend named Cassie Raye Stuart.
We have yet to receive any helpful information regarding her profession, age, or social media.
However, we know that the sweet couple is still dating but has not been married yet. Sooner or later, we hope to hear the news of their proposal or even marriage.
Despite that, the beautiful couple already has three kids together. They have two daughters, Ella and Eve, and a son named Styles. Below you can see his kids wishing him Happy Birthday.
Well, for their year of birth, the youngest son was born in 2018.
Denzel Perryman | Contract, Net Worth, And Salary
The football player's most fortune came from his professional career in 2015. Then, he signed a whopping big-money contract with the San Diego Chargers worth $4.7 million. That amount included a guaranteed $2.38 million and a signing bonus of $1.73 million.
However, his significant fortune came when he signed a new two-year deal with the Chargers worth around $12 million. Denzel's estimated net worth is around $3 million.
It is also known that he owns several properties in California. Moreover, he also loves spending on jewelry and chains.
Denzel Perryman | Social Media Presence
The football player is also active on social media platforms like Instagram and Twitter. In addition, he regularly tweets and posts on the gram.
On Instagram, almost 76.8k people follow him. If you scroll through Denzel's feed, you will find that he is a family guy and a loving father.
There are many pictures of his daughters and son. Moreover, Perryman also posts pictures of his teammates and short clips of match highlights.
Moving on, the following social media platform is Twitter. On Twitter, 24.9k people follow his tweets, mostly about gym pics, match highlights, and re-tweets of broadcast channels.
If you are into social media platforms, too, you can follow the American football player by clicking on the following links,
Denzel Perryman | FAQs
When was Denzel Perryman born?
He was born on December 5, 1992.
How long did Denzel Perryman take to complete the 40-yard dash?
Perryman took 4.78 seconds to complete the 40-yard dash.
What is Denzel Perryman's position?
He plays as a Linebacker.
Why does Denzel Perryman wear number 52?
Perryman wears jersey number 52 because his favorite player Ray Lewis wore the number 52 during his NFL career.
Did Denzel Perryman test positive for Covid?
Yes, the athlete was moved to the Covid list after testing positive in late December 2021. However, he was back on the field by the start of January 2022.
How tall is Denzel Perryman?
The Linebacker is 5 feet 11 inches tall.
Has Denzel Perryman been to the Pro Bowl?
Yes, the NFL player was voted to his first Pro Bowl game in 2021 while playing for the Las Vegas Raiders.
Who is Denzel Perryman's agent?
The NFL player's agent is Ron Butler.
Does Denzel Perryman have tattoos?
Yes, the footballer is covered with tattoos all over his body. However, his most meaningful tattoos are his daughter's name. Moreover, his mother took him to get his first-ever tattoo.