Reggie Wayne is a retired American Football wide receiver, famous for his stint with the Indianapolis Colts of the National Football League (NFL).
Likewise, Wayne is a one-time Super Bowl champion, a six-time Pro Bowl selection, a First-team all-pro selection in 2010, a 2-time Second-team all-pro selection, and the receiving yards leader in the NFL in 2007.
Reggie played college football for the University of Miami and was drafted in the first round as the 30th overall selection in the Colts' 2001 NFL draft. He is 10th all-time in NFL career receptions and NFL receiving yards and 24th all-time in career touchdown receptions.
On August 24, 2015, Wayne signed with the New England Patriots but did not play a single game. The NFL star then asked for his release and was granted the same on September 5, 2015. On January 15, 2016, he announced his retirement.
In this article, we will take a look at the achievements, career, personal, and social life of Reggie Wayne, but first, let's take a look at some quick facts.
Quick Facts
Full Name

Reginald Wayne

Birth Date

November 17, 1978

Birth Place

New Orleans, Louisiana, USA

Nicknames

N.A.

Nationality

American

Education

University of Miami (Degree in Liberal Arts)

Horoscope

Scorpio

Father's Name

Ralph Wayne

Mother's Name

Dennis Wayne

Siblings

2 brothers

Age

42 years old

Height

6 feet (1.83 m)

Weight

203 lbs (92 kgs)

Shoe Size

N/A

Profession

Formerly professional football player (wide receiver), currently a volunteer coach

Net Worth

$10 million

Married

Yes

Spouse

N/A

Children

N/A 

Salary

$44 thousand

Social Media
Instagram (89.4k followers)

Twitter (104.4k followers)

Facebook (1.2k followers)
Early Life, Family, and Education
Famous Reginald Wayne was born on November 17, 1978, in New Orleans, Louisiana. He is an American citizen with the zodiac sign Scorpio. The player's mother's name is Dennis Wayne, and his father's name is Ralph Wayne. Similarly, Reggie's father, Ralph, was the linebacker for Grambling State.
Reggie was initially more interested in baseball while growing up and was a fan of the New Orleans Saints. He has cited his mother as his greatest inspiration.
Reggie Wayne is the youngest of 3 sons. Unfortunately, his older brother Rashad was involved in a car accident on September 24, 2006, and died at the age of 32. Rashad loved watching his younger brother play football, and both of them were very close.
Several of Reggie's Colts teammates attended his brother's funeral as a sign of support and love. Not much is known about the other brother of Wayne.
As for his education, Reggie Wayne attended John Ehret High School in Marrero, Louisiana, and later attended the University of Miami. There he was a 4-year starter for their team, the Miami Hurricanes. He graduated with a degree in liberal arts.
Reggie Wayne: Age, Height, and Weight
The American player was born on November 17, 1978, in New Orleans, Louisiana. Reggie Wayne is 42 years old as of now. Similarly, he is 6 feet or 183 centimeters tall and weighs about 92 kg or 203 lb. As a star NFL player, he has an athletic build.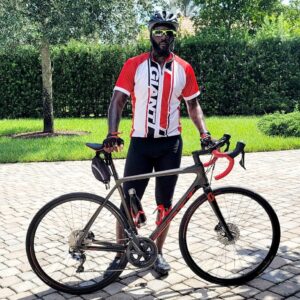 The color of Wayne's eyes is dark brown, and he has a bald head.
Reggie Wayne: Career
In his university days, Wayne was a 4-year starter for the Miami Hurricanes football team. He set a school record for 173 career catches, including 36 consecutive games with a reception. Reggie is one of only five wide receivers in school history to post 20 or more touchdowns in his career.
During the 1997 season, Wayne had 47 receptions, which is a school record for freshmen to this date. He also ran track and field at his university and was roommates with Ed Reed, future Baltimore Ravens safety.
Likewise, he was inducted into the University of Miami Hall of Fame at their 43rd Annual Induction Banquet, held on March 24, 2011.
Wayne was selected by the Indianapolis Colts in the first round, as the 30th overall pick in the 2001 NFL draft. He was the 6th selection of the 34 wide receivers, out of which eight went on to be pro-bowlers. In his first season, Reggie caught 27 passes for 345 yards with no touchdowns. He made 9 starts and missed 3 games due to a high ankle sprain.
Reggie also improved next year, and his numbers were almost double, catching 49 passes for 716 yards with 4 touchdowns. He broke into the starting lineup in the 2003 season and caught 68 catches for 838 yards and seven touchdowns.
Professional Career
In 2004, Wayne caught 77 passes for 1210 yards and 12 touchdowns. He had four 100+ yard games, including personal bests 184 yards on 11 receptions.
Likewise, after the Colts beat the Broncos in the playoffs, Reggie Wayne was named the "Wild Card Weekend Offensive Player of the Week ."His numbers kept going up, and in 2006, he signed a 6-year contract worth $39.5 million.
The same year, due to his performance throughout the season, he was selected to his first Pro-Bowl. Wayne had a stellar postseason performance and helped the Colts beat the Chicago Bears in Super Bowl XLI also, with a 53-yard touchdown reception in the first quarter.
In the 2007 season, though some of his teammates remained injured, his individual performances stayed at a high, and he set a then-career-high in receptions with 104 and a career-high in yards with 1510 yards. Similarly, the NFL star led the league in receiving yards and was selected for the Pro-Bowl for the second time in 2 years.
In 2008, Wayne caught 82 catches for 1145 yards and 6 touchdowns. He was selected for the Pro-Bowl for the third consecutive year. Despite his 129 yards effort along with a 72-yard touchdown in the wild card round, the San Diego Chargers won over the Colts in overtime and were eliminated in the first round.
Pro-Bowl
In 2009, Wayne was part of the famous "4th and 2" game, when he caught the winning touchdown with 0:14 left, in week 10, against the New England Patriots. He was selected for the Pro-Bowl again but couldn't participate because the Colts played for the Super Bowl. The Colts later lost to the New Orleans Saints 31-17.
In the 2010 season, Reggie put up stellar numbers again, being second in receptions with 111, which is his career-high, and third in receiving yards with 1355. Though the Colts were highly dependent on Peyton Manning for their wins, Wayne established himself as one of the league's premier receivers.
He also set a franchise record of 15 receptions in a game against Jacksonville the same season and got selected as a starter for the Pro-Bowl.
Reggie Wayne's numbers dipped in the 2011 season with Manning injured, but he still led the team in receptions and receiving yards. In the 2012 season, Wayne signed a three-year contract with the Colts.
The same season, he won his worst AFC Offensive Player of the Week. He broke Crist Carter's record of consecutive games with 3 or more receptions with 59 games and passed Art Monk for the 12th NFL all-time receptions list. Reggie also moved to the second position in career playoff catches behind Jerry Rice, but the Colts lost to the Baltimore Ravens in the same wild-card game 24-9.
NFL
Wayne got selected as the wide receiver for USA's football 2012 All-Fundamentals Team.
In the 2013 season, he became only the ninth player to reach 1000 career receptions. A week later, he tore his season and had to miss the remainder of the season, ending his third-longest streak of consecutive games for a wide receiver in NFL history.
In the 2014 season, Reggie Wayne became the 9th player in NFL history to reach 14000 receiving yards. Due to injuries, and because he was past his prime, Wayne had only one reception in the Colts' 3 postseason games, thus ending with franchise records for postseason receptions with 93, receiving yards, yards-from-scrimmage, and all-purpose yards with 1254, receiving and total touchdowns with 9, games with at least one touchdown with 8, and games with 100+ yards receiving with 3, a record he shares with Dallas Clark, and T.Y. Hilton.
On March 6, 2015, it was announced by the Indianapolis Colts that they would not re-sign Wayne, making him a free agent on March 10. Wayne signed a one-year contract for up to $3 million with the New England Patriots on August 24, 2015. He later requested for release and was granted the same on September 5, 2015.
 After not playing for the entirety of the 2015 season, Reggie announced his retirement on January 15, 2016. "It was fun, but it's time. It's just time.
Whenever you can admit you're done, you know you're done with what he had to say about his announcement. He finished his NFL career being 10th all-time in career receptions and receiving yards and 24th all-time in career touchdown receptions.
He now works as a volunteer coach.
Reggie Wayne: Wife and Kids
Despite his high profile NFL career, the NFL player keeps his personal life very private. 
The NFL Draft got married back in the summer of 2009. However, there are no pictures of them together, even though they were married for four years. 
Like every relationship, they had a problem as well. In 2010, he was caught cheating, which messed up their relationship resulting in a short separation. The player had an affair with a woman named Natasha McKenzie.  Further information on their relationship has not been revealed yet.
Wayne is a low-key person; thus, he does share posts on Instagram, but they are never too revealing about his family or relatives. According to some sources, Wayne is married and has kids but has kept them away from the spotlight.
Reggie Wayne: Net Worth
The NFL player has an amazing net worth of $10 million. As permit sources, his salary is $44 thousand. But, we all know that he earns more than this, including sponsors and advertisements.
Well, how does Wayne spend his exclusive income? On his Instagram post, we can see that he is fond of cars.
Moreover, he is a passionate traveler.
Reggie Wayne: Social Media Presence
The footballer is a social media person. He has profiles on Instagram, Twitter, and Facebook.
On Instagram, Reggie often posts pictures of his cars, matches, and also throwback pictures of previous matches. He has a great follower list, and people love to see his content. His posts make it apparent that he's a huge fan of vehicles, especially cars. In addition to this, Wayne also posts pictures of him cycling, making it evident that he loves cycling. He is still a huge fan of football and regularly posts about the NFL, and also old pictures of him in action. 
Moving on to Twitter, almost 10.4k people follow him and read his tweets. The tweets are usually related to matches, life quotes, and also memes.
Let's Go Canes! Let's finish the season on a good note. If not me and @EIGHTTODANINE gonna have to make that phone call. 🤣🤣🤣 @CanesFootball #TheU #GoCanes pic.twitter.com/4acfuMBcVN

— Reggie Wayne (@ReggieWayne_17) December 29, 2020
Additionally, he is also active on Facebook. Almost 1k people like his page, where he keeps updating his routines, fitness tips, and matches.
This is all about Reggie Wayne's social media.