Derek Roy is a reputed name in NHL. The former Canadian pro ice hockey player associated with the Buffalo Sabres, Dallas Stars, and several others in NHL left a remarkable print before retiring.
Initially drafted in the second round, 32nd overall, by the Buffalo Sabres in the 2001 NHL Entry Draft, Derek started his professional career in 2003.
Besides his successful career, Derek Roy is a beautiful person with a jolly personality. He is a family guy who prefers to keep his life very private.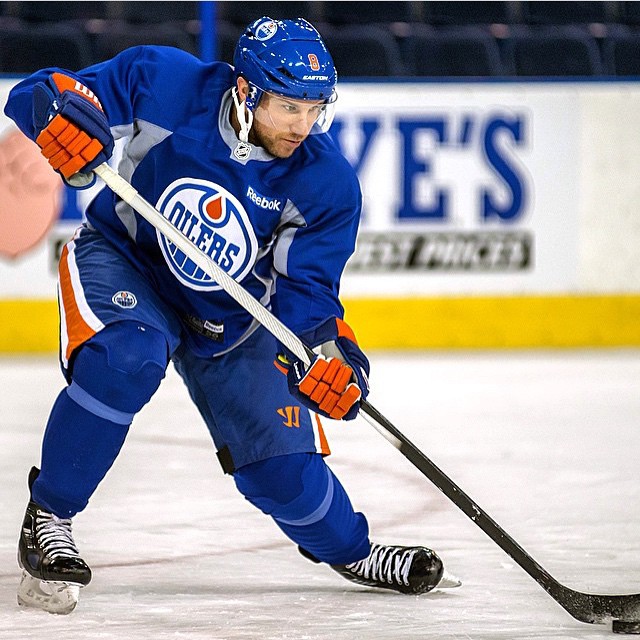 Therefore, let's learn more about Derek Roy's lifestyle and career. But before that, let's go through the quick facts table.
Quick Facts
Full Name
Derek Leonard Roy
Date of Birth
May 4, 1983
Birth Place
Rockland, Ontario, Canada
Nick Name
Derek Roy
Nationality
Canadian
Zodiac Sign
Taurus
Age
40
Height
5 feet 9 inches (175 cm)
Weight
83 kg (184 lb)
Hair Color
Brunette
Eye Color
Brown
Build
Athletic
Father's Name
Not Available
Mother's Name
Not Available
Siblings
Brother, Scott Roy
Marital Status
Married
Wife
Nancy Roy
Children
Son, Huxley Roy
Profession
Former Ice Hockey Player
Active Years
2003-2020
Status
Retired
Position
Centre
Shot
Left
NHL Draft
2001 round 2 #32 overall by Buffalo Sabres
Former Teams

Buffalo Sabres
Dallas Stars
Vancouver Canucks
St. Louis Blues
Nashville Predators
Edmonton Oilers
SC Bern
Avangard Omsk
Traktor Chelyabinsk
Linkoping HC
EHC Munchen

National Team
Canada
Net Worth
$5 – $10 million
Salary
$1 million (2015)
Social Media
Instagram, Facebook, Twitter
Merch
Goalie Mask
Last Update
December, 2023
Derek Roy | Early Life, Family & Childhood
The former Canadian ice hockey star Derek Roy is one of the most notable players in ice hockey history. On May 4, 1983, he was born to a happy Canadian family in Rockland, Ontario.
Although Derek shares glimpses of his family with his followers, he recently decided to privatize his social media account.
Furthermore, while talking with The Hockey News, Roy said his Father played an important role in influencing his career.
Moreover, Derek Roy's Father played junior hockey and stuff but never made it.
Although Father Roy did not reach that hype because there was a lot of physical play and checking, he was too small in those days.
Nevertheless, Derek appreciates his Father's performance and the spot where he reached.
Besides their dad, Derek Roy's brother, Scott Roy, is also a professional ice hockey player. He recalls seeing his brother play hockey and going to the rinks with him, looking up at him and trying to beat him.
Besides, Derek Roy grew up with inspirational people. Although he does not mention much about his mother, he must have a strong bond with his mother's goose.
Derek Roy | Age, Height & Weight
The 40– year-old former professional ice hockey player Derek Roy stands tall at 5 feet 9 inches.
Weighing 83 kgs, Derek is conscientious about maintaining his athletic body. Furthermore, fashionably forward, Roy holds short hair combed neatly sideways and a short beard, accurately calculated to show off his chiseled jaws.
Alongside their handsome appearance, Derek Roy is also bilingual and can speak English and French.
Derek Roy | Career & Achievements
Canadian former ice hockey player Derek Roy is beloved among hockey fandom. Although he retired 17 years into the game, his influence is massive and effective today.
As aforementioned, Roy acknowledged his passion for ice hockey at a very young age and was inspired by his Father and brother.
Derek made his debut in 2003. However, he led the Kitchener Rangers of the Ontario Hockey League (OHL) with 87 points in the 1999-2000 season, bagging the OHL Rookie of the Year Trophy.
Likewise, Roy scored 42 goals in the next season, which prompted his 32nd draft overall by the Buffalo Sabres in the 2001 NHL Entry Draft at the end of the season.
Similarly, in the 2001-02 season, Derek set his career-high of 43 goals and became the Rangers' leading scorer.
Furthermore, in 2002-3, Roy captained the Rangers to an OHL Championship despite displaying a remarkable performance in Sabres' preseason games.
A good point for Roy's resume is that he managed to win the Stafford Smythe Memorial Trophy as the tournament's MVP.
On and off Relationship with Buffalo Sabres
Already achieved so much from his junior years, Derek Roy began his journey with Buffalo Sabres in 2003-04 seasons with then-minor league affiliate, the Rochester Americans in the AHL.
After showing off his incredible performance, i.e., scoring a point-per-game after 26 games with the Americans, Derek joined NHL and played most seasons in Buffalo, making 19 points in his 49-game rookie season.
Derek had an on-and-off relationship with Sabres, as he was called, and then was sent back to the Americans as a rookie.
However, recalled to the Sabres, he finished the season with his first two NHL hattricks against Toronto Maple Leafs and Tampa Bay Lightning.
Likewise, in 2006-07, Roy made 63 points as the Sabres won the President's Trophy with the NHL's best regular-season record.
Unfortunately, the Senators eliminated Sabers, resulting in a six-year contract extension worth $24 million on July 27, 2007.
Patrick Hager's Career and Net Worth >>>
Games after Renewed Contract & Injury
Roy led the team with 81 points and was second in goals registering 32 goals and 49 assists in his first season. Likewise, in the 2010-11 season, he led the Sabres in points.
Sadly, Sabre's leading scorer, Derek, suffered a torn left quadriceps tendon, putting him off the rest of the season. He was hurt a day earlier in the first period of a 4-3 loss to Florida.
A little Spinal work with @Roy9ner! #nhlalumni #chiropractic @ProHockeyCS @ WNY Pain Relief & Integrative Wellness Center https://t.co/ndI9BtKqBN pic.twitter.com/h2ixdqu9HL

— Kevin M. Nightingale D.C. (@DrNightingale) November 18, 2021
Sabre's center, Roy, returned for the seventh game of the Sabres' Eastern Conference series against Philadelphia. Sadly, this was his final game of their season before being traded to the Dallas Stars.
With this, Derek Roy's inconsistent exploration with leagues began.
At the beginning of his Downward Trek; he was Plagued By Injury
As stated earlier, Buffalo Sabres' lead scorer was traded to the Dallas Stars in exchange for Steve Ott and Adam Pardy in July 2012.
Unfortunately, because of the 2012-13 NHL lockout, Roy appeared in only 30 games during the season. As a result, he was again traded to the Vancouver Canucks for the following season.
Derek signed a one-year contract with St. Louis Blues in July 2013 after Canucks sent him away. Hockey critics and fans were very bummed at Canucks claiming Roy wasn't the best fit for the team.
Regardless, Roy continued to prove his worth with the Blues. Unfortunately, after a single season, the free agent signed another one-year contract with the Nashville Predators in 2014. He was then traded to Edmonton Oilers after the 2014-15 season.
Moreover, Derek was reportedly offered a Professional Try-Out contract with the Washington Capitals during their preseason of 2015-16. However, after the last game, he signed up with a Swiss club called SC Bern.
Roy won the Swiss championship and played 36 regular-season contests for the club. Additionally, he signed with HK Avangard Omsk of KHL in July 2016 and was traded to Traktor Chelyabinsk in November 2016.
Finally, the former Canadian hockey player switched to the KHL Swedish Hockey League, Linkopings HC. He played two seasons with the club before moving on with EHC Munchen.
International Playoffs & Olympics
Derek Roy made his international debut at the 2003 World Junior Ice Hockey Championship, where he became an important catalyst in bagging a silver medal for Canada.
Similarly, Roy appeared at the 2008 World Championships with Canada's men's team and scored a hat trick against Norway. As a result, he earned his second silver medal with the Canadian team.
Moreover, Canadian hockey star Roy was also selected for the 2010 Winter Olympics but could not make it to the final roster cut. However, he was a member of Team Canada when they won the Spengler Cup.
Furthermore, Derek became the leading scorer as Canada finished with a bronze medal at the 2018 Winter Olympics held in Pyeongchang. Sadly, he won't be joining the upcoming Olympics as he announced his retirement in 2020.
Laura Stacey Bio: Ice Hockey & Net Worth>>>
Derek Roy | Retirement
The former OHL Playoff MVP, Derek Roy, announced his retirement after 18 years of a professional career in 2020.
The one-time Kitchener Rangers captain, Roy, released a statement via Instagram thanking Rangers Peter DeBoer, Steve Spott, and many others who passed on skills that helped him succeed in life.
While looking back at his career, Roy further noted that he'd never forget the 2003-04 OHL and Memorial Cup. Furthermore, he did not forget to thank Buffalo Sabres for making his childhood dream come true.
Derek also thanked his family for making sacrifices and being a solid support system. Finally, he concluded his statement by hoping to share his experiences with his son.
Throughout Derek Roy's career, he played 738 regular-season NHL games registering 189 goals and 335 assists.
Derek Roy | Net Worth & Earnings
As stated above, Roy had a successful 18 years of experience as a pro ice hockey player. In addition, he earned decent wealth as a free agent throughout his career and explored 11 seasons at NHL with several leagues.
Therefore, Derek Roy's net worth has increased smoothly throughout the year. Whether earnings from his hockey career or endorsements, Roy has decent wages, given his free-agent situation.
In summary, Derek Roy has an estimated net worth of around $1- $5 million in a sentence.
Earnings from Ice Hockey Career
Derek Roy dedicated 18 years of his life as a professional ice hockey player. His hard work since age 4 came to fruition after Buffalo Sabres drafted him in the 2001 NHL Entry Draft.
After the 2006-7 season, Sabres' center Derek Roy signed a six-year contract worth $24 million. He earned an average of $4 million per season, a massive increment from the $627,000.
Undoubtedly, the Ottawa native spent most of his career with Sabres. However, Roy agreed to a one-year contract worth $4 million with St. Louis Blues on July 6, 2013.
Moreover, Nashville Predators signed the free-agent forward Derek Roy to a one-year contract worth $1 million.
Besides NHL, Derek Roy also played for the Swiss club SC Bern. According to Swiss Hockey News, the average salary of Swiss hockey players was CHF 215,000 in 2020. Therefore, it is fair to assume that Roy's wage in the Swiss club was decent, given his experience in NHL.
Earnings from Sponsorships
Besides his ice hockey career, Derek Roy's net worth is influenced by endorsements, which aren't disclosed.
However, Roy's website reveals that he was endorsed by Vitamin Water, Gongshow Gear, and Phiten USA. Regrettably, the website has not been updated since 2015, so his present sponsorship partners are not yet disclosed.
Although the exact number of Roy's wealth isn't established, he lives a comfortable life with his family in Canada. During an interview in 2015, he drove a Ford Edge Limited Edition.
Derek Roy's Charity Works
Since Derek Roy's charity events aren't publicized, he teamed up with his friends Ross Celino and Steve Barnes to raise charity funds for the fight against Juvenile Diabetes.
For every 2016-17 season goal, Celino and Barnes committed to donating $1,000 to fight against Juvenile Diabetes.
Furthermore, Roy also partnered with Children's Hospital at Vanderbilt.
Rebecca Johnston Bio: Career & Net Worth>>>
Derek Roy | Personal Life
The former Canadian ice hockey player Derek Roy is a very private person. He is so personal that his Instagram is private as well.
However, we know Derek Roy is happily married to his wife, Nancy Roy. Sadly, the pair is very private about their relationship.
According to Vancouver Diamonds, Derek and Nancy got engaged in May 2017. The pair exchanged vows two years after engagement in May 2019.
Derek Roy's wedding was a grand, boho-themed tropical wedding at The Beach House in the Bahamas. The pair is now happily married for over two years.
Derek Roy's wife, Nancy Roy, gave birth to their first child, Huxley. He had shared a picture of his beloved son and wished him on his birthday.
However, Roy made his Instagram private so we couldn't find more about his kid. Regardless, he was looking forward to spending his retirement with his wife and son.
Social Media Presence
The former Buffalo Sabres center, Derek Roy, is very private, and his presence on social media platforms is very secret.
Derek is active on Twitter, but most of his posts are comprised of his private Instagram posts' links. Moreover, his Facebook isn't updated since January 2020.
Interesting Facts
Losing a game in the Eastern Conference Final to the Carolina Hurricanes in 2005-06 was the most painful experience for Derek Roy.
Former Buffalo Sabres' center Derek Roy coached Mike Hough during his junior years.
Roy started watching NFL after moving to Buffalo.
FAQs
What was the last book that Derek Roy read?
Michael Jordan: The Life. Inspirational book.
What games does Derek Roy prefer?
Besides hockey and skates, Roy loves to play golf. While talking to the Hockey News, Roy admitted that every game is a different battle and opportunity, making him fall in love with Hockey.