Canadian Ice Hockey has seen many legends, and one among them is Laura Stacy.
Currently affiliated with the Montreal chapter of the Professional Women's Hockey Players Association, Stacey has been eyeing significant achievements.
Furthermore, Laura Stacy is a beautiful soul who started representing Team Ontario at the 2011 Winter Games.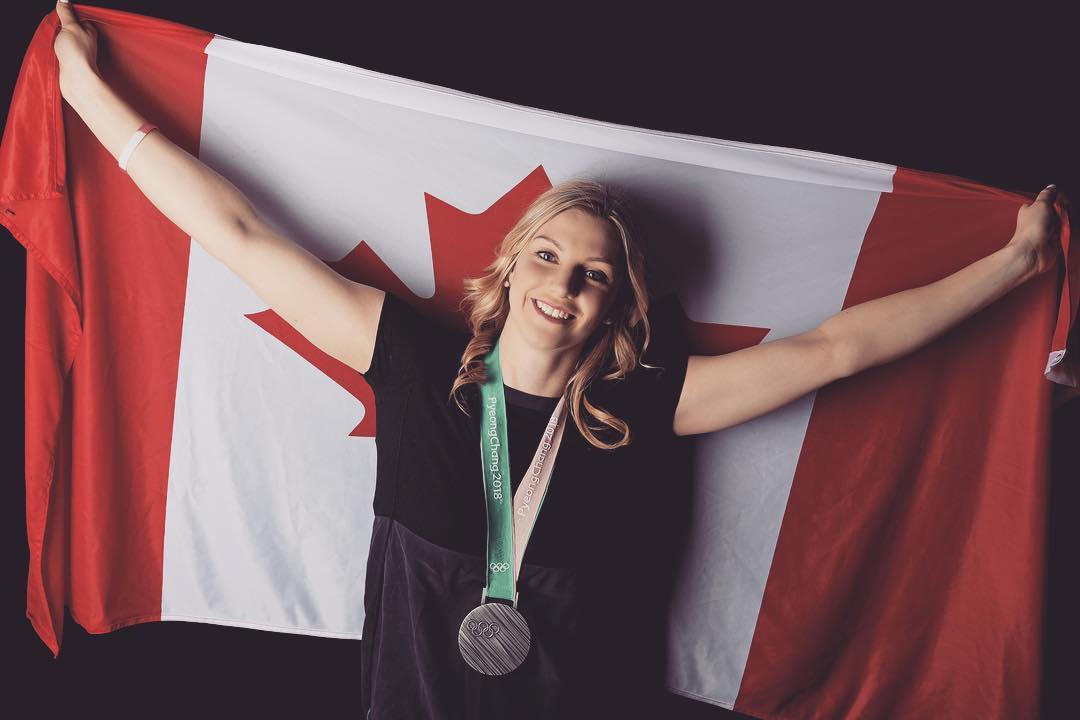 Since 2011, Laura has won two gold, three silvers, and one bronze medal representing Canada in several championships and Olympic Games.
The Canadian wonder, Laura Stacey, motivates every queer woman to conquer without hearing judgments and pursue their dreams.
Hence, before discussing Laura Stacey's life, let's examine the quick facts.
Quick Facts
Full Name
Laura Rachel Stacey
Date of Birth
May 5, 1994
Birth Place
Mississauga, Ontario, Canada
Nick Name
Not Available
Nationality
Canadian
Zodiac Sign
Taurus
Age
29
Education
Hill Academy, Dart Mouth College
Height
5 feet 10 inches (178 cm)
Weight
71 kg (157lb)
Hair Color
Blonde
Eye Color
Brown
Build
Athletic
Father's Name
John Stacey
Mother's Name
Karen Stacey
Siblings
Sister (Holly Stacey)
Marital Status
Unmarried
Partner
Marie-Philip Poulin
Children
None
Profession
Ice Hockey Player
Active Years
2012-present
Position
Forward
Professional Wins
6
Gold Medal Counts
2
Former Teams

Markham Thunder (2016-19)
Dartmouth Big Green (2012-16)

National Team
Canada
Net Worth
$1-$5 million
Social Media
Merch
Hockey Stick and Hockey Ball
Last Update
September, 2023
Laura Stacey | Early Life & Childhood
Canadian ice hockey player Laura Stacey is a beautiful, humble person. Born on May 5, 1994, to a lovely couple, John and Karen Stacy, the Canadian wonder grew up in Ontario, Canada.
Furthermore, Laura grew up with her sister, Holly Stacey, a doctor. She congratulated Holly on getting her medical degree in the cutest manner.
Stacey's Instagram post said she used to be scared of doctors but has officially fallen in love with them as a congratulatory post for her sister and her husband.
Moreover, Laura Stacey was very proud of her mother, Karen Stacey, who completed a marathon in 2017.
Furthermore, the Stacey family recently celebrated Laura's sister's wedding grandly.
Grew Up with Inspiring People in her Family
Besides, Laura comes from an athletic family. Her great-grandfather, King Clancy, is a Hockey Hall of Famer. He played 16 seasons for the Ottawa Senators and Toronto Maple Leafs in NHL.
She wears No. 7 in honor of Clancy, whose number hangs in the rafters at Scotiabank Arena.
Similarly, her great-uncle, Terry Clancy, played for Team Canada at the 1964 Winter Olympics in Innsbruck, Austria.
Not to mention, Stacey's dad played collegiate volleyball, and uncle Steve Kavanagh played college hockey at Guelph.
Moreover, while talking to CBC in 2017, Laura revealed that growing up with a role model to look up to gives you motivation. Hence, she vows to continue his legacy.
At this point, you might have already guessed; ice hockey was a big part of Laura Stacey's childhood.
Yes, she started playing hockey at four and was featured in several teams in the Greater Toronto area.
Furthermore, while talking to Grindstone, she revealed that she'd see little boys running to the rink across the street with hockey sticks in their hands.
She further added that she'd cry because she thought they were having so much fun and wanted to be there. However, Stacey's parents insisted that she learns to skate before ice hockey.
Regardless of the pushback, Laura Stacey continued her passion persistently. Her determination eventually convinced them to let her play, making her one of the most sought-after players in Canada.
Moreover, Stacey won several Esso Medals of Achievement with Vaughan in 1999-00. 2000-01, and 2002-03.
Read Mikhail Grigorenko- Career & Net Worth>>
Laura Stacey | Age, Height & Weight
The 5 feet 10 inches ice hockey player is terrific. Her doe eyes radiate her innocence, humility, and generosity greatly.
Moreover, Stacey's brunette hair perfectly falls off of her fair skin. Moreover, as a professional ice hockey athlete, Laura maintains her body and is a massive fan of working out.
Laura Stacey | Career as a Pro Ice Hockey Player
As stated earlier, Laura Stacey grew up looking up to her great-grandfather and great-uncle. Hence, she started playing hockey at the young age of four.
Laura Stacey's career started in 2011 at Canada Winter Games. Moreover, during the 2011-12 Canadian Women's national ice hockey season, Stacey was a member of the Canadian National Under 18 team that participated in a three-game series.
During Stacey's debut in the professional game, she scored a goal in the gold medal game of the 2011 Canadian Women's U-18 Championships for Team Ontario.
Likewise, on January 23, 2012, Stacey committed to the Dartmouth Big Green and was named the ECAC Hockey All-Rookie Team in her first season. Furthermore, she was one of three finalists for the RCAC Rookie of the year.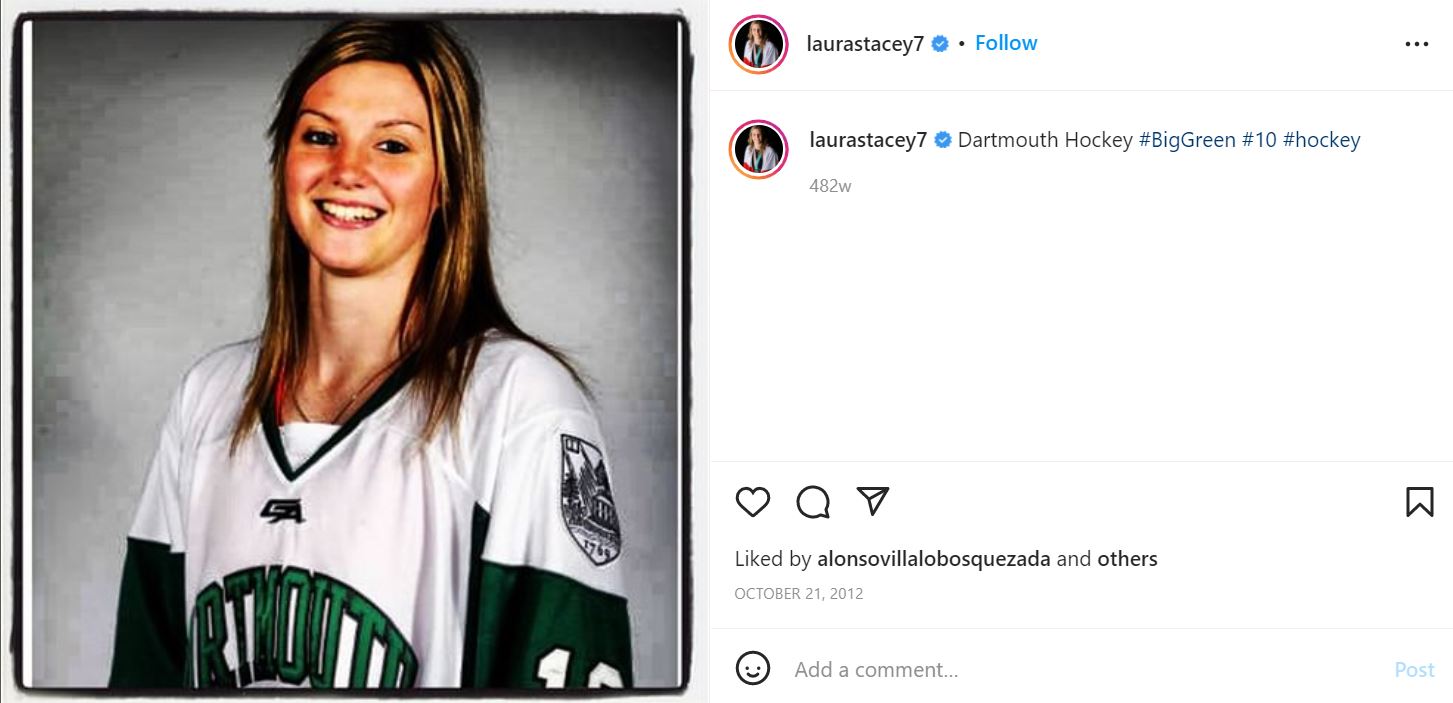 Moreover, Laura also earned All-Ivy Honorable Mention as a junior. Similarly, she captained the Big Green in her senior year and grabbed All-Ivy first-team honors.
CWHL
After an extraordinary career during her college years, Laura Stacey was selected third overall by the Brampton Thunder in the 2016 CWHL Draft.
She made her first debut in a road contest against Calgary Inferno on October 8, 2016, and made her first goal with the Thunder on October 9.
Likewise, Stacey was named among the 3rd CWHL All-star Game participants during her first season. Similarly, she was joined by fellow Thunder teammates Laura Fortino, Jess Jones, and Rebecca Vint.
Moreover, Laura Stacey scored 2:11 left in the 4-on-4 during the 2018 Clarkson Cup finals.
To form a viable professional women's hockey league in North America, Laura joined PWHPA; she currently plays for Team Bauer in Montreal.
Likewise, during the Dream Gap Tour showcase in Calgary, Laury finished with two goals and assists in five games leading her team to win the championship game.
Moreover, Canadian Women's Hockey player Laura Stacey joined the Martlets coaching staff for the 2019-20 season.
Olympics & Medals
As aforementioned, Laura Stacey made her career debut in 2011, representing her homeland in Winter Games.
Moreover, in the first fame of the 2012 IIHF World Women's U18 Championship, and accumulated three points in Switzerland's 13-1 rout.
Likewise, Laura played for Team Canada at the 2018 Winter Olympics and earned a silver medal in five games. Similarly, she was also named to Canada's 2022 Olympic team.
Stacey expresses her ecstasy and gratitude via Instagram, captioning, "A dream come true!" She added that she was honored to be a part of the 2022 Winter Olympics in Beijing with an incredible group.
Also, a relevant article Rebecca Johnston Bio: Career & Net Worth>>
As mentioned earlier, Laura Stacey has a charming career, and her earnings are as lucrative as her stats.
Although Laura Stacey's net worth does not have an exact figure, her experience and skillsets make her legible to have a pretty good salary.
In 2017, CWHL announced that the league would pay modest wages with a promise of an annual increase. It was set to a minimum of $2000 per season and a maximum of $10,000 with a team salary cap of $100,000.
Therefore, Laura Stacey's earnings from her career as an ice hockey player might seem a little sad, but her sponsorships aid more in her net worth.
Endorsements & Other ventures
Given a spectacular career, Laura Stacey is sponsored by big names in the industry.
Laura is sponsored by KEWL Sports, a premium apparel supplier for teams at all levels, including activewear, performance, team gear, and headwear.
Likewise, Stacey also posts a couple of sponsors' posts on her Instagram. For instance, she posted a promotional post for Sealy Canada, a mattress Company.
Charity Works & Commitment to a Better Community
Besides making decent earnings from Stacey's career, she is actively involved in philanthropic works.
Since Laura Stacey recognized her passion at a young age, she was always reluctant to provide the same opportunity for other kids.
Therefore, Laura created LS7 Charity in partnership with local elementary schools to get kids involved in sports. It was an innocent birthday activity that sparked the idea of a charity.
Therefore, instead of a conventional hockey camp, Laury, with the help of her parents, the whole tournament named LS7 Sticks in for Charity Road Hockey Tournament.
Pretty excited to announce the first ever LS7 Sticks in for Charity Road Hockey Tournament.
When: Saturday, August 4th, 2018
Where: Kingsway Neighbourhood (Toronto)
Time: 8am – 5pm,… https://t.co/iAweEZ8f8l

— Laura Stacey (@LauraStacey7) July 10, 2018
The second annual LS7 Sticks In For Charity Tournament in 2019 raised over $10,000, donated to the Grind Stone Award.
Besides conducting an open tournament, in 2020, LS7 put sticks down to show support for all the front-line workers.
The organization donated 510 medical masks to Toronto's Sick Kids Hospital and PPE to front-line workers.
Sadly, the 2020 & 2021 LS7 Sticks In For Charity Road Hockey Tournament was canceled due to the global pandemic.
The Canadian ice hockey star Laura Stacey is open about her work and very involved in charity events, excluding her organization.
Besides, she relentlessly works for prosperity in games. Therefore, only making a certain amount and a profitable income is not just the motto; Laura Stacey is here to change the sportsmanship scenario for women in North America.
Laura Stacey | Personal Life
Stacey is the prettiest person in the Canadian hockey scenario. After graduating from Dartmouth University in 2016, she is interested in pursuing an MBA and working on the business side of sports.
Besides, Laura is in a healthy and happy relationship with her partner, Marie-Philip Poulin, fellow Canadian ice hockey forward.
The couple shares pictures of one another's pictures via one another's Instagram with cute captions. They try to spend most of their free time with their family.
Moreover, the hockey couple also owns a cute puppy named Arlo.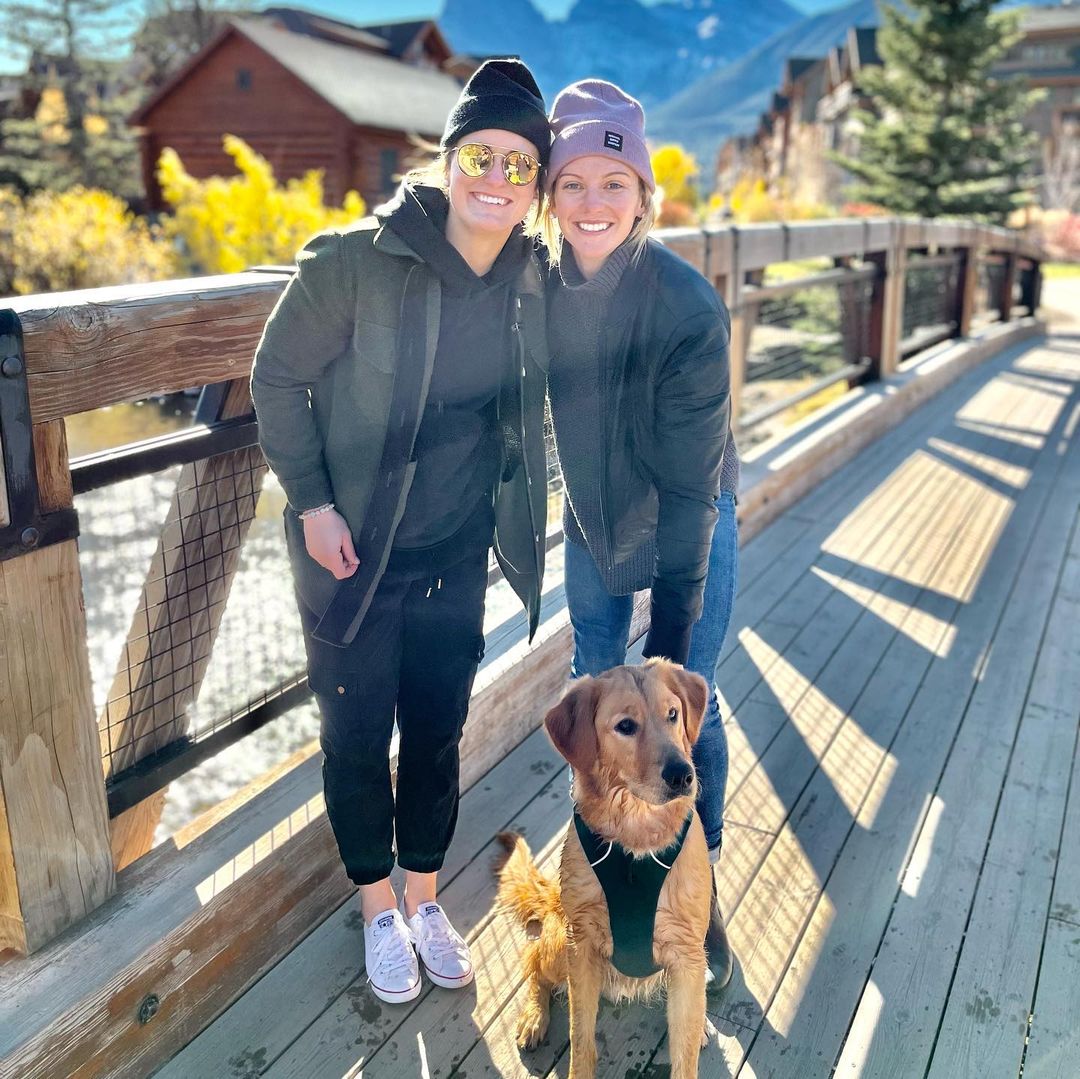 Alt. ough Marie and Lucey are tight-lipped about their relationship, they are very candid. Therefore, their marital status is not yet revealed.
Furthermore, Laura Stacey's girlfriend, Marie Philip Poulin, serves as the captain of the Canadian national team.
The four nations cup gold medalist Marie started her career in 2007 with Montreal Stars and was named to Canada's 2022 Olympic team.
Regardless of the candid privacy, Laura and Marie seem happy together.
Social Media Handles
We can surely catch Laura on social media platforms like Instagram and Twitter. She is fairly available and likes to keep her fans updated about her activities.
Adding up a piece of information, Laura has 9,022 followers on her Instagram and around 2,800 followers on her Twitter account.
Get to know Christian Thomas Bio | Awards & Net Worth>>
Frequently Asked Questions
Was Laura Stacey cut from the senior team?
Laura was cut from the senior team for four consecutive years before finally making her world debut at the 2017 IIHF Women's World Championship.
Did Laura Stacey have a pet before?
Laura lost her dog, named Hutchy, in 2021.
Laura Stacey's Favorite Quote?
Stacey's favorite quote is, "Good timber does not grow with ease; the stronger the wind, the stronger the trees!"