Desmond Bane is an American professional basketball player who plays as a shooting guard for the Memphis Grizzlies of the National Basketball Association (NBA).
Bane has not had a long career in the league as of now. However, he is considered one of the finest long-term NBA prospects by NBA pundits.
He has also shown flair in just a few seasons in the NBA. It has earned him some prestigious awards and honors in the league.
The shooting guard played collegiate basketball for the TCU Horned Frogs and was drafted by the Boston Celtics in the 2020 NBA draft after an impressive performance with the college team.
Subsequently, Bane was traded to the Memphis Grizzlies for a future pick.
This article will disclose some basic details about the NBA celebrity— from his professional career to his personal life and net worth.
Without any delay, let's look at some of the quick facts about Desmond Bane.
Quick Facts
| | |
| --- | --- |
| Full Name | Desmond Michael Bane |
| Known As | Desmond Bane |
| Birth Date | June 25, 1998 |
| Birth Place | Richmond, Indiana |
| Father's Name | Etieno Ekiko |
| Mother's Name | Marissa Bane |
| Siblings | 1 (Sister) |
| High School | Seton Catholic (Richmond, Indiana) |
| College | Texas Christian University (TCU) |
| Nationality | American |
| Zodiac Sign | Cancer |
| Age | 24 years old |
| Height | 6'5″/1.96 m/196 cm |
| Weight | 98 kg/215 lb. |
| Body Type | Athletic |
| Profession | Basketball Player |
| Position | Shooting Guard/Small Forward |
| Current Team | Memphis Grizzlies |
| Draft | 2020 NBA Draft (Round 1: 30th pick) |
| Active Years | 2020-present |
| Marital Status | Unmarried |
| Girlfriend | Tatum Talley |
| Children | A son; Armani |
| Salary | $2,486,231 (average salary) |
| Net Worth | $1-$2 million |
| Social Media | Twitter, Instagram |
| Merch | Rookie Cards, Signed Photos |
| Last Update | June 2023 |
Desmond Bane's Contribution Against The Wolves
Desmond Bane had a great outing against the Minnesota Timberwolves on January 13, 2022.
Bane scored 21 points alongside Jaren Jackson Jr.'s 20 points in the 116-108 win over the Wolves, helping the Grizzlies to bag their 11th straight win.
Their scintillating performances helped the Grizzlies pull away an emphatic final-minute win.
Anthony Edwards and D'Angelo Russell scored 30 points and 29 points respectively from the Timberwolves side to help counter Bane's performance.
Early Life
Desmond Michael Bane, famously known as Desmond Bane, was born on June 25, 1998, in Richmond, Indiana, to his father, Etieno Ekiko, and mother, Marissa.
When he was 2, the NBA player started living with his great-grandparents.
During his childhood, Bane found more success in baseball than in basketball. He was heavily invested in baseball until his 8th grade and played football and soccer at the youth level.
Desmond attended the Seton Catholic High School in Richmond, Indiana, where he played basketball under the coach Josh Jurgens, who trained Bane in the third grade.
In his senior year, Bane averaged a state-high 30 points, 11.5 rebounds, and 6.1 assists per game.
The shooting guard scored a school-record 62 points in a win over Lincoln Senior High School and was named the MVP of the Wettig Memorial Holiday Tournament.
Bane gradually improved his gameplay in every other match. He finished high school with 1,991 points, surpassing 1988 Indiana Mr. Basketball winner Woody Austin for the most in Wayne County history.
After high school, he enrolled at Texas Christian University on May 12, 2016, and played basketball for the TCU Horned Frogs men's basketball team.
College & Beyond
Desmond made notable performances in the TCU soon after his entry. Bane scored 18 points and seven rebounds against the Bradley, which earned him the Big 12 Newcomer of the Week.
He scored 16 points, including three free throws, with just 2 seconds remaining in a win over the top contenders, Kansas, in the Phillips 66 Big 12 Championship quarterfinals.
The Grizzlies' shooting guard became a famous basketball player at TCU after his performance against Kansas.
In his first year, Bane started 13 games, and averaged 7.1 points and 2.9 rebounds per game.
He helped his team win in the NIT, scoring 9 points in the title game against Georgia Tech. He also scored his season-high 27 points against Iowa State.
In his sophomore year, Bane had a decent performance, averaging 12.5 points and 4.1 rebounds per game.
College Success
In his junior year, Bane scored a career-high of 34 points against Texas in the regular-season finale and 30 points against Nebraska in the second round of NIT.
He was also named to the All-Big 12 Second Team.
The shooting guard ended that season with brilliant numbers, averaging 15.2 points, 5.7 rebounds, and 42.5 % shots from behind the arc.
Desmond declared his name for the NBA draft but returned to TCU and continued his senior year.
Besides, Bane was named the All-Big 12 First Team and averaged 16.6 points, 6.3 rebounds, and 44.2 % 3-point percentage.
The NBA player scored 23 points in a 75-52 loss over Baylor and was awarded the Big 12 Player of the Week on March 2, 2020.
Professional Career
Desmond Bane was selected with the 30th pick in the 2020 NBA draft by the Boston Celtics. With this, he became the first TCU player to be picked in the first round since 1995.
Bane was traded to Memphis Grizzles as part of a 3-team trade. The Grizzlies announced on November 2020 that they had signed Desmond Bane.
The Grizzlies' shooting guard had an impressive rookie season and was selected to the All-Rookie Second Team.
He also had the highest 3-point field goal percentage in a rookie season (150 attempts minimum) since Stephen Curry.
Bane, alongside Tyrese Haliburton, won the Clorox Clutch Challenge at the 2022 NBA All-Star Weekend.
The shooting guard set the franchise record for most three-pointers in a season, surpassing Mike Miller's record (202) in 2007.
Bane scored 34 points in a 119-118 loss against the Minnesota Timberwolves in the first round of the 2022 NBA playoffs. Similarly, he scored 23 points to eliminate the Timberwolves and reach the second round of the postseason.
The NBA player recorded his career-high 38 points in a 134-124 win over the Brooklyn Nets on October 24, 2022.
Altercation Between LeBron James And Desmond Bane
On January 9, 2022, in a match between the Lakers and Grizzlies, Desmond had a heated argument with Lakers legend Lebron James.
Bane said, "Them footsteps ain't scaring nobody," when the NBA legend was slow getting back to defend him.
James got frustrated with Bane talking too much in a Memphis' 127-119 victory.
Personal Life, Family & Siblings
Desmond Bane spent much of his childhood with his mother, Marissa Bane, and his sister. Details about his sister are unknown to the general public.
Bane, at the age of 13, found out about his father, Etieno Ekiko, who lived in Nigeria.
The Grizzlies' shooting guard is in a relationship with Tatum Talley. However, there is no information about how these lovebirds met and began dating.
Talley is a fitness enthusiast, personal trainer, and yoga teacher.
The couple welcomed their son Armani Jordan Bane. Their son's exact birth date is unknown, but it is believed to be between late June and July 2022.
Net Worth
Despite starting his NBA career in 2020, his performances have helped him earn quite a fortune.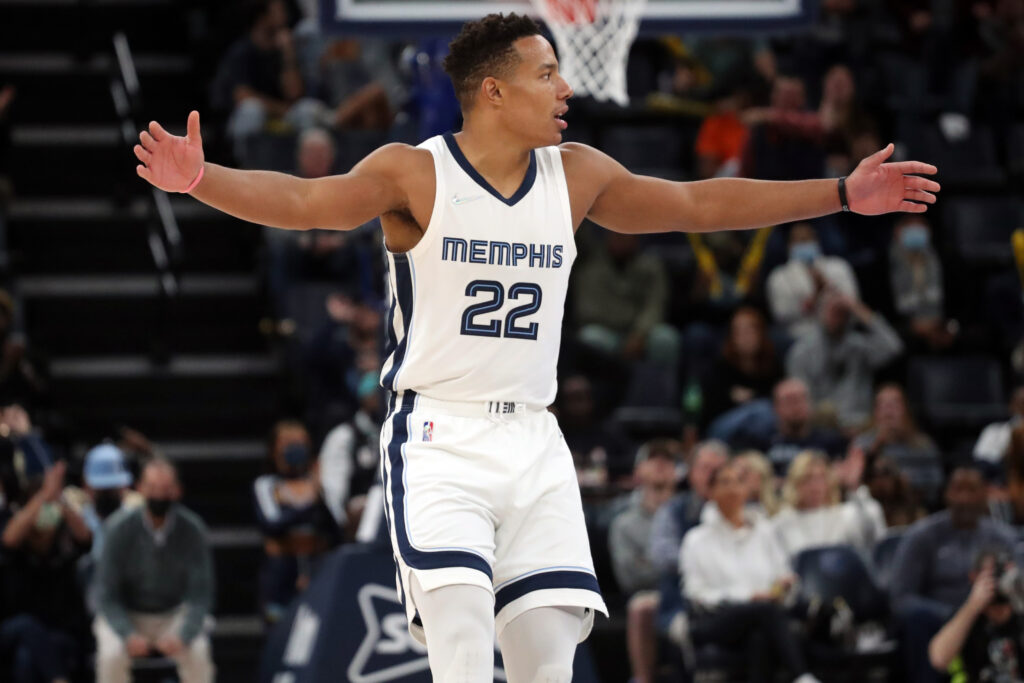 Bane started his professional career with the Memphis Grizzlies in the NBA. He signed a rookie contract worth $9,944,923 for 4 years, including $9,944,923 guaranteed and an average annual salary of $2,486,231.
The shooting guard earned $2,130,240 in the 2022-23 season.
Besides, Bane also does some brand endorsements. He participated in a skills camp 'Desmond Bane's Skills Academy' at BGCWC, a non-governmental and nonprofit organization, from 18-21 July 2022.
Awards & Achievements
The below mentioned are Desmond Bane's career highlights, awards, and achievements.
— Desmond Bane (@DBane0625) June 18, 2021
2021 NBA All-Rookie Second Team
2020 First-team All-Big 12
2019 Second-team All-Big 12
2017 NIT champion
Social Media Presence
The shooting guard is quite active on social media. He uses his platform to endorse brands and also promotes his philanthropic works.
Besides, Bane posts pictures of him during the games, him enjoying with his friends and family.
He is available on Instagram under the handle @_dbane and Twitter @DBane0625.
Instagram: 210k followers
Twitter: 65.5k followers
Popularity
Debuting in the NBA in 2020, Desmond has gained quite an impressive number of fans from all around the world.
The above graph gives brief information about the popularity of Desmond Bane based on Google searches in the United States over a year.
Frequently Asked Questions (FAQs)
What is Desmond Bane's career-high?
Desmond Bane's career-high is 34 points which he scored in a 119-118 loss against the Minnesota Timberwolves in the first round of the 2022 NBA playoffs.
What is Desmond Bane's jersey number at the Memphis Grizzlies?
Desmond Bane's jersey number is 22 at the Memphis Grizzlies.
Has Desmond Bane won an NBA Championship?
No. Desmond has not won an NBA Championship as of now.
In how many NBA teams have Desmond Bane starred?
The shooting guard has played for only one team in the NBA, the Memphis Grizzlies.