Ever heard of an MLB All-Star 2014 who spent seven seasons playing for the minor leagues and the other two major leagues? Worry not if you haven't.
To point out, the man is Devin Mesoraco, who retired in 2019 and opted for a career as a coach.
To specify, Devin Douglas Mesoraco is an American professional baseball player who played in Major League Baseball. He served as a catcher for two of the teams, namely, Cincinnati Reds and New York Mets.
For sure, you would want to know about his life from career-high to unseemly lows. Owing to your curiosity, we have prepared an article that includes all of this.
But before that, let's check out the quick facts about this MLB catcher Devin Mesoraco.
Devin Mesoraco | Quick Facts
| | |
| --- | --- |
| Full Name | Devin Douglas Mesoraco |
| Birth Date | June 19, 1988 |
| Birth Place | Punxsutawney, Pennsylvania |
| Nick Name | The Groundhog |
| Religion | Not Known |
| Nationality | American |
| Ethnicity | White |
| Education | Punxsutawney Area High School |
| Horoscope | Gemini |
| Father'sName | Doug Mesoraco |
| Mother'sName | Laura Mesoraco |
| Siblings | Not known |
| Age | 34 years old |
| Height | 6 feet 1 inch (1.85 meters) |
| Weight | 224 lb (102 kg) |
| Playstyle | Batted (Right), Threw (Right) |
| Hair Color | Dark Brown |
| Eye Color | Light Brown |
| Awards | All-Star (2014) |
| Build | Athlete |
| Marital Status | Married to Kira Mesoraco |
| Children | Luke Mesoraco |
| Position | Catcher |
| Profession | MLB player, Coach |
| Net Worth | $15 million |
| Salary | around $4.9 million |
| Current Occupation | Volunteer Assistant at University of Pittsburgh |
| League | MLB |
| Active Since | 2011- present |
| Social Media | Instagram, Twitter |
| Merch | Baseball Cards, Jersey |
| Last Update | March, 2023 |
Devin Mesoraco | Early Life
Mesoraco was born on June 19, 1988, to his parents Laura and Doug Mesoraco, in Punxsutawney, Pennsylvania. We haven't found any information on his siblings yet.
He went to Punxsutawney Area High School, where he took more interest in playing baseball. He played for the Chucks baseball team and played there as a catcher.
Then, he was on for his games as a catcher. He broke the school records in walks, runs, hits, doubles, home runs, and stolen bases.
During his junior year, he aimed to play college baseball at the University of Virginia for the next season.
Mesoraco remained the recipient of the 2007 Pennsylvania Gatorade Player of the Year. He led his team to grab a win over the PIAA Class AAA State Championship with his outstanding performance.
The tournament was held at Peoples Natural Gas Field, home of the Altoona Curve.
He kept playing on and on for the seasons in high school. When he set himself as a baseball catcher soon, he made his intention to enter the MLB draft in 2007.
Devin Mesoraco | Age, Height, and Horoscope
Devin Mesoraco, one of the excellent catchers, his birthday is on 19-Jun-88, Sunday. He is 32 years old as of now. He stands 6 feet 1 inch (1.85m) tall and weighs around 224 lb (102 kg).
Likewise, he is young, handsome, and a vivacious man who is of white ethnicity. He was born under the sign Gemini. Likely to his horoscope, he inherits similar traits.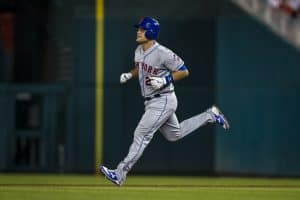 Mesoraco is adaptable, outgoing, and intelligent. He never gives up on what he does and is of a strong-headed personality.
Moreover, most readers would love to know the fact that his birth flower is a Rose or Honeysuckle.
You may like to read an article on another MLB player Dakota Hudson and Andrew Cashner.
Devin Mesoraco | Professional Career
Minor Leagues (2009)
Not to mention, he was lucky enough to get drafted in the same year he was willing to. The Cincinnati Reds selected him in the 15th overall pick of the 2007 Major League Baseball Draft.
Mesoracao is mostly recognized as "The Groundhog" from Punxsutawney to his Red fans.
Mesoraco is said to be the third player in the Reds to get selected with their first pick. He performed at 40 games for the rookie season Gulf Coast League Reds, scoring .219 in 137 at-bats.
Mesoraco also played for the single-A Dayton Dragons the same year. He recorded .261 with nine home runs and 42 runs batted in during 306 at-bats. He made a grand slam on July 10 and faced a two-homer game on July 21.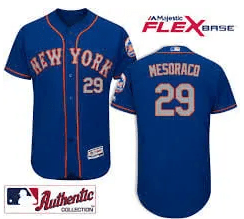 Furthermore, he was called upon to a big league spring training in 2009 to try out for roster and position sports. Mesoraco played for the single-A advanced Sarasota Reds in 2009 but could not prove himself better.
He amassed a .228 with eight home runs and 37 runs batted in over 312 at-bats. It was relevantly the low point of his career.
Mesoraco switched to the single-A advanced Lynchburg Hillcats for the 2010 season. There, he collected a .355 hits in 43 games. His promotional session began at this time of his career.
He got promoted to double-A Carolina Mudcats, where he hit a .294 in 56 games. Following that, Mesoraco got promoted to the triple-A Louisville Bats, where he was 12-for-52 in 14 games.
He completed the season overall with a combined 25 doubles, 26 home runs, and 75 runs batted.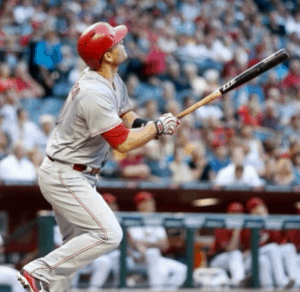 Moreover, Mesoracao moved to the Arizona Fall League, where he recorded a .242 hits with two homers and 11 runs batted in.
2010
Many people thought he would be selected for the Major League Basketball Roster in 2010, but that did not happen. The Reds chose Ramón Hernández over Mesoraco.
Not every year in life is a misfortune; further, he was rated as a top prospect in the Reds organization according to Baseball America.
It seems like hard work has to pay off, no matter in what way. Mesoraco was also ranked as the 14th best prospect in baseball by Jonathan Mayo of MLB.com.
Likewise, he finally got selected to the 40-man roster in 2011 and played in the 2011 Future Games.
Cincinnati Reds

(2011- 2012)

Mesoraco played officially in the major league on September 3, 2011. He performed in 18 games with a .180 batting average, 2 home runs, and 6 runs batted.

Moving to 2012, the start was not that good for him. Mesoraco got disqualified for arguing with umpire Chad Fairchild against the San Diego Padres.

The argument between them was quite heated. He left the game the next night due to extreme dizziness.

Mesoraco suffered a mild brain injury and got placed on the 7-day disabled list. Not only that, he was suspended from three games.

For 2011, he only appeared in 54 games, whereas, for 2012, he appeared in 103 games. Nevertheless, Mesoraco wrapped up 2013 with a hit .238, 9 home runs, and 42 runs batted in.
2014-2017
Mesoraco was placed on the disabled list twice for the 2014 season, but he did collect .294 as of June 4 to maintain his MLB post.
However, he was titled to the 2014 MLB All-Star Game, which became the highlighting point of his career.
He wrapped up the season, playing in 114 games, scoring 25 home runs and 80 runs batted. Not only that, Mesoraco topped all other catchers in home runs and slugging percentage.
Furthermore, Mesoraco signed a four-year contract extension worth $28 million with the Reds, But unfortunately, he missed the rest of the games for the 2015 season as he had to undergo left hip surgery.
Mesoraco must be saddened to see the irony of life; the story of injuries did not end up here.
He had to go for surgery once again in 2016 when he was diagnosed with a torn labrum on his left shoulder. He could only play in 16 games with 1 run batted in and a .140 average.
A similar incident took place in 2017, where he faced a hit by a pitch on his left foot from Chicago Cubs' rookie player Jose Quintana. Mesoraco battled for 56 games and scored .213.
New York Mets (2018-2020)
The Reds transferred Mesoraco to the New York Mets for Matt Harvey in 2018 with some cash consideration. He became a free agent later.
His time with the Mets did not last that long. The Mets posted him to the restricted list on March 25, 2019, when Mesoraco could not make their opening day roster.
B.B. Abbott, who is said to be his agent, later claimed that Mesoraco would go for retirement instead of reporting to his minor league assignment.
Mesoraco settled for a coaching career later and joined the University of Pittsburgh as a volunteer assistant on July 10, 2020.
Devin Mesoraco | Personal Life
Coming to his private life section, he is not a bachelor anymore. Mesoraco tied the knot with his long-time. Girlfriend Kira on November 15, 2014, at St. Cosmas & Damian church.
They also share an adorable son named Luke, who was brought into this world on August 6, 2017.
Mesoraco is a genuine man. There is no such rumor heard about his ex-girlfriends, past affairs, or any other extramarital affairs. He is totally into a healthy relationship with his wife.
They are just living the tagline of "Happily ever after."
Also, there are no such controversies about him. Yes, he would speak up only when necessary; otherwise, he is a calm, composed, and sensible human.
Devin Mesoraco | Net Worth
It is a mere and wholesome fact that if Moseraco would not really have to suffer from all those mild and severe injuries, he could have swiped off his career with excellent hits.
Nonetheless, he did maintain his legacy during his time with both the clubs.
Mesoraco used to earn a base salary of $5,025,000 as of 2019 when he was a part of the New York Mets.
But now, we cannot really configure his financial earnings. And, there is no such information available on the internet regarding his earnings from a coaching career.
According to online sources,
Not yet clear but, Mesoraco has an approximate net worth of $15 million as of 2023.
Devin Mesoraco | Social Media Presence
Not really good news for Mesoraco's fans out there. Saddened to say this, but it seems like he does not like to remain in the hype at all.
Mesoraco is not available on any social networking platform. He is certainly living through the traits of his sun sign Gemini. As they say, people who belong to this horoscope are not social, talkative, and whimsical.
However, we can get a little hint about his life, experiments, and achievements on his Instagram, Twitter Fanpage. Afterall. Something is better than nothing. Thus, below here is the link to his official fan page.
Twitter- @DevinMesoraco39
Instagram- @devinmesoracofanpage
Also, you may be interested in reading about Ryan Madson.
Devin Mesoraco | FAQs
What is Devin Mesoraco's MLB career statistic?
Devin Mesoraco's MLB career statistic is 58 home runs and 192 runs batted in with a batting average of .232.