Devin Vassell, a utility NBA player, excels as a shooting guard/small forward for San Antonio Spurs, a five-time NBA champ. The Georgia-born's dream of NBA career came true at 20, when he became the first-round pick.
The Florida State University alumni was the 11th overall pick of the Spurs in the 2020 NBA Draft & has been playing with the team since.
With San Antonio Spurs, Vassell signed a four-year rookie contract, with a provision for each one-year option deals for 2022-23 & 2023-24 seasons.
After the 2023 season, he will become an restricted free agent. But the scenario seems less likely, considering the fact that Vassell's impressive gameplay won't make him an easy waiver.
On November 4, 2022, Vassell scored his career-high 29 points, though it couldn't cover their loss to the LA Clippers with 7 points deficit.
Later in January 2023, the NBA star underwent knee surgery that has kept him out with no stoned date of return.
Surely, with a huge NBA fame, prying eyes on Devin's personal life comes with no surprise. In this article, we will discuss his early life, family, relationship & net worth.
Quick Facts
Full Name
Devin Anthony Vassell
Known As
Devin Vassell
Date of Birth
August 23, 2000
Age
22 Years Old
Birth Place
Lawrenceville, Georgia
Nationality
American
Ethnicity
African-American
Religion
Christianity
Father's Name
Andrew Vassell
Mother's Name
Cynthia Vassell
Siblings
Two (Andrew Jr. and Danielle)
Zodiac Sign
Virgo
Chinese zodiac
Dragon
Height
6 feet 5 inches /1.96 m/ 1966cm
Weight
90 kg/ 200 lbs
Education

Peachtree Ridge High School
Florida State University (2018-2020)

Relationship Status
Single
Profession
Basketball player
League
NBA
Position
Shooting Guard/ Small Forward
Team
San Antonia Spurs
Jersey Number
24
NBA draft
Round: 1, Pick: 11th Overall, 2020
(Selected by the San Antonio Spurs)
Playing Career
2020-present
Net Worth
$4 Million
Social Media
Instagram, Twitter
Merch
Autographed Rookie Card
Last Update
March 2023
Devin Vassell's Parents & Siblings
Born on August 23, 2000, in Lawrenceville, Georgia, Devin Vassell is the youngest of three children to Andrew Vassell, who works as CarMax, and Cynthia, a former nurse.
The NBA player's father is a former college basketball player for the Seawolves at the Stony Brook University.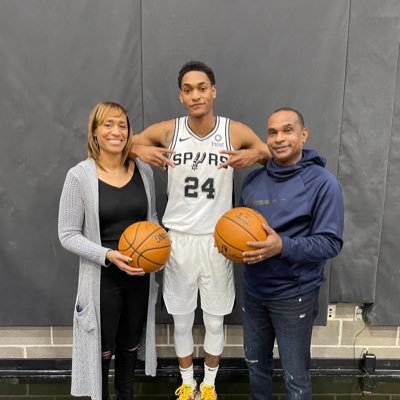 Devin's parents were very supportive of his basketball career; in fact, his father coached him & his older siblings.
Even more, when he signed a four-year NBA deal with the Spurs, his parents offered to move to Alamo City, Texas, so that they could be there for him.
Vassell grew up with his two older siblings: brother Andrew Vassell Jr. (13 year senior than him) and sister Danielle Vassell Brooks (11 years senior).
As reported, Vassell's older brother brother Andrew Jr. also played basketball, that resulted Devin's attachment to the hoops.
More On Siblings!
Currenty, Andrew Jr. is the co-founder of couple-counseling firm AV Dynasty Enterprises with his wife Amber Vasell, with whom he shares two children.
Moreover, he is the founder & CEO of Preparing Now for the Future (PNF).
According to his LinkedIn profile, Andrew previously worked as:
Finanace analyst at The Coca Cola Company (2014-18)
Compensation analyst at Aaron's Inc. (2018-20)
Senior compensation analyst at The Home Depot (2020-21)
Senior compensation analyst at Cox Communications (2021-22)
As for Devin's older sister Danielle, she is married to her long-time partner Ahmad Brooks and shares two children with him.
High School & College Basketball
Devin, an attendant of Peachtree Ridge High School, averged 21.6 points and 8.9 rebounds per game in his senior year.
Vassell enrolled at Florida State University (FSU) despite getting offers form Texas Tech, University of North Florida, and Stetson University.
As reported, he was the only scholarship player of FSU in the 2018 recruiting class.
In his freshmen-year, Devin Vassell led the Florida State Seminoles to the 2019 ACC Men's Basketball Championship, where they lost to Duke.
As a sophomore, he started in all 30 games, averaging 12.7 points, 5.1 rebounds, 1.6 assists & 1.1 assists, inclusive of career-high 27 points against Virginia Tech on February 1, 2020.
He was considered top three-point shooter at Florida, with a three-point field percentage of 0.475.
After two years of college, he declared for the NBA draft in 2020.
NBA Career
Vassell became the 11th overall pick of San Antonio Spurs in the 2020 NBA Draft, being the second Florida State alumnus selected after Patrick Williams.
On November 27, 2020, he signed officially joined the Spurs inking a four-year rookie deal that runs through the 2023-24 season.
On December 23, 2020, Vassell made his NBA debut, contributing three points and three rebounds in a 131-119 victory over the Memphis Grizzlies.
In the 2020-21 season, he scored a season-high 18 points in a victory over the Suns on April 17, 2020.
In the 2021-22 regular season, Devin made season-high 22 points for two times: loss against Miami Heat (Feb. 26. 2022) & win over the Blazers (on April 1, 2022).
They lost to New Orleans Pelicans in the 2022 NBA play-in, despite Vassell's 23 points, two rebounds & two assists.
Vassell scored his career-high 29 points on November 4, 2022, against the LA Clippers and again tied his career-high 29 points in a loss against the Kings on November 17, that year.
In the Spurs, he plays alongside Trer Jones, Keldon Johnson, Jeremy Sochan, Devonte Graham, to name a few.
Net Worth And Salary Of Devin Vassell
As of 2023, Devin Vassell has an estimated net worth of $4 million. From his three NBA seasons, his career earnings totals to $12.705 million.
By the end of his four-year rookie deal, ending after 2023 season, Vassell's earnings will be $18.593 million.
The Spurs signed him on a rookie contract worth $18.59 million for four years on November 27, 2020, with a potential annual average salary of $4.64 million.
After bagging $4.03 million & $4.23 million in the first two years (2020-21 & 2021-22 season), the team exercised an option deal for the 2022-23 season, earning him a salary of $4.44 million.
On October 10, 2022, he agreed on another option deal with the Spurs for the 2023-24 season. It ensured his salary at $5.89 million.
After the 2023 season, Devin becomes a restricted free agent with a qualifying offer of $8.06 million- a price for other team if they want him.
Besides NBA salary and income, the player also earns from his brand endorsement. On his Instagram, he mentions H-E-B Grocery & Cantu Beauty, and is often seen wearing Nike shoes.
Relationship & Girlfriend
Fans around the globe are interested to know whether the NBA player is single or in a relationship. Well, as of now, the player doesn't have a girlfriend and focusing on his career.
Moreover, he is free from dating rumors & the records of past affairs.
Devin Vassell is allegedly single at the moment & focusing solely on his NBA career.
He spends most of his time with the Spurs in the games & trainings, and while on leisure time, he lives to spend the moment with his family.
Age & Body Measurement
As of March 2023, the Spurs' shooting guard is 19 years old.
An athletic build with braided black hair & brown eyes, Vassell has a height of 1.96 m, and weighs 200 lbs. He has a wingspan of 6 feet 10 inches (2.08 m).
Social Media Presence
The Spurs small forward is quite active on social medias like Instagram and Facebok and keeps his fans updated about his gameplay.
View this post on Instagram
He has around 64k followers on his Instagram followers, under the username @devin_vassell.
In February 2014, Devin joined Twitter; as of now, he has around 20k followers on his Twitter handle is @Yvngdevo.
Popularity Graph
The below graph represents the popularity of Devin Vassell over the past twelve months in the United States.
Along with Vassell's NBA achievements, fans also search about his family & relationship.
Frequently Asked Questions (FAQS)
What is Devin Vassell's jersey number?
Devin Vassell wears jersey number #24 for the San Antonio Spurs.
Is Devin Vassell injured?
On January 11, 2023, Vassell underwent arthroscopic surgery on his knee caused from earlier injuries. On February 10, 2023, he stated his possible return after the NBA All-Star game with specifications of the date. He is assumed to be back in late February or by April.