Jeremy Sochan, an American-born Polish power forward, plays for San Antonio Spurs (2022- now). At 19, he set the franchise record as the youngest Spurs rookie to start the (2022-23) NBA season.
The '2022 Big 12 Sixth Man of the Year' awardee has already a lot of prying eyes on him. It comes with no surprise, considering that he is the 9th overall pick of the Spurs in the 2022 NBA Draft.
Sochan has proved himself effective on both sides of the floor. On January 28, 2023, in a 128-118 loss against the Suns, the power forward scored his career-high 30 points.
The athletism of Jeremy Sochan comes from his family lineage; both his parents are former basketball players.
His mother, Aneta, played basketball for Polish teams before she moved to the United States for collegiate basketball. When Sochan turned 11, she trained him to play basketball & has been his mentor/supporter ever since.
In the below article, we will talk about Jeremy Sochan's personal & family life, career, and net worth. Let's start with quick facts.
Quick Facts
Full Name
Jeremy Juliusz Sochan
Nick Name
Jeremy
Date of Birth
May 20, 2003
Age
19 Years Old
Birth Place
Guymon, Oklahoma, U.S.
Nationality
Polish
Ethnicity
Mixed
Religion
Christianity
Father's Name
Ryan Willams
Mother's Name
Aneta Sochan
Siblings
One
Zodiac Sign
Taurus
Chinese zodiac
Sheep
Height
6 feet 9 inches /2.06 m/ 206cm
Weight
104 kg/ 230 lbs
Education

Itchen College (Southampton, Hampshire)
La Lumiere School (La Porte, Indiana)
Baylor University

Relationship Status
Single
Profession
Basketball player
League
NBA
Position
Power Forward
Team
Orange Academy (2020-2021)

San Antonia Spurs (2022-present)

Jersey Number
10
NBA draft
Round: 1, Pick: 9th Overall, 2022
(Selected by San Antonia Spurs)
Playing Career
2020-present
Net Worth
$3 Million
Social Media
Instagram, Twitter
Merch
Autographed Photos
Last Update
March 2023
Early Life & Family Background
Born on May 20, 2003, in Guymon, Oklahoma, Jeremy Juliusz Sochan is the son of a Polish mother (Aneta Sochan) and an American father (Ryan Williams).
As a result, the NBA player has a dual citizenship: American-Polish.
Both of his parents were college basketball players. They met at Oklahoma Panhandle State University &, but their relationship didn't go well- they separated later.
While growing up with his younger brother Willams Jr., Jeremy barely had any love of fatherhood; it was until his mother married Wiktor Lipecki (their stepfather).
Although Sochan calls himself a "citizen of the world," his love for the game began in the UK as he started playing basketball from there.
As a toddler, Jeremy went to live in France with his mother before moving to England at the age of three & grew up in Milton Keynes, playing for the youth team MK Trojans.
In his teens, Sochan moved to Southampton and enrolled at Itchen College while also playing for an NBL affiliate team Solent Kestrels (2019-20).
Lost Biological Father In An Accident
In 2017, when Jeremy Sochan was fourteen years old, he lost his biological father, Ryan Williams, in a car accident. He played
Even though his father had a long absence in his life, the sad news left him without words.
In his interviews, Sochan said that being raised without a father 'deeply affected him & caused trust issues.' Thankfully, his stepfather was there to support him through tough times.
Of his stepfather, Jeremy Sochan said, "I had a pretty lucky stepfather. He was a perfect fit for the position. He behaved as though I were his son."
Grandfather & Great-Grandfather Were Sports Figures Too
The Spurs players come from an athletic family background. Not only his parents but his grandpas too had associations with sports.
Jeremy's maternal grandfather Juliusz Sochan is an AZS AWF Warsaw basketball section director and the Warsaw Regional Basketball Association president.
The player got his middle name from his grandfather.
Before World War II, his great-grandfather Zygmunt Sochan played football for Warszawianka, making 94 appearances in the Ekstraklasa (Polish top division). After the war, he joined the Polish resistance and survived the Stutthof detention camp.
Brief About Mother Aneta Sochan
Sochan's mother, Aneta Sochan, is a former basketball player who currently is a mental health practitioner.
Born in Warsaw, Poland, Aneta played at Polonia Warsaw, a Polish basketball team, before her move to the United States for further education. While at Panhandle State University, she played Division II college basketball.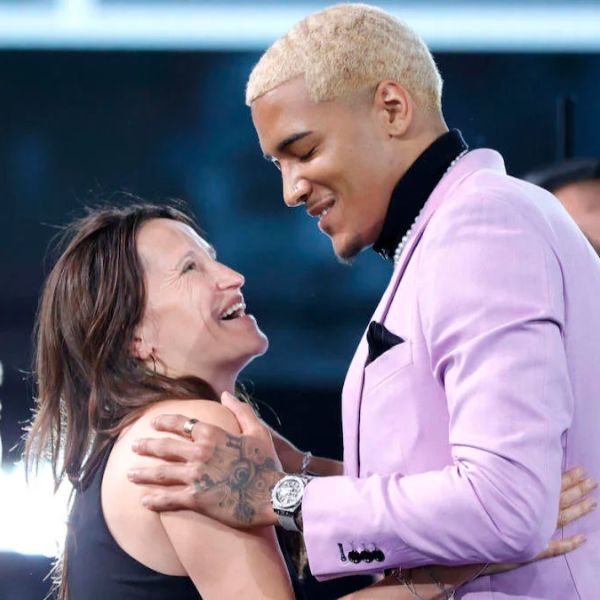 After her university graduation, Sochan chose a different career path but would be away from basketball though.
She was her son Jeremy's first-ever basketball coach & began training him when he was 11.
As reported, while she was teaching him, he could only call her "Coach." He had to do push-ups and run if he addressed her as "Mom."
High School & Collegiate Career
While in England, Jeremy studied at Itchen College but later moved to the United States, where he studied at La Lumiere School in Indiana.
But after the COVID-19 outbreak, he went to German & played for the ProB team OrangeAcademy in 2020. In July 2020, Sochan committed to play basketball at Baylor University.
At Baylor, he played for only one season; as a junior, Jeremy averaged 9.2 points, 6.4 rebounds & 1.8 assists per game with a 0.474 field goal percentage.
On April 15, 2022, the NBA shooting guard declared for the 2022 NBA draft, forfeiting his remaining college eligibility.
Professional Basketball Career & NBA Journey
Sochan began his professional basketball career at 16 with NBL's Solent Kestrels in England from 2019 to 2020. Then, for a season (the 2020-21 season), he played for the German basketball team OrangeAcademy.
Then, Jeremy Sochen became the 9th overall draft of the San Antonio Spurs in the 2022 NBA Draft, where the top-five picks were Paolo Banchero, Chet Holmgren, Jabari Smith Jr., Keegan Murray & Jaden Ivey.
With the Spurs, Sochen signed a rookie-scale contract on July 8, 2022.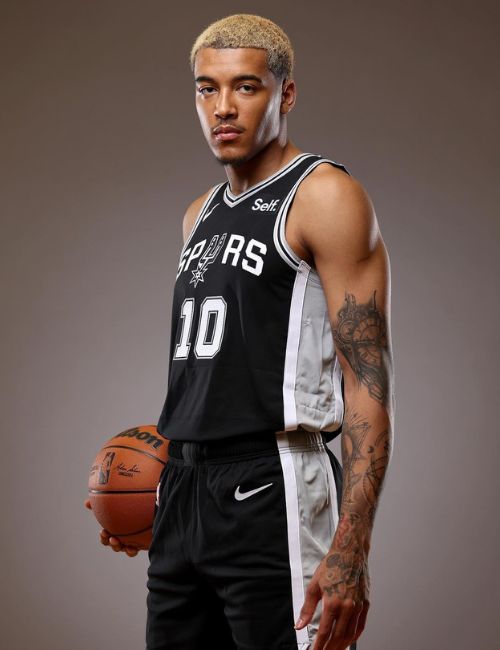 On October 19, 2022, he made his NBA debut in a loss against Charlotte Hornets.
Then, in a 126-117 loss against New Orleans Pelicans, Sochan scored 23 points & nine rebounds on December 22, 2022.
Later, on January 28, 2023, Jeremy Sochen scored his career-high 30 points in a 118-128 loss to the Suns.
In the Spurs, he plays alongside Keldon Johnson, Tre Jones, Devin Vassell, and many more.
Highlights & Awards
Considered one of the youngest San Antonio power forward, Jeremy has already amassed some notable awards. Here are some of his awards and highlights.
Big 12 Sixth Man of the Year (2022)
Big 12 All-Freshmen Team (2022)
Relationship & Social Media
Many fans are interested to know whether the 19 year-old basketball player is single or dating someone. Talking about his relationship, the player is still relatively young and appears to be single.
No rumors about his relationship or past affairs had swirled up in the media.
As of 2023, the player appears to be enjoying his time on the court and focused entirely on his career and improving in his field. He seems to be in a relationship with his passion for now.
Social Media Presence
The Spurs' power forward is active on social media platforms like Instagram, Twitter & Facebook.
View this post on Instagram
On his Instagram (@jeremysochan), Jeremy Sochan has more than 210K followers, which mostly feature pictures of his gameplay.
Sochan joined Twitter in October 2018 under the handle @jeremysochan and has around 60k followers.
Net Worth & Endorsement
At just 19, the player has earned a sizable income and net worth along with name and fame, leading to a comfortable and luxurious lifestyle.
As of March 2023, Jeremy Sochan's net worth is a whopping $3 million.
On July 9, 2022, he signed a four-year $23.5 million with $10.38 million guaranteed & average annual salary of $5.761 million.
In his rookie season (the 2022-23 season), Jeremy Sochan's salary stands at $5.06 million. For the 2023-24 season, the NBA player has a salary of $5.316 million.
Aside from regular NBA contracts and salaries, he also has brand endorsements with Nike, Hublot, and Indochina.
However, neither of the parties has disclosed the actual finances, but it is presumably big numbers.
Popularity Graph
With his exploding NBA games, Jeremy became one of the most-searched basketball personalities.
The below graph gives brief information about the popularity of Spurs' power forward, Jeremy Sochan, based on Google searches in the United States over a year.
Trivia
Sochan was a member of Poland's under-16 basketball team. He helped his squad win the Division B championship at the 2019 FIBA U16 European Championship in Montenegro, where he won the tournament MVP award.
In 2022 EuroBasket 2022 qualifications, Sochan was the youngest basketball player to ever play for Poland and led his team over Romania in a 88-81 win, where he played for 29 minutes and scored 18 points.
Sochan missed multiple games after injuring his ankle and lower back soreness against TCU on January 8, 2022.
Frequently Asked Questions (FAQS)
What is Jeremy Sochan's jersey number?
The Spurs' power forward Jeremy Sochan wears jersey number is 10.
Where did Jeremy Sochan go to school?
After attending La Lumiere School, Sochan went to Baylor University, a private baptist Christian University.
Is Sochan injured?
Jeremy Sochan suffered a back injury in a loss against Sacramento Kings on February 1, 2023. He skipped four games before appearing on February 11 game against the Hawks, which they lost.