Devon Cajuste is a well-known name in American Football. He changed himself into a hybrid movable tight end in his professional career.
Cajuste knew how to break down and burst into breaks at the top of his stem. This quality is a testament to his versatility.
Experts often stressed it took a creative attacking mind to see his positional value.
Throughout his career, Devon signed with various teams. But his most notable serving was with Cleveland Browns.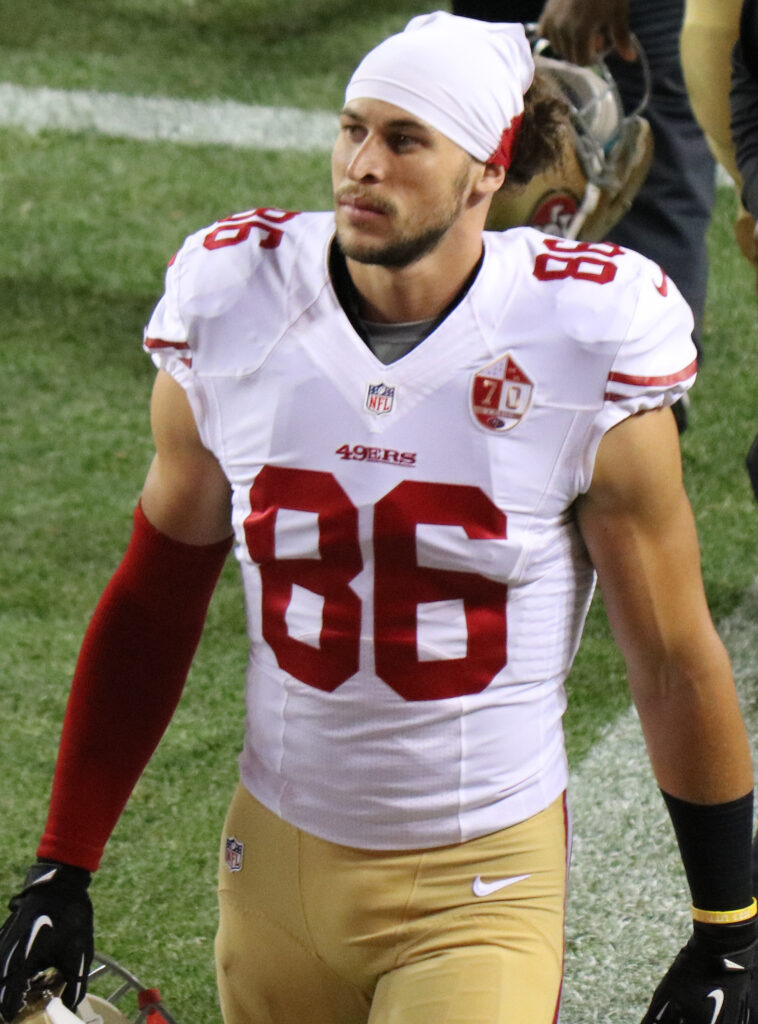 In this article, you will find more information regarding the player. So, let's dig deeper into Devon Cajuste's early life, career, height, weight, and other information.
Also, here are some quick facts about the player before we head any further into the details.
Quick Facts
Name
Devon Gregory Cajuste
Birthdate
January 31, 1993
Birthplace
Syosset, New York
Age
30 years old
Zodiac sign
Aquarius
Chinese Zodiac
Rooster
Nationality
American
Body type
Athletic
Hair color
Brown
Eye color
Black
Skin
Fair
Height
6'4″ (1.93 m)
Weight
242 lb (109 kg)
Education
Holy Cross (Queens, New York)
Stanford College
Profession
Former Football Player
Specialization
American Football
Position
Tight end
Career History

San Francisco 49ers (2016)
Green Bay Packers (2016)
Cleveland Browns (2018)

Parents
Gregory Cajuste
Andrea Cajuste
Stepparents
Carolann Cajuste
Relationship status
Nikki Papadakis (Girlfriend)
Social Media
Instagram
Twitter
Gender
Male
Hobbies
Crystal Healing
Net Worth
$5 million (2021)
Merch
Autographed College Cards, Rookie Card
Last Update
June, 2023
Devon Cajuste | Early Life and Background
Born on January 31, 1993, Devon Cajuste was grown and brought up in Syosset. It is a city located in the northeast section of New York.
Devon is a versatile athlete who is known to have a positive attitude and determination. Additionally, he was famously known as the "Juice" in the Cleveland Brown stadium.
He completed his early education in a Roman Catholic school located in Flushing, New York. After graduating from Holy Cross High School, he joined Stanford University.
Likewise, his source of inspiration and passion for picking up football isn't known. But Devon played football under the Stanford Cardinal football program during his time here.
Eventually, he focused on the sport as a career and aimed to play for the Stanford Cardinal football team.
You might also like to read about Reggie Wayne: Wife, College, Career, Football & Net Worth >>
Is Devon Cajuste Married? | Know About His Marital Status
According to several sources, Devon is not married. But he is confirmed to be in a relationship with Nikki Papadakis. Regardless of his quiet lifestyle, Devon is seen traveling with his girlfriend often.
Furthermore, the former tight end has always maintained a close distance between crystal healing and his girlfriend. Hence, he has seen crystal healing with his girlfriend on several occasions.
However, the rumors regarding their marriage have yet to find some solid ground.
Devon Cajuste | Career
Stanford Cardinal football program
This football program represents Stanford college in NCAA Division I FBS football. Also, it is a member of the Pac-12 Conference's North Division.
Devon attended Stanford University from 2011 to 2015. The American-born was a Stanford Cardinal football team member and made multiple appearances.
In his debut season, he played eight games and recorded one reception for seven yards. He had zero touchdowns but averaged the season with a score of 7.0 receptions per yard.
However, he had a breakthrough season in 2013 as he made 13 appearances for the team. He recorded 28 receptions for 642 yards with an average of 22.9 receptions per yard and five touchdowns.
Finally, his last season as a Fifth-Year Senior saw him appear in 13 games. He had 27 catches for 383 yards and three touchdowns with an average of 14.2 yards per reception.
Besides, with 1,139 all-purpose yards, he graduated as third highest in the league. Further, he was awarded New York Post All-Queens Offensive Player of the Year.
As a mark of respect, he was invited to five postseason bowls after senior season.
An engaging professional career
After graduating from Stanford college, he went undrafted in the 2016 NFL Draft. However, on May 6, 2016, Devon signed with the San Francisco 49ers, a San Francisco Bay Area team.
Devon played a wide receiver during his college career at Stanford. But due to his slow pace (4.62) and large size (6'4/234), he was projected as a tight end.
Nonetheless, he had the short-area athleticism and ball skills to succeed as a "big slot" receiver.
Also, he could flourish as a pass-catching tight end and got himself on a 49ers team. But, despite the prospects, he was released by the 49ers during the final team cuts four months later.
Nonetheless, four days later, he was signed by Green Bay Packers as a part of the practice squad rather than the primary team.
He acted as an extra player during the team's practice, imitating the opponents' style.
Devon signed a reserve contract with the Cleveland Browns on January 31, 2018. The Cleveland Browns are a Cleveland-based professional American football team.
Moreover, Cajuste was famous among Brown fans, especially after appearing in an HBO Documentary.
But, Devon was not good enough on the field. As a blocker, he needed a lot of practice and was a below-average player for the big league.
Consequently, the Browns abandoned Devon on September 1, 2018, as part of their roster reductions.
You might also like to know about Michael Pittman Bio: Football, NFL, Family, Net worth & Girlfriend >>
Devon Cajuste | Retirement
Devon announced his retirement from the NFL on January 31, 2019. The stellar tight end cited his physical and mental fatigue as the main reasons.
Further, he looked focused on seeking spiritual healing and his love for crystals.
Andrea, Cajuste's mother, had "gotten into crystals" about eight years before. She had given him his first three crystals from a Long Island store.
During Browns' training camp, Devon often spent his free time experimenting with crystals.
Additionally, he would display his collection and explain how they sent different types of energy. However, he never seemed satisfied when playing football in any league.
But he has found true happiness through his work with crystals after retirement.
You can check the career stats of Devon on NFL sites.
Devon Cajuste | "Hard Knocks" Documentary
Devon Cajuste's relationship with his dad was one of the most touching Hard Knocks storylines.
The HBO show focused on the Browns' backup tight end and his father, Gregory. His dad has battled a series of serious medical issues over the years.
Since Devon was a child, Gregory had a stroke, a tracheotomy, and three heart attacks. However, Devon has gained strength from his father's never-say-die mentality.
Further, in a touching Hard Knocks scene, Devon said that doctors told Gregory only had a limited time left to live.
Nonetheless, Devon continues to look up to his father, cherishing every day together. It has been more than a decade since that traumatic moment.
Devon Cajuste | Age, Weight & Height
Devon is an NFL athlete, and he has a body to prove it. He has a muscular body with remarkable flexibility and strength.
Furthermore, Devon is currently 30 years of age. He has had a shaky professional career and retired early.
Moreover, the athlete weighs around 242 lb (109 kg) and stands at an astonishing height of 6'4″ (1.93 m).
Despite retiring from sports, Devon has kept himself fit and healthy. In addition, Cajuste has been actively involved in healing through crystals and reiki.
Talking about the nationality of Cajuste, he belongs to American nationality. Sadly the information regarding the ethnic background and religion is missing.
You might also like to read about Daniëlle van de Donk – Early Life, Football Career & Net Worth >>
Devon Cajuste | Net Worth & Earnings
Devon Cajuste accounts for much of his net worth as a professional football player. Despite not breaking through into the primary team, he has signed into many high-tier groups over the last five years.
However, Devon Cajuste's expenditures are not well-documented. Devon Cajuste's net worth in 2019 was about $ 3 million.
Currently, his net worth is estimated to be around $5 million. Similarly, his base salary amount is expected to be around $117,300.
Not to mention, the young football player is associated with various sports brands and sportswear from where he earns a good amount of money.
Devon Cajuste | Social Media
Instagram : 14k Followers
Twitter: 7k Followers
Queries on Devon Cajuste
Does Devon Cajuste like playing instruments?
Yes, Devon Cajuste is known for having a love for musical instruments. He could play trumpet, piano, and guitar.
Did Devon Cajuste have siblings?
Yes, Devon has two sisters, Olivia and Chloe-Ann, and a brother, Jon-Gregory.
What is the jersey number of Devon?
Devon wore jersey number 86 while playing with the San Francisco 49ers. Likewise, he used the number 89 while playing with the Stanford Cardinal football.
What happened to Devon Cajuste?
Devon suffered from a leg injury while playing in the fourth quarter of the Cardinal's game against UCLA. Cajuste was twisted sideways, and his leg bent in the wrong direction. After the injury, he missed a few games of the season.