The Philadelphia 76ers head coach, Doc Rivers, is a former player himself, having spent 13 seasons with teams such as Atlanta Hawks, Los Angeles Clippers, New York Knicks, and San Antonio Spurs.
He played point guard and was named an NBA All-Star in 1988.
Rivers retired from his playing career after the 1995-96 season and was subsequently hired by the Orlando Magic in 1999, where he coached for more than four seasons.
The 76ers hired Rivers as their head coach on October 3, 2020.
The 2023 NBA playoffs are ramping up in intensity. A 115-103 loss to the 76ers in Game 5 on Tuesday night put Boston in a 3-2 series hole with Game 6 in Philadelphia on Thursday night.
The Celtics picked an inopportune time to have their worst overall game of this postseason.
With one game lead in the series, all eyes are on the 61 years old Rivers and his tactics, and the 76ers fans are impatiently waiting for the decider Game 6.
Quick Facts
| | |
| --- | --- |
| Full Name | Glenn Anton "Doc" Rivers |
| Known As | Doc Rivers |
| Nickname | Doc |
| Birthdate | October 13, 1961 |
| Age | 61 Years Old |
| Birthplace | Chicago, Illinois, United States |
| Current Residence | Philadelphia, United States |
| Father | Grady Rivers |
| Mother | Bettye Rivers |
| Siblings | Grady Rivers Jr. |
| Nationality | American |
| Marital Status | Married |
| Spouse | Kristin Rivers (m. 1986-2019) |
| Children | Austin Rivers, Jeremiah Rivers, Callie Rivers, Spencer Rivers |
| Built | Large |
| Sexual Orientation | Straight |
| Eye Color | Dark Brown |
| Hair Color | Black |
| Height | 6 ft 4 in/1.93 m/193 cm |
| Weight | 210 lb/95 kg |
| Ethnicity | African American |
| Horoscope | Libra |
| Religion | Christian |
| Profession | Former Basketball Player, Coach For Philadelphia 76ers |
| Education | Proviso East High School, Marquette University |
| Association | Philadelphia 76ers |
| NBA Draft | 1983 / Round: 2 / Pick: 31st overall: Atlanta Hawks |
| Playing Career | 1983-1996 |
| Position | Point Guard |
| Played For | Atlanta Hawks, Los Angeles Clippers, New York Knicks, San Antonio Spurs |
| Net Worth | $60 Million |
| Salary | $8 Million |
| Social Media | Instagram, Twitter |
| Last Update | May 2023 |
Early Life & Education
The 76ers' head coach, Doc Rivers, was born Glenn Anton Rivers on October 13, 1961, in Chicago, Illinois, United States.
Born to Grady Rivers, a police officer, and Bettye Rivers, an Automatic Electric assembly line worker, Doc grew up with his only sibling, a brother named Grady Rivers Jr.
His father, Grady, along with working as a lieutenant in the police force, was also an excellent baseball and basketball player.
He played basketball at Kentucky State University. Doc always looked up to his dad, who taught him to hoop and also instilled the discipline required for the sport.
Grady also coached the basketball, football, and little league baseball team.
Doc's mother, Bettye, was a massive fan of the Proviso East High School basketball team, which may be why Doc joined the same high school later.
He was close to his mother and always had a high regard for her.
His father, Grady, and mother, Bettye, died on November 4, 2007, and June 19, 2015, respectively.
Education
Doc Rivers attended Proviso East High School and was McDonald's All-American.
After high school graduation, he went to Marquette University.
While his time at Marquette, his assistant coach Rick Majerus gave him the nickname "Doc."
During the summer basketball camp, he wore a "Dr. J" t-shirt of 76ers small forward Julius Erving. Seeing that his coach called him "Doc," other players in the camp followed.
After three seasons at Marquette, he was drafted in the second round, 31st overall, by the Hawks in the 1988 NBA Draft.
Rivers graduated college while completing coursework as an NBA player.
Career
From 1983 to 1991, Doc played point guard for the Hawks, averaging a double-double for the 1986-87 season with 12.8 points and 10.0 assists per game.
He was named to the NBA-All Star Game in 1988. The same year he received the coveted J. Walter Kennedy Citizenship Award.
Following his departure from the Hawks, he spent one year as a starter for the Clippers, two years for the Kicks, and two years for the Spurs.
He retired from his playing career after the 1996 season. Over the course of his career, her averaged 10.9 points, 5.7 assists, and three rebounds per game.
Awards & Achievements
Doc Rivers had a pretty impressive playing career earning several prestigious accolades adorned in his resume.
Here are some,
No. 31 Retired By Marquette Golden Eagles
NBA All-Star (1988)
Walter Kennedy Citizenship Award (1990)
USA Basketball Male Athlete of the Year (1982)
First-team Parade All-American (1980)
McDonald's All-American (1980)
Mr. Basketball USA (1980)
Marriage, Kids & Divorce
Doc Rivers and Kristen Rivers met at Marquette University, where Doc was a basketball star.
Rivers married the Milwaukee, Wisconsin native Kristen in 1986 and had four children together.
Their eldest, Jeremiah, was born on July 27, 1987. Two years later, on September 17, 1989, their only daughter Callie Rivers was born, followed by their second son Austin Rivers on August 1, 1992.
They welcomed their youngest, Spencer Rivers, on June 27, 1995.
Given their father profession, all of Rivers's children grew up playing sports.
Divorce
Kristen Lynn Campion was born in 1961 in Wisconsin. She is an American socialite who garnered the spotlight after her marriage to Doc.
Kristen had to face a lot of hardships to survive her love for Doc. Racial indifference was the major challenge, but she displayed the courage to establish her love with Doc.
While everything was going smoothly, around 2020, their relationship was put to the test, which eventually failed, parting once an inseparable couple.
The reason for their divorce is said to be Doc's infidelity.
In early 2020, Doc was seen with a woman who was not Krish.
The pictures of him being cozy with another woman outside of San Vicente Bungalow in West Hollywood went viral on social media.
Kids
The eldest Rivers, Jeremiah, played basketball at Georgetown and Indiana University, followed by an overseas stint in Serbia, then with Maine Red Claws in the NBA G-League.
He graduated with a degree in business administration and management. He is now the co-founder of Player Edition, a "tech platform for athletes to launch fan communities."
Doc and Kristen's only daughter Callie Rivers Curry was also in sports but went on to pursue volleyball.
She played at the University of Florida for three years, from 2007 to 2010. After college, she played momentarily for the Leonas de Ponce in the Liga de Voleibol Femenina de Puerto Rico.
Callie now appears as a guest co-host of the Bachelor Party podcast. She is married to NBA star Seth Curry who also played for her father in the 76ers before his trade to the Nets.
Seth and Callie have two children together. They welcomed a daughter Carter Curry in May 2018 and son Cash Curry, in May 2018, 2023. The couple announced their pregnancy with their third child, Rivers Curry, in April 2023.
Austin Rivers
Doc has had the most complicated relationship with his son Austin, who currently plays for Minnesota Timberwolves.
He traded for his son in 2015, but Austin only got three seasons under his father.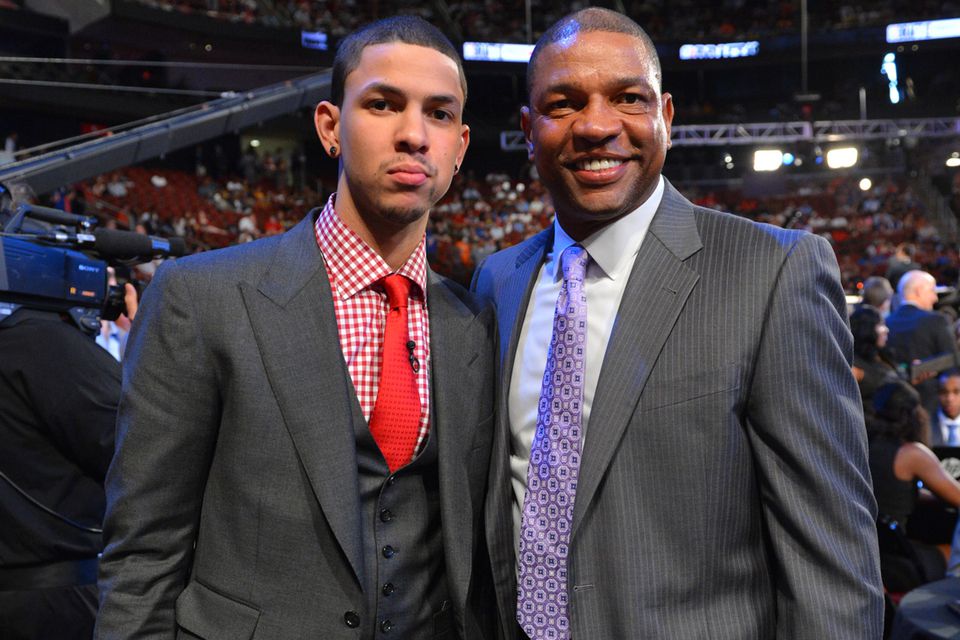 He did not receive any special treatment, and his father was just as hard on him as on any other player.
Austin is engaged to Audreyana Michelle and shares one son, Reign. He also has another kid Kayden James Rivers from his past relationship.
Another Son?
Yes, in addition to their four biological children, Doc and his now ex-wife became the legal parents of Adam Jones.
The then-couple raised Jones, the same as the other children.
Unknown Facts
Doc's uncle Jim Brewer was selected second overall by the Cavaliers in the 1973 NBA Draft.
His cousin, Byron Irvin, was drafted 22nd overall in the 1989 NBA Draft by Portland Trail Blazers.
Rivers maintain a 10,000-square-foot home in Orlando located in a gated lakefront community.
Frequently Asked Questions (FAQS)
What is the salary of Doc Rivers at the 76ers?
According to Spotrac.com, Doc signed a five-year $40 million deal with the 76ers in 2020. This non-guaranteed deal includes an average annual salary of $8 million.
Did Doc Rivers win a championship as a player?
No, Doc Rivers never won a championship as a player, but he has one championship ring to his name as a coach. Rivers won his first NBA Championship as a head coach of the Celtics after defeating the Los Angeles Lakers in six games On June 17, 200.
Why does Doc Rivers walk with a limp?
Doc tore his ACL in 1993. To this day, we can see a limp in his walking pattern.