Patrick Reed has a younger sister and does not have a brother. His younger sister, Hannah Reed, has been vocal about his treatment of their parents.
In 2016, then-18-year-old Hannah had taken a staunch defense for her parents against her brother. She called him, his wife, Justine, and her family out for the accusations against Bill and Jeannette Reed.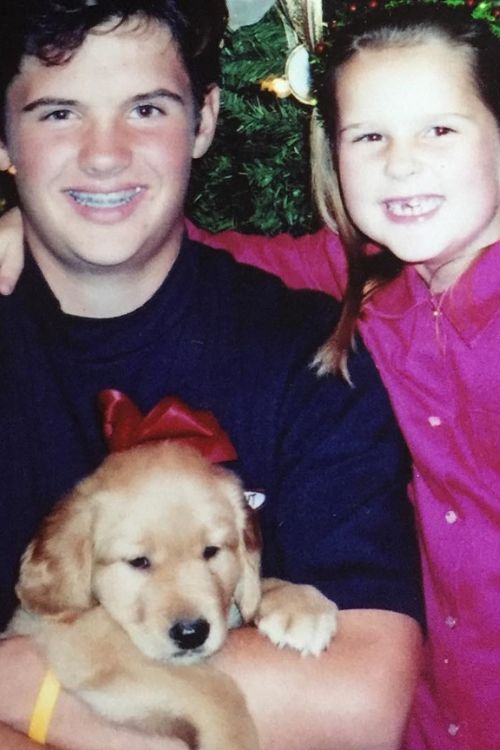 Now the teenager is all grown up and is a financial advisor for Montz Harcus Wealth Management. But the Reed family certainly misses their son, with his mother Jeannette still sharing good luck posts for him before his tournaments.
Those good luck messages still haven't melted the heart of the 2018 Masters winner, and Patrick has never talked about settling his feud with his parents.
The 32-year-old opted against playing in the ongoing Memorial Tournament, and so has Bubba Watson. So, we might have to wait a while before we can again see Reed in action which might be as late as June 8 in RBC Canadian Open.
Does Patrick Reed Have A Brother? Meet Sister Hannah Reed
Patrick Reed doesn't have a brother but has a younger sister named Hannah Reed. As many golf fans know, the two-time World Golf Champion Patrick Reed doesn't have quite a healthy relationship with his family, especially his parents.
This has led to him having a non-existent sibling bond with Hannah. In Patrick's public feud with his mom and dad, Hannah has sided with her parents. She has previously defended her parents, Jeannette and Bill, from the accusations made by Patrick's wife, Justine Reed.
In a Facebook post from 2016, Hannah called out her brother and labeled him a selfish and horrible stranger. She further added how could he allow his parents to be berated when they were the ones who initially helped him forge his golfing career.
Their relationship is at a level where the golfer hasn't wished Hannah on her birthday or congratulated her on graduating high school.
Hannah Reed Works For Montz Marcus
After graduating with a degree in Financial Planning from The University of Georgia in 2020, Hannah has worked as a financial advisor.
Since 2022, Hannnah has worked as a financial advisor for Physicians Resource Group and Montz Marcus Wealth Management, the two affiliated companies. She previously worked for BKD CPAs & Advisors and has SIE and Series 65 license.
On the Montz Marcus website, Hannah shared she would now work her way toward a Certified Financial Planner qualification.
Hannah has been in a relationship with Matthew Tucker since 2020. Tucker is a Mississippi State graduate earning his bachelor's degree in finance and risk management.
He currently works as a registered client service associate for Guardian Wealth Management. The couple hasn't shied away from showing their relationship in public. They have also received approval from Hannah's parents, with Jeannette sharing a family photo with Tucker on Christmas 2021.
Patrick Reed Parents, Jeannette, And Bill Reed
Patrick Reed shares a bitter relationship with his parents, Jeannette and Bill Reed.
The golfer couldn't care less to send his parents an invite for his wedding to Justine in 2012. Why would he? The reason for his separation from his parents is said to be his wife, Justine.
When Patrick won his green jacket in 2018, Jeannette, Bill, and Hannah celebrated his victory just over eight miles from Augusta National Golf Club. Their two-storied home hasn't seen the sight of its son since 2011.
Despite Patrick not wanting to maintain a relationship with his parents, his family had previously reached out to him. During the US Open Tournament, his family was even kicked out by police officers.
Even after a public humiliation, their love for their son hasn't decreased. Earlier this year, Jeannette on her Instagram shared a childhood photo of Patrick with a golf club before the Masters began.
She also previously shared the same photo of Patrick on National Son's Day in September 2022. Jeannette has previously shared pictures of her grandchildren on her Instagram and Facebook.
So, no matter what Patrick does, it looks like his parents will always be there to support him. It doesn't look like the family feud is ending anytime soon, but one can only hope everything gets sorted out between Patrick and his parents.